We know that coloring is not just for kids anymore. It is a fun activity that has engaged people of all ages to appreciate the beauty of art in many forms. Coloring (both books and other forms) come natural to most of us because it's easy to start and the materials are readily accessible. It's something that most of us are very familiar with because it's been connected to our hearts since our childhood days.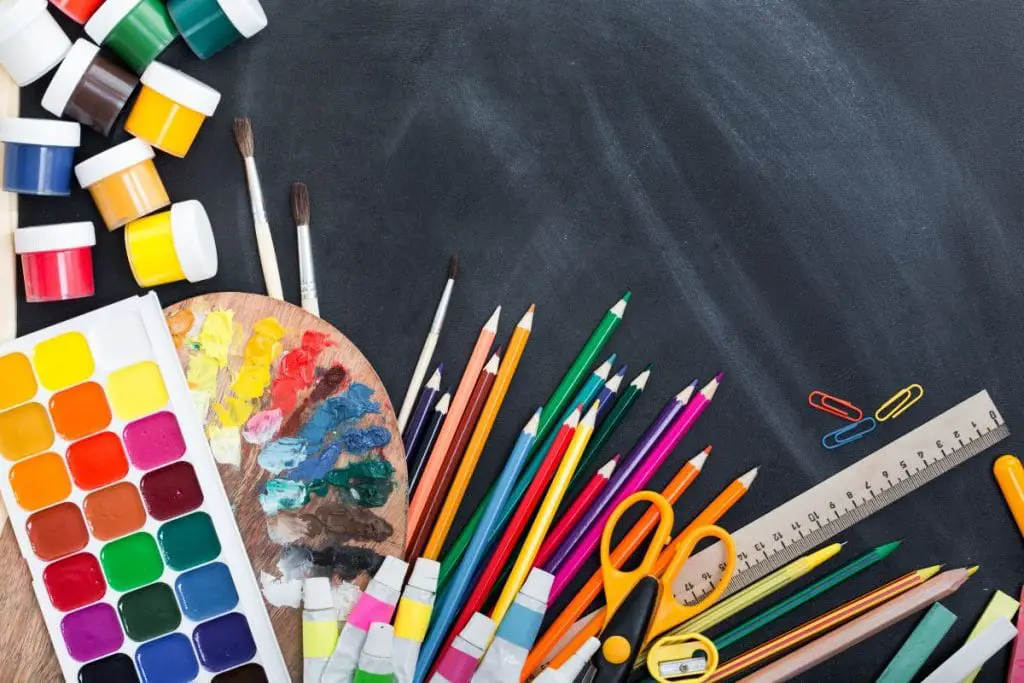 Why Adult Coloring?
Adulthood demands a lot of time in work and other to-do's, and it's important to recharge, get some R&R, or unplug from the world. There are plenty of wonderful things that one can do which do not require much complexity and thinking but gives the same result: relaxing the mind and body.
There's more to coloring than just passing the time. Adult coloring is one good option that has gained popularity in recent years. The physical and mental benefits you get as you immerse in this type of activity prove beneficial to your overall well-being.
The task is simple as soon as you flip the first few pages of your coloring book: fill the black-lined drawings with color. No pressure, no time limit, just let your mind shift its focus on applying colors and shading each section of a colorless illustration.
So, how do we start?
We need a good coloring book and a set of coloring tools. There are so many pretty choices available in the market, and it's up to you to decide which materials will match your style as an artist. In this article, let's go through different coloring materials and books that may help you out with your journey.
Build Your Art Stash
Gearing up for a coloring hobby may sound basic, but this can be fun and exciting. Gone are the days when crayons are the only major thing for coloring because, with the broad range of selection around, it's time to level up!
1. Art Markers
Artist markers or art markers, in short, are colored pens with felt-tips that are richly saturated with ink. They are available in different tip sizes, and the commonly used ones are chisel, fine, or a brush tip. Some markers even come with replaceable and/or interchangeable nibs allowing for maximum versatility. In addition, certain brands offer refillable inks for their markers which allows you to save more in the long run. Users of all ages will enjoy the convenience of using art markers because they are handy, easy to control, and very simple to apply.
There are two types of art markers:
Alcohol-Based Markers
These are markers that contain alcohol solution in their ink content. The presence of alcohol makes ink colors vibrant, rich, and beautiful upon application on paper. They blend well with other colors, and even colored pencils can work well with this type of marker. These markers usually bleed through paper, so it's important to use marker papers or use a blotter page underneath your work to absorb any ink that may seep through. They quickly dry; thus, there are less to no smearing or smudges.
Aside from colorful alcohol markers, there is also a colorless blender marker that can be used to improve your coloring style. These blenders allow for a seamless transition of colors, especially when making ombrés or gradient effects. They also help smoothen the edges of your colored piece.
Here's our top pick when it comes to the best alcohol-based markers:
Copic Markers Sketch Basic Set
Pros
Gorgeous, vivid colors
Great for blending and shading
Dual tips for maximum versatility
Professional-grade markers used by artists worldwide
Refillable ink
Replaceable nibs
Cons
Expensive markers
Bleeds through regular paper
Copic is a Japanese brand and is considered top of the line for alcohol-based markers. They feature dual tips, which are available in different sizes, serving most needs of artists. They showcase up to 358 brilliant colors with premium-quality ink that professionals in the art and design industry approve. Copic markers can be refilled with ink, and even the nibs can be replaced when they get damaged.
Copics are available in 3 types: Classic, Sketch, and Ciao. Copic Sketch is the most popular choice. It features super brush and medium broad nibs.
If this brand is out of your budget, there are great Copic alternatives that you may also want to try.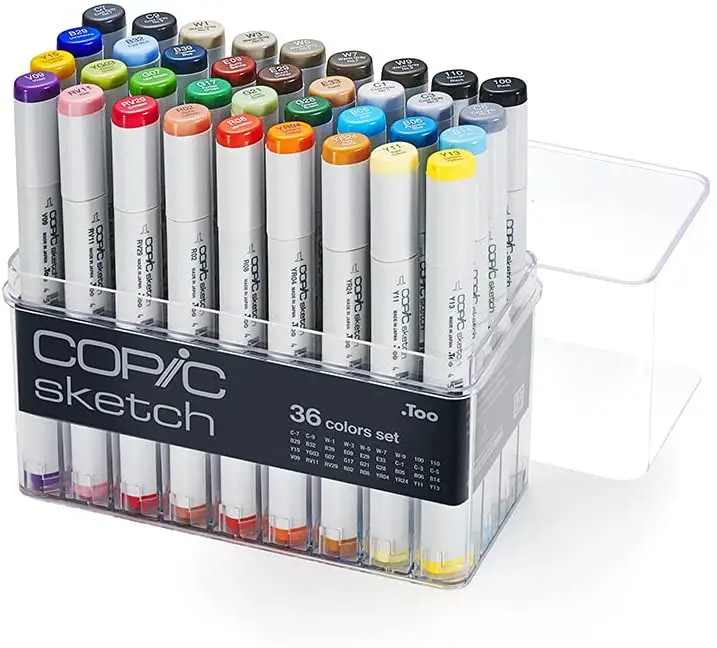 Water-Based Markers
This type of marker is comprised of water as the main base for the inks. With beautiful and bright colors, they are very popular for kids (think Crayola) because they are odorless, safe, and washable. The inks do not bleed through paper, making them ideal for journals and coloring books. Water-based markers may need time to dry completely, so be careful to avoid any accidental mess. They are best used with watercolor papers, especially if you need to overlay many colors.
Here's one of our top picks for water-based markers:
Faber-Castell PITT Artist Pen
Pros
Little to no bleed through
Excellent ink in a wide range of colors
Variety of tips available for specific use
Fade-resistant
Smudge and waterproof when dry
Rich and bold colors
Cons
Expensive markers
Rough paper damages the tips
Faber-Castell is probably one of the oldest brands of art supplies in the world. They have been in the industry for more than 250 years and have always produced high-quality coloring tools. The PITT Artist Pen is their line for art markers featuring Indian ink. These pens contain highly pigmented water-based ink with a very high lightfast rating. Unlike other water-based markers, the colors stay permanently when dry and are resistant to fading. The brush tip is durable and flexible.
This may be on a high price point, but there are many affordable markers around that are easy on the pocket but will produce awesome colors, too.
Check out our recommended list of the best markers for adult coloring books, as this list provides choices for both water-based and alcohol-based markers.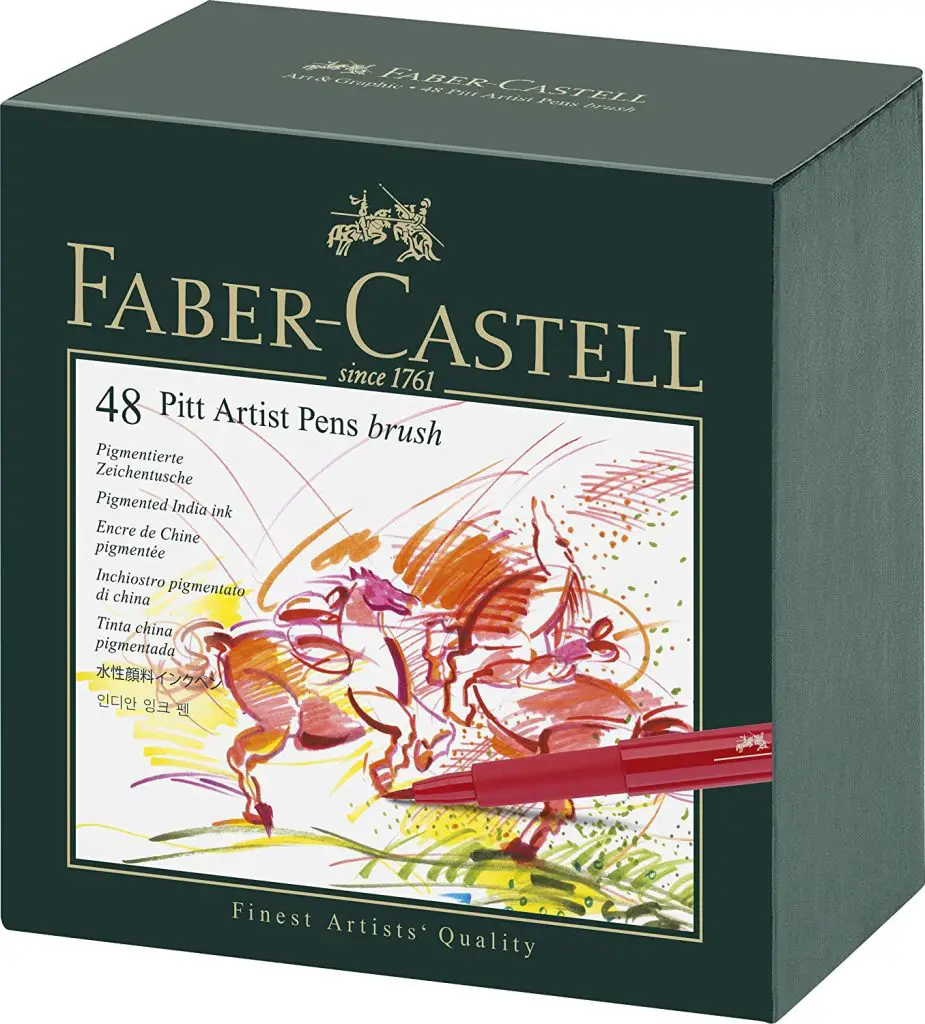 2. Colored Pencils
Colored pencils are one of the basic tools that perhaps most colorists own, even kids. They appear like your regular graphite pencils but with a colored 'lead' in the middle. These pencils are available in many colors. They are also versatile considering that markers, watercolor, and other tools can be used with them as they complement each other. They are very easy to use, less messy, and convenient to handle.
Adult coloring books are great with colored pencils because you can do a lot of blending and overlaying of colors without any worry of inks bleeding. The pencils can also cover wide and tiny spaces with color. It may take time to fill them in due to their small source, but they give you total control and precision in every stroke you do.
There are two basic types of colored pencils:
Wax-Based Colored Pencils
Wax-based colored pencils are the most common type available in the market. They may be cheaper, but professional artists prefer them. The core is made with more pigments with lesser fillers producing bold and beautiful shades. With this composition, the core is softer, but this allows you to lay down colors easier and blend them nicely. You may need to sharpen your pencils frequently though you may not be able to make a very fine point. Perhaps the major downside of using wax-based pencils is encountering a wax boom, but this can be fixed and prevented.
Here's our top pick when it comes to wax-based colored pencils:
Prismacolor Premier Soft Core Colored Pencils
Pros
Rich, vibrant pigment quality
Glides smoothly on paper
Easy to blend
Wide selection of colors
Prismacolor has been a favorite brand of colored pencils because they are made of premium quality materials. The softcore has a creamy texture allowing you to set down richly saturated colors in light or heavy strokes. They are available in 150 vibrant colors, but smaller sets can be purchased to see if it works for you.
This 72-piece set is a good starter pack to have featuring the common colors needed. They are vibrant as expected from artist-quality pencils. It guarantees smooth and even coverage that is great when you need to blend and make shadows.
Be extra careful when sharpening soft core pencils as the leads have a tendency to break. Prismacolor has their own line of sharpeners but other brands may work, too. It's a skill to learn to prolong the life of your precious pencils.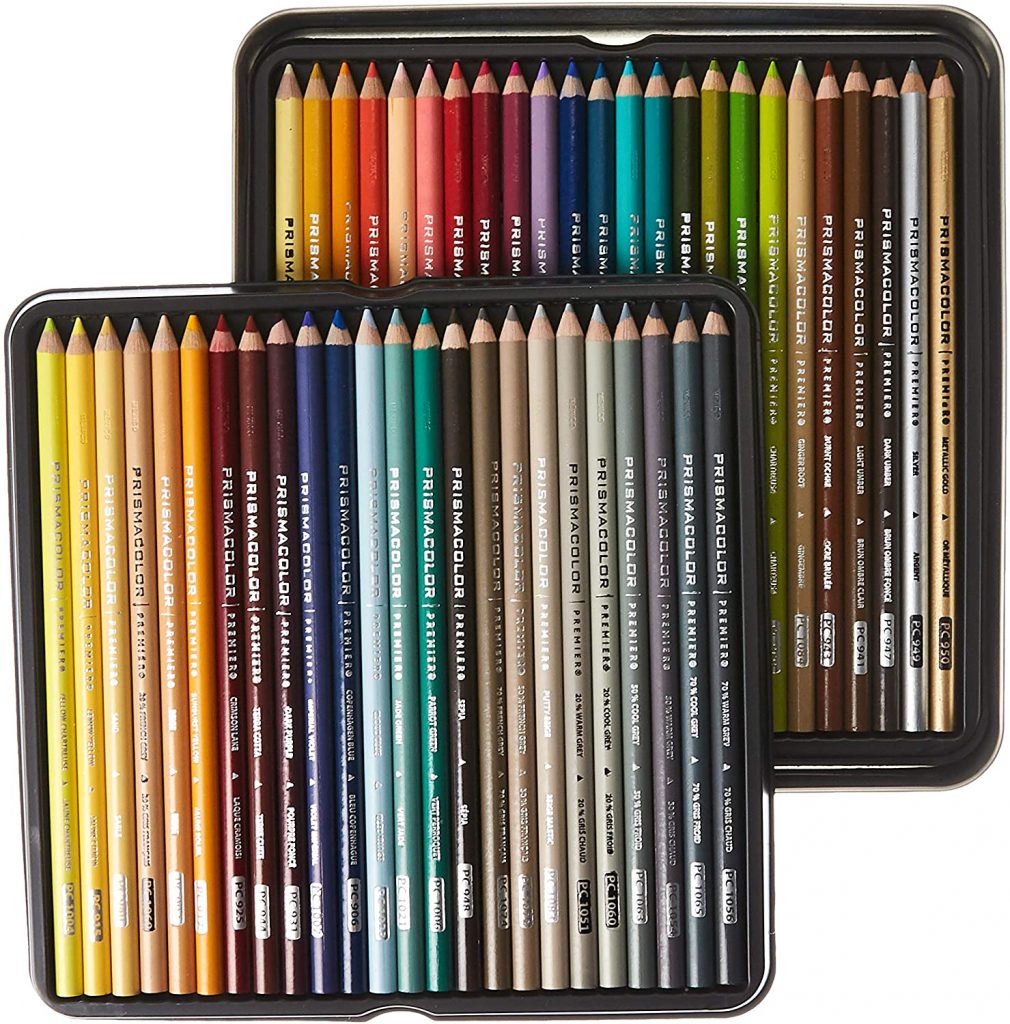 Oil-Based Colored Pencils
Oil-based colored pencils, on the other hand, have oil as the major binding ingredient for the pigments in its core. This results in a much firmer lead allowing you to make a fine point when sharpening your pencils. This is ideal for very fine detailing, but colors may not be too saturated when applied. Since there is less wax content on this type, the wax bloom is never an issue.
Here's our top pick when it comes to oil-based colored pencils:
Faber-Castell Polychromos Colored Pencils
Pros
Bright, intense colors
No wax bloom
Shatterproof lead
Fade-resistant and smudge-proof
Faber-Castell has a good line of colored pencils for different users, but the Polychromos Colored Pencils belong to their supplies intended for professional artists.
They contain a highly-pigmented oil-based core that is resistant to fading, water-resistant, and smudge-proof. You will enjoy the buttery smooth color laydown of its rich colors while not worrying about easily breaking your lead. Since you can sharpen them to fine points, this is great for precise work and details. Artworks made with the Polychromos series are long-lasting, waterproof and resistant to fading.
Faber-Castell also has their own line of sharpeners. The core is harder since it's oil-based and they are not too delicate to handle. Just the same, be cautious when sharpening your pencils because accidental lead breaks may still happen.
Faber-Castell pencils are available in smaller sets and can be bought in individual pieces.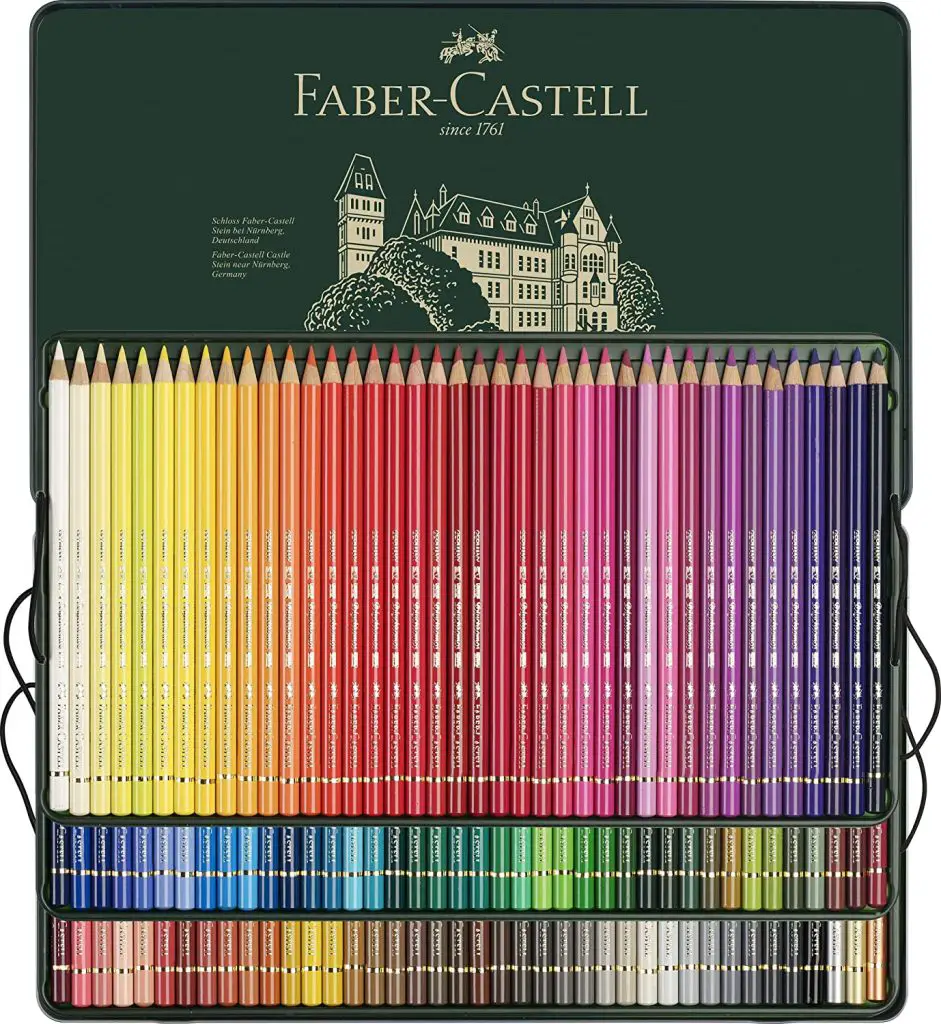 Accessories
These are basic essentials when you have a colored pencil set collection.
Pencil Sharpeners – some brands include a pencil sharpener when you get a set, but some may not have one included in the package. There are various ways to sharpen your pencil, and it's considered a skill in order to prolong the life of your pencils and avoid breakage – be it using regular handheld types, electronic pencil sharpeners, or even using an old-school knife.
Pencil Extenders – a pencil extender is a small tool to connect to your shortened pencils. This will allow you to maximize the lead in the colored pencil up to the edge before discarding them away.
Pencil Storage – provide a good container for your colored pencils. It is best to keep them sharpened with the tips on top if storing them vertically. Place your pencils in a cool, dry place away from direct heat or sunlight. Avoid dropping them or letting them roll off your desk. The core might also shatter inside, making it difficult to sharpen, aside from breaking the lead.
3. Gel Pens
Next on our list are gel pens. These pens look like regular ballpoint pens, but the difference is that they have thicker ink consistency, and they are more opaque when applied. They are nice to use as they add texture to a regular coloring piece. They don't bleed through paper, so they are great for scrapbooking, journaling or coloring books. Since they don't dry fast, smearing is possible. Gel pens also have a wide color range available and are usually sold in sets. Some brands even offer refills for each color upon purchase.
Here's our top pick when it comes to gel pens for adult coloring:
Tanmit Gel Pens
Pros
Big variety of colors
Comes with refills
Glides smoothly on paper
Affordable
Cons
Labels on each pen may not appear very clear
Tanmit is a popular brand focusing mainly on gel pens and glitter gel pens. With the good range of colors they have, they are the usual go-to brand of many artists considering the quality of the pens at an affordable price. This is also a great starter set for beginners.
This particular pack is available in 120 colors + 120 refills giving you a total of 240 pieces of pens. They include various inks, such as metallic, neon colors, glitter, rainbow hues, and many more. They are smooth to apply on paper and the colors are pretty. They will look nice on your coloring pages.
As care for gel pens, avoid dropping them on the floor to avoid having air gaps in the ink tube. This will disrupt the flow of your ink to the tip. Always remember to secure the caps after use.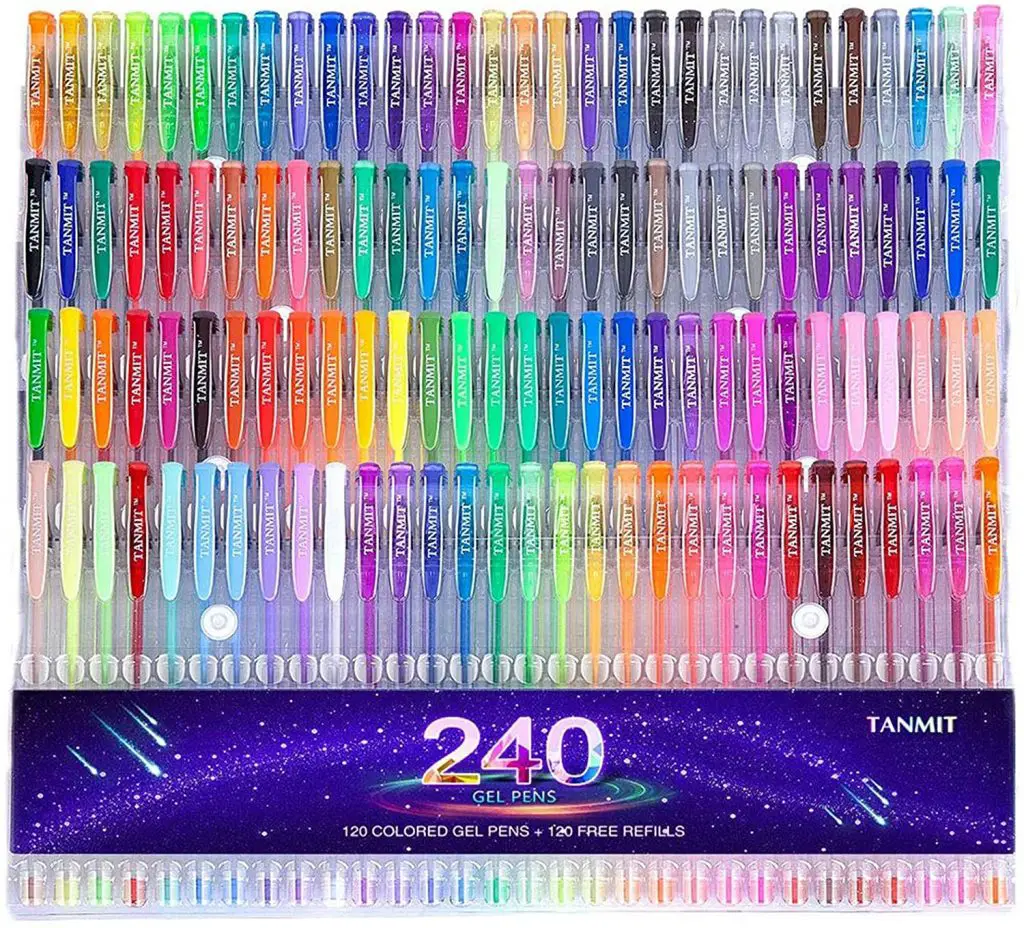 4. Glitter Gel Pens
Add some shimmer and shine on gel pens, and now you have these pretty glitter gel pens. Ink consistencies may vary per brand – some have more glitter, others may have less, and some are made for professional use, while some are good enough for beginners. Similarly, glitter gel pens will make your artwork pop because they are perfect for highlights and accents.
Here's our top pick when it comes to glitter gel pens:
Sakura Gelly Roll Stardust Collection Cube
Pros
High-quality pens with beautiful, vibrant colors
Waterproof and fade resistant
Pens can be purchased individually
Cons
Limited colors
A little bit pricey
Sakura Gelly Roll is a Japanese brand and was one of the first makers of gel pens globally.
The Stardust Collection is their artist-grade kind of glitter pen. It features finely ground, cosmetic grade, highly reflective glass with archival ink that will last long on paper. Some artists may find the color choices for this brand a bit limited, but you are guaranteed beautiful shine on your coloring page.
These glitter gel pens come in 16 pieces per pack with only 12 colors. The other 4 are refills. Pens can also be purchased individually if your favorite color runs out. The pointed tip is 1.0mm.
You may also look at our other recommended glitter gel pens list that will suit your budget. Many brands out there provide a wider range of colors and/or refills. These are a good addition on your coloring supplies kit because the effect is just pleasant to the eyes.


5. Watercolor Paints
Watercolor paints are made of water-soluble pigments. With the use of water, it activates its coloring component, and with the help of a brush, it allows you to make varying saturation of colors with different effects. It requires different techniques to show textures, layers, blends, splatters, and more to achieve a lively and professional look. Brush sizes also vary depending on what you want to achieve. This is a great option for any adult coloring book, too.
A common type is a pan watercolor that is not only made for newbies. Many adults also find joy in using watercolors. It usually comes in a rectangular pan with hard, dry color cakes. For serious artists, tube watercolor is another option as it's easier to achieve more vibrant colors when painting. There are more types of watercolor sets available such as watercolor pencils, gouache, metallic watercolor, etc.
Here's our top pick when it comes to watercolor paints:
MozArt Watercolor Paint Set
Pros
Very pigmented watercolor
Budget-friendly
Portable and easy to take anywhere
Cons
May have a little smell on it
MozArt is an art supply brand based in the UK. It's a fairly new company with high-quality products focused on watercolors, calligraphy, and sketching that are easy on the wallet.
Their watercolor paint set is great not only for professionals but also for any beginner. It comes in a sturdy, lightweight metal pan with 24 highly pigmented colors. They are easy to blend to make beautiful effects while maintaining its rich, clear, and crisp shades. You can easily use the pan's cover to be your palette area with the paintbrush included.
It's portable, easy to use, and works well with watercolor papers. They are non-toxic, thus, making it also safe for kids doing arts and crafts.
Other watercolor options from MozArt includes metallic and neon colors.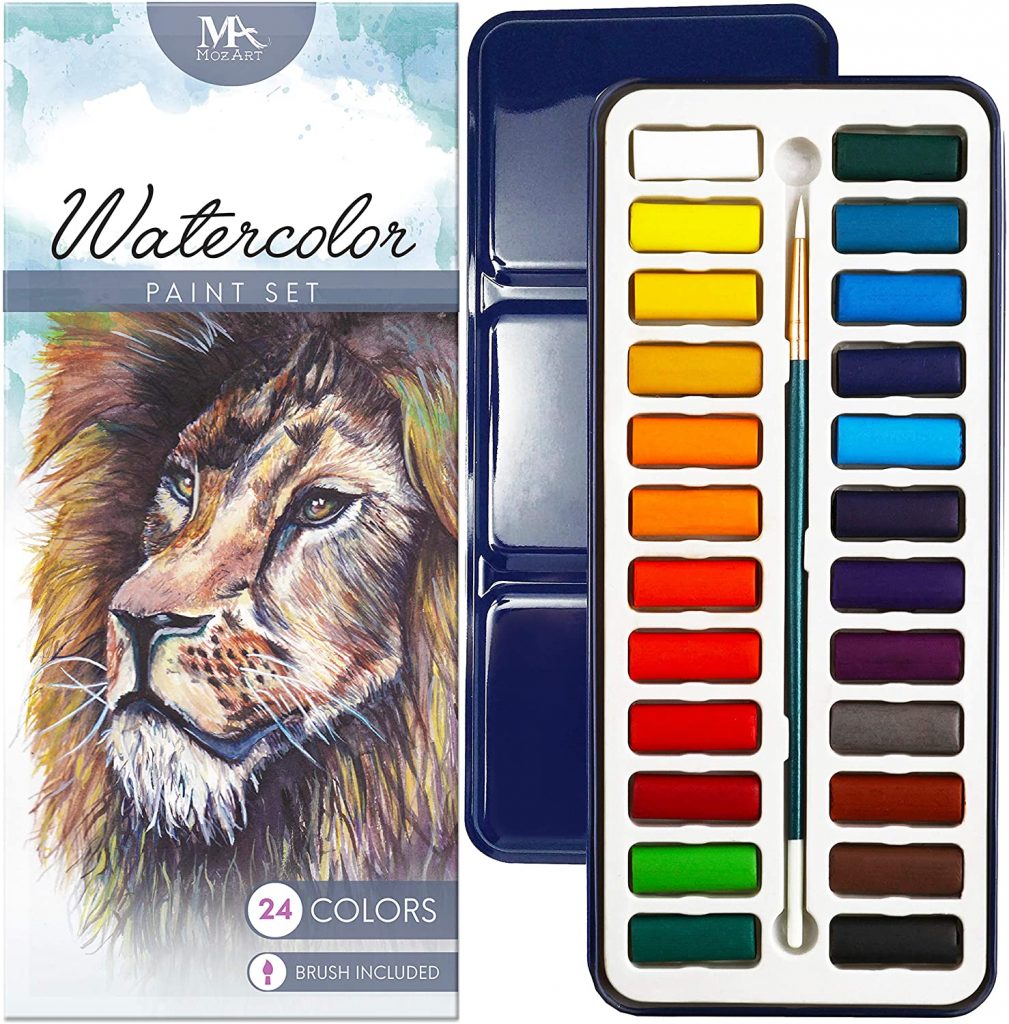 6. Crayons
As defined by the Oxford dictionary, Crayons are sticks of colored chalk or wax used for drawing. They contain non-toxic pigments making them safe for small children. This is usually the first coloring tool included in our coloring supplies nook during our younger years. It's very easy to use and comes with a wide color selection. Some brands even offer washable crayons, considering they are very popular for kids.
Here's our top pick when it comes to crayons:
Crayola Ultimate Crayon Collection Coloring Set
Pros
Huge collection of different colors
Comes in a nice caddy
Perfect for young kids
Cons
Small crayons may be hard to organize in the holder
Crayola is perhaps the most famous brand of crayons in the world. They come in various shapes, sizes, and purpose that has been categorized to match the age of their users as young as one.
This Ultimate Collection features 152 colors, including metallic and glitter crayons. They come in a durable caddy that is perfect for organizing your crayons and is helpful when you need to take them along traveling. A sharpener is also included in case your crayons are dull or blunt already.
With this huge collection, it makes as an ideal gift to kids and those forever young-at-heart.

7. Coloring Books
Coloring books are the easiest way to get yourself into the hobby. Without the need to sketch or make illustrations, a coloring book already provides the convenience of letting you simply focus on filling every detail in your page with shades and hues. Just grab your coloring tool, and you're all set!
In adult coloring, there are many themes and styles available that get adults engaged while having fun. The goal is to help unwind and give the body and mind a relaxing time during a coloring session. If you wish to try guided coloring, check out our recommended color by number books for adults. They are easier to work on because of the pre-determined colors you need to use.
The drawings in adult coloring books are usually printed on one side of the page. Some feature black back pages to help absorb the ink that may bleed through. This is a good consideration when you're using alcohol markers, but in general, a thick blotter page is the best way to protect your next pages from accidental ink mess.
Here's our top pick when it comes to adult coloring books:
Disney Dreams Collection: Thomas Kinkade Studios Coloring Book
Pros
Beautiful drawings of Disney characters
Has a lot of details to color
Ideal for colored pencils, gel pens, crayons
Includes fully-colored images that can be copied
Cons
Not ideal for markers because ink may seep through the back page
Disney always brings us to a happy state, and this is a great choice for advanced artists. Beginners may find the pretty illustrations a bit overwhelming to complete.
This book shows highly detailed Disney characters in beautiful scenes. It gives the artist the opportunity to do solid or painting-like effects. Opposite the page is a fully-colored image that may serve as your copy or guide when coloring.
It is best used with coloring supplies that do not bleed through the pages such as alcohol markers. Unlike other adult coloring books which only feature single-sided prints, this Disney book has printed images back-to-back. Using markers may ruin the images on the back page which may not be okay for some.
It's a wonderful book full of details, so if you are looking for an extra level of challenge in coloring, you may give this a try.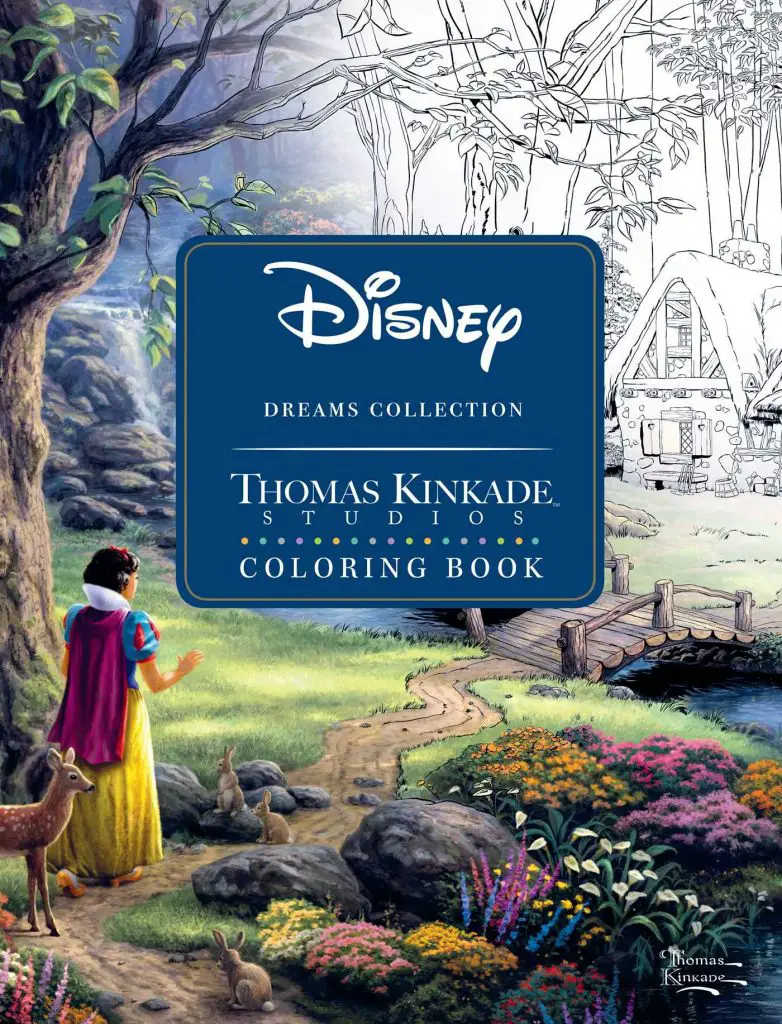 8. Paper
Paper is an essential material that should be part of your coloring supplies kit. If you are into printing your own coloring pages or drawing your own illustrations or sketching, consider the type of paper you must have to give you the best results with your preferred coloring tool. Art brands release their own sketchpads or paper line, but it is also worth trying other makers to see if it works well with your materials.
If you are into brush markers, it will be best to use smooth but thick papers such as cardstocks or marker papers. These types of paper can hold ink saturation better than regular papers. Some brands offer bleed-proof papers, too.
If you are into watercolors, you need the kind of paper that doesn't easily warp, so thin papers are not recommended. Your paper must hold the dampness caused by applying water to your art.
If you are into colored pencils, Bristol paper is a good option because it's not too smooth and has texture allowing colors from your pencil to lay pigments very well.
Here's our top pick when it comes to papers which support most medium:
Canson XL Mix Media Paper
Pros
Compatible with different coloring tools
Perforated sheets
Spiral-bound
Comes in different sizes
Cons
Sheets may get easily detached unintentionally
This brand of paper has been a favorite choice for various artists because of its versatility.
Canson Mix Media Paper can be used with watercolor, colored pencils, pens, and even art markers. If you wish to mix and match different coloring tools on an artwork, then this paper is for you. It supports wet and dry media making it easy to blend colors and achieve beautiful effects. It's acid-free, heavyweight paper with 98lb/160gsm.
A good plus is that this is made affordable given the good paper quality. It is available in different paper sizes with perforated sheets.
Canson also has a separate series of papers for specific tools like watercolors, markers, pencils, and so on.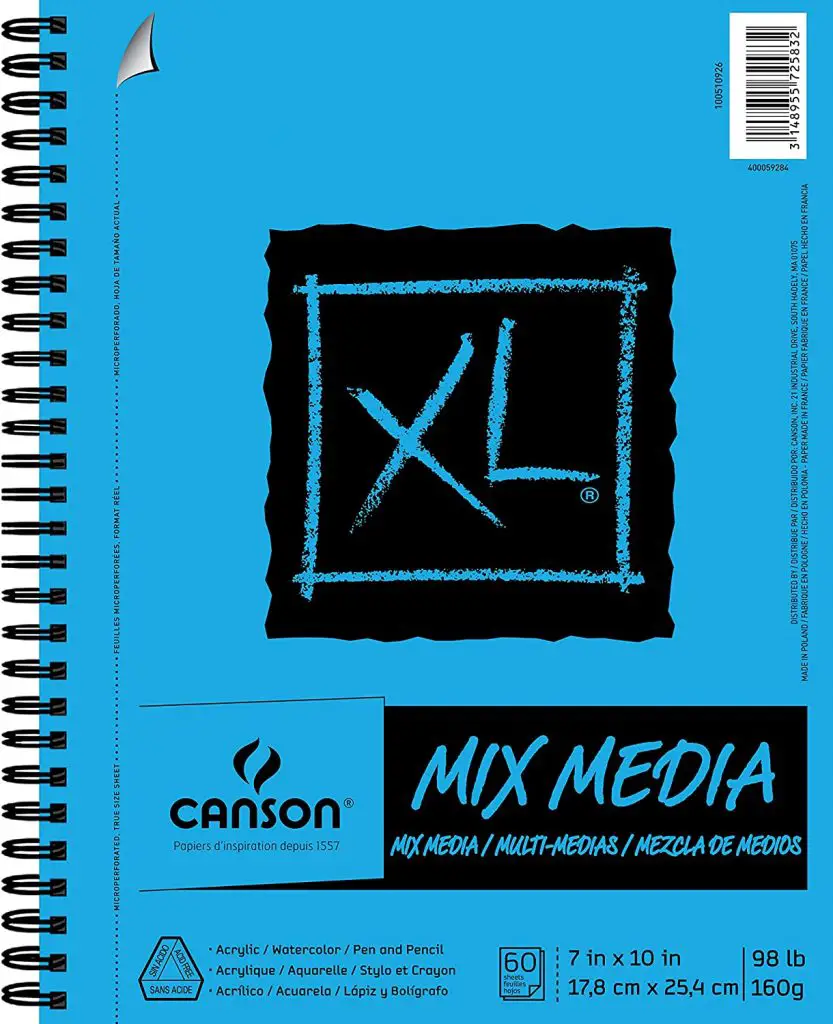 Conclusion
Age doesn't matter when it comes to art.
A kid's coloring supplies kit may be composed of basic crayons and student-grade coloring pencils or markers. It may not be as extensive or vibrant as artist-grade ones, but these are the same tools that open an opportunity for the child to express his creativeness. Soon enough, a kid's basic art supplies kit may be replaced with artist-grade ones to maximize their potential.
Similar to an adult's art stash, everyone starts at something – say a nice set of markers + a coloring book. With the number of great coloring mediums out there, this is a motivating factor even for beginners to achieve better coloring results. Upgrading your stash can always be exciting because it means you're about to explore more, perhaps to practice techniques, or simply to be better at your craft.
We hope you enjoy building your coloring supplies kit as you go along with your coloring journey. Cheers!