Coloring books aren't just for kids anymore, and they haven't been for a long time. Many adults worldwide have picked adult coloring books up as a relaxing pastime, perfect for stress relief at the end of a long day. It's a fun, creative hobby you can do at home and you can create beautiful work even when on a budget.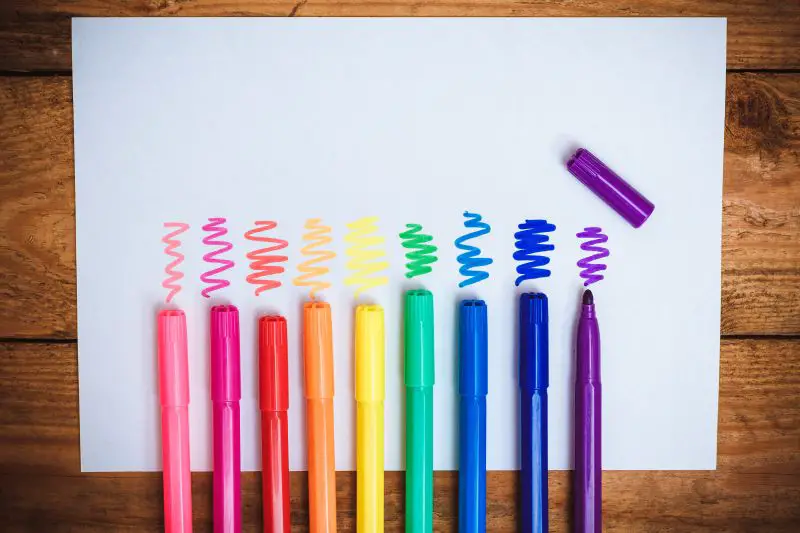 While you can use crayons and coloring pencils for your new hobby, adult coloring books are generally made with thicker paper and have single-sided drawings specifically so you can use markers to color them in.
Coloring supplies geared toward adults are a little more expensive, but as with any kind of art material, there is a wide range of options for your budget and overall taste. When you're just starting out, you may want to play it safe and buy a cheap set just to try.
In no time at all, you'll become much more discerning when it comes to the types of coloring markers you prefer to use and develop your own criteria for marker quality.
Choosing the best markers for adult coloring books
The highest-quality adult coloring books are one-sided editions printed on very thick paper. These can handle even the thickest coloring markers with little to no bleed through.
The best markers for coloring have different types of nibs you can use as a brush or as a fine point. Some sets include replaceable nibs for long-term use. You should also consider ergonomic use – coloring with a marker that doesn't sit well on your hand will be very uncomfortable.
Here are some of the most important considerations when choosing the best markers and pens for adult coloring books:
Pigment base – You have a choice between alcohol based markers and watercolor markers. Alcohol-based markers are generally recommended for beginners. They give vivid and bright colors, they dry quickly, and unfortunately they sometimes produce a stinging alcohol smell. Be sure to test your sensitivity to this before purchasing a set.

Water-based markers are very easy to blend, but it takes a bit of practice before you can get used to them. They also ruin thin paper if not used properly.
Barrel shape – You will likely be coloring for half an hour or longer, so it's best that you pick from options that you can grip comfortably. Thicker markers with triangular stems are generally recommended but make sure to test your choices before purchasing them. If you start becoming uncomfortable while coloring, make sure to take rest periods and stretch out your fingers and wrists.
Color selection – It may be tempting to immediately choose a marker set just because of the number of colors printed on the box. More colors mean more creativity and flexibility, sure. A set of 150 might have all the colors you can even think of, but that doesn't mean it's the most practical or economic out of all your options. Take a closer look at the range of colors that's offered – there's usually a color guide printed on the box. Purchase a set that has all the shades you need, and not too many of ones you may never use.
Color vibrancy – When testing out a set at the store or reading reviews, watch out for the color vibrancy of the marker. High-quality markers dispense solid colors and you will have no fear of producing washed-out or faded works.
Bleeding – This is the most common problem when using markers. Even with single-sided drawings on thick paper, some markers still bleed through. Test your markers on your coloring books before you start properly. It's best practice to put a piece of thick paper underneath the page you're coloring for further help in preventing bleed through.
Ink and tip quality – There is a wide range of quality when it comes to ink and tips on markers. Fine tips are great for detailing, while brush tips are for shading large areas. Some markers are dual-tipped, which is great for flexibility. Avoid buying pens with tips that aren't sturdy – those will certainly not last very long.

The best ink comes out of the tip consistently, in full vibrancy. Streaky ink creates a mess and will not serve you well. Many markers don't dry out easily even when uncovered, so try to choose a set with that guarantee.
Blending – Not all markers blend easily, no matter the pigment base. If you're fond of shading and using gradients in your coloring, look for markers that are specifically designed to achieve that style.
Best markers for adult coloring books
1. Copic Ciao Markers
Pros
Gorgeous, vivid colors
Great for blending and shading
Dual tips for maximum versatility
Professional-grade markers used by artists worldwide
Cons
The most expensive markers in this list
Bleeds through thin paper and card stock
Copic is one of the highest-quality marker brands in the world, and many artists consider it the best. The initial run in 1987 was produced specifically for the manga industry in Japan. Today, professional artists and illustrators all over the world use Copic markers and artist pens.
Copic Ciao markers have alcohol-based ink, with a brush and a chisel tip on either end of a small cylindrical shape that's best for smaller hands. They come in 180 colors (a little less than half of the more high-end Copic Sketch line), and you can refill them up to 15x using the Copic refill container.
Copic markers are far and away the most premium you can buy. They feel great in the hand, and give gorgeous, vibrant colors that are easy to blend and shade into gradients. Every stroke comes out perfectly evenly and the two tips allow for a lot of style versatility. The ink is refillable and the nibs are meant for long-term use, so you can use them for years if you take extra care.  
Despite being alcohol markers, the ink is completely odor-free and non-toxic. It bleeds through regular paper and thin card stock though, so it's best to use them on a double-sided coloring book.
These are professional-grade markers and, unfortunately, that is very clearly reflected on the price. They are some of the most expensive markers available right now and are best for very serious artists and high-level colorists.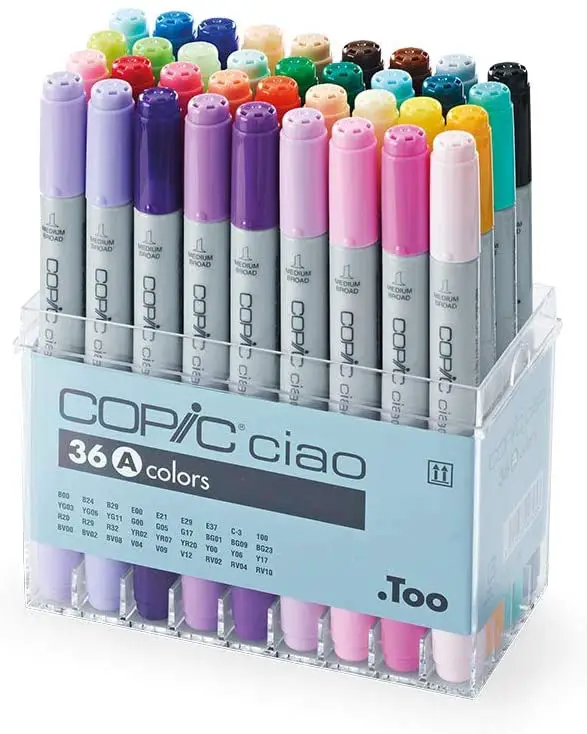 2. Staedtler Triplus Fineliner
Pros
Very affordable
Fine tips for detailing
Dry safe technology
Cons
Don't blend
Not ideal for coloring in large areas
In direct contrast to #1, Staedtler Triplus Fineliner markers are very affordable and great for beginners. They have water-based ink flowing from superfine metal-encased 0.3 mm tips that are excellent for detailing and give lovely, even colors. With such a fine tip, they are far less likely to bleed through, but it's still best practice to have an extra piece of paper underneath the page you're coloring.
These markers are long and thin, with a triangular shaft that remains comfortable to use for extended periods of time. If you happen to leave your pens uncapped, there's a dry safe mechanism that ensures the ink won't dry out. 
They produce dark, bold colors that sometimes don't match up with the marker caps, so you would do best with a bit of testing before committing to a color. They're not quite ideal for filling in very large spaces and it would be better to partner them with some broad-tip markers. If you like to work with blending and shading, these aren't the markers for you.
Staedtler's Fineliner marker sets come in many gorgeous colors – their largest collection is a box of 60 fine point pens with lots of tints and shades in every color of the rainbow.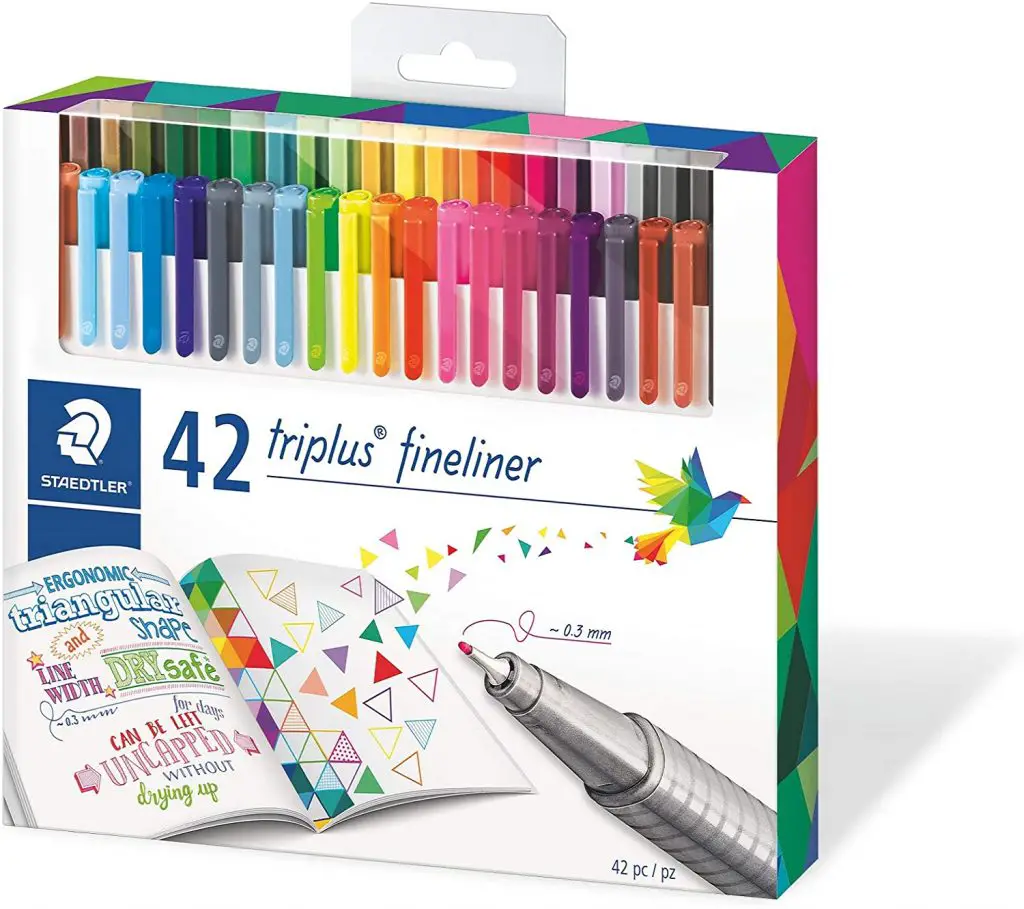 3. Crayola Fine Line Markers
Pros
Fairly affordable
Long-lasting
Deep, vivid colors
Great for blending
Cons
Bleeds through very thin paper
Crayola Fine Line markers come in boxes of 24 and 40. They are a great marker set for entry-level colorists, and are very affordable, too. They are water-based markers that are great for blending, depth, and color gradation. The ink dries up evenly, with no streaks or dark spots.
The fine tips are excellent for intricate detailing, and spread color impressively uniformly. All colors are very vivid, and while a selection of just 40 seems few on paper, they are still very versatile and give you many options. There are multiple shades across all the color families, with darker shades perfectly complementing lighter tints.
The thin, cylindrical barrel is comfortable to color with for extended periods. The ink is scent-free.
Perhaps the best thing about these markers is very minimal bleed through. They are perfect for one-sided coloring books, and you don't even need an extra scrap of paper underneath. With a very affordable price tag and a box that contains almost all the colors you need to create a beautiful piece, Crayola Fine Line is one of the best markers for adults.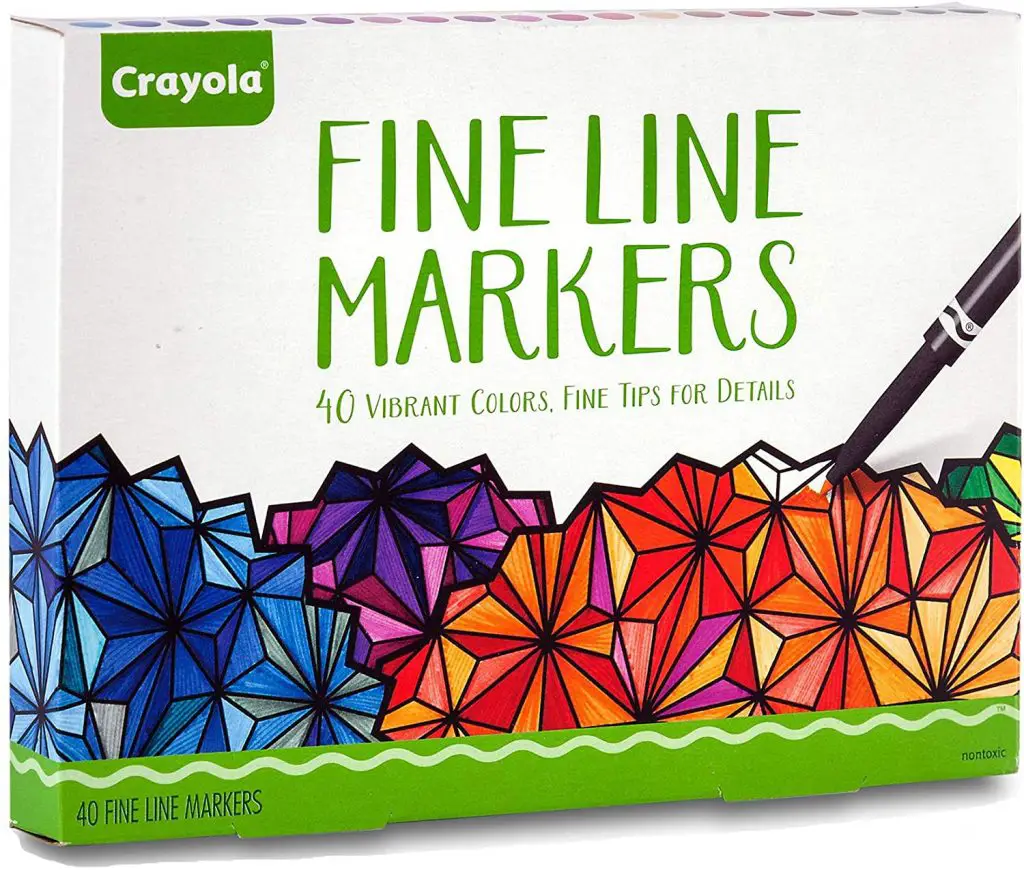 4. Sharpie Color Burst: Ultra Fine Point
Pros
Eye-popping, vibrant, long-lasting colors
Very affordable and widely available
Fine tips for detailing
Can also be used on plastic, metal, and cloth
Cons
Bleeds through some thick paper
Noticeable smell (alcohol-based)
Not blendable
Sharpie's pens are widely used in office and academic spaces, but their colored markers are also great for this stay-at-home hobby. The largest available set has 24 colors, but all the pens are available separately so you can form your own collection of your favored shades and tints.
These permanent markers have felt tips that lay down very vivid and eye-popping colors even on surfaces such as plastic, cloth, metal, and of course, coloring pages. The ink remains vibrant after extended periods of time, which is very impressive. 
The ultra-fine tips are perfect for detailing and coloring small spaces, but still perform well even when shading larger areas. The color remains consistent and doesn't streak or smudge. The thick and cylindrical shape of the markers is comfortable for long bouts of coloring. The ink has very long staying power even after months of consistent use, just make sure the cap is properly screwed on.
Unfortunately, these alcohol-based markers give off a noticeable smell. They might not be best for very long periods of coloring if you're very sensitive to smells. The ink also puddles quite a bit when touched to paper for long enough. Overall, these fine tip Sharpies will augment your collection beautifully. The fact that the markers are individually available means you have full control – you can just buy colors you think you will use often.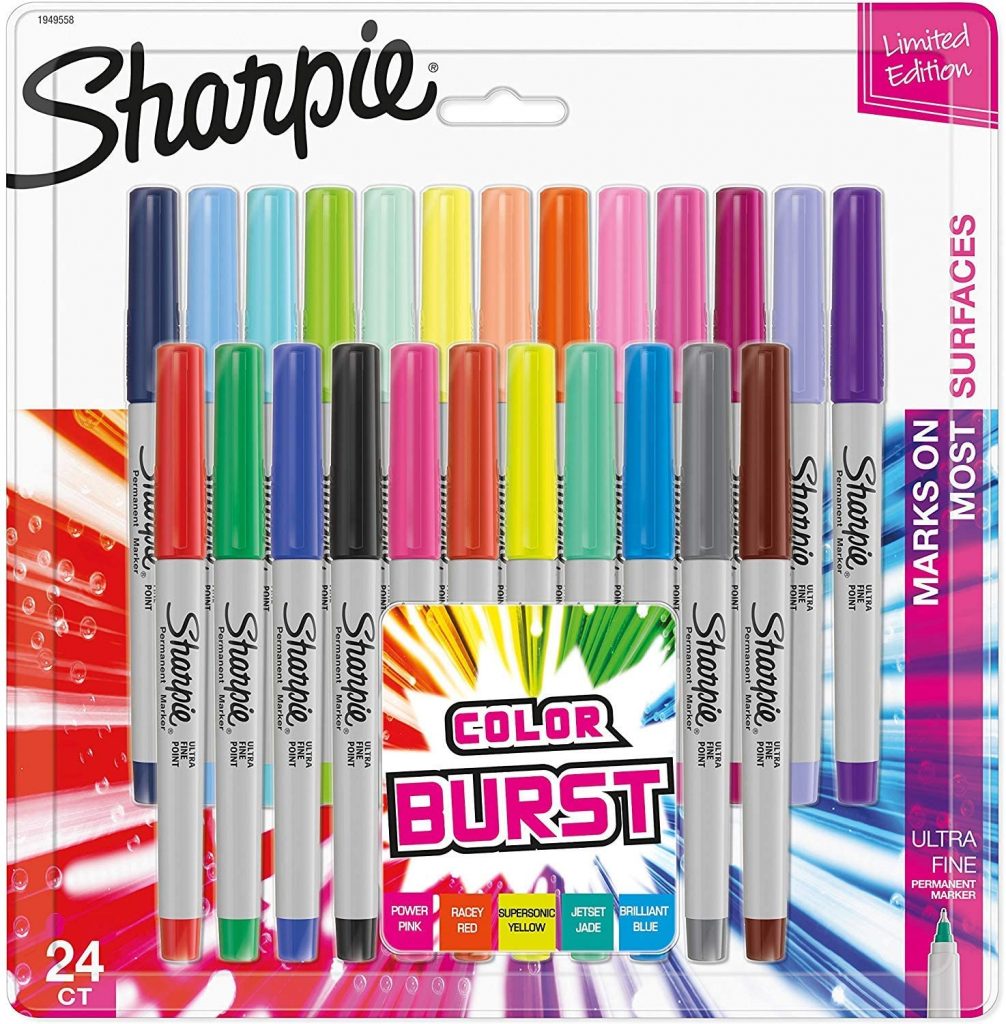 5. Faber-Castell PITT Artist Pen
Pros
Little to no bleed through
Excellent ink in a wide range of colors
Variety of tips for specific use
Cons
High prices
Rough paper damages the tips
Faber-Castell is one of the oldest and most widely-recognized art brands in the world. Their art supplies are very clearly premium quality, and they're used in art schools, professional design studios, and more.
Faber-Castell's PITT pens use India ink. It's water-based, bleed-proof, beautifully pigmented, and odor-free. They are available in brush form or 0.5 mm tips, so you have the freedom to choose what types of markers you need in specific colors.
The brush nib and fine tips deliver great color across wide spaces and small details. They glide smoothly on paper and give great coverage, you will really notice a difference if you're used to cheaper brands.
The thin, cylindrical shafts are made of protective polypropylene, a long lasting and an environmentally friendly material.
These markers are world-class quality and highly expensive. It's not a great choice for beginners just starting out coloring. For serious artists and professionals, PITT pens are an investment that's very much worth it.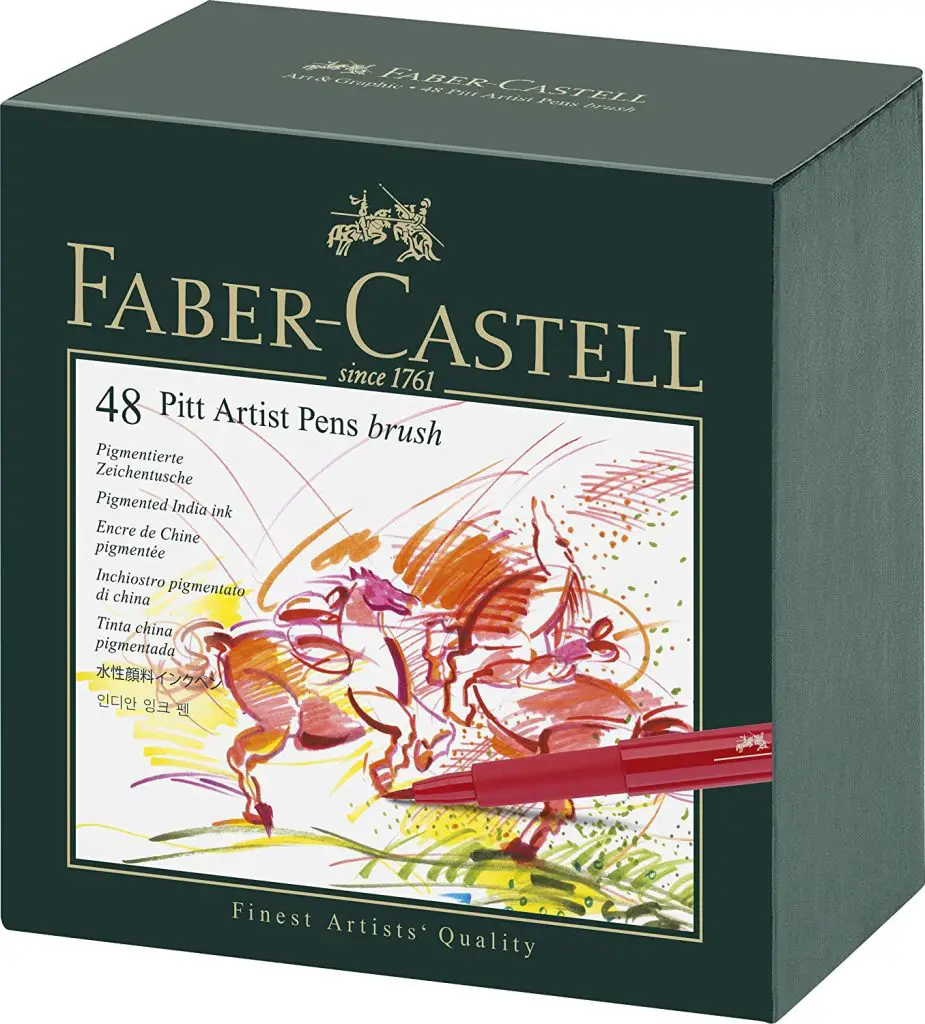 6. ColorIt Dual Tip Art Markers
Pros
Great for color layering
Ergonomic barrel shape
Fine tips and brush nibs for flexibility
Cons
High tendency to bleed through
ColorIt's Dual Tip Art Markers have alcohol-based ink contained in delightfully ergonomic, triangle-shaped barrels that feel great to use over long periods. The price range is firmly mid-range, so it's a good choice even for beginners.
These are some of the most blendable alcohol-based markers in the market right now, and all sets come with one colorless blender.
The permanent markers deliver richly saturated colors with vibrant hues that can also mark metal, glass, and wood. There's little to no odor, so you can color for ages without pause.
The bullet tips aren't quite ultra-fine, but they're still great for coloring in small spaces, while the broad chisel tips are for larger areas. Both tips are clearly marked on the caps, so they are immediately identifiable.
A great bonus is the great display box that it comes with the set of 60. The top can be tilted down to serve as a stand up case for the markers. This flips the color guide to face you as you color, making pen selection much easier.
With great color quality and tip versatility, this is a great and affordable set perfect for any level of artist. They work on a variety of surfaces too, so you can unleash your creativity beyond just coloring books.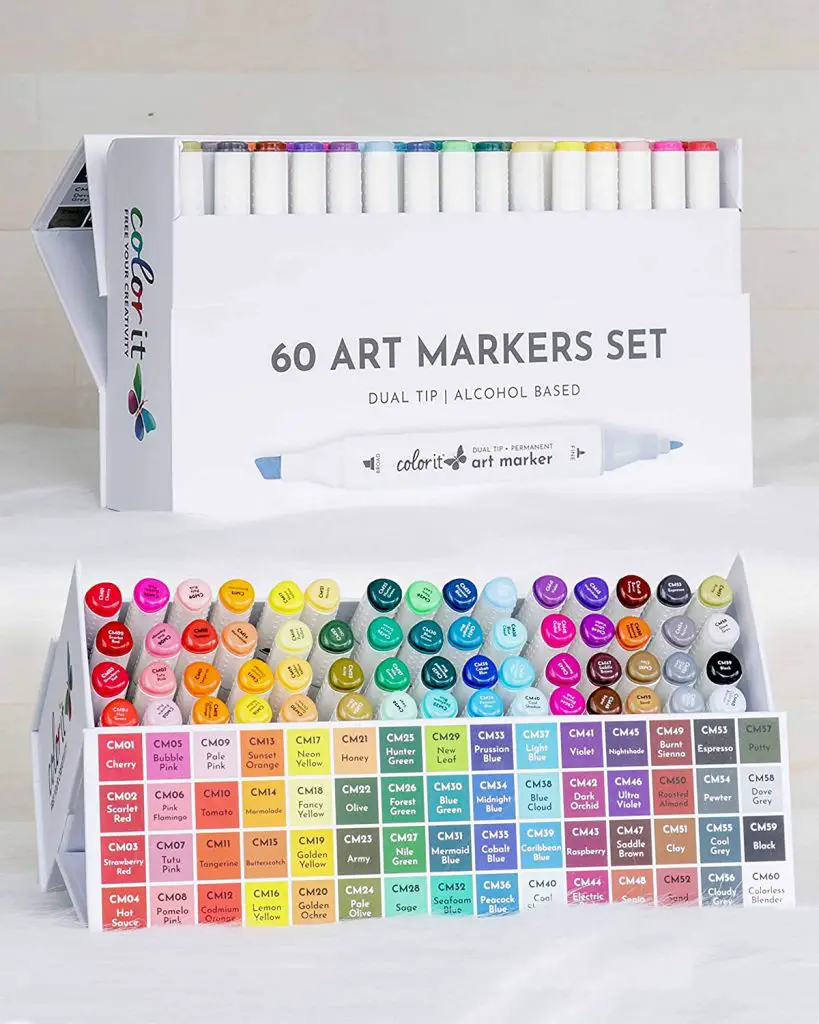 7. PrismaColor Premier Double-Ended Art Markers
Pros
Fine and brush tips for versatility
Bright, vivid pigments
Easy to blend
Cons
Bleeds through some thick paper
PrismaColor markers use premium quality non-toxic alcohol-based ink that delivers vivid, saturated color that's still impressively blend-able. Colors come out very smoothly with every stroke, clean and fluid, with no chance of streaking.
The dual-ended tips share one barrel of ink, so color consistency is maintained on both ends. The marker caps have a notch that keeps them from rolling off even tilted tables. The straight, cylindrical barrel is a bit thicker than some popular brands, so make sure to test the grip before you commit to purchasing a set.
The ink easily bleeds through thick paper, so it's best to tuck another sheet of paper between the pages of your coloring book. The ink also takes a bit longer to dry. If you're coloring wide areas heavily, be careful not to smear.
Overall, this is a great, versatile marker set that's great for students, beginners, and professionals in the industry.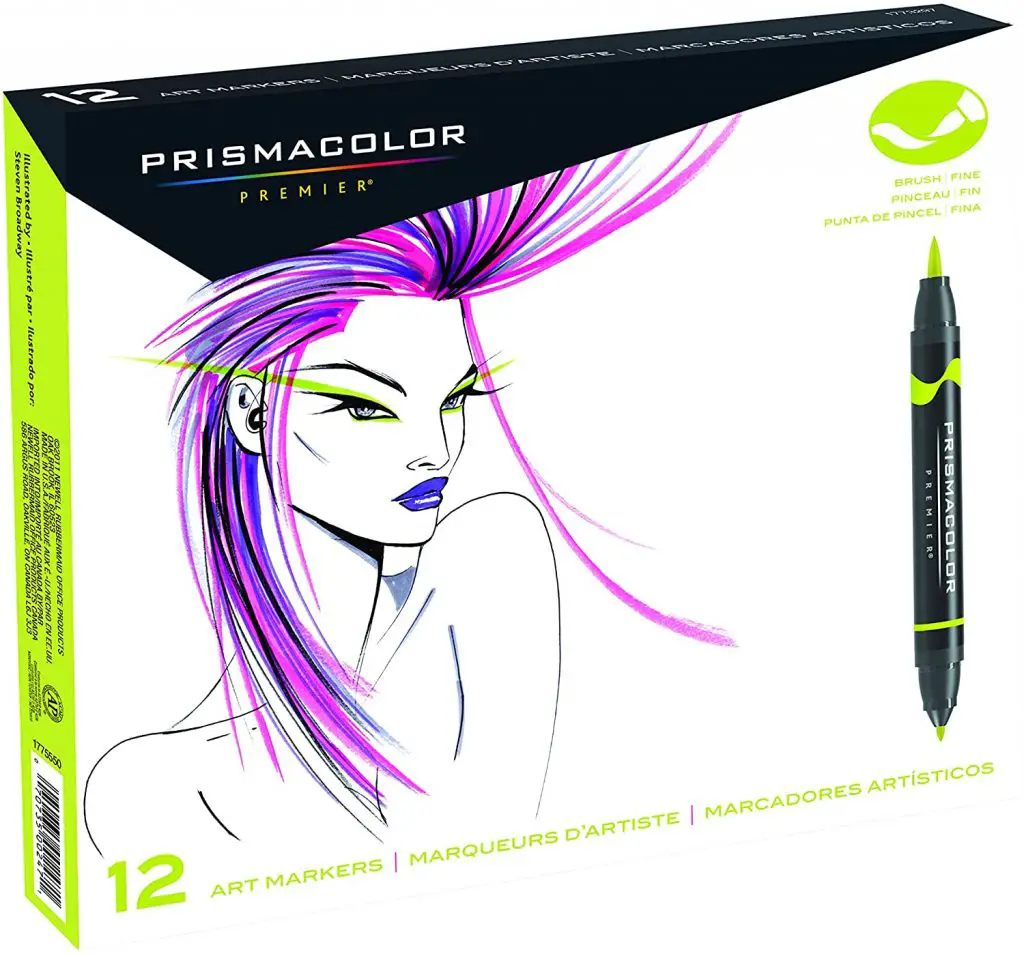 8. Arteza Real Brush Pens
Pros
Flexible tips for different strokes
Wide range of colors
Very affordable
Cons
Blending with water may be difficult for beginners
Arteza's Real Brush Pens can be used with water for light, watercolor-like colors that are a breeze to blend. Dry tips are richly-colored and allows for great versatility in coloring – just a minute change in angle can produce fine lines for detailing and brush strokes to cover larger areas.
These watercolor pens have a nylon fiber brush tip, tapered to create thin lines. They deliver a wide variety of vibrant colors. The water-based ink is safe and non-toxic.
There's a real learning curve to using these watercolor markers. Fortunately, there are a lot of tutorials you can access online that will show you the proper way to use them. It can be frustrating at first, and some negative reviews are likely because they were not used properly. But once you learn the different techniques, creating lovely watercolor-like art will be a breeze!
9. SouColor Dual Tip Brush Markers
Pros
Little to no bleed through
Wide range of colors
Long lasting
These very affordable markers are dual-tipped – a 0.4 mm fine tip for detailing and a 1-2 mm brush tip for coloring larger areas and even hand lettering.
The water-based, odorless ink gives vibrant, vivid colors that don't bleed through. Color remains consistent and smooth no matter the tip or stroke used, and it doesn't spread too quickly like some watercolor pens in the same price range.
The thin, cylindrical plastic barrel feels great in the hand, and the tips are sturdy and can take quite a bit of heavy use. They write very smoothly and glide through all kinds of paper with no streaking. The brush tip is especially handy when filling in large background areas.
This 32-piece set is perfect for beginners and casual hobbyists looking for affordable, top-tier quality markers in a wide range of colors.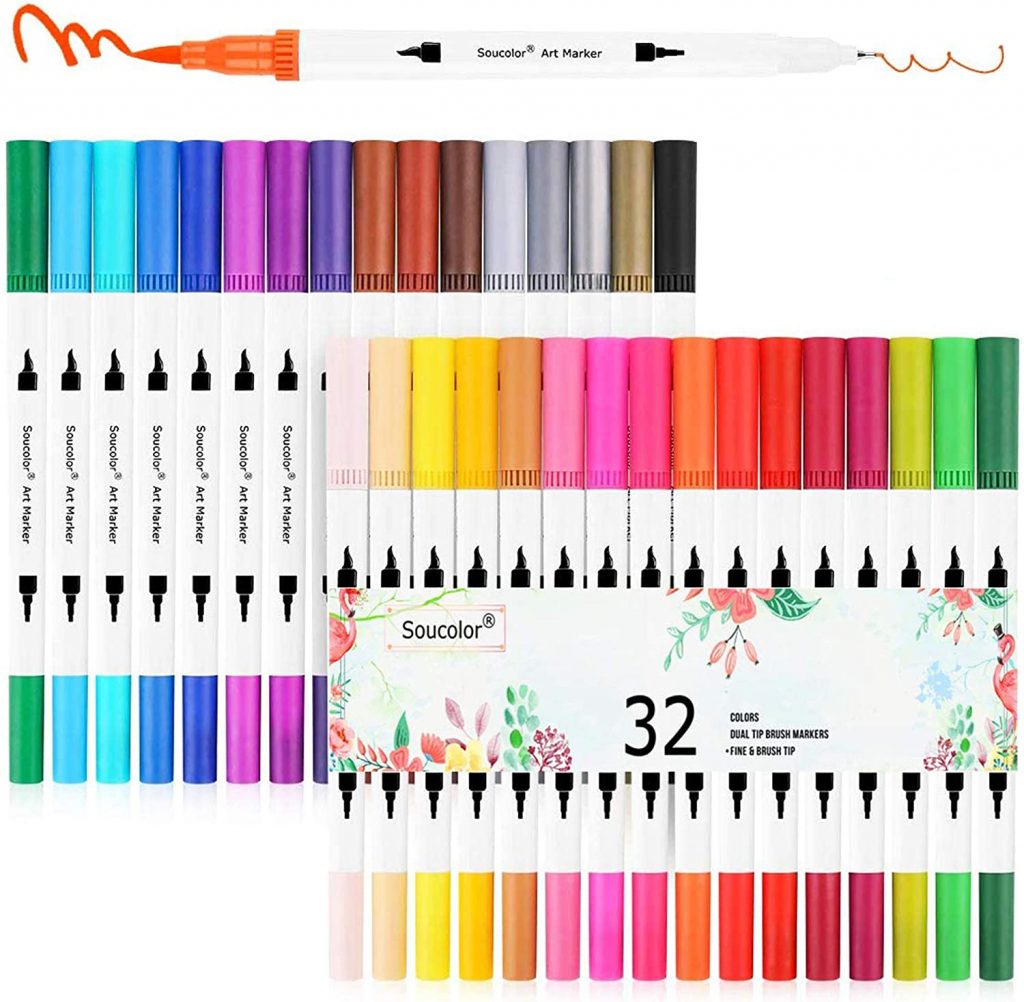 10. Ohuhu Art Markers Dual Tips Coloring
Pros
Easy to blend
Brush and fineliner tips for flexibility
Replacement tips included
Cons
Some caps don't match the actual pigment color
These Ohuhu Markers come in sets up to 120 colors, with a handful of replacement tips included. The tips are very sturdy, but if you have an especially heavy hand when it comes to coloring, this is a great set for you.
The water-based, non-toxic ink lays down very vibrant colors and dries very quickly. There's little to no bleed through and no risk of smudging. It's also very easy to layer and blend, making complex great gradients a breeze. The brush and fine tips are great for flexibility, with both ends writing very smoothly on paper. These markers are affordable, and will last long even without the included replacement tips. They're great for beginners, with a wide variety of shades and tints, as well as dual-ended tips.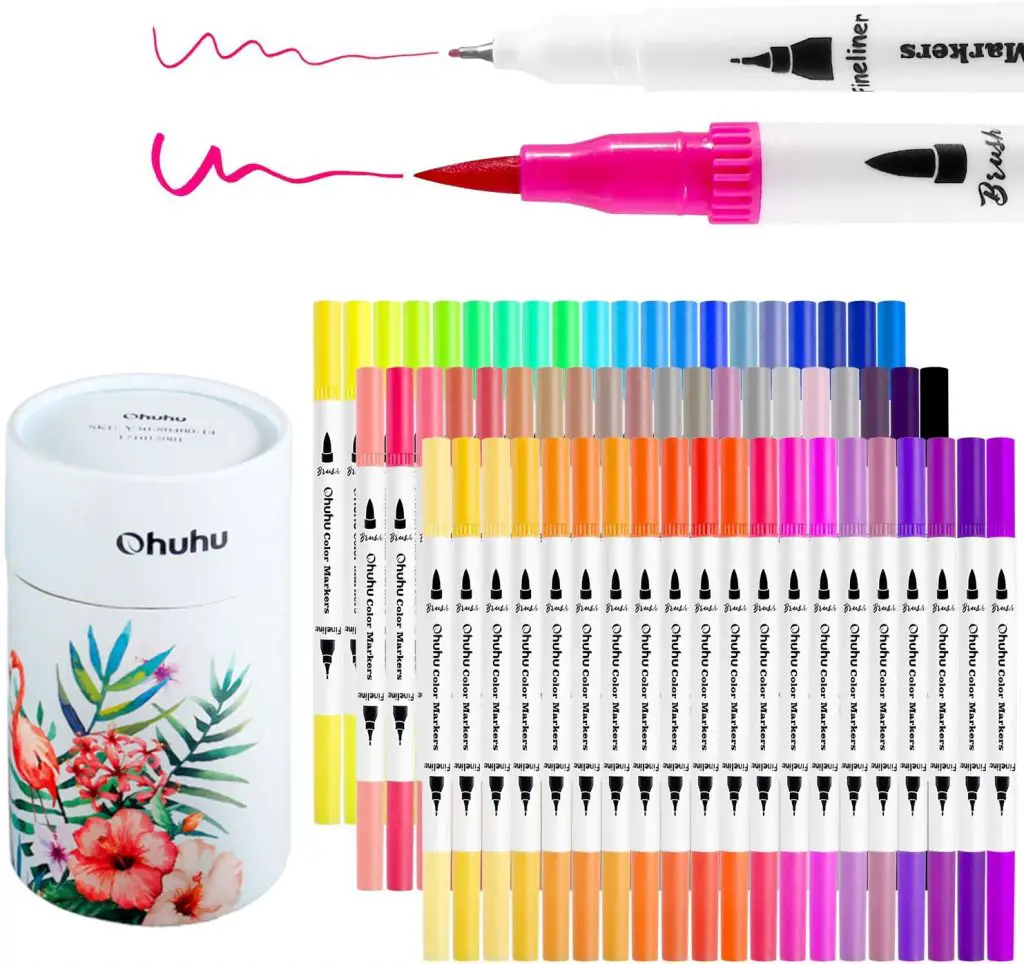 11. Pentel Color Marker Pens
Pros
Bright, vivid colors
Very affordable
Tried and tested felt tip
Cons
Bleeds through some thick paper
Pentel has always had high-quality markers that are great to use in school and in the office, so it's no surprise that their line for coloring is great, too.
Pentel's water-based ink delivers beautifully vivid colors through a sturdy, tried-and-tested felt tip. The tip glides beautifully on paper, and the markers are generously loaded with pigment so you can get deep colors even when using light strokes.
The fine tips are great for finer details, but not the best for covering larger areas. It can be a bit difficult to get a uniform color when the strokes overlap, and too many strokes will lead to paper damage and bleed through.
The set of 36 comes in a good, durable case, which is a great bonus. This is a fantastic marker set that's affordable, with fine felt tips that can last for a long time.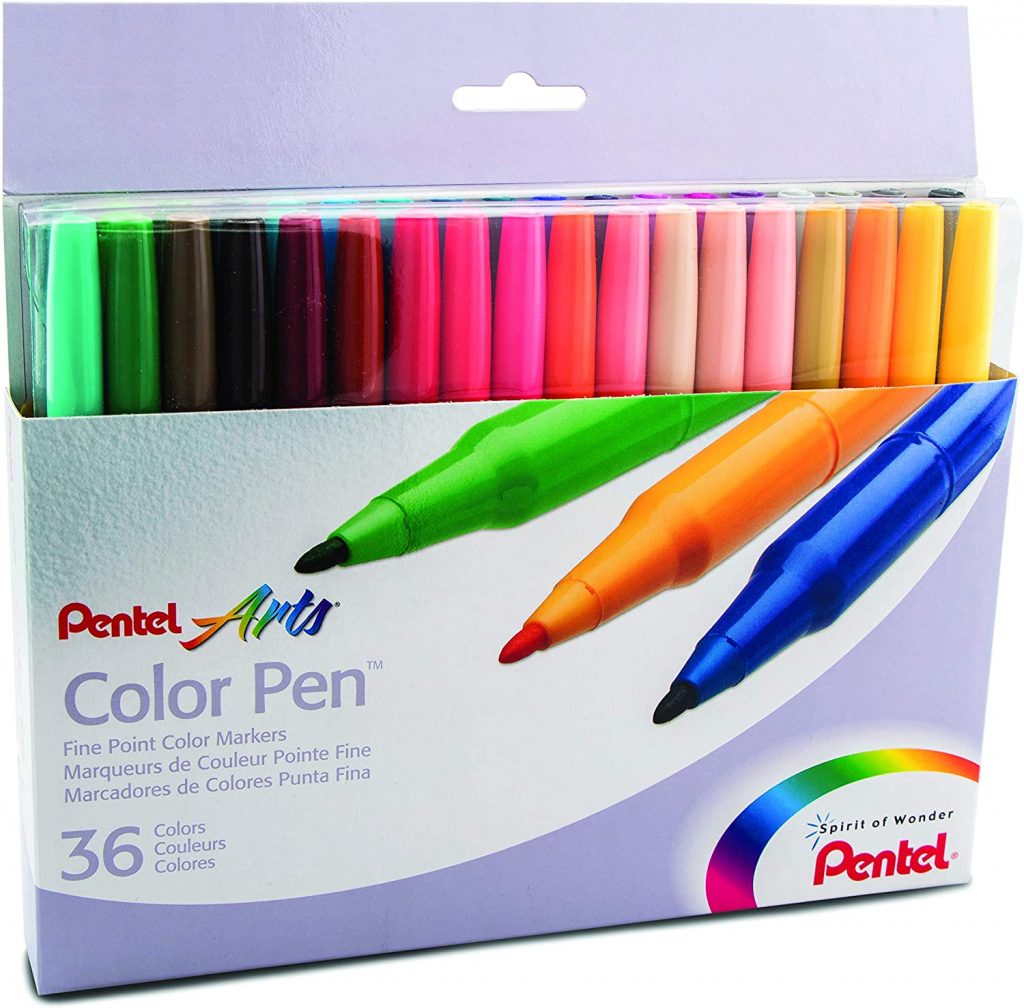 12. Sakura Koi Coloring Brush Pen Set
Pros
Blending is a breeze with the included blender pen
Brush tips with a fine point
Affordable
Cons
Ink fades with significant light exposure
Sakura-Koi's water-based marker set comes in a wide range of beautiful colors. It also includes a blender pen that makes creating color gradients a breeze. You can also use water and use a paintbrush to spread the ink.
The brush tips are great for medium to large strokes, but smaller details are still possible with the fine tip at the very end. They retain their shape very well, and their durability allows for long-term use. Unfortunately, the ink isn't lightfast, so artwork left under the sun will fade quickly.
This is a great set for beginners who want to try out watercolor markers. It makes for excellent practice while producing lovely pieces in your coloring book.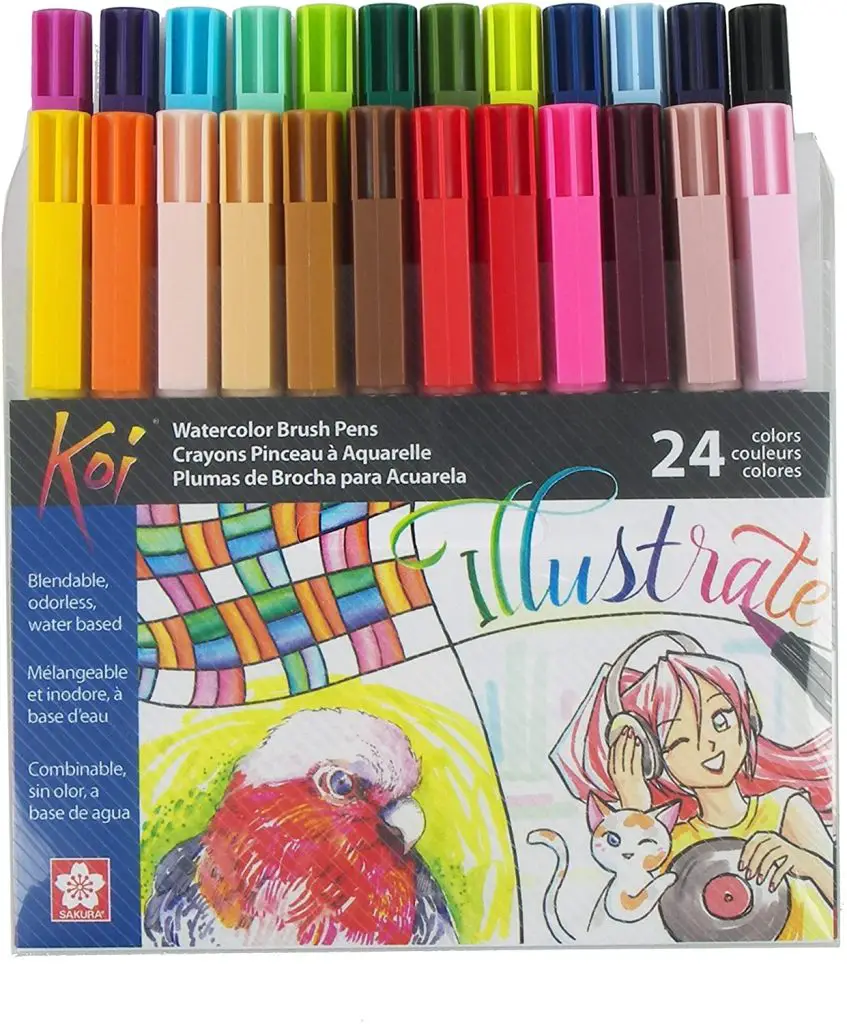 13. TANMIT Dual Tip Brush Marker Pens
Pros
Dual tips for versatility
Wide range of colors
Budget-friendly
Cons
Some brush tips are very soft
Bleeds through thin paper
TANMIT'S 0.4 mm fine felt tip paired with a 1-6 mm brush tip allows for maximum versatility – you can easily fill in fine points in any drawing, and cover large background areas with no trouble. Both tips glide smoothly on paper, though some may find the brush tip to be a bit too soft. Adjust your stroke accordingly if you're getting inconsistent flow.
These markers easily bleed through thin paper, so test them out on your pages before you commit.
This set of 36 markers with a fine tip and a brush nib on either end is an affordable option for beginners, and can be great gifts to the aspiring artist in your life.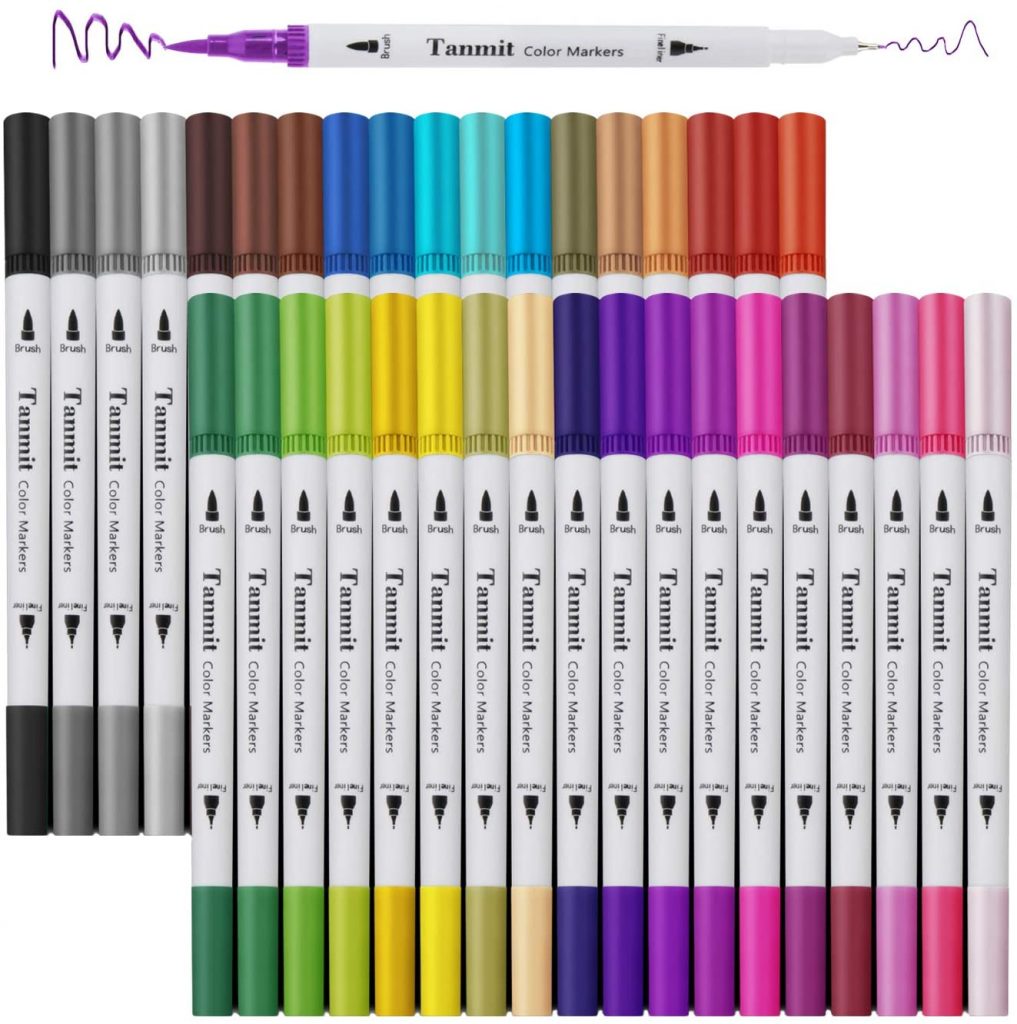 Frequently Asked Questions
Why do you need good markers for coloring books?
Tip and ink quality largely varies across the many, many brands of coloring markers. There is also the choice between alcohol based markers and watercolor markers. Technically speaking, you can use whatever kind of coloring marker you want. But if you want to achieve certain effects, or if you want to maintain consistent color quality throughout the piece, it's best to take note of the markers that work best for your stroke and your style.
What is the best way to use markers and pens for coloring books?
The best thing about a creative activity like coloring is that there really are no rules. You can fill in your coloring book however you want, and there are so many options, so many artist pens you can try. Fine tips are the best markers for detailing and pens with a nylon fiber brush nib are more for covering large areas. But other than that, you are free to use them in any way you wish.
What are the best brands for adult coloring pens and markers?
Many popular art brands carry great coloring pens and markers for adults. Faber-Castell, Prismacolor, Copic, Staedtler, Crayola, and Pentel are a few examples. Their offerings are the best markers for coloring pages, and you just need to choose what's in your budget and what pigments you prefer.
How do you make markers for coloring books last longer?
Any well-made color marker should last you a good, long time. Just make sure to always cap your markers properly so they don't dry out. Dual-ended tips should be stored horizontally so the ink in the barrel won't settle on one end or another. Single-tip markers should be vertical, with the capped end facing down. Many marker sets come with a stand-up case that will make storage simple and easy.
Where can I buy the best markers for coloring books?
Your local stationery shops along with big stores like Target and Wal-Mart likely carry all the best markers for adult coloring books. And of course, almost anything can be found on Amazon. Just make sure that you are buying your color markers from the actual brand, and not through grey-market resellers.
Why are coloring books for adults so popular?
Research has shown that adult coloring books can significantly reduce stress and anxiety. With so many different kinds of designs resulting in art that you can keep, it satisfies many adults' inner children. Some even have coloring events where you can socialize while coloring. Adult coloring books offer the opportunity to be still and focus on a creative activity that takes your mind off any other stressors.
Is coloring good for seniors?
Coloring books with large spaces and simple designs can help exercise fine muscle control in seniors. It can also lead to overall strength and much better hand-eye coordination. They may enjoy the creativity in using bright colors.
What kind of supplies do you need for adult coloring books?
You are free to use any kind of coloring pens for adult coloring books. Colored pencils, gel pens, and alcohol-based fine tip markers are great for fine detailing while chisel tip and brush tip markers are more often used for bigger spaces. Just keep in mind that any coloring implement that uses wet ink will bleed through very thin paper.
What kind of adult coloring book should I get?
There is a wide variety of adult coloring books available in the market, covering all kinds of subjects and levels of difficulty. If you're looking for something more structured, check out mandala patterns. If you like more whimsical motifs such as fairies and other mythical creatures, there are many of those too. If you prefer something sillier, there are even coloring books dedicated to celebrities. 
How do I care and clean my markers?
Adult markers tend to be a bit more expensive, so extra care is important. Most markers will come in a box, so make sure you keep them stored inside of it. Also, ensure the caps are always on, as the ink dries when exposed to air.
Conclusion
Finding the best markers for adult coloring books is very much worth the effort if you want to create work that's consistent and beautiful. There are many to choose from, and there's a set of markers out there that's perfect for you.
You'll be able to maximize the joy and relaxation and self-satisfaction of coloring when you have the right kind of tool at your disposal. Have fun!