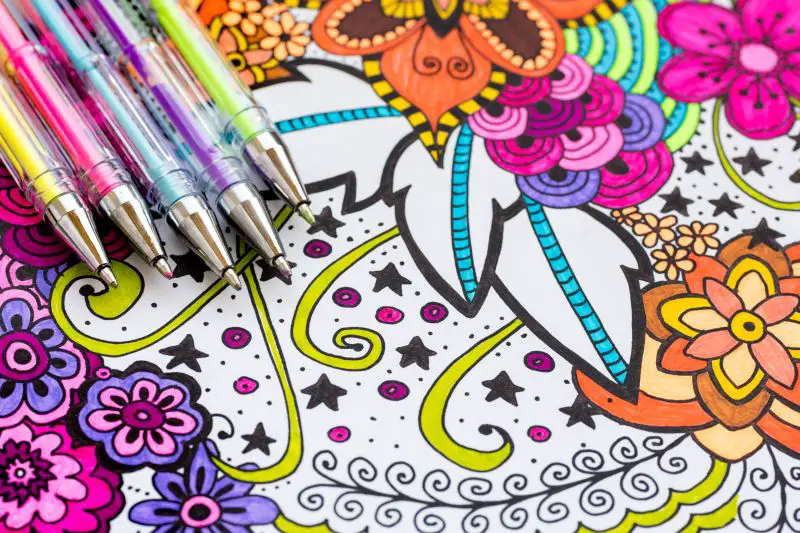 Gel pens for coloring create amazing, opaque results. If you wonder how you can create something outstanding in your adult coloring book, then gel pens might be exactly what you are looking for.
Gel pens are water-based and therefore less toxic than alcohol-based markers. They are best for achieving a look that pops off the page.
Colored gel pens allow you to create fine details, are easy to control, and give texture to the page.
If you like vibrant colors but want something that's less effort than colored pencils, acrylic, or watercolor, then gel pens are for you. They are smoother than felt pens and require less effort than other tools. One layer of color is usually enough, so you don't have to worry about difficult coloring techniques.
With all that being said, some people prefer using other coloring tools. If you'd like to experiment with other coloring options, we can show you the best markers for coloring or the best colored pencils; otherwise, let's have a closer look at why we think gel pens are one of the best coloring tools for adult coloring books.
Gel Pens for Adult Coloring Books
Gel pen sets are fun, easy to use, and make it effortless to achieve stunning results. That's exactly why gel pens are not only popular with children, they are also a great option for adults who enjoy coloring books.
But the question is, what are the best gel pens for coloring?
There is a huge variety of gel pen sets out there, so how do you know which one to choose? One could argue that there isn't one best gel pen set. Rather, you can choose a set based on your needs.
Consider how much money you want to spend. Do you want a budget version or a premium set? Another thing to consider is how many pens you want. Are you a person who enjoys a huge variety, such as glitter gel pens, pastel colors, and special pens? Or are a few basic colors enough for you?
In addition, be aware that there are a few gel pen packages which are not suitable for coloring. Especially packs that only include black pens, very limited colors, or ink that takes too long to dry and bleeds through the paper. So, if you are looking for gel pens for coloring only, stay away from those which are made for journaling or note-taking.
To help you find the best option, we picked the 13 best gel pens for coloring. Below you can find our top recommendations. We considered all budgets, variations, and eco-friendly, non-toxic, and also acid-free alternatives.
Are You a Gel Pen User?
Before we get into the 13 top gel pens, let's have a closer look at who gel pens are for.
Many people wonder if gel pens can be used for coloring and if it's suitable for them. If you wonder the same, let us explain.
Yes, gel pens are suitable for coloring and they are a popular choice of pens for coloring books. Gel pens are perfect for you if you like the smooth feeling of applying them to the page as well as the vibrant color.
Glitter and metallic shades are especially popular and they are included in most sets. Nearly all of them have a nice rubber grip which makes them easy to hold and allow precise work.
The best part, most gel pens come in large packages and they aren't too expensive, so you can easily try them and see if you like them.
How Can Gel Pens Be Used For Coloring?
Gel pens work differently from colored pencils or watercolor.
The gel ink is water-based and it's a wet application but not as hard to control. Before drying, the color easily smears, although there are fast-dry options that smear less. But keep it in mind when you are using gel pens for coloring. You can use the smearing for blending if you want to create transitions between colors.
What's more, you want to make sure that your coloring book has thick pages so that the color doesn't bleed through. This is especially important if your coloring book has images on both sides of a page.
All in all, gel pens are not hard to use which makes them a perfect option for a relaxing time with just you and your coloring book.
Read on to find the perfect gel pen for you.
What Are The Best Gel Pens For Coloring?
We compared leading gel pan brands to find the 13 best pens for coloring. There are many great gel pens out there, but not all of them are suitable for coloring books.
We compiled a top 13 list with a focus on variety of colors in a set, ease of application, eco-friendly, and non-toxic options. You will find high-end and budget-friendly gel pens on our list. All of these sets of pens can be found on Amazon and they are all suitable for adult coloring books. Some come in a nice gift box which makes them great presents as well.
Which will you choose?
1. Tanmit Gel Pens
First on our list of the best gel pens for coloring are Tanmit gel pens. Being one of the most popular gel pen brands, they simply are some of the best coloring pens. They offer a great variety of inks, such as metallic , neon colors, glitter, rainbow hues, and many more. They also have swirl colors which have several colors and create a transition when you draw.
If you decide to buy a whole set, you'll see that each of their pens has a color number. This makes it easy to organize and rebuy once you run out.
These pens come with a fine tip, usually between 0.8 and 1.0 mm.
Another reason why these are one of the best gel pens for coloring is that the pens are made of clear plastic. So, you immediately see if you are running out of ink. They are refillable. What's more, the cap makes a snap sound when put on, so you always know that your pen is closed properly and doesn't dry out.
If you buy their biggest set of 120 pens you'll also receive 120 refills. So, Tanmit pens will last you for a long time.
What we like best about this option: the big variety of colors and the option to refill.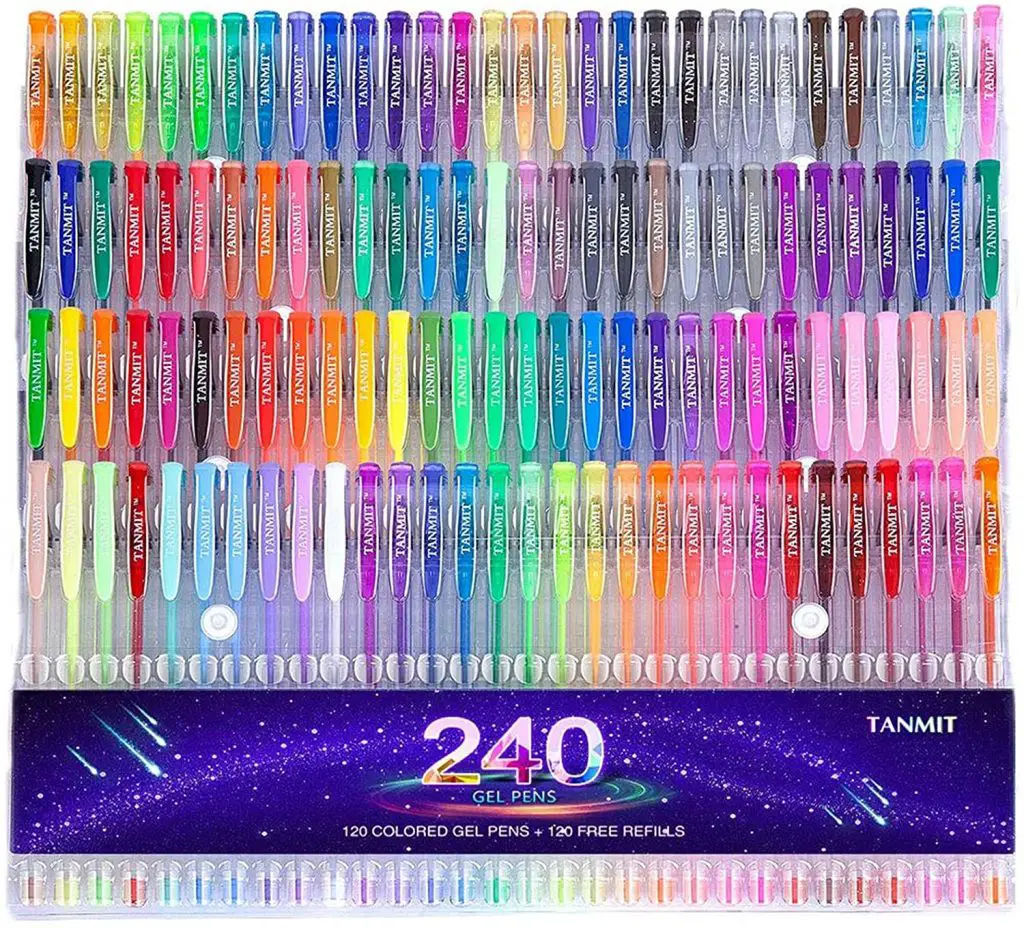 2. Sakura Gelly Roll Pens
Next on our list of the best gel pens is Gelly Roll. They offer some unique colors including white or opaque pastel colors in their Ice Cream Smooth series. Their Moonlight, Stardust, and Metallic series are popular as well.
Some packs include a few pens from different series, a great option if you can't decide between their amazing gel pen sets.
They are vibrant on paper and you can apply two layers on top of each other for extra pop. You don't need much pressure to apply the color as they glide smoothly. The easy-glide is the reason why the Gelly Roll pens are more relaxing to use than colored pencils, for example.
What's more, each Gelly Roll pen can be used on black paper.
Tip sizes vary from 0.5 to 1.0.
Gelly Roll pens are known for being high-quality pens and their price is also a bit higher compared to other options. So, you might want to buy them when you are sure that you love gel pens and you are ready to try a high-quality version. Their price is justified as they last long and create an amazing look.
If you decide to go for their Ice Cream Smooth series, pick the set of 74 pens that come in a clear plastic case. This set includes six classic colors, 11 metallic shades, and even gold and silver colors.
What we like best about this option: The pastel colors with high opacity and the great quality.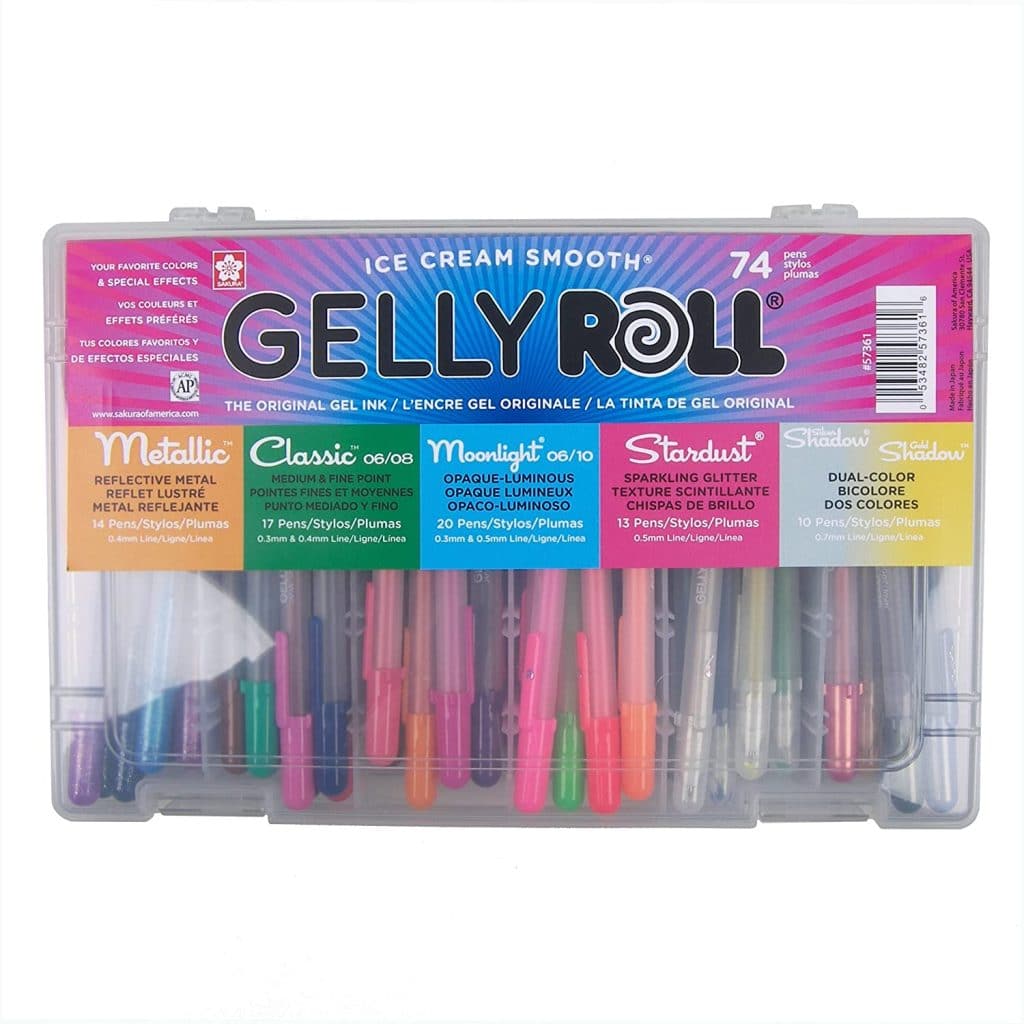 3. Feela Gel Pens
If you want a huge set at a comparably low price then Feela's set of gel pens for coloring is for you.
They offer a set of 360 pieces, including 180 pens and 180 refills. Their set includes 7 distinctive color effects: glitter gel pens, swirl, metallic, neon glitter, pastel, and standard. About 100 of them are glitter, which makes it a great option for glitter pen enthusiasts.
They come in an eco-friendly, break-resistant storage case.
The tip of each Feela pen glides even more smoothly across the paper than many others which makes them one of the best gel pens out there. The ink runs from the first moment you put the tip on paper.
Plus, these gel pens are a great option if you are left handed because of their special comfort grip.
Each pen is numbered for an easier refill and the caps are snap-on caps. They are long-lasting, acid-free, and non-toxic.
If a set of 360 seems too much for you, you can also get one of their smaller sets.
The only downside of this set is that the refills are not numbered. To avoid confusion you have to put each pen back in its original space, which can be a bother if you use a lot of pens at the same time.
What we like best about this option: Huge variety of glitter pens and suitable for left-handed people.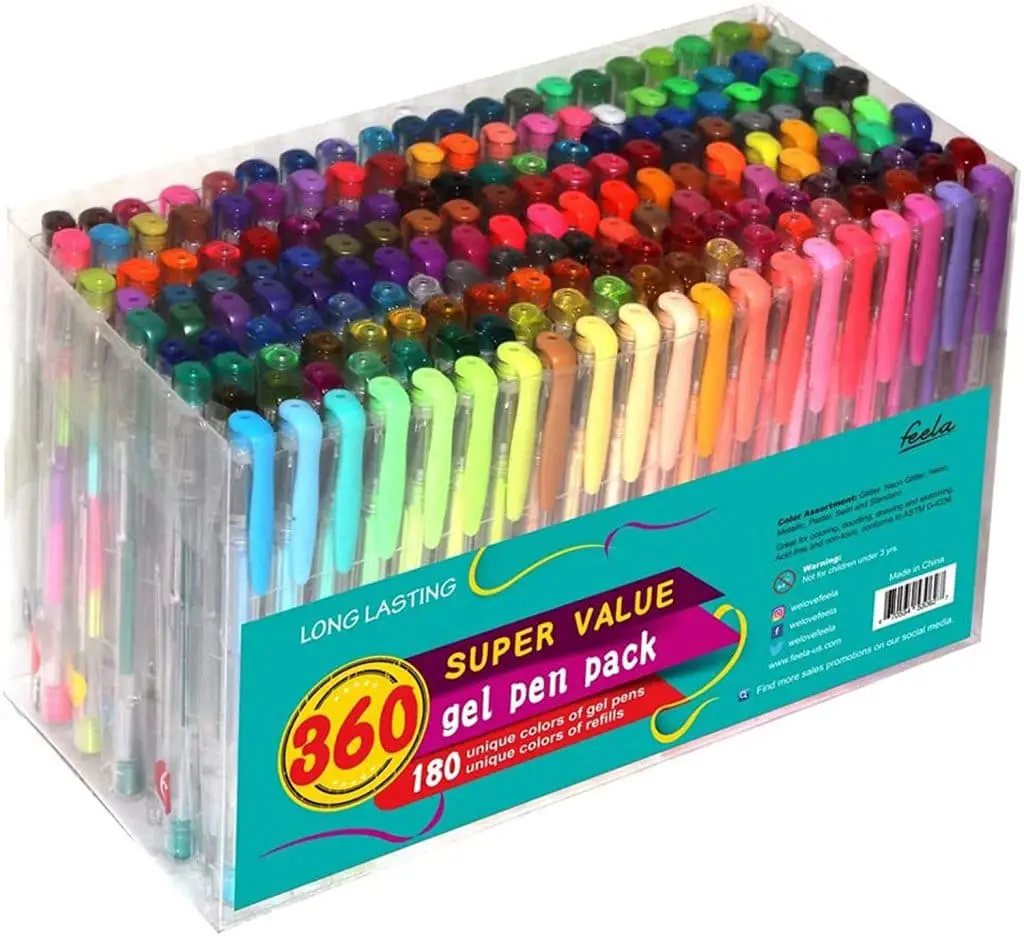 4. Aen Art Gel Pens
Next on our list of the best set of gel pens for coloring – especially for adult coloring books – are Aen Art Gel Pens.
Their best set is a collection of 100, which excludes special colors like glitter gel pens and neon gel pens. They also have a smaller option of 30 colors or a bigger version of 160.
The variations of pens come in separate plastic packs, which keeps them organized. For example, all metallic gel pens are in one pack and the neon colors are in a different one.
All their gel pens come with a comfort-grip, they dry fast and they are refillable. The pens and refills are numbered so you can match them together with ease. Their biggest promise is that all pens include 40% more ink than other brands. According to Aen Art, you can use them 100 times before they run out of ink.
If you are not happy with your pens, they offer a refund. They care about service and customer satisfaction which is a big plus.
What we like best about this option: the organized packaging and Aen Art's care for their customers.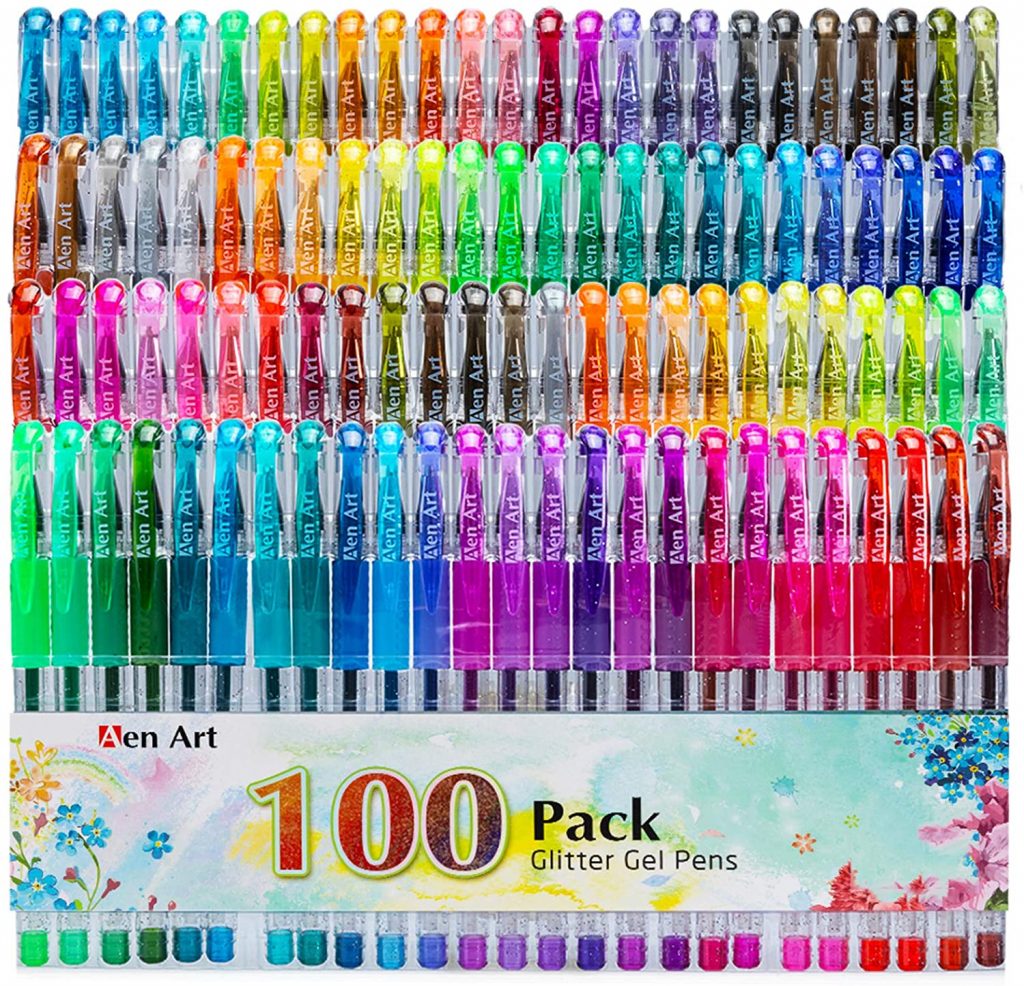 5. ColorIt Glitter Gel Pens
ColorIt Gel sets are specifically made for adult coloring and are therefore one of the best gel pens for coloring.
Their set of gel pens includes 48 colors, which consists of special colors like glitter gel pens, neon gel pens, and metallic gel pens. The set includes refills for all 48 pens and comes in a shimmering travel case. Every one of the color pens are named and color-coded, which makes refilling them easy.
The gel pens have a comfort-grip. They are bleed proof on regular paper, which means your coloring pages won't get stained. The gel ink is water-based, non-toxic, and acid-free.
ColorIt gel pens have a 1.0mm ballpoint tip which makes applying the color a smooth experience.
What we like best about this option: they are specifically made for adults which means they last longer.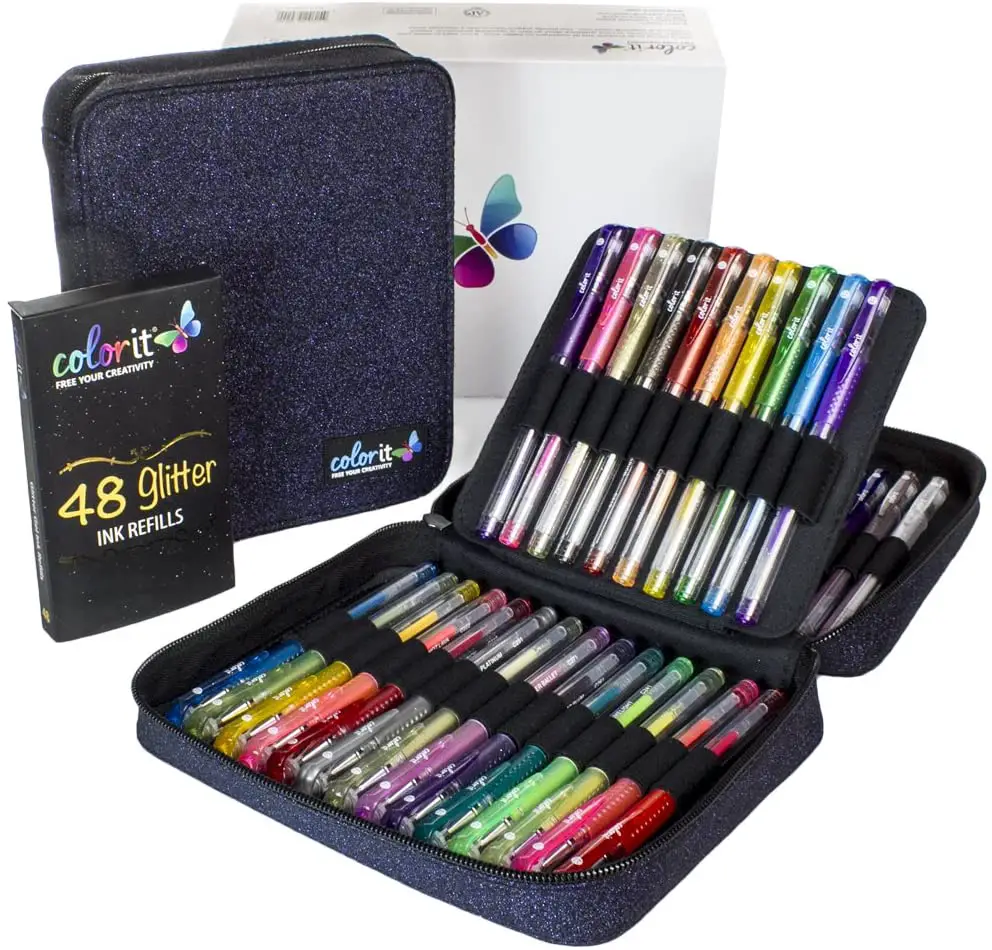 6. Chromatek Glitter Gel Pens
Chromatek gel pens are a high-quality option that doesn't cost an arm and a leg. Their biggest set comes with 100 pieces, 50 pens in different colors, and 50 refills which makes them extra long-lasting.
They are one of the best gel pens for coloring because their color is vivid. The ink flow is smooth, so there is no skipping or clogging. Applying them is easy and enjoyable because of the built-in comfort rubber grip.
All pens in this set have a precision tip of 1.0mm.
They are made from clear plastic, which allows you to monitor gel ink levels and refill them when needed.
Like all of the best gel pens, these pens are acid-free, non-toxic, and follow safety standards.
What we like best about this option: high-quality color pens for a fair price.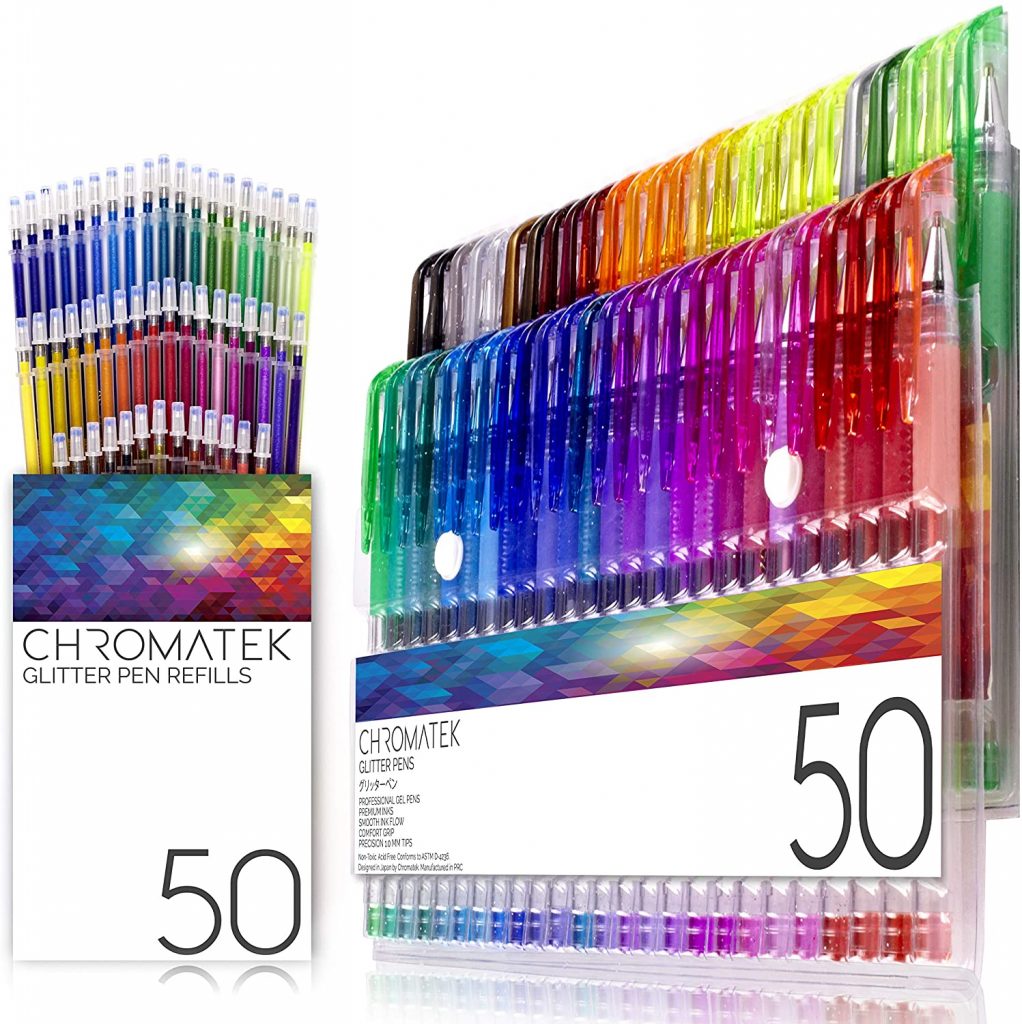 7. Shuttle Art Gel Pens
Shuttle Art offers different set sizes, from 12 colors to sets of 240. Their sets include different pens like glitter pens, neon, neon glitter, pastel, swirl, and metallic colors.
A highlight of the Shuttle Art gel pens is their "magic" shade, which looks black but changes color when it's applied to the paper.
The huge variety makes them one of the best gel pens for coloring books. Bigger sets include pens and refills and they are shipped in a durable plastic case.
The grip is a special triangular grip, so your hand won't hurt even if you color for a long time.
Tip size ranges from 0.8mm to 1.0mm.
For the biggest variety of high-quality pens, choose their set of 360. It includes 180 gel pens and 180 refills.
If you are a fan of a good glitter gel pen, consider one of their all glitter gel pens set. The pack comes in clear plastic packaging so you can store them away.
What we like best about this option: their 'magic' color which turns from black to other shades.

8. Paper Mate InkJoy
If a high-quality gel pen set of 10 or 14 pens is enough for you, then Paper Mate InkJoy are the best gel pens you can choose.
They are especially great for ergonomics as they come with a special comfort-grip. Their gel ink dries three times faster compared to regular gel pens. This set is known for reduced smearing since the ink dries quickly.
The colors are vibrant and the tip size is 0.7mm.
The set of 14 pens includes 14 unique colors. Perfect if you like to keep it simple and value quality. Granted, some of the Paper Mate InkJoy pens were designed with writing in mind and less for coloring but they still help you achieve stunning effects.
When you unpack them, each tip is protected by a little plastic ball on the nib. This means the ink is fresh and not dried out when you start using them. The front of the pen is covered in rubber for better grip. But each pen also has a clear plastic part so you can see how much ink you have left. A special little detail is the two hearts at the clip back of the pen.
Some of the lighter colors included in the set are better visible on black paper so they are perfect for creating interesting effects. They dry fast and become smear-proof after 5 seconds.
What we like best about this option: quality over quantity and they are designed with love for details.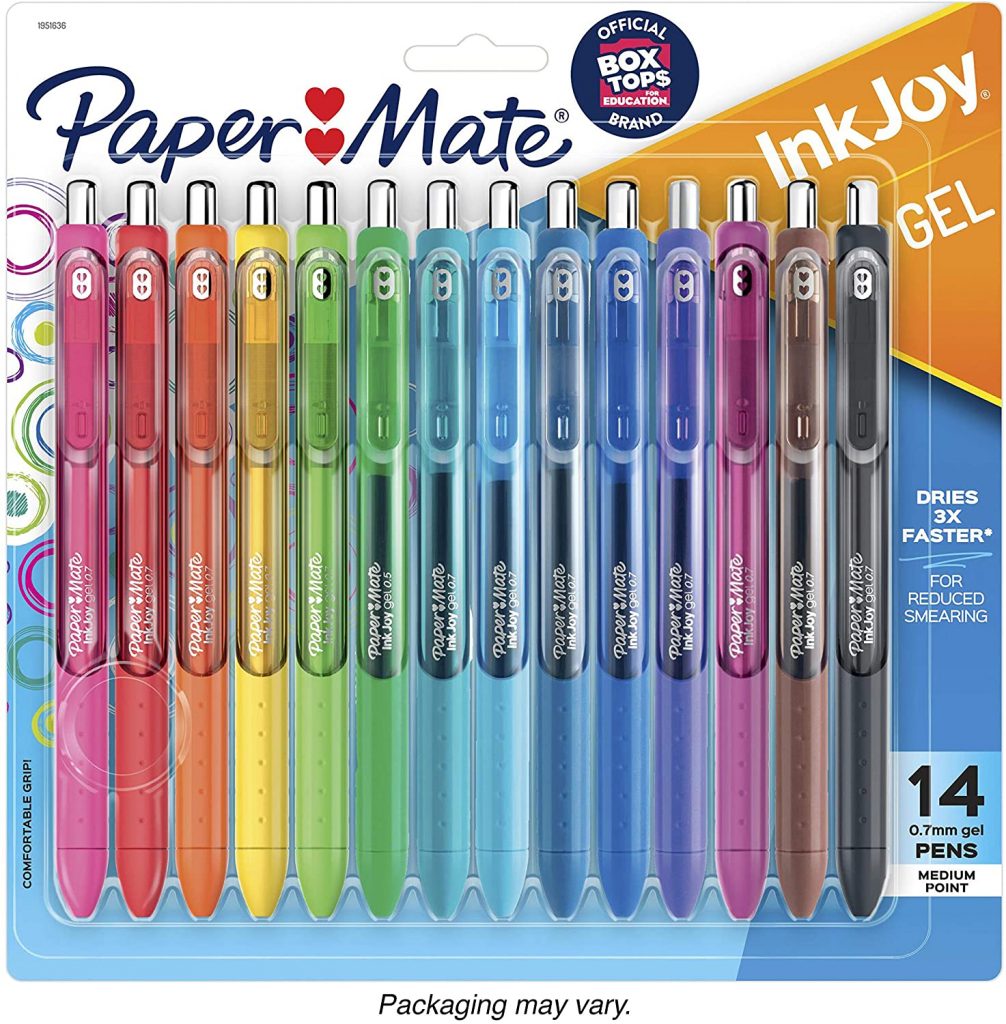 9. Crayola Washable Gel Pens
Crayola is not only for crayons and their gel pen line is also a must-have! It offers a variety of colors which is why they are popular even among kids. They are fun and creative alternative for coloring pages in because they do not smudge or bleed through the page.
Crayola Washable Gel Pens receive a lot of happy nods from many users. Compared to most gel pens, these are washable which means it can be removed by water from one's skin and clothing. Easy with mess! On paper, they create a vibrant and smooth effect. The gel ink is quick-dry, non-toxic, acid-free.
Another feature this set have is that the pens are retractable. There are no caps to lose while working with them; which is why people who like using gel pens for crafts such as rubber stamping and scrapbooking prefer this style.
Quick note that these pens do not have any color name labels on each pen. You may DIY a label, if you need to. They do not have available refills at the moment, too.
Given that this is Crayola, it can be a perfect set for gifting on special occasions.
What we like best about this option: retractable style for convenience.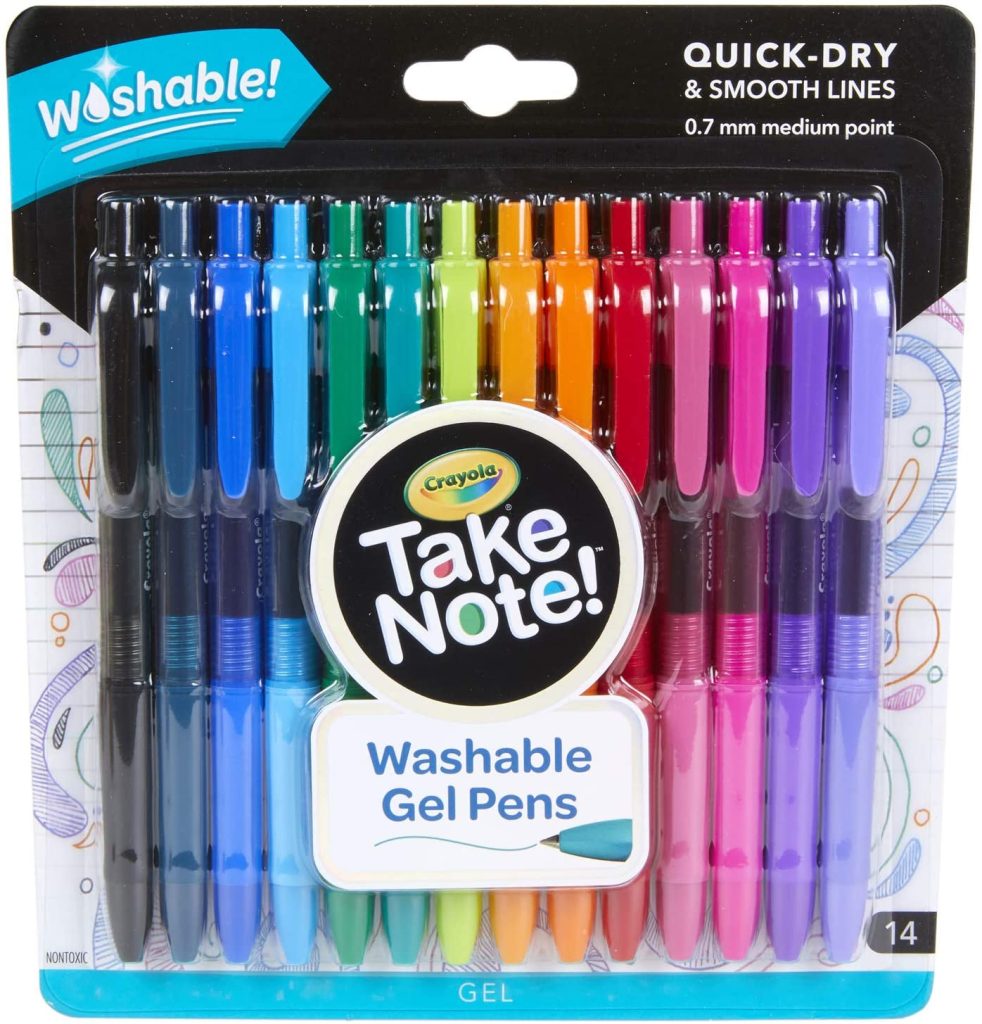 10. Fiskar Gel Pens
Fiskar's gel pen set includes 48 shades twelve of which are glitter gel pens, ten are metallic, nine are pastel, six are neon, two are black ink and six more swirl colors.
Swirl pens include a mix of two colors which creates interesting and unique effects when used for coloring. The gel ink flows well and works on white and dark paper.
The tip of these gel pens is between 0.8mm and 1.0mm, so they are perfect for precise work as well as coloring a larger surface.
This gel pen set is best for you if you are looking for a medium sizes package but don't want to miss out on glitter pens and other special shades.
Fiskars are also acid-free and non-toxic. Thanks to the fine tip they are perfect for coloring pages with fine details.
If you decide to go for this set keep in mind that they are not split into 4 groups of 12 pens. Instead, you'll get 12 glitter, 9 metallic, 9 neon, 9 pastel, 6 swirl, and 3 blacks. The ink flows well, only the lighter shades of the pastel and swirl colors seem to skip out sometimes. They do better on black paper. Albeit the 3 black colors, all other colors are unique so you have a decent variety in your set of gel pens.
What we like best about this option: a medium-sized pack with great variety.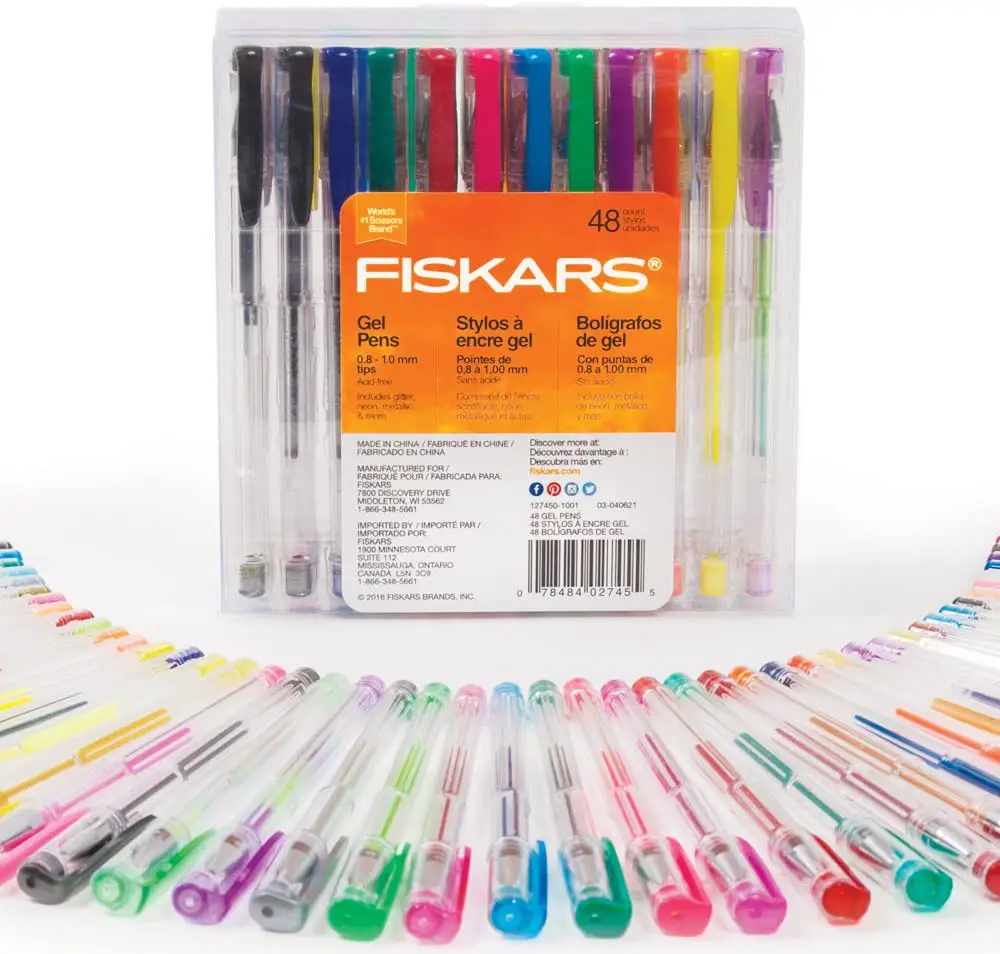 11. Reaeon Gel Pens
Looking for a gel pen that glides well on the paper and offers huge variety and lasts long?
Reaeon's gel pen pack comes with 100 different colored pens and 100 refills. These gel pens are great for coloring, as regular colors, metallic colors, neon colors, neon glitter, pastel colors, and glitter pens are included. The variety allows you to create colorful artworks on your color book pages and thanks to the refills they will last you for quite some time. These are also non-toxic and acid free.
In some cases, Reaeon offers a money-back guarantee, which is great service should you not be happy with your set. Some companies might claim to have sets of 100 different colors but end up giving you very similar shades – but that's not the case here. In the Reaeon set, no two pens are the same and you have a huge variety.
The ink flow is smooth and the drying time is average. Just be a bit careful not to smear them after applying.
What you'll get with this set of gel pens is 28 glitter, 16 neon, 15 pastels, 18 metallics, 14 fluorescent, 6 rainbow, and 3 standards.
What we like best about this option: 100 unique colors in one set.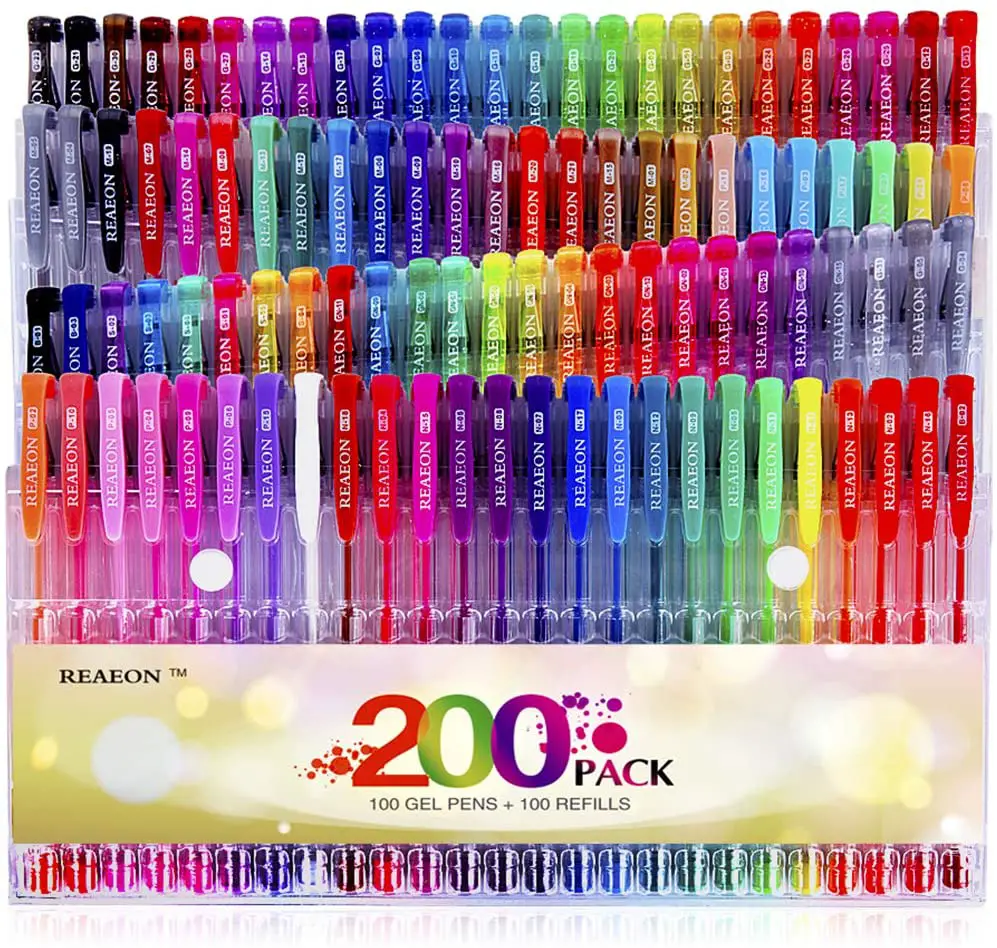 12. Smart Color Art
This pack of 140 colors offers variety and is convenient because each section of pens comes in a sturdy box packing. The 140 pens are a mix of regular pens, glitter, neon, and so on.
The tip is extra fine, ranging from 0.6mm to 0.8mm.
They are great pens for adult coloring books, especially for the gel pen user who likes variety and wants to work with precision. There are no smears and the pen doesn't dry out.
They fill areas nicely which makes them a great choice for coloring books and coloring pages. The colors don't bleed, even if you layer them.
When you get their 320 gel pen pack, keep in mind that it's 160 pens and 160 refills, you'll not be receiving 320 pens. 160 different colors is a lot but the product name is where many people get confused.
All in all, they are great gel pens for the price. Their metallic and glitter shades work a bit smoother than the pastel shades.
Small Color Art is also known for its great customer service should there be a problem with your order. Some of the hues and shades are similar but still different due to the glitter metallic shades.
What we like best about this option: great precision and suitable for layering colors.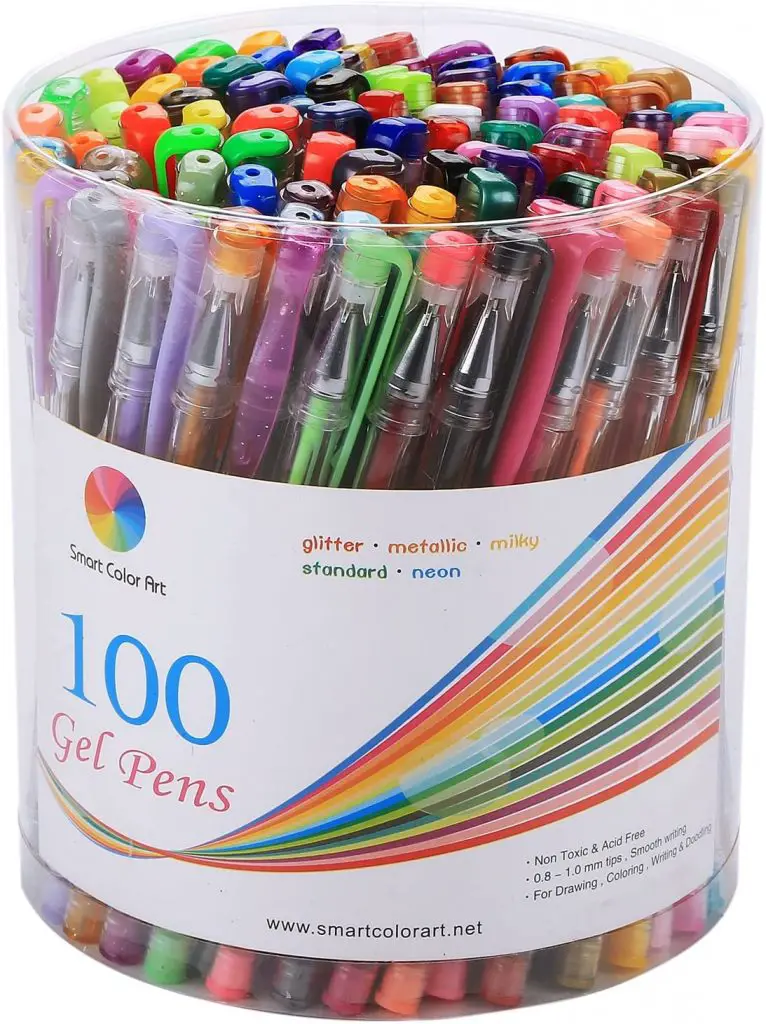 13. Courise 108 Unique Colors Gel Pen Set
This gel pen collection with 108 different colors comes in a nice box.
The ink flow is smooth and the pens can be refilled. They are made of clear plastic so you can see when the ink runs out.
On the paper the colors are bright and the ink flows smoothly and constantly, so there are no weird blotches.
They are suitable for adult coloring books as long as the paper has a decent thickness. If the paper is too thin, it could bleed through.
Some of the 108 colors are similar which allows you to create shadow effects. None of the 108 are the same, fortunately, so there are no duplicates in color.
A common problem with glitter from gel pens is that it comes off and creates a mess on your hand and your coloring pages. But each pen in this set dries fast and the glitter doesn't rub off. This makes them great gel pens for adult coloring books.
What we like best about this option: 108 colors and no smearing.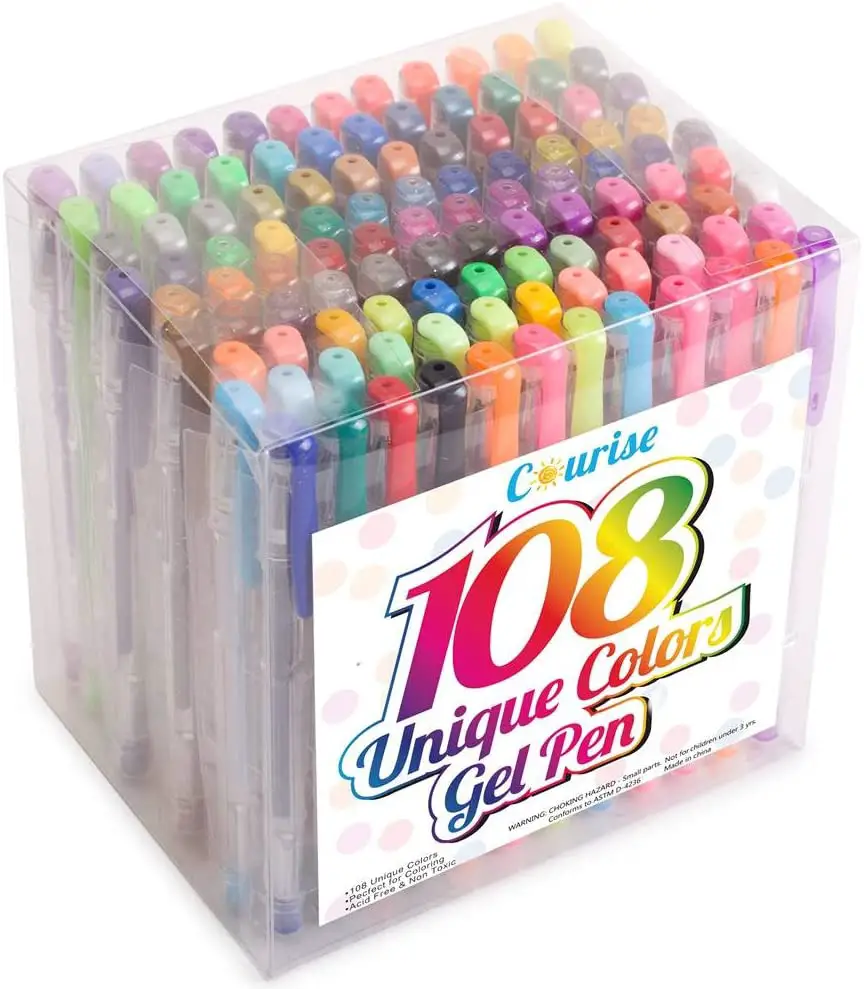 Conclusion
Gel pens are great pens for coloring books and there is a massive variety of them. Which gel pens for coloring you should choose comes down to your budget, how big of a variety you want, and if you like regular pens or are more for glitter neon hues.
Each of the 13 sets we reviewed is suitable gel pens for adult coloring adventures. Pick any of these sets and be confident that you will create stunning pictures and have a relaxing time coloring.
All of them are available on amazon.com so you don't have to worry about long and complicated shipping processes.