Glitter is always an option! Yes?
Admit it. There's something with glitters that just gives that "wow" factor to your craft or artwork. They are aesthetically pleasing, and the sparkle is just beautiful to the eyes.
Aesthetics is one reason why it's also nice to have a set of glittered gel pens on your collection. You can easily add glow on various projects such as calligraphy, journals, coloring work, and a lot more. They are great for accents and highlights, too.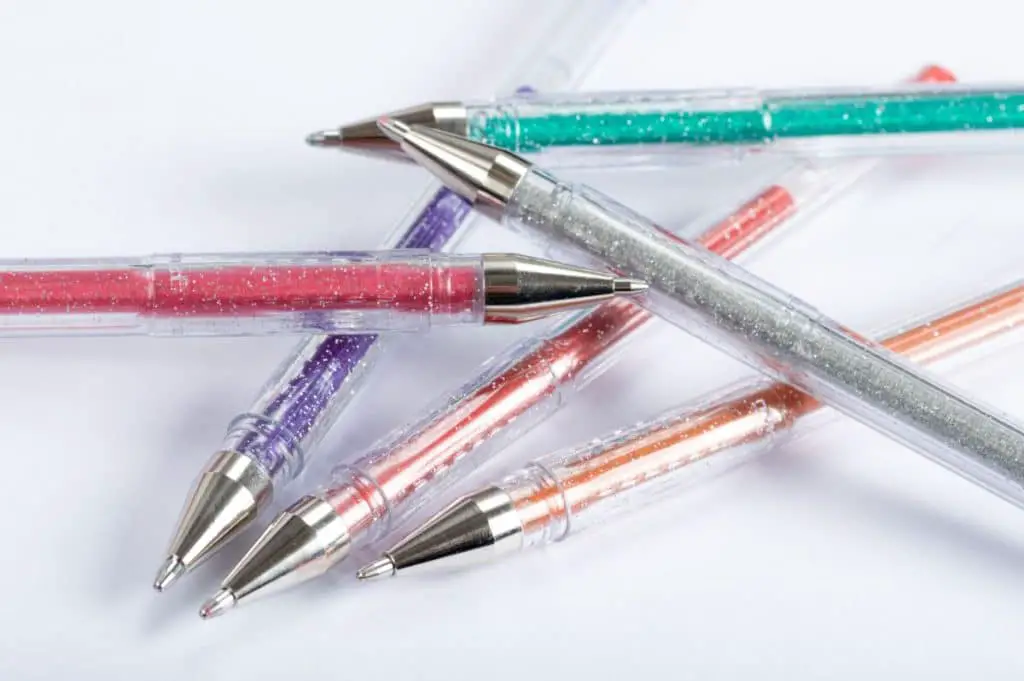 The Gel Pen Family
Perhaps most are familiar with gel pens already. They look like your usual ballpoint pens, but the difference is with the ink. It's thicker, more opaque, and can produce lovely brilliant colors. The ink is made of pigments that are mixed with water-based gel.
Gel pens are known for smooth ink flow, but drying times may not be that instant. Some artists intentionally smear the ink as part of the design, but if you don't intend to smear then, be careful to avoid any streaks.
Gel pens are available in different color options such as neon, glitter, metallic, pastel, or even glow-in-the-dark ones. Some varieties are suitable for light-colored papers and work well with dark ones.
Gel pens are usually sold in sets to maximize your coloring needs. It can be as few as a dozen, and some even have more than 100 unique colors. They are safe, non-toxic, and acid-free pens that make them perfect not just for adults but for students and children, too.
If you are interested in more than just glitter gel pens, you can check out our review of the best gel pens for coloring this year
Glitter Focus
Let's go back to glittery talk. Gel pens were introduced around the 1980s, and since then, different varieties of gel pens have emerged. Since the birth of glitter gel pens, it has been one of the popular, must-have tools to easily bring sparkle to an artwork.
The quality of glitter gel pens varies. Some have more glitter on their inks. Some have colors that appear lighter than others. There are also neon gel pens with glitter. Regardless of the types and ink consistencies, they all have that one goal to add some radiance to your work.
Since these are categorized as pens, they are perfect for small, fine details. Some use them to blend with other coloring tools. Glitter markers also exist as they have broader tips perfect for thick strokes and coloring larger areas. While glitter pens occasionally skip when applied due to their glitter particle, it doesn't minimize the fact that they can add nice effects for your decorative needs.
We tried to search for the best glitter gel pen sets around, so check the brands below that made up our list: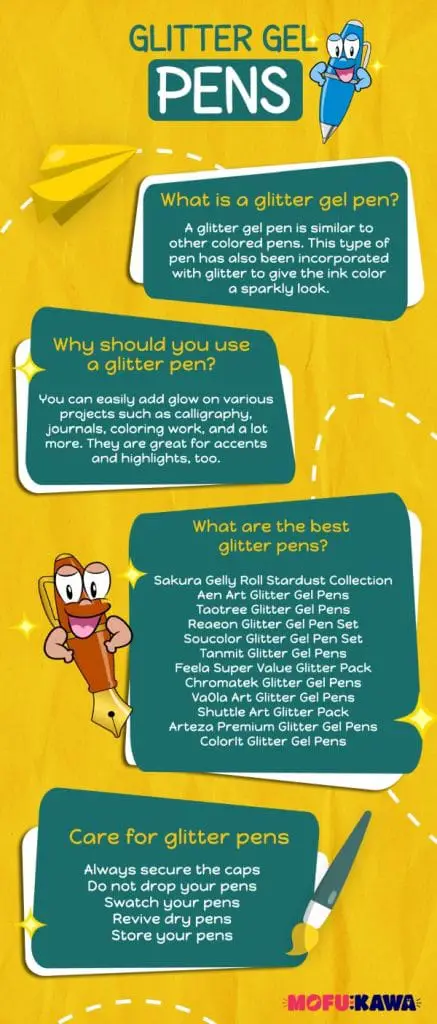 The 12 Best Glitter Gel Pens
1. Sakura Gelly Roll Stardust Collection Cube
Pros
High-quality pens with beautiful, vibrant colors
Waterproof and fade resistant
Pens can be purchased individually
Cons
Limited colors
A little bit pricey
Sakura Gelly Roll is a Japanese brand and was one of the first makers of gel pens globally. The Stardust Collection is their collection for glitter gel pens. The glittery dust is made of finely ground, cosmetic grade, highly reflective glass. The colors stay true when dried up due to its archival quality ink making this a classic favorite for crafters.
These good quality pens are great as they do not bleed through paper. They are best for notebooks and coloring books. Even kids will appreciate how these pens work well for various art designs. Pens can also be purchased individually if your favorite color runs out. The pointed tip is 1.0mm.
This 16-piece Stardust Collection Cube has 12 colors only. It includes two pens in certain colors while the rest are single pens only.
• Two each: Red-Star, Pink-Star, Purple Star, Silver-Star
• One each: Golden-Star, Copper-Star, Rose-Star, Sky-Star, Lime-Star, Green-Star, Blue-Star, Marine-Star.
Content: 16 pieces of glitter pens (12 individual colors); no refills included


2. Aen Art Glitter Gel Pens
Pros
Great big set of vibrant, sparkly colors
Smooth ink flow
Affordable
Cons
Pens are not numbered or labeled
Inks are not refillable
May bleed through thin paper
Aen Art Glitter Gel Pens offers a huge set of 100 different colors of glitter gel pens. Students and adults will have a great time using this set due to the wide range of unique shades available. This allows for more flexibility on random crafts and projects, especially when you need to do some gradient shades. Each pen also features a rubber grip for added comfort when used.
These gel pens set from Aen Art are not numbered nor labeled accordingly. It may be hard to find a particular color in this case; thus, it's best to label them out and swatch accordingly before doing any coloring activity. Some of the colors on the plastic cap do not match the actual ink color, too.
Ink lasts longer as they feature 30% more than regular glitter gel pens out there. It has 0.8mm – 1.0mm fine point tips.
Content: 100 pieces of glitter pens; no refills included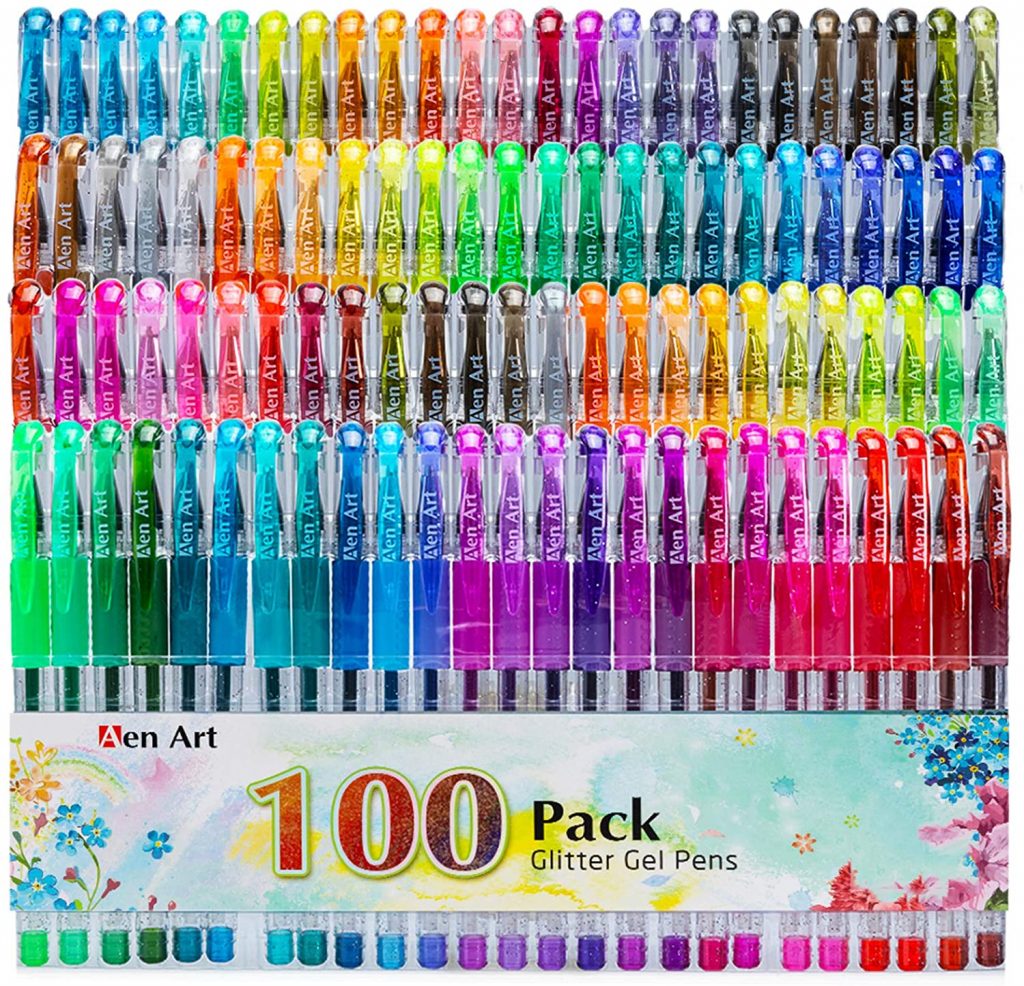 3. Taotree Glitter Gel Pens
Pros
Vibrant colors and a brilliant shine
Smooth ink flow with minimal skipping
Easily dries up
Cons
Limited color options
Ink is not long-lasting
No refills available for purchase
Taotree Glitter Gel Pens are available in 32 brilliant colors. The set includes 18 glitter pens + 14 neon glitter ones. This is perfect for any project at home, school, or office. Students and adults alike will enjoy this set's ink consistency as this doesn't smudge, smear, or skip that much. The fine tip is perfect for coloring, taking down notes, or even illustrations.
This glitter gel pen set features 40% more ink which means you can do more coloring with these pens. For heavy users, ink may quickly run out. Unfortunately, refills are not available, so you may need to purchase an entire set again when certain pens have no more ink.
If you need several glitter pens that offer the basic colors with gold and silver and not too much to keep, this is a good starting set. They have a fine point tip of 0.7mm – 1.0mm.
Content: 32 pieces of glitter pens; no refills included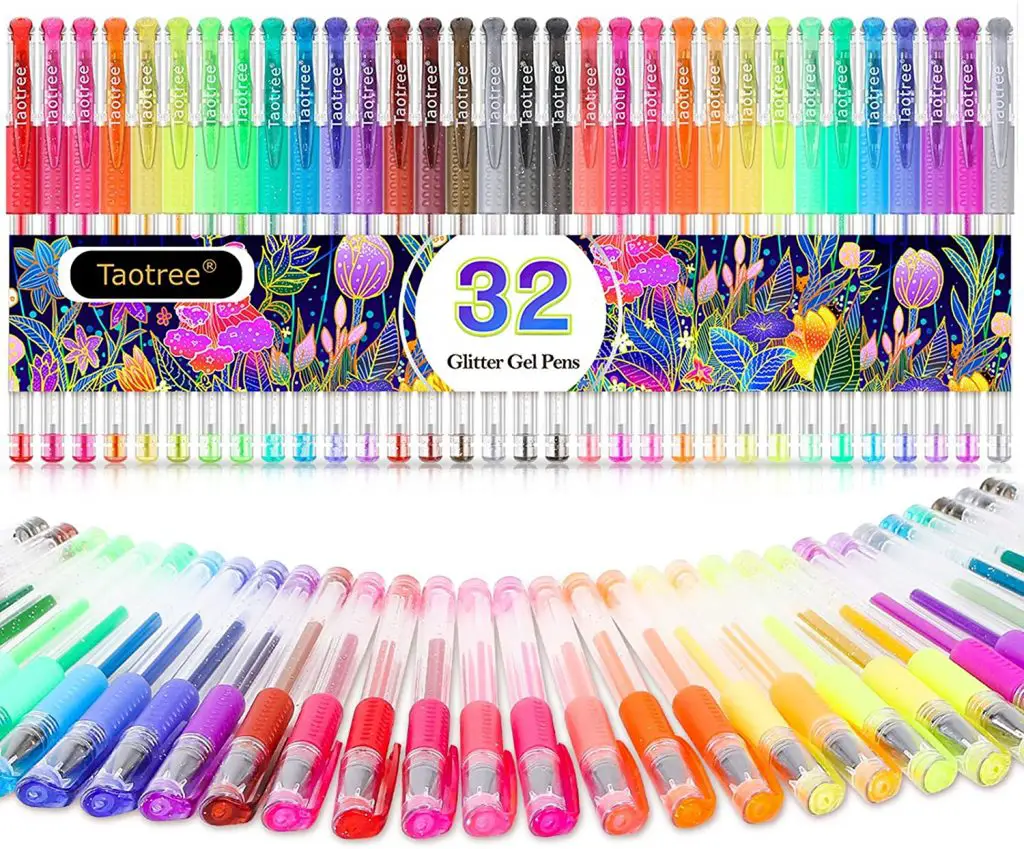 4. Reaeon Glitter Gel Pen Set
Pros
Great big set of sparkly colors, including neon shades
Pens and refills are labeled accordingly
Affordable set
Cons
Ink refill labels may be too small to read
Cap color does not match exactly the ink color
If worrying about ink refills is a concern, then Reaeon Glitter Gel Pen Set can be your option. This is a huge set featuring 100 colors and 100 refills – it's like you're getting 200 glitter pens on this set. The combination of gel pens includes 62 glitter and 38 glitter-neon colors. The inclusion of neon shades is an exciting addition for a wider array of artwork that any user across all levels can do.
Each glitter pen is labeled on the cap, and the ink refills. They are arranged nicely in a reusable plastic case. The 100-piece refill set is packaged separately from the 100 pens. It will be best to swatch them all upon receipt to ensure that your pens are all good. Should there be any concerns, Reaeon customer service will take care of it.
These glitter gel pens are ideal for children and adult coloring books, crafts, invitations, dark papers, and the like. The point size is 0.8-1.0mm.
Content: 100 pieces of glitter pens + 100 refills included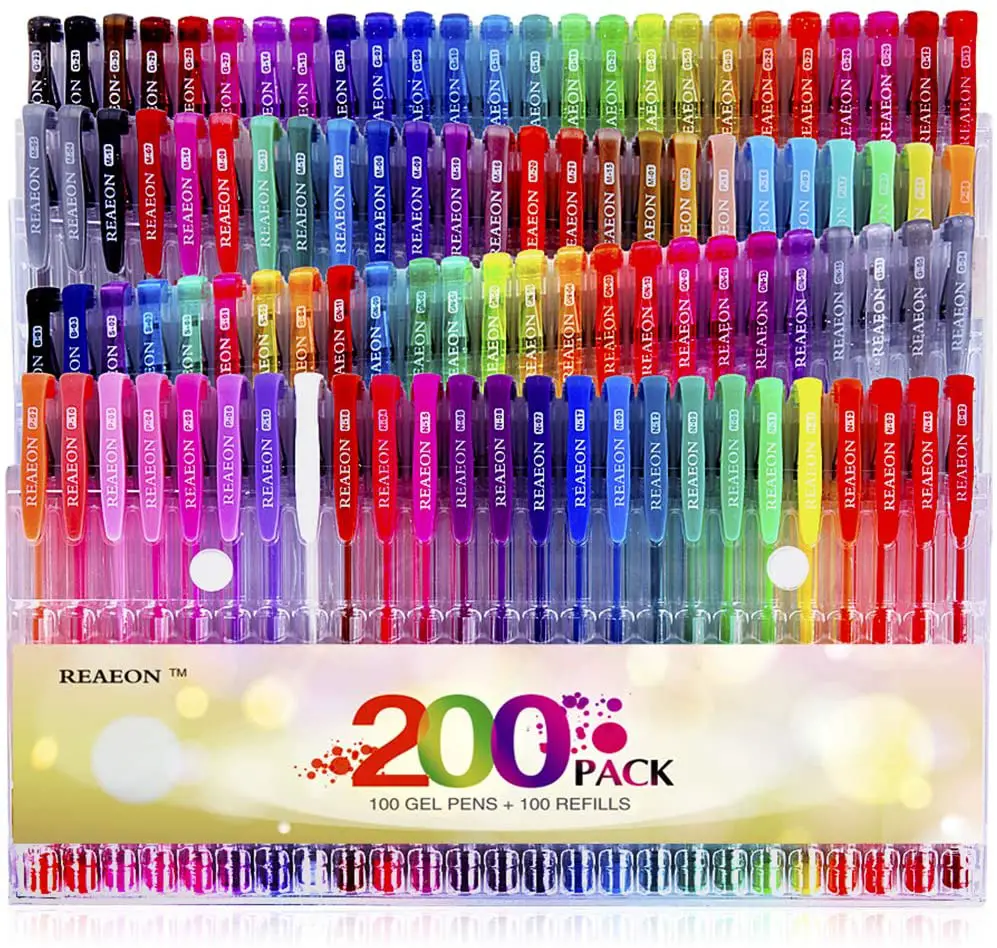 5. Soucolor Glitter Gel Pen Set
Pros
Good variety of vibrant, glittery color pens
Includes a zippered organizer case
All pens and ink refills are properly labeled
Long-lasting inks and dries quickly
Cons
Neon shades are not too fluorescent
A value kit is what Soucolor Glitter Gel Pen Set has to offer. The 60 glitter pens are a combination of 21 glitter neon and 39 regular glitter pens. You won't have to worry when the ink runs out on any of your pens because they have included one refill for each color, making it a total of 60 refills. It's like getting two sets of glitter gel pens in one purchase. In addition, it comes with one adult coloring book and a compact organizer case that can hold all of your pens individually.
The non-toxic pens have a 0.8mm-1mm ballpoint tip that is smooth when applied on paper, cardstocks, or even canvas. They are made to dry quickly and won't smear on your work. They are safe for kids, and even older ones will enjoy them as the ink flow on these pens are consistent and beautiful.
All the glitter pens are also properly labeled with their names and the ink refills, so it won't be confusing. Soucolor also included a blank color card so you may swatch your glitter gel pens right away. This is an ideal set for gifting, too.
Content: 60 pieces of glitter pens + 60 refills included; pen organizer case; adult coloring book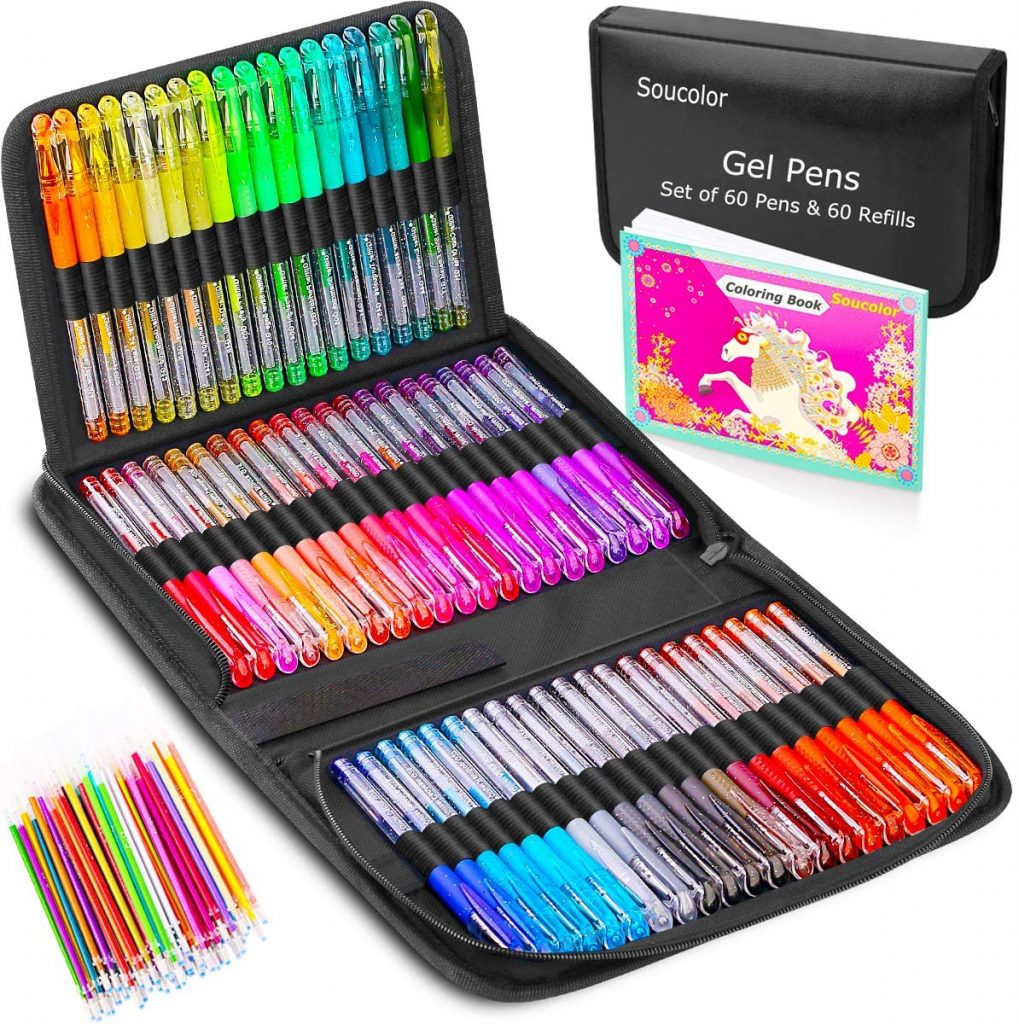 6. Tanmit Glitter Gel Pens
Pros
Wide range of pretty and glittery colors
It doesn't bleed through paper
Long-lasting inks and dries quickly
Cons
No refills available for purchase
Pens are not labeled
The next on our list is the Tanmit Glitter Gel Pens. Tanmit is a known brand for good quality gel pens. This affordable set of 80 sparkly colors includes glitter and neon glitter pens with 0.8mm medium point. It's a perfect set even for kids since they are acid-free, non-toxic, and lead-free.
This glitter gel pen set comes in a plastic case and is organized with each pen slot. Since the pens are not labeled, it will help to have your own color key while assigning or labeling each pen with your own code. A quick note that Tanmit does not offer glitter gel pen refills yet.
They are great for various artworks since they glide smoothly on paper and ink flow is just right. It is comfortable to hold even for longer use since its barrel is a bit larger than the other gel pens around. It also comes with a soft rubber grip.
Content: 80 pieces of glitter pens; no refills included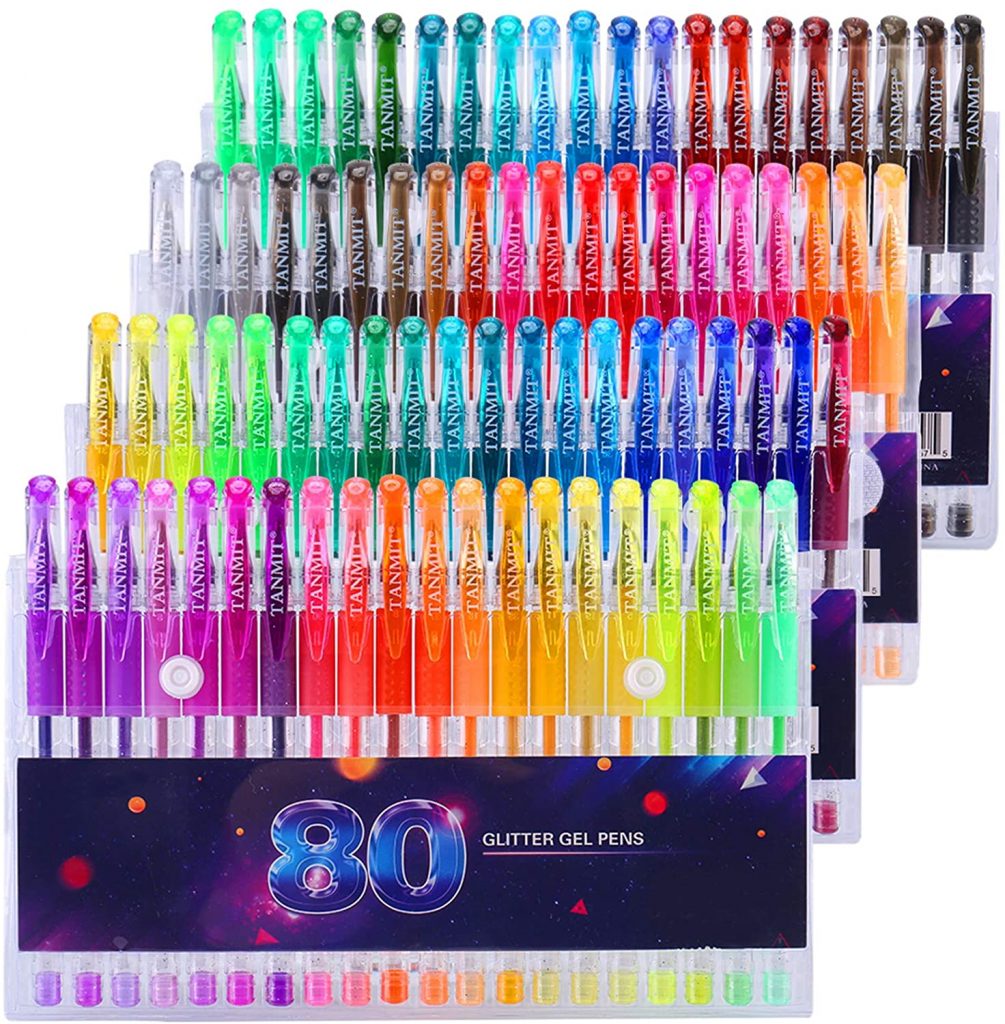 7. Feela Super Value Glitter Pack
Pros
Wide variety of glittery colors
It comes with a refill for each color
All pens and ink refills are labeled
Cons
The plastic case may not be too durable
Labels appear small
Cap color does not match ink color
Here's another option for those who are looking for big sets of glitter gel pens. The Feela Super Value Glitter Pack offers 100 different colors, and the pens come with one refill each. That is like owning 200 glitter pens in one purchase.
The Feela glitter gel pens come in a plastic case. There are five rows to hold 20 pens each. The ink refills are also packed separately depending on how they are arranged per row for easy reference. Each pen and refill are numbered accordingly.
You may use these for dark papers, and glitter ink will still sparkle. For coloring small areas, the tips are fine points thus, making it easy to fill them in. This is a great set for coloring books and making craft projects such as greeting cards because of the huge color selection.
Content: 100 pieces of glitter pens + 100 refills included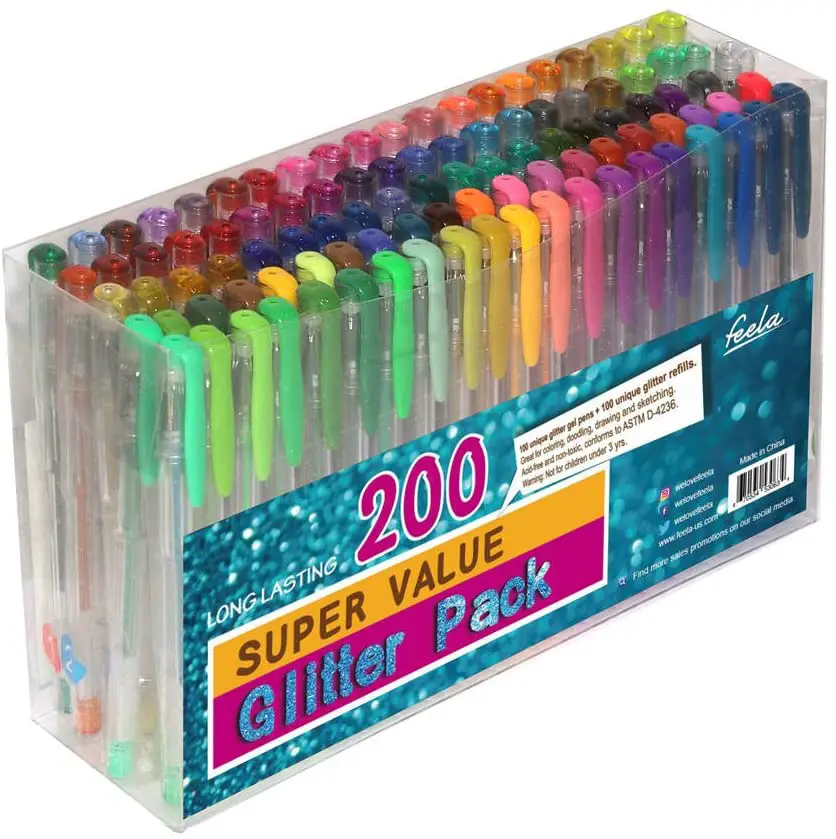 8. Chromatek Glitter Gel Pens
Pros
Ultra-vivid and sparkly glitter colors
Comes with a refill for each color
Ink flows smoothly and dries fast
Affordable price for a professional set
Cons
Limited color coverage
Gel ink does not drain everything from the tube as you use it
Chromatek is a professional brand in the art coloring world. They released the Chromatek Glitter Gel Pens as professional glitter pens. That said, expect ultra-vivid colors with super glittery effect as you glide these pens on your paper. They are long lasting as they are made with archival quality inks.
This set comes with 30 variety of colors and 30 refills (one for each color). Each pen is properly labeled with a code, too. They have more ink which means you'll enjoy longer coloring time before you even replace them with the refill. Chromatek refills are also available for purchase as a separate set.
While these are made professionally, young artists and even schoolchildren will enjoy the smooth flow of ink from these gel pens making it ideal for coloring and other projects. They feature comfortable grips and guaranteed safe and non-toxic.
Content: 30 pieces of glitter pens + 30 refills included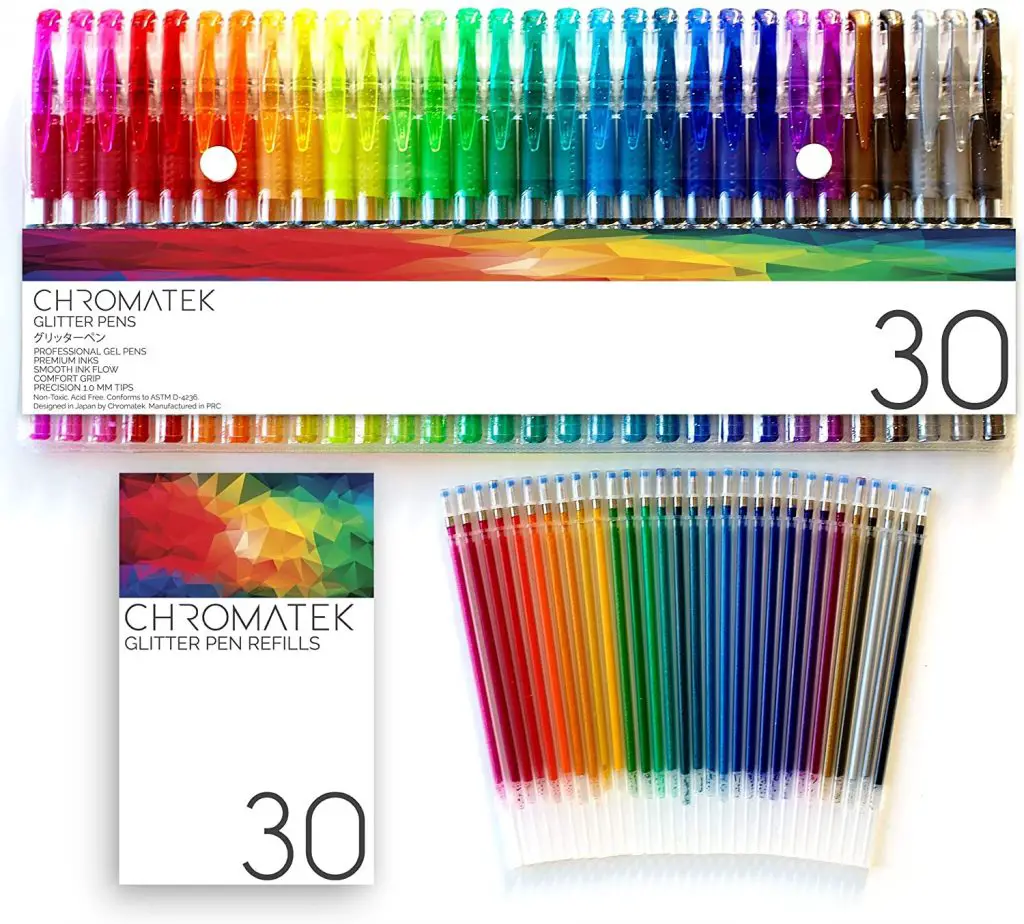 9. Scentco Glitter Gel Smens
Pros
Bright and vibrant glitter pen colors
Long-lasting ink and scents
Cool and attractive pen designs
Cons
Limited colors and pens per pack
Refills not available
Glitter gel pens make use of glittery ink which is amazing in itself. But glitter gel pens with scent is nothing less than magic! It smells so good and the best thing about this, is that you can choose scents according to your mood. These scented glitter gel pens come in various colors and scents like mango, strawberry, bubble gum, cupcake, black cherry, blueberry pie, cotton candy, and watermelon.
Each pen features a soft, comfort grip as you do color activities, writing, crafts, journaling, and other stuff. They contain beautiful ink and writes smoothly on paper. They do not bleed through pages and smudging is minimal.
This set also comes with a retractable feature which conserves ink by covering the tip when you are not using them. They have different colors for their exterior casing which looks attractive, too. There are no refills available but their inks last long.
Try the other Smens varieties such as unicorns, candy canes, and sugar skulls. They come in plastic cases showcasing each pen's vibrant designs and colors. Ideal set for anyone because not only does it make your handwriting look pretty but it also smells nice.
Content: 8 pieces of glitter gel pens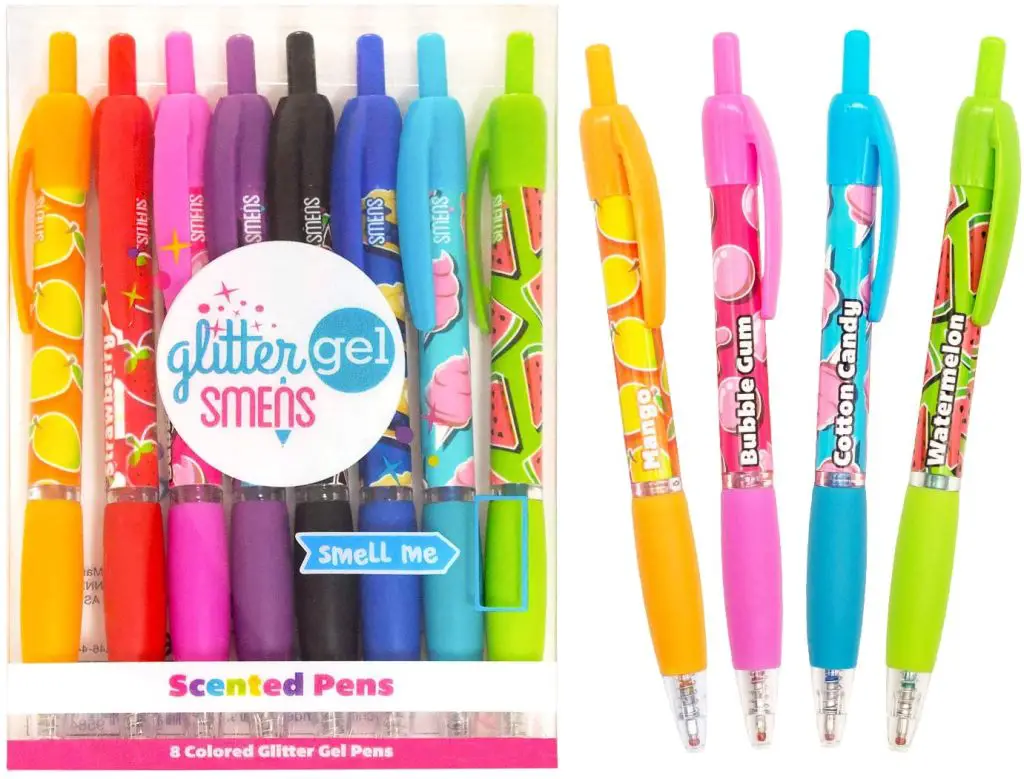 10. Shuttle Art Glitter Pack
Pros
Wide variety of bright glitter gel pens
It doesn't bleed through paper
Durable tips
Cons
Gel ink may appear scratchy sometimes
Pens and refills are not labeled to match
Ink on some pens don't last very long
It seems that this is the largest set we have found that offers 120 brilliant colors and the gel pens come with 120 refills for each, totaling 240 glitter gel pens. Art hobbyists will enjoy this huge collection of wonderful colors from Shuttle Art. One can make gradient color overlays considering the number of colored gel pens this brand offers.
These glitter gel pens are not limited to coloring books, illustrations, journals, and DIY greeting cards. Adults and kids can maximize these safe and non-toxic pens for other projects, too.
This set of 120-piece glitter pens comes in a plastic case with six rows. Each row houses 20 pens. Be careful when sorting them out because the refills are also sorted in 6 packs. These pens are not labeled individually, so it will be quite hard to organize everything if they have been all mixed up. It's also best to make a swatch of your pens as arranged per row and have them labeled accordingly.
Content: 120 pieces of glitter pens + 120 refills included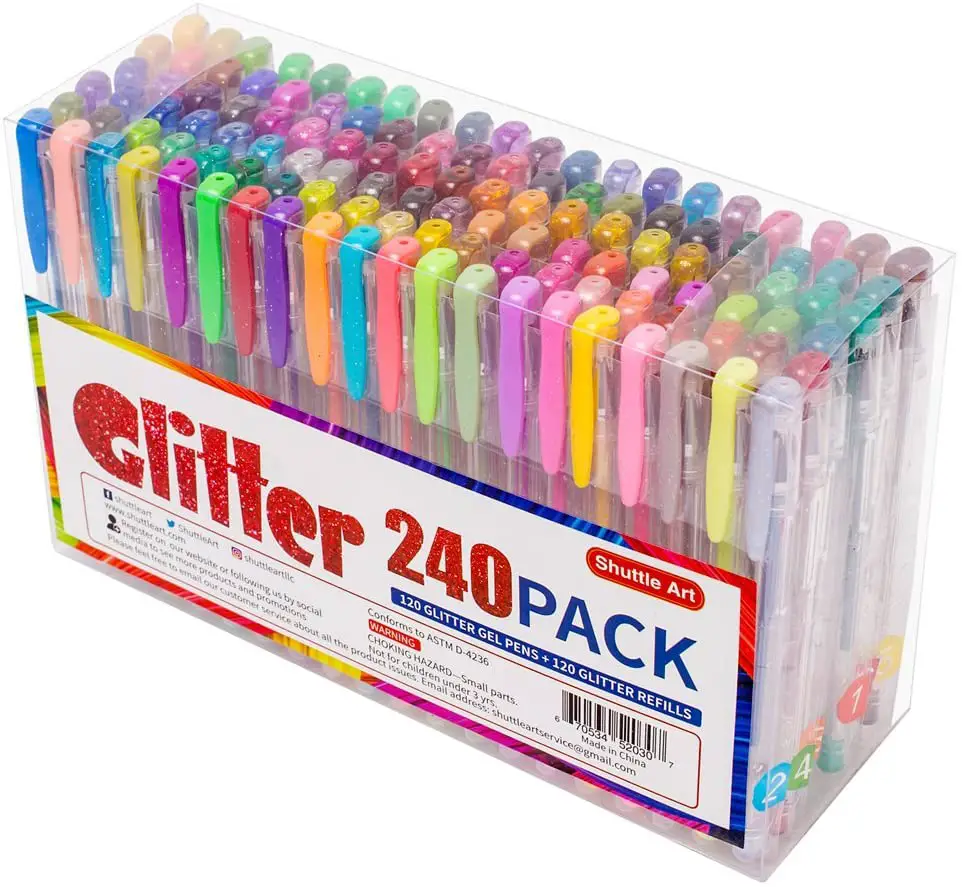 11. Arteza Premium Glitter Gel Pens
Pros
Bright and vibrant color glitter pens
Long-lasting inks
Premium quality glitter gel pens
Cons
No glitter refills included, nor can they be purchased separately
Limited color selection
Arteza is a trusted brand in the art supplies world. They have introduced a 14-set glitter gel pen set with 0.8-1.0 mm ballpoint tips. It features basic colors full of shine that is ideal for common art projects, scrapbooking, journaling, daily writing, etc.
These non-toxic pens feature a distinct triangular shape for a comfortable grip and prevent the pens from rolling over from your table. They glide smoothly on paper, and ink flows well. They dry fast and don't easily smudge. For avid colorists, you may need to purchase a new set if any of your glitter gel pens run out of ink. Replacement cartridges are available only for their regular gel pens (not for the glittered ones).
These pens are not labeled, by the way. It's best to swatch your pens and assign a code to help you identify each one. Arteza Customer Care is also responsive if you have any concerns with your set. Just get in touch with them for assistance.
Content: 14 pieces of glitter pens; no refills included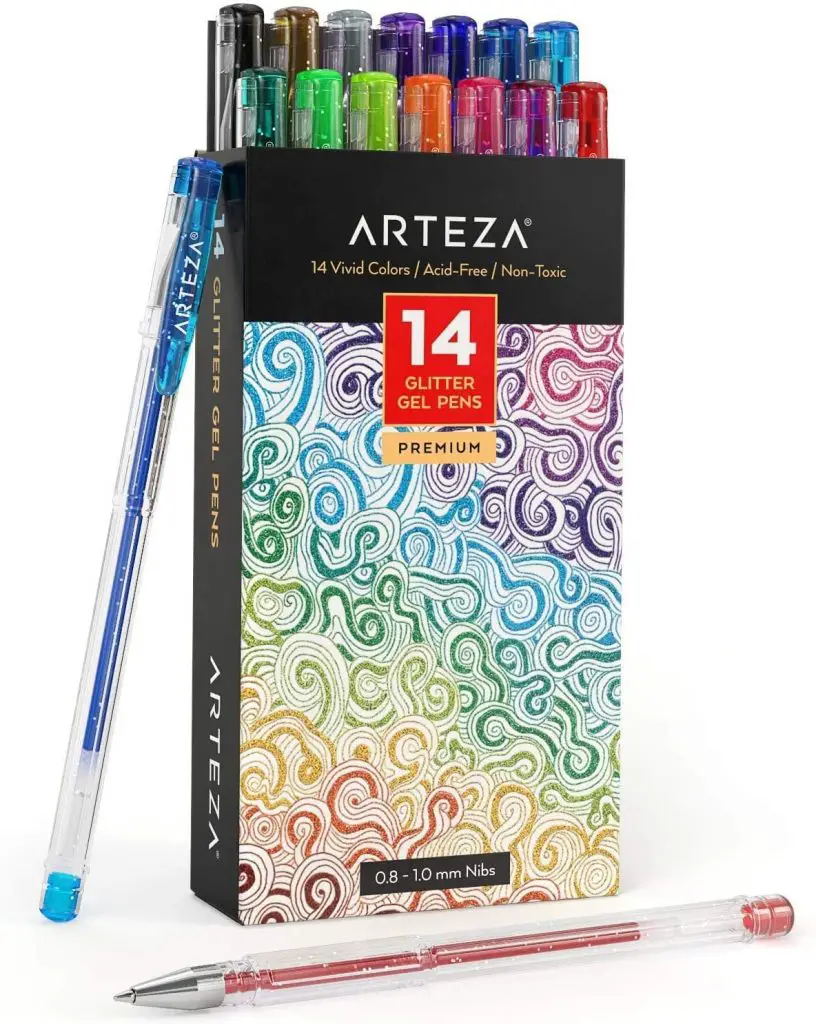 12. ColorIt Glitter Gel Pens
Pros
Bright and vibrant color glitter pens
Long-lasting ink, premium quality glitter gel pens
It comes with a zippered organizer case
Offers 1-year warranty
Cons
Cap color does not match exactly the ink color
Last but not least on our list are these glitter gel pen beauties from ColorIt. This high-quality set comes in a nice box that is also perfect for gifting.
There are 48 brilliant and glittery colors on this pack. You won't have to worry when the ink runs out when you are in the middle of a project since it includes another 48 pieces of refills for each color. Each pen and refill are labeled to match.
These glitter gel pen sets are great for writing and perfect for coloring and blending, given their 1.0mm tips. The pens feature an ergonomic grip, so it's comfortable to use as you enjoy putting smooth, bold glitter ink on your coloring books or other stuff.
In terms of storage, this set comes with a nice zippered pen organizer case. This is also perfect if you're traveling and need to bring your pens anytime. It's safe for kids, too. They are non-toxic and acid-free.
Content: 48 pieces of glitter pens + 48 refills included; pen organizer case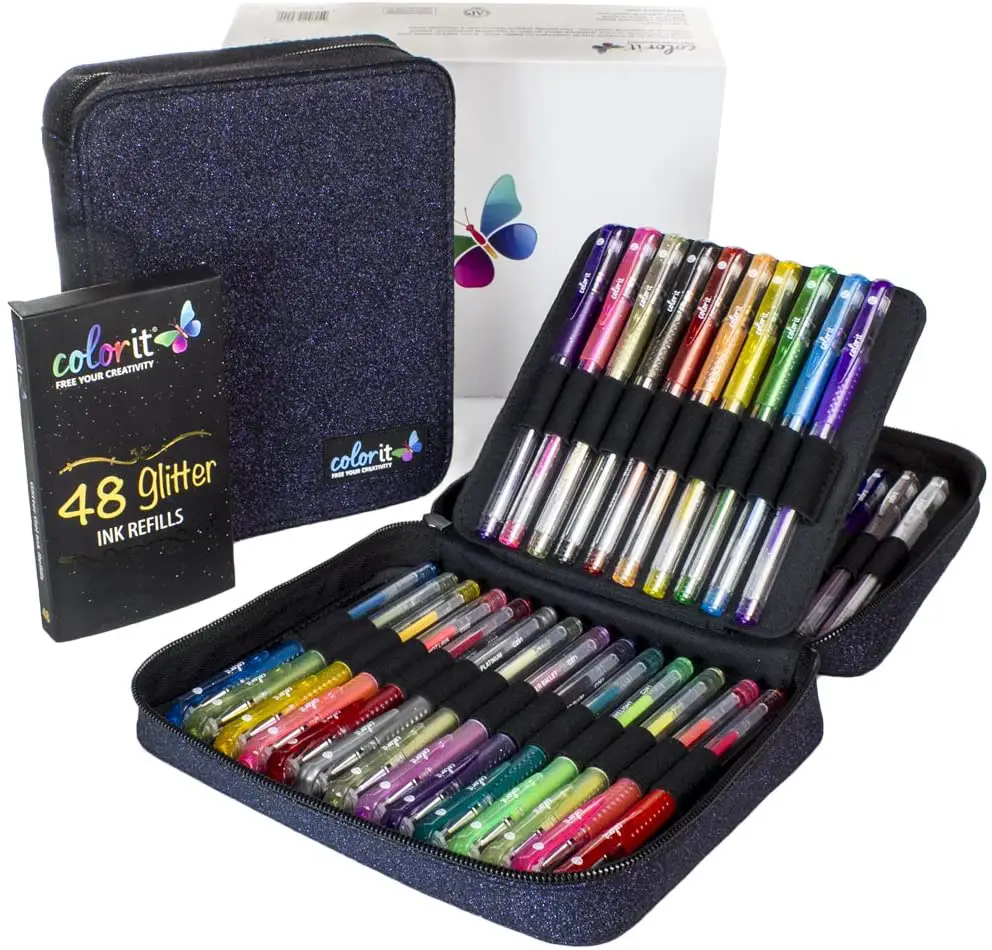 Care for Glitter Gel Pens
• Always secure the caps properly – glitter gel pens easily dry out if you leave the tips exposed for a long time. When you close your pens, make sure you hear that clicking sound, which means it's been securely snapped in place.
• Do not drop your pens – air bubbles inside your gel ink cartridge may appear, disturbing how the ink goes towards the tip. Usually, when an air gap is present, the portion of ink separated from the rest may not flow anymore thus, will not be of use. Also, gently put your pens back on your container after use.
• Swatch your pens – while the cap colors usually give the idea of the ink color inside, they usually are not the perfect representation of it. Make your own color key for easier reference and know what works with your design need. If your set came with refills, you might also double-check ahead if they all match the colors on your pack.
• Consider tip sizes – smaller tip sizes are ideal for writing and filling small details and may not be good for coloring big spaces as it may affect your paper.
• Reviving dry pens – make scribbles in a circular motion to get the ink working on the tip again. This is not a guarantee but may help. Pressing or tapping the tip firmly on a pad paper may also work for the ink to flow back.
• Storing your pens – there's a huge debate on the best way to store gel pens. Some prefer it with the tip on top, others prefer it with the tip at the bottom. Another option is to store it horizontally. It seems it doesn't matter how you store them, as gel ink is pressurized inside the cartridge. What's more important is that these pens are handled with care – don't drop or tap them on hard surfaces – to avoid issues with the ink forming air spaces in between.
Conclusion
Glitter gel pens simply bring out that bling vibe in any art design. Regardless if you create full glitter colorwork or just adding them as an accent, the extra sparkle makes your design pop out beautifully.
One doesn't need to be an expert to make good art with glitter pens. Users of all ages – from kids to adults – can easily bring out their creative side with these types of pens. Depending on your budget and need, there will always be a glitter gel pen set available for you.
Sparkles are not limited to silver and gold anymore. Do more with the best glitter gel pens available online. Grab your coloring books, upgrade your bullet journals, enhance your scrapbooks, and be inspired to do more arts and crafts.
Shimmer and shine!