Got Copic?
This Japanese brand of professional-quality markers has taken the heart of many artists and design experts worldwide. Since it was introduced in the late 1980s, they have set the standard and have been one of the most sought-after alcohol-based markers for many good reasons.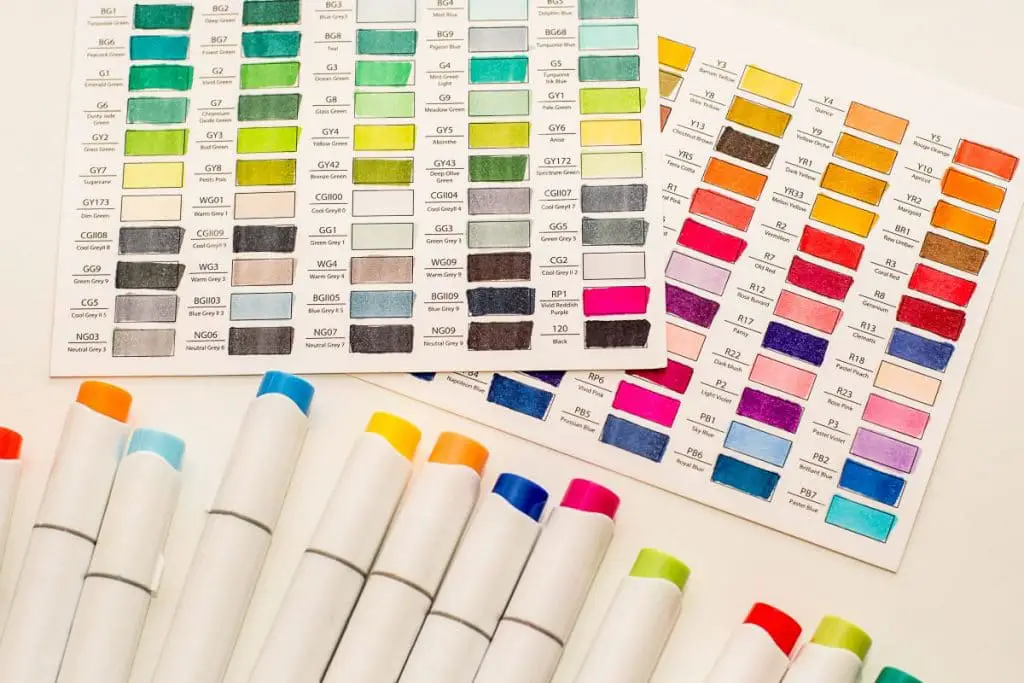 Why Copic?
Ink Quality – no wonder why Copics remain on the top spot for markers is because of their premium grade inks. They are smooth, blendable, and don't streak. They are permanent markers, and the colors last longer.
Tips – Copic offers different tip sizes, including the most common ones: chisel, brush, and fine. Each marker features dual tips; thus, there's a balance of ink flow on both ends. The brush tip is an ultimate favorite as it doesn't easily fray and ensures smooth application on paper.
Durability – these markers are sturdy and literally may last a lifetime. Copic offers refillable inks and replaceable nibs. Being able to refill/replace makes it a good deal because you don't have to purchase a pen (or an entire set again) to replace a damaged marker. Note that not all brands offer individual pens for sale.
Colors – with up to 358 unique color options available, Copic provides a wide color selection for any user level to meet their artistic needs. Each color is rich, vivid, and brilliant.
Comfort – Copic's pen body was designed for a comfortable grip, regardless of which tip you use. It allows for perfect and precise control of your artwork. It houses the ink that flows on both nibs. Different brands vary on pen body shapes and sizes that may need some getting used to.
Why not Copic?
Perhaps, the only thing holding back most users from owning a set of this incredible coloring tool is the price point. It's considered an investment when you splurge on Copics given the hefty tag, but there's no need to fret. Aside from the fact that Copic markers can be bought per piece should you need to try them out, there are good Copic alternatives out there that are also available in sets to meet your coloring needs without breaking the bank.
The 12 Best Copic Alternatives
With Copic setting up high standards for alcohol-based markers, we have listed down below the best choices you can try as an alternative to it. These markers are unique on their own and won't compromise the quality you can get when using alcohol markers.
If you're a beginner, choose a set that's within your budget as you practice more on how to use alcohol-based art markers. Level up as you go along with your coloring journey and see which marker brand suits your preference.
Copic is not the only high-quality brand around if you're already into alcohol markers. Many great dupes exist that could also be your game-changer for your coloring needs.
Editor Note: Dupes means other, cheaper, alternative brands that attempt to replicate the most notable elements of a Copic marker, such as the nibs, high-quality ink, larger body, etc.
Read on our recommended Copic alternatives and let us know your thoughts through the comment section at the end of this article.
If your main focus is adult coloring books then you'll want to check out our guide covering the best markers for adult coloring books.
1. Prismacolor Premier Double-Ended Art Markers
Prismacolor has been in the art markers industry since 1984, and it's not surprising why this has been one of the favorites. For a few decades now, they have been consistently tagged as comparable with Copic when it comes to ink quality. Prismacolor's Premiere series are alcohol-based markers that produce rich, artist-grade inks that are also good when blending colors and creating gradient effects.
Prismacolor is also available in brush, chisel, and fine tips. They are dual-tip markers that also share the same ink barrel. You have the option to have a fine & chisel tip combination or a brush & fine tip. Depending on what you need to do, both types of markers allow versatility to cover any space with color. They are non-toxic, but the odor may be a bit stronger than Copic's.
Available in around 200 colors, Prismacolor markers offer a good selection of different shades. They feature a round barrel, but you won't worry about having them roll off from your desk since the caps on each end feature a small notch. The pens are properly labeled and color-coded, but for your reference, it's important to create your own swatch of color as the color on each pen may not exactly match the ink inside.
These markers do not feature refillable inks nor replaceable nibs. Should any of your markers dry out or the nibs fray due to heavy usage, individual markers are available for purchase. A colorless blender can also be purchased separately to help you with your blending techniques and highlights.
For a 72-piece set of chisel and fine tips, you may save a fair amount if you get this set of Prismacolor Markers vs. Copic Classic. They come in a sturdy box with individual trays and slots to organize them accordingly. It's perfect when you need to store them horizontally, too.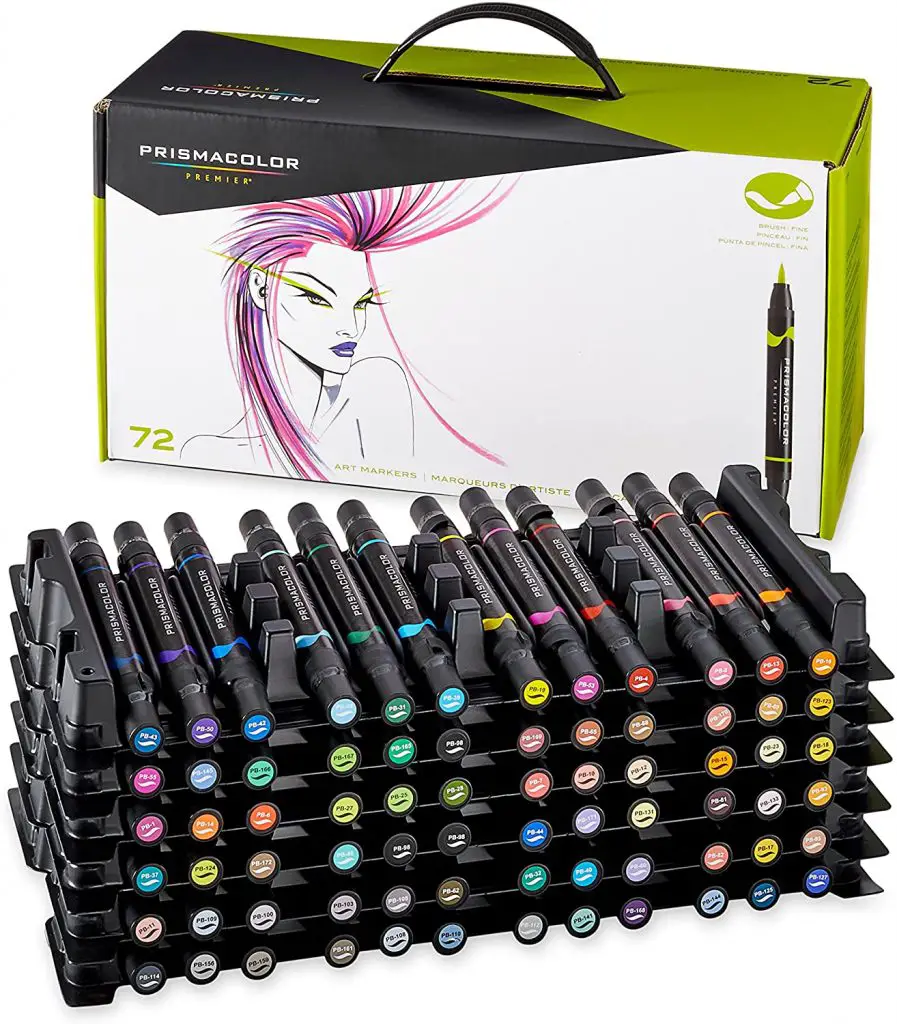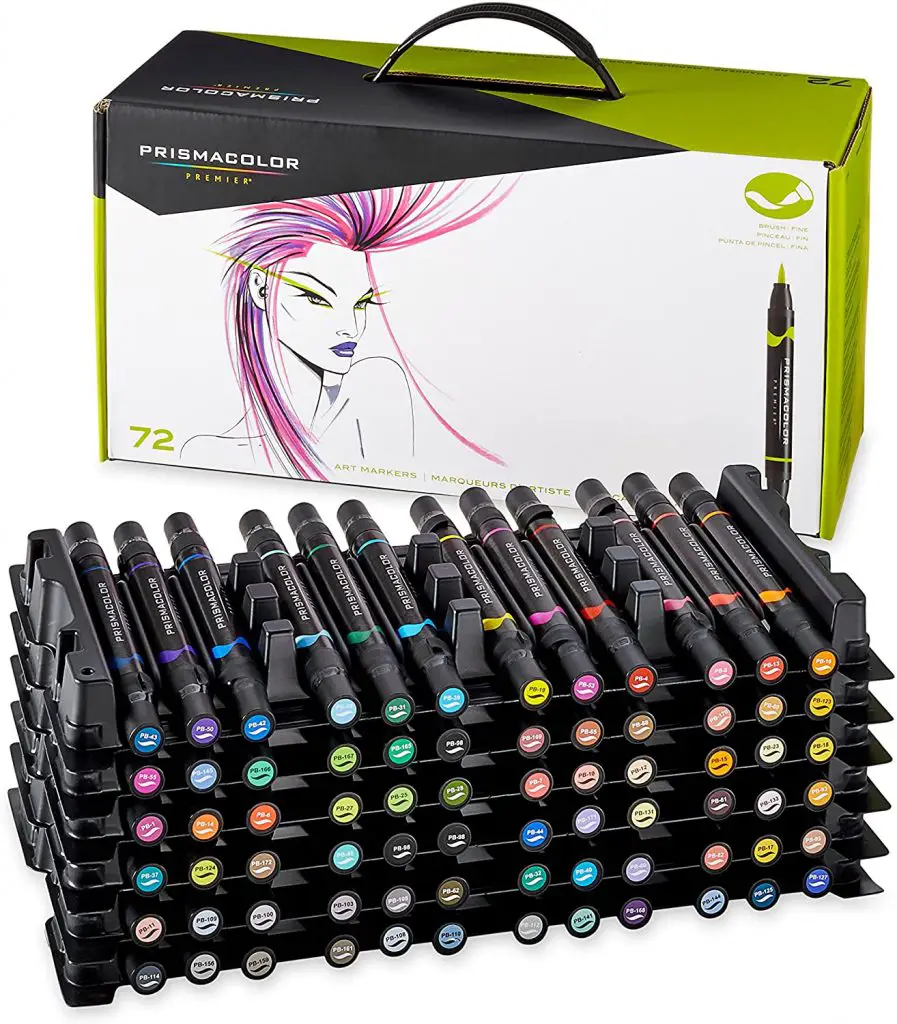 2. Spectrum Noir Classique Markers
Spectrum Noir is a British brand of coloring tools like art markers, colored pencils, pens, papers, and accessories. They are continuously expanding the range of art materials they offer while keeping their commitment to providing supreme quality art supplies that are affordable and accessible for everyone.
Spectrum Noir markers are good alternatives to Copics because the nibs are also Japan-made and contain premium alcohol-dye ink. This ink formulation and nib quality ensure smooth coverage and blendability of colors while showing brilliant and amazing hues. They are available in common tips: brush, fine, and a chisel nib. The Classique markers feature chisel and fine tips, while the Illustrator series features a fine and brush tip. These ends are labeled properly on the marker's body for a quick reference.
The marker's shape and ink barrel are ergonomically designed with a hexagonal shape. This will not roll on your desk, which is a plus for most artists and designers. The pen's caps are color-coded and contain the proper label of names. As a good practice, always make a swatch of your markers to identify colors when on paper.
You can enjoy all the 216 colors available by purchasing them in packs of 6's or 12's. They are classified per shade, such as greens, pinks, yellows, skin tones, and more. It arrives in a box labeled with all the colors that come with the set. Spectrum Noir also offers pen organizers and storage bags that are sold separately.
Another plus for Spectrum Noir is that each marker features refillable ink and a replaceable tip. This allows you to keep your markers for a longer time without splurging for new sets as needed.
For a 12-piece starter set featuring basic colors in chisel and fine tips, you may save a little bit with Spectrum Noir Classique Markers vs. Copic Classic. They are non-toxic, making them safe for users of all levels.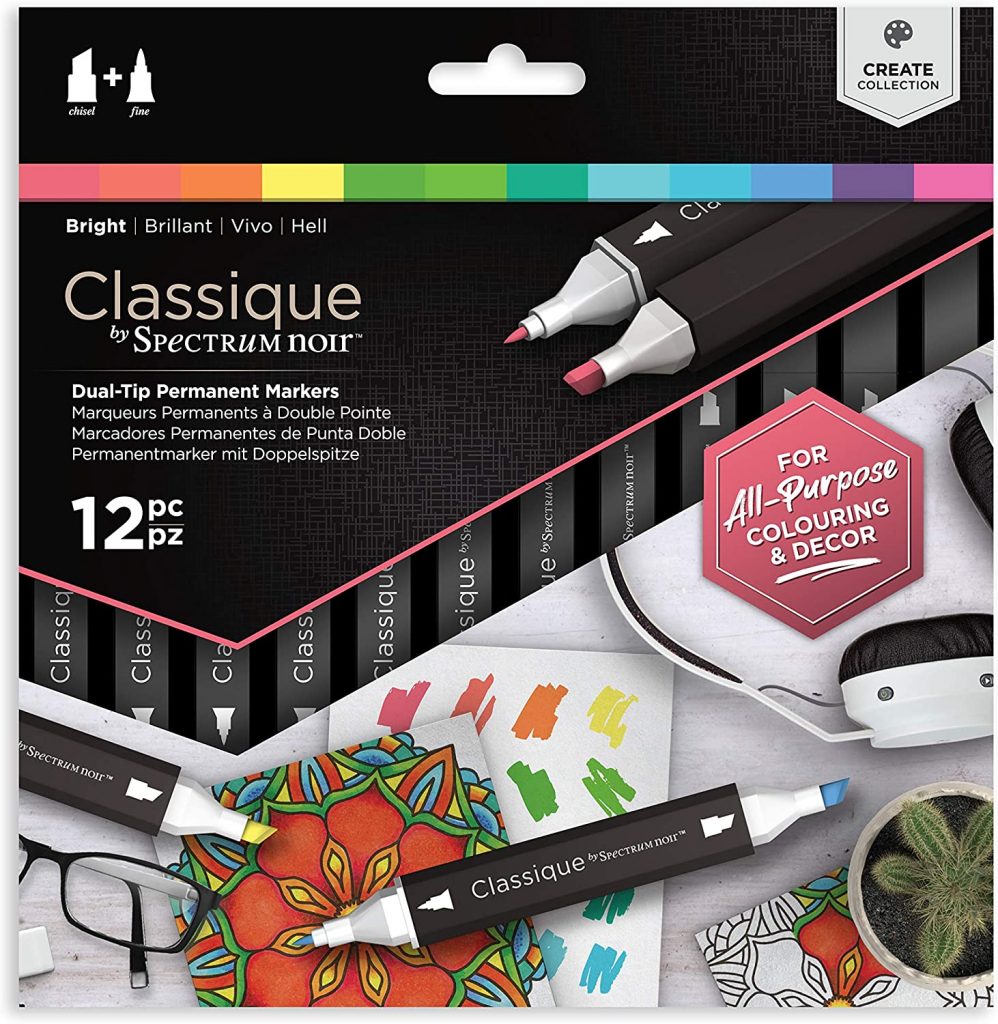 3. Arteza Everblend Art Markers
Arteza is a US-based company ran by a team of artists, designers, musicians, and creators. With art as a major inspiration, they aim to provide a wide range of great art materials for everyone. They offer budget-friendly supplies without sacrificing quality. For any concerns, Arteza offers 24/7 customer support assistance.
The Arteza Everblend Art Markers are well-pigmented, alcohol-based markers that feature dual tips. This particular item features a brush and chisel tip similar to what Copic Sketch has. The Arteza brush is also designed with a Japanese nib giving the user a "paintbrush" feel as they smoothly glide the marker on paper. The premium-quality ink is also blendable, easy to dry, leaving vivid colors on your project.
The pen body is distinct with a triangular shape and provides a comfortable grip. The pens stay steady on your desk as you work, too. While the caps are color-coded, remember always to swatch your markers to familiarize yourself with the actual colors. They are all non-toxic, safe, and have very minimal odor making them ideal even for young artists.
Arteza has up to 144 color selections. Other nib combinations available are chisel and fine, wherein you can get the entire set in one purchase. The pens have their own compartment in a durable box that can stand upright or be placed horizontally. Arrange your markers according to your preference or follow the color chart for a guide.
They feature replaceable nibs, which is great if your tips are starting to wear out. They don't support refillable ink, and markers are usually sold per set.
For a 36-piece set of Arteza markers, you may save a fair bit (depending on the current price of Copic) with the Arteza Everblend Art Markers vs. Copic Sketch. This set can make a good set for beginners at this price point.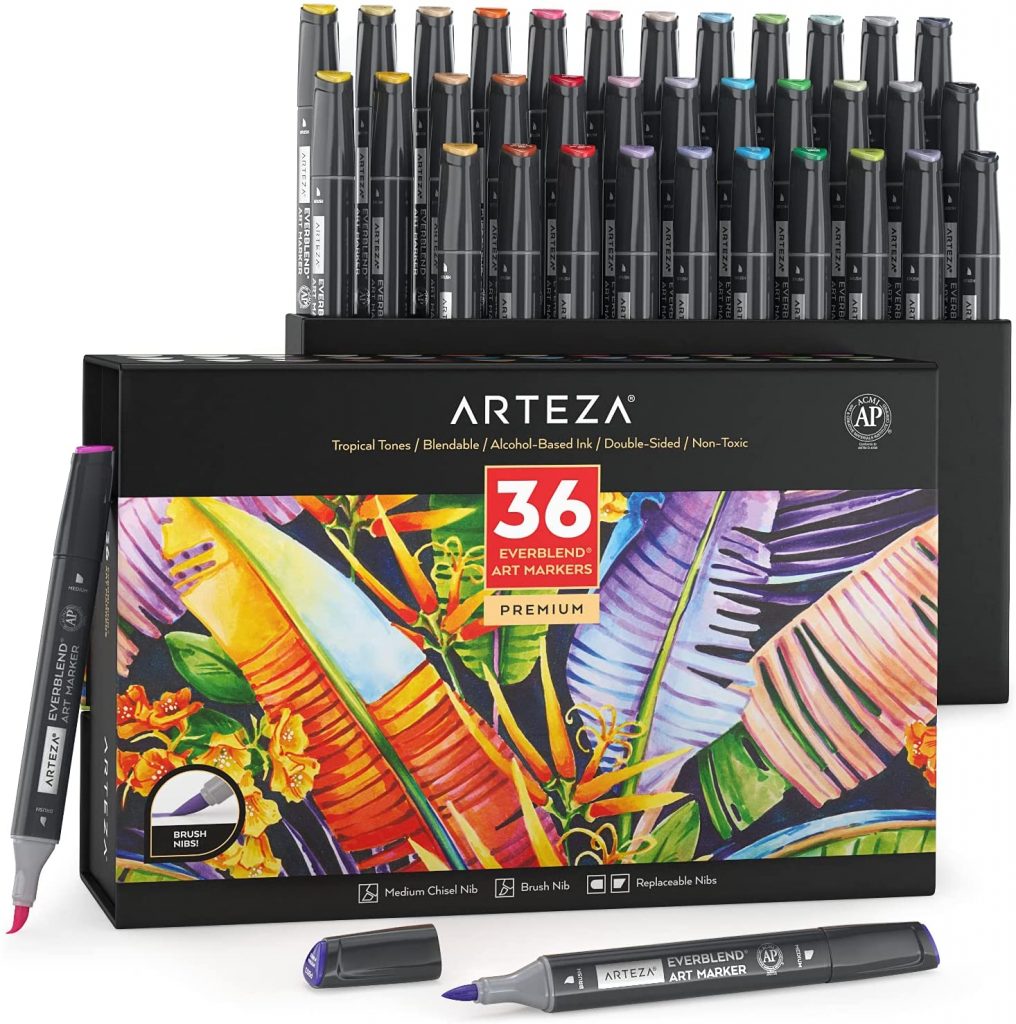 4. Art-n-Fly Professional Sketch Markers
Next in our Copic alternatives list is Art-n-Fly from the USA. They are fairly new in the art world, but their goal is to provide affordable yet artist-grade materials for aspiring artists worldwide. Their products are not limited to markers because they also have pens, pencils, paper, and other accessories.
Art-n-Fly Professional Sketch Markers can be a good entry-level choice before getting Copics because they feature similar characteristics. They both have the brush and chisel tip combination with the brush nib made in Japan as well. This gives a good, smooth feel when you glide your markers on paper. The ink quality is richly pigmented and blends easily, too.
The pen's body is nicely designed with a hexagonal shape that is easy to grip. This prevents any rolling off the table as you focus on your artwork. The caps are color-coded, but as a good rule, make a swatch of your markers and label them properly as the ink does not exactly match the cap's colors.
There are around 96 colors available for this marker series. Separate marker sets are available for purchase should you wish to upgrade and complete your Art-n-Fly collection. They are mostly in the family of skin tones, greys, earth tones, purples, and blues, but they are still growing and may add more shades in the future.
A plus point for these markers is that they come with refillable inks and replaceable tips. This will help you save more in the long run, given the price point of these dual-tip alcohol art markers.
For a 48-piece set of markers, you may save a good amount of money with the Art-n-Fly Professional Sketch Markers vs. Copic Sketch's 36-piece set. The pens come in a box with their own slots for easy stacking, organizing, and horizontal way of storing.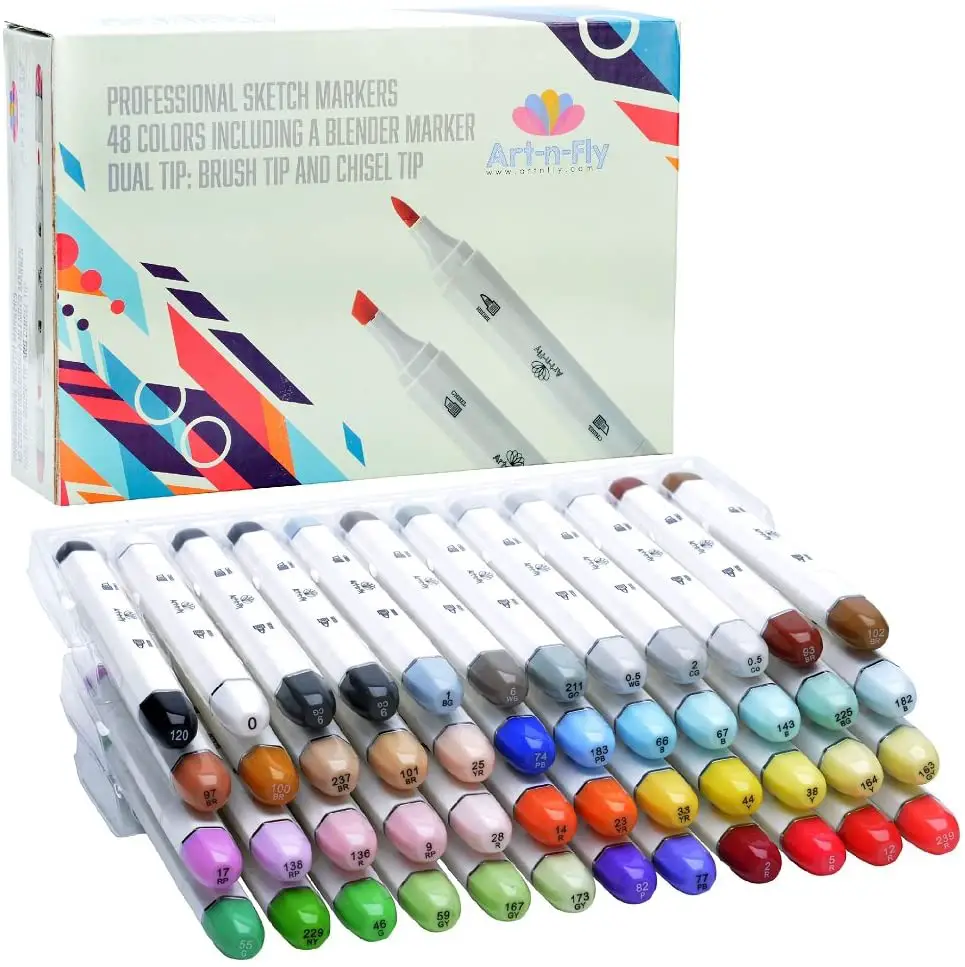 5. Ohuhu Alcohol Brush Markers
Ohuhu is a popular choice in the art marker world because of their wide range of color choices while making them easy on the pocket. They also have other coloring materials such as colored pens, pencils, paints, papers, and art accessories.
Ohuhu Alcohol-Based Markers are available in 3 common tips: brush, fine, and chisel. Their dual-tip markers have highly pigmented colors with skin tones and pastels that are beautiful and brilliant when applied on paper. They even have a special set of colors for manga comic illustrators.
This particular set is a cheap Copic alternative that even beginners may enjoy because it also features the versatile combination of chisel and brush nibs. It allows you to cover a wide area in one stroke and work on smaller sections of your project. The colors are vibrant and blend well. Each set includes one colorless blender that is really helpful when overlaying colors. They dry fast and last long.
There are 216 colors available, and this complete set can be purchased as-is. The pens have a round, smooth barrel body making them easy to hold as you work. A small notch is placed on both caps to prevent them from rolling off. They also come color-coded, and Ohuhu provides blank swatch cards that you can use to test your markers upon receipt.
Ohuhu markers features reversible nibs. If a tip wears out, use a tweezer to pull it out gently; reverse it, then reinsert back to get a brand new tip. They do not support refillable inks, but markers can be bought per piece or set. They are all non-toxic and safe.
For a 72-piece set of markers, you may save quite a lot with the Ohuhu Alcohol Brush Markers vs. Copic Sketch. The pens come in a black, zippered carrying case which is perfect if you are on the go. The pens do not have individual slots, so removing a pen after organizing them may mess them up again.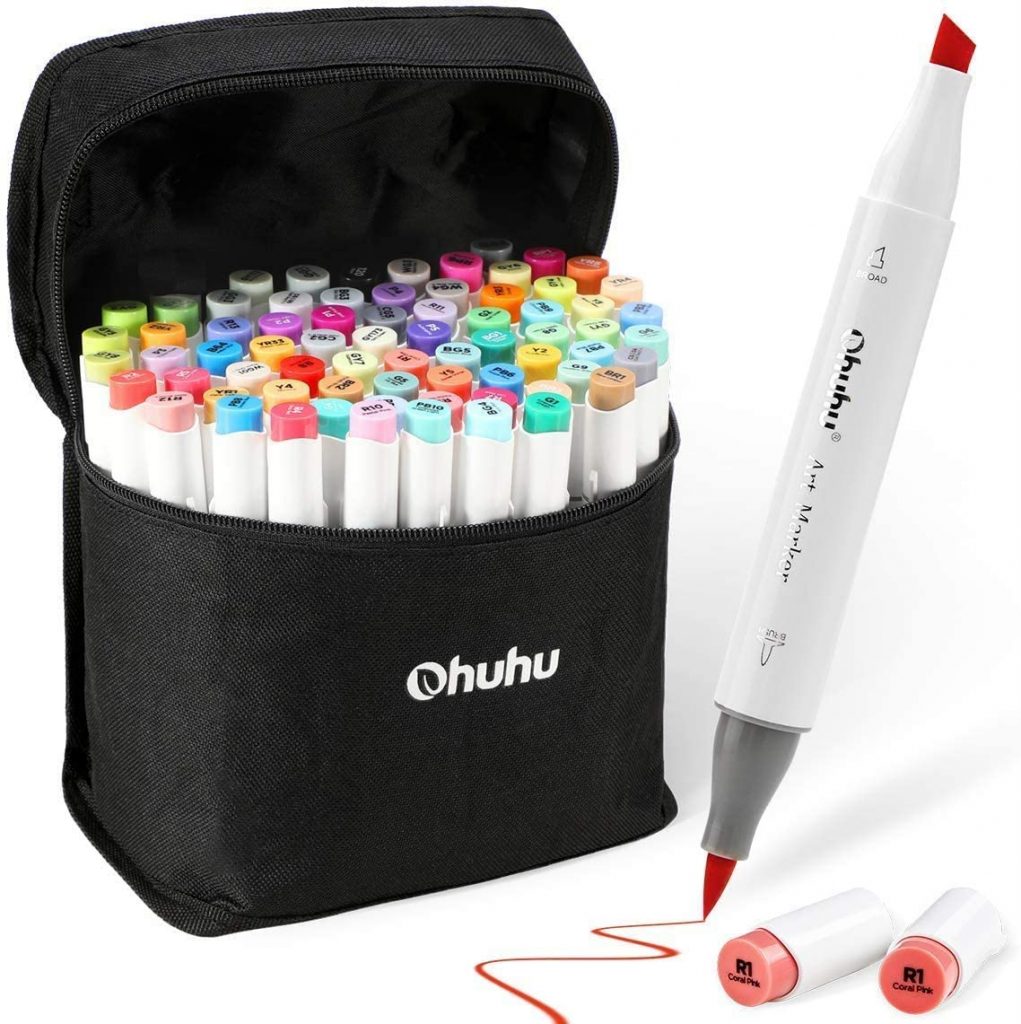 6. Winsor & Newton Promarker Brush Collection
Winsor & Newton is a premium art manufacturer brand based in London. This English company was established in the 1800s and has been offering a wide range of supreme quality art markers, paints, pens, pencils, papers, canvas, and more.
The Winsor & Newton Promarker Series is their brand model for their twin-tipped markers featuring a broad chisel and fine bullet nib. The Promarker Brush Series is for their brush and chisel tip markers to classify further. They contain high-quality alcohol-based dye ink that allows you to have vibrant, flawless, and streak-free coverage. They are comparable to Copics because their ink formulation has a translucent quality, making blending colors appear perfect and easy.
Promarkers have a smooth round barrel, and you can easily determine which end is the brush or chisel tip by just looking at the cap. The pointy cover protects the brush nib while the flat part is for the broad one. Only the pointed lid has a small hinge to prevent the markers from rolling. The flat cover indicates the ink code of each marker that's easy to locate on its case. Remember always to make your own color palette guide.
There are 173 colors available for the Promarkers, while there are only around 72 colors for the brush tip series. While the nibs are durable, unfortunately, they are not replaceable once damaged. The inks are not refillable, too. All Promarker pens are sold in sets.
For a 48-piece set of markers, you may save a bit with the Winsor & Newton Promarker Brush vs. Copic Sketch's 36-piece set. The pens are neatly organized in an elegant black box with an easy-access opening. This is perfect when storing markers horizontally, too.

7. Kuretake ZIG Kurecolor Twin WS Alcohol Markers
Another good alternative to Copic markers is this next brand. Kuretake is a Japanese art company established in 1902. With more than 100 years in the business, they have manufactured high-quality pens, markers, paints, and various art supplies for different levels of enthusiasts and professionals worldwide.
ZIG is Kuretake's pen and marker brand. ZIG Kurecolor is specific for their alcohol marker line featuring dual tips. They have fine and brush nibs as a tandem that's great for manga illustrators. The Twin WS has a broad chisel and fine tip combination. They contain rich, vibrant, and quick-drying alcohol-dye ink content. The colors are easy to blend; you can overlay different shades and make beautiful gradient effects.
The Twin WS markers have a larger, square-shaped barrel than the Fine & Brush for Manga pens with a smaller, circular shape. The caps are color-coded for easy recognition but as a general rule, make a swatch of your markers for your own reference.
There are 135 available color options that you can enjoy with ZIG Kurecolor. The pens are sold per set, and individual markers are also available. The markers also feature refillable ink.
Aside from replaceable nibs, another good feature with ZIG is that you can interchange the nibs, too. There are four types of replacement tips that you can use: broad, soft broad, calligraphy 6mm, and brush. If you have a Twin WS, you may gently pull out the broad chisel tip (you can use the tweezer tool from Kuretake) and insert a brush tip, so there's no need to purchase a separate set featuring brush nibs.
For a 72-piece set of markers with a chisel and fine tip (including a colorless blender), you may save a bit of money with the Kuretake ZIG Kurecolor Alcohol Markers vs. Copic Classic. The pens are properly organized in a nice, durable box. Its opening flap also serves as a stand for the case when the markers are in use. The case is great in storing markers horizontally.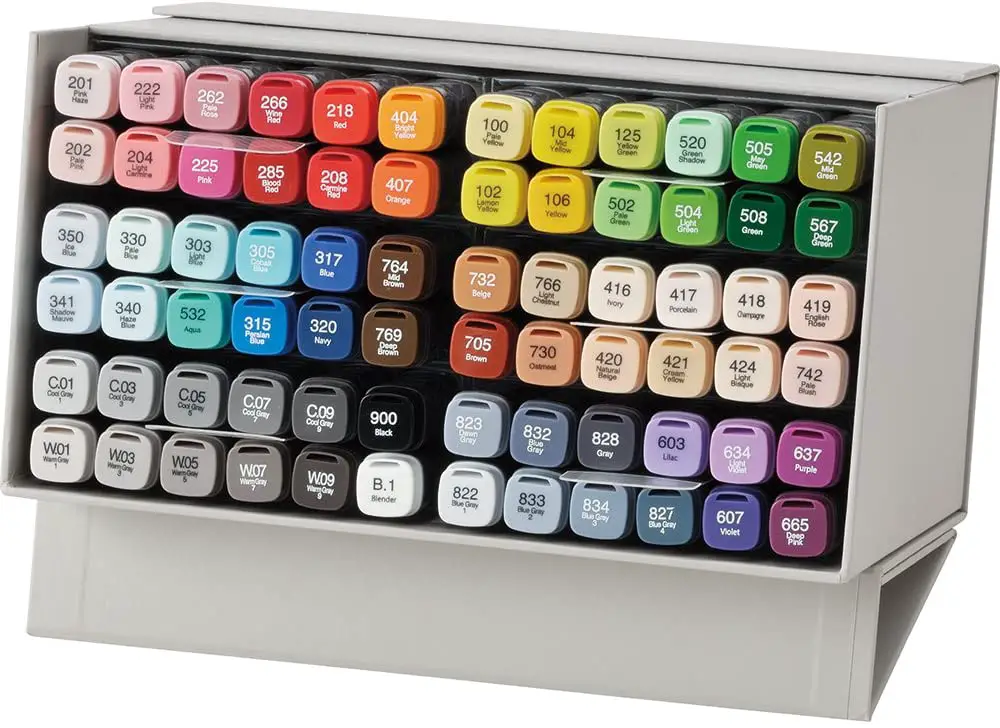 8. Blick Studio Brush Markers
Blick is an established US art company for more than 100 years already. Since 1911, they have continuously provided quality, service, and excellence on every product they have released to the market. From coloring and drawing needs, art accessories, boards, crafts, office supplies, and more, Blick is a trusted name in the art industry.
Blick Studio Markers is their brand for their twin-tipped alcohol markers. This features a fine and broad nib. They had this labeled as Blick Studio Brush Markers where it is paired with a durable chisel tip on the other end for brush pens. They are a great alternative to Copic markers because the brushes are soft and flexible while leaving brilliant and amazing colors on your paper. They are smooth to use, blend well and dries fast.
The Studio Markers have a round barrel shape (with the cap designed to prevent it from rolling off the table), while the Brush Markers feature a hexagonal pen body. They are ergonomically designed for ease of use. The color-coded caps help distinguish ink colors, but it's still best to have your own swatch to reference the actual shade.
A nice point for Blick is that they have refillable ink and replaceable nibs. Markers are also open stock (individual sale). Customer service is also great should you have any specific needs.
There are 96 colors available for the Studio Markers, while the color selection for the Brush Markers is up to 144. There is also a colorless blender available.
For a basic 12-piece set of markers with a chisel and brush nib, you may save a small amount with the Blick Studio Markers vs. Copic Sketch. The pens come in a clear plastic pouch, but for bigger sets starting at 24 pieces, they are placed in a nice plastic organizer tray.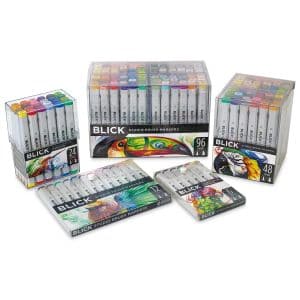 9. Arrtx ALP Alcohol Art Markers Set
Another cheap Copic alternative is the one from Arrtx. They are makers of artist-grade quality art materials that are perfect for beginners and professionals. The focus they have, at the moment, is providing impressive art markers, but they are still expanding to offer more choices for other art materials such as pens, paints, and papers.
Arrtx ALP markers are alcohol-based. They are dual-ended with a fine and chisel tip. The Arrtx Oros series, on the other hand, features a chisel and brush tip combination. Colors are still limited, with the brush series at 80 vibrant choices. Both types of markers produce smooth, vibrant, and amazing colors. They seamlessly blend well, too.
With over 200 color choices for ALP, if you get the assorted 80 or 90 colors set and the 36 skin-tone marker sets, you will not receive any repeat colors aside from the #120 black color. Other color families like greens, purples, pinks, greys, and blues are available in 24 to 36 pieces per pack. Each case they come with has pleasant design prints that are soft on the eyes.
These affordable pens do not have refillable inks. Damaged tips cannot be replaced as well. While the markers are not yet available for individual purchase, there are smaller sets offered that you can check out in case you need a replacement.
The pens are securely placed in a cute, nice box with lovely prints. With a movable strap attached, it is easier to carry the markers anywhere or keep them in a horizontal position. Each marker has a slot, ensuring that they all remain in place even when you need to pull out a few pieces for work. The box can also be repurposed as a gift or storage case.
For an 80-piece set of markers with a chisel and fine tips, you may save quite a lot with the Arrtx ALP Alcohol Art Markers Set vs. Copic Classic's 72-piece pack. A colorless blender is already included in the package.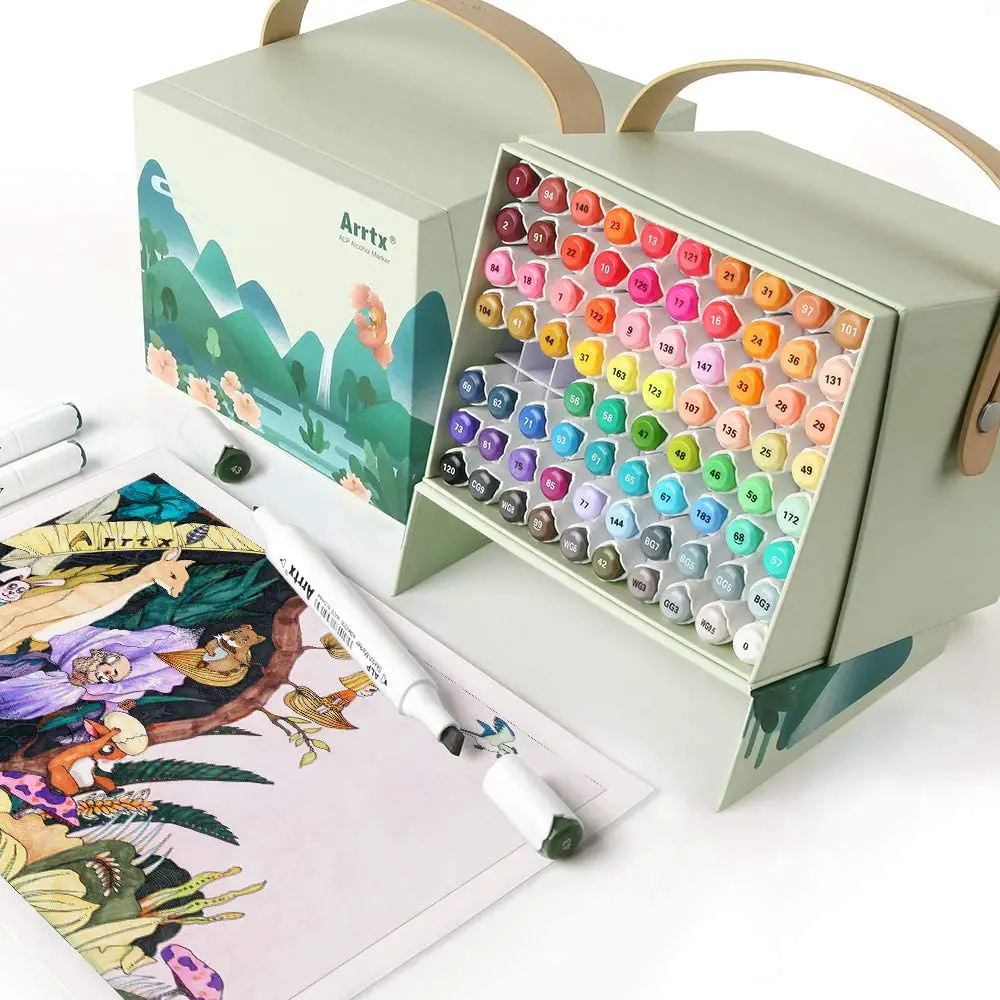 10. Milo Art Markers
Milo Art Supplies is an art company based in the USA. From canvas, markers, and paints, they are continuously growing to meet the needs of the art world. Their goal is to provide affordable yet high-quality materials for various artists, be it for starters or the pros.
The Milo Art Markers are available in the common tips: brush, chisel, and a fine bullet tip. They are also double-ended markers allowing for versatility. The colors are vibrant and can easily blend due to their high-quality alcohol-based ink content.
The markers are designed with a triangular pen body which gives a good grip. Considering the shape, they will stay on the desk and won't roll off. The caps are color-coded but always swatch your markers because the actual ink color may vary from the cap.
There are 80 varieties of colors for the chisel and bullet tip combination and only 48 for the brush and chisel series. It may not be plenty compared with Copics at 358, but these are good enough to make as an entry-level artist set since colors are not overwhelming. If you are particular with colors, especially when shading and making gradient transitions, this may not be the set for you.
Milo does not have any refillable ink or nib replacements for their markers. Markers are always sold in sets. A smaller set is available at 24 pieces.
For a 48-piece set of markers, you may save a fair amount with the Milo Art Markers Brush & Chisel Set vs. Copic Sketch's 36-piece pack. They come in a convenient storage box with a minimalist style.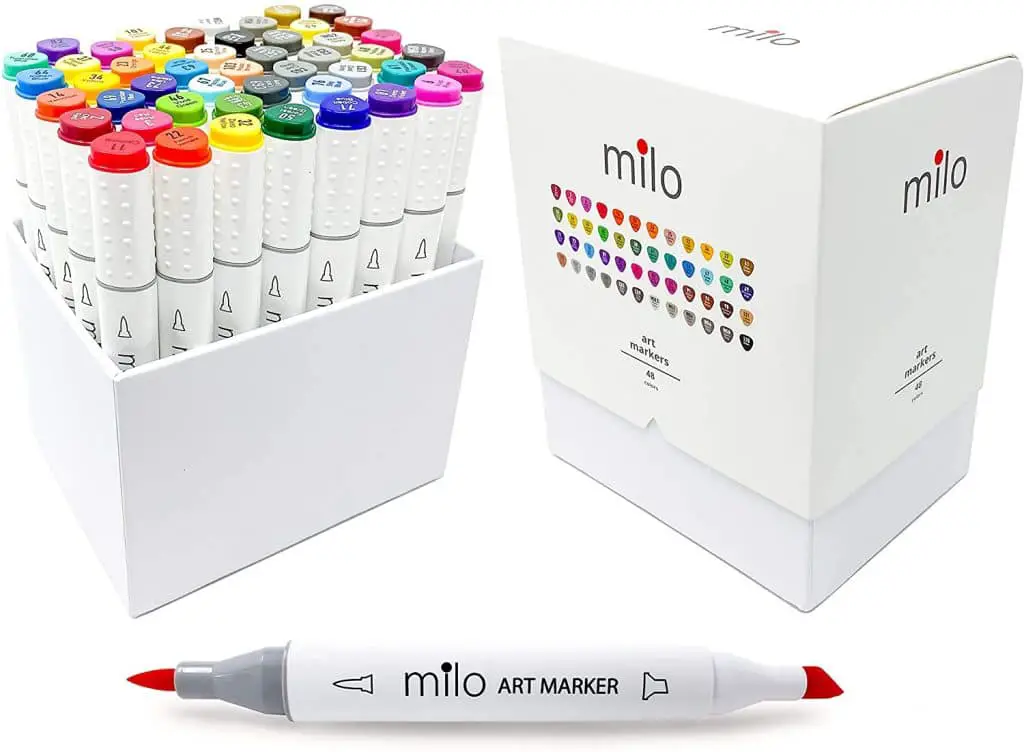 11. Keebor Premium Alcohol Art Markers
Keebor has been in the art industry since 2001. Their primary products include professional markers and paints with a reasonable price tag. These are ideal for young artists or those who wanted to practice using alcohol pens, given the good selection of colors for a basic kit.
Keebor Premium Alcohol Art Markers are only available in chisel and fine tips. They are double-ended art markers with highly pigmented alcohol ink. As a result, they produce vibrant, pretty, and rich colors. The nibs can easily cover large areas and allow the user to work on small details. They are great for blending colors, and you can master this technique with the colorless blender they have included for each set.
The markers have a squarish body type with color-coded caps for easy identification. They are smooth to hold and easy to use. They also come with a blank color card where you can test each of your markers. They are non-toxic.
There's a total of 120 colors available. They are sold by 50s, 80s, or get the complete set of 120 markers. The pens come in a black zippered case which is very handy to carry around. It doesn't include any pen compartment in the bag so expect that pens may tip over when you pull out some for use.
At the moment, they do not support refills for inks nor nib replacements. The markers are also not available for individual purchases.
For an 80-piece set of markers + 1 colorless blender, you may save quite a lot with the Keebor Premium Alcohol Art Markers vs. Copic Classic with only 72 markers.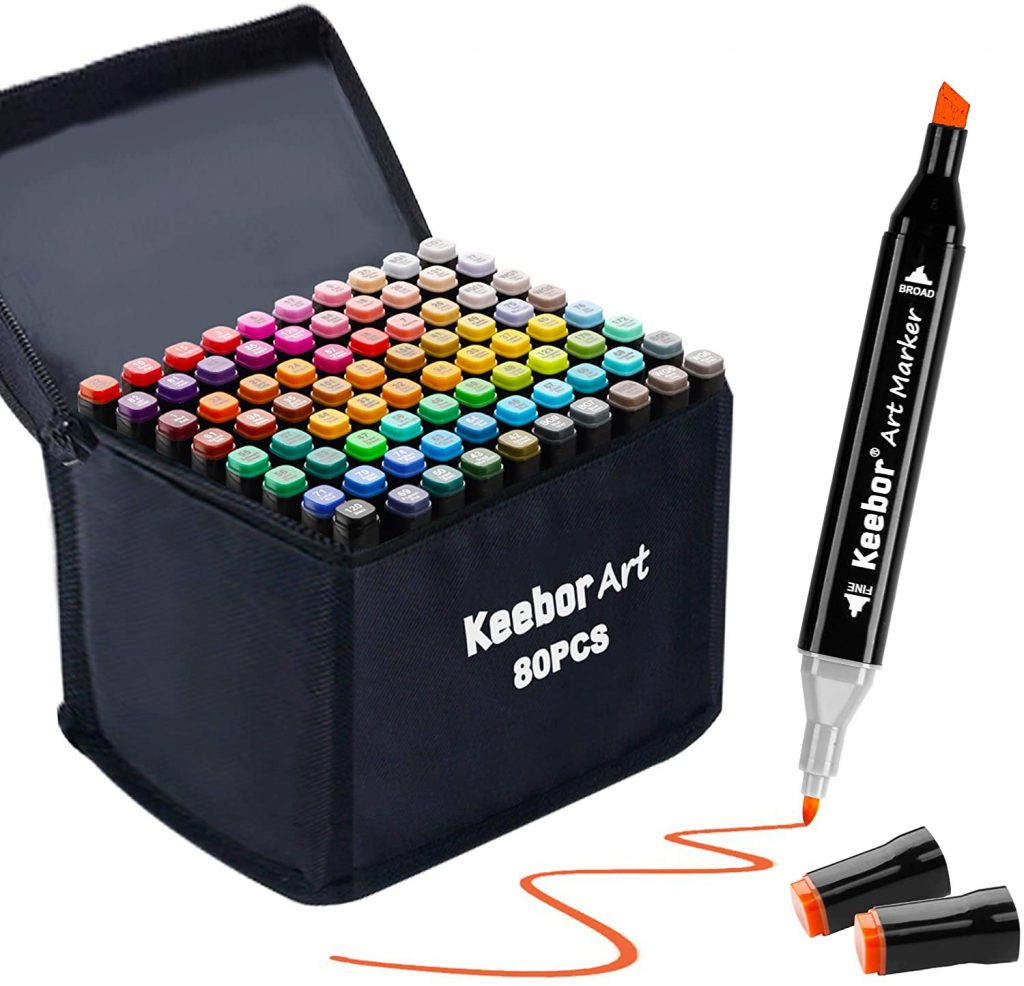 12. ShinHan Touch Twin Brush Marker
If budget is not an issue, let's include the ShinHan brand as a Copic alternative. This Korean maker of art markers and paints was established around 1967 and has been committed to providing supreme-quality coloring tools for art professionals, designers, illustrators, and more. While these are intended for advanced artists, any beginner may also enjoy their products but similar to Copic, the price point is a factor to consider.
ShinHan Touch Twin Markers are dual-tipped alcohol-based markers with a broad chisel and fine tip combination in a black pen body. The brush and chisel tandem are branded as Touch Twin Brush Marker with a white body. Each marker contains an advanced alcohol-based ink formula that ensures richly saturated colors. They are very smooth when applied, ink flow is great, and the shades are vibrant, wonderful, and permanent. They dry quickly, thus, preventing smudges and smears.
Designed ergonomically with a rectangular shape, each marker provides a comfortable grip even during long periods of use. They don't roll off your desks, thus, letting you focus on your work. It's also easy to identify pen colors because the tip of the caps is color-coded. Always swatch your markers upon receipt.
With 204 brilliant color options available, they are sold per set in nice, durable cases. There's a printed reminder on large sets to store your markers horizontally, but this is also applicable even on small sets. Another good plus point is that they feature replaceable nibs and refillable inks, too. Markers are also sold individually. They are odorless markers, safe and non-toxic.
For a basic 12-piece set of markers, you will pay a very small amount more with the ShinHan Touch Twin Brush Marker vs. Copic Sketch. The Touch Twin Marker (fine and chisel nib) is sold cheaper than the brush version.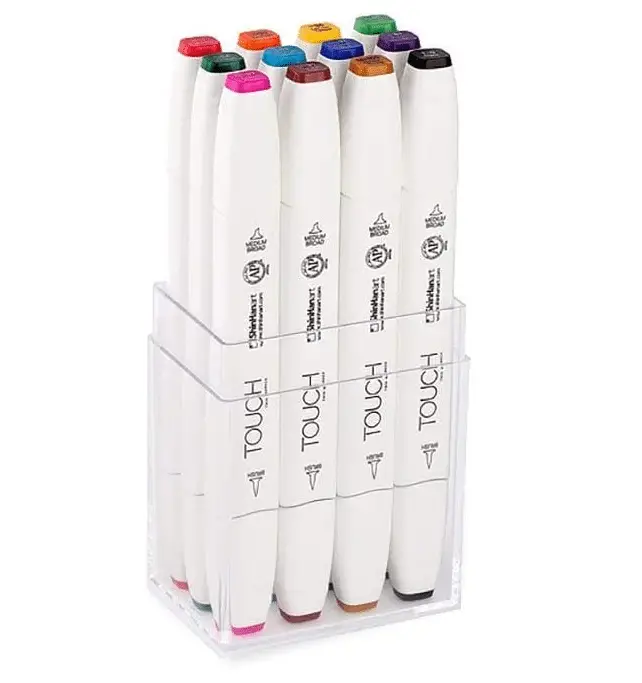 The Alternative Category
To summarize our recommended brands, let's put them in easy categories for a quick glance.
Best Budget Picks
Price is a usual deal-breaker because markers are investments, too. You may consider having Keebor Premium Alcohol Art Markers, Ohuhu Alcohol Brush Markers, or Arrtx ALP Alcohol Art Markers Set as they come with a great color selection at a good cost.
Best Alcohol Ink Quality
These are the classics and have been the go-to brands of many artists apart from Copics. You may try Prismacolor Premier Double-Ended Art Markers, Blick Studio Brush Markers, Kuretake ZIG Kurecolor Twin WS Alcohol Markers, ShinHan Touch Twin Brush Marker, Spectrum Noir Classique Markers, or Winsor & Newton Promarker Brush Collection.
Beginner's Choice
Beginners may need some time to practice with alcohol markers, and here are the suggested brands you can have as a start. These can be great gift options, too. Check out Arteza Everblend Art Markers, Ohuhu Alcohol Brush Markers, Art-n-Fly Professional Sketch Markers, and Milo Art Markers.
Refill and Replace
Not all brands offer the feature of having refillable inks and replaceable nibs for art markers. This can be a deciding factor should you pursue your passion with alcohol markers, which allows you to save more in the long run.
Replaceable Nibs Only: Ohuhu Alcohol Brush Markers and Arteza Everblend Art Markers
Refillable Ink and Replaceable Nibs: ShinHan Touch Twin Markers, Kuretake ZIG Kurecolor Twin WS Alcohol Markers, Art-n-Fly Professional Sketch Markers, Spectrum Noir Classique Markers, and Blick Studio Brush Markers
Conclusion
Copic markers are known to be the grandfather of all art markers. To be trusted worldwide by art professionals means that Copics have delivered well enough to meet most artists' standards.
These alternatives to Copic markers may have a lower price point in general. Still, each brand is true to its commitment to provide great quality markers to help achieve the artistic visions of anyone using their markers.
It may take several tests to find that marker that will suit your preference and budget. What matters is that you keep improving your skill with alcohol markers along the way.
Splurge on that art marker set that will give you joy and happiness – be it Copics or not. Cheers!