We've known art markers since our childhood days. They usually come with a bullet tip – that firm, rounded, and somewhat pointy felt tip that easily glides on the paper and can handle heavy pressure without breaking easily.
As we grow, we've also slowly leveled up the kind of art markers we use. Here comes exploring more options such as different ink types and the use of other tips – chisel, fine, and brush tips. They may have particular uses, but it's all up to an artist's preference and way of use.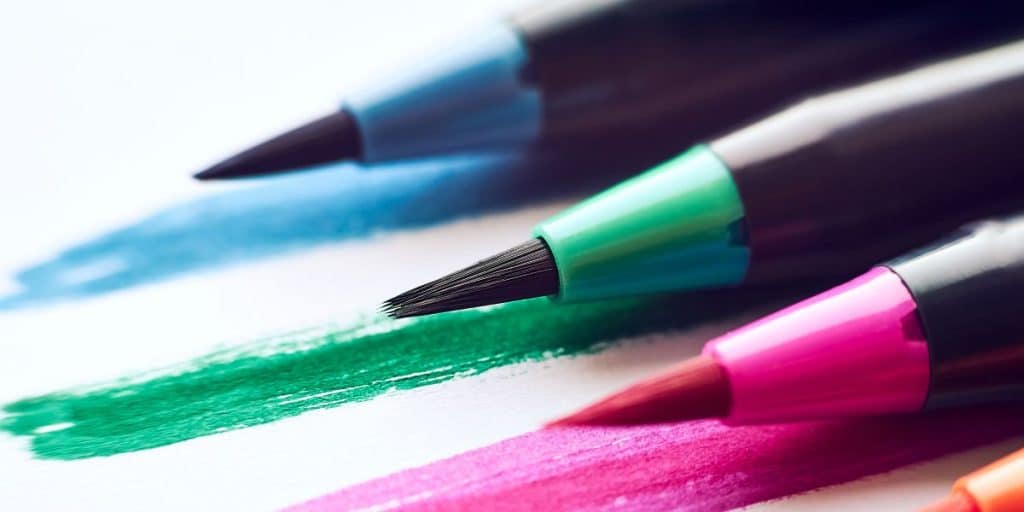 Why Ohuhu?
Ohuhu is one of the affordable brands around that offers professional art supplies, including art markers. The idea of providing high-quality art materials with consideration of the price tag is an attractive point for students and starters.
We have featured the best Ohuhu art markers focusing on alcohol-based ones. This time, let's talk about their water-based coloring markers and what we think are the best Ohuhu brush markers.
As an overview, water-based markers are markers that have water solution mixed with the ink. This is what inks of washable markers are made of. They produce bright, beautiful colors that look great and won't usually bleed on coloring books, journals, calligraphy work, and more. They are considered ideal for kids because it's non-toxic, safe and easy to wash from skin and clothes.
Ohuhu's Water-Based Markers
Ohuhu's water-based markers are categorized in two: the Lanai series and the Maui series. The options are quite limited at the moment, but the range of colors available on both series opens many possibilities to make art as you enjoy these water-based colors.
One main point is that these markers are using brush tips (no chisel tip). Brush markers are considered one of the most flexible types of coloring tools around. Brush pens, as they are also called, have tips that can easily create broad and fine strokes. They are easy to use because the nib can adjust how it can spread ink on the surface depending on how the artist holds the marker and the pressure applied to release the ink.
Lanai Series
Think of watercolors and pens combined, and you get what the Lanai Series has to offer. Without the need to take out watercolor from tubes and prepare a separate plain brush and palette, these watercolor brush pens allow you get things done mess-free. The marker pens on this series are water-soluble. This means you can activate the pigments with water to make a beautiful sfumato effect easily.
1. Ohuhu Aqua Natural Brush Set 36 Colors
Pros
Upgraded version with watercolor pad included
Bright, easily blendable inks
Affordable set that comes with a water brush pen
Cons
Inks are not refillable
Pens are not sold individually
The Aqua Natural Brush branding is the new and upgraded version of the first set of Ohuhu watercolor markers set. It now comes with a 12-sheet watercolor pad wherein you can readily try your new brush pens. The marker's body is white and indicates the color name and code. They are all housed in a plastic case with individual pen slots, which makes organizing easier.
This particular set has 36 colors, but it's also available in 72 pieces. Get to enjoy 36 beautiful colors with one included water brush pen for each set. The flexible brush tips are made of high-quality nylon that allows you to lay colors easily, blend with other shades, and create beautiful watercolor effects using the water brush pen.
Blend colors and make a nice watercolor painting, hand lettering work, and different illustrations using watercolor brushes. It may still take some practice for beginners to do various techniques as you get the hang of using this type of pen. As a first step, always swatch your coloring markers set to familiarize yourself how the ink looks like in the actual paper.
The acid-free watercolor pad has a size of 5.8 x 8.3 inches with a thickness of 300 gsm. This is premium, heavyweight paper ideal for making greeting cards and other craft materials. It can hold the dampness from your watercolor brush markers, and the ink is very compatible with its surface, allowing you to make layers and a nice watercolor effect on your art. The markers will not bleed through as it retains its nice paper texture.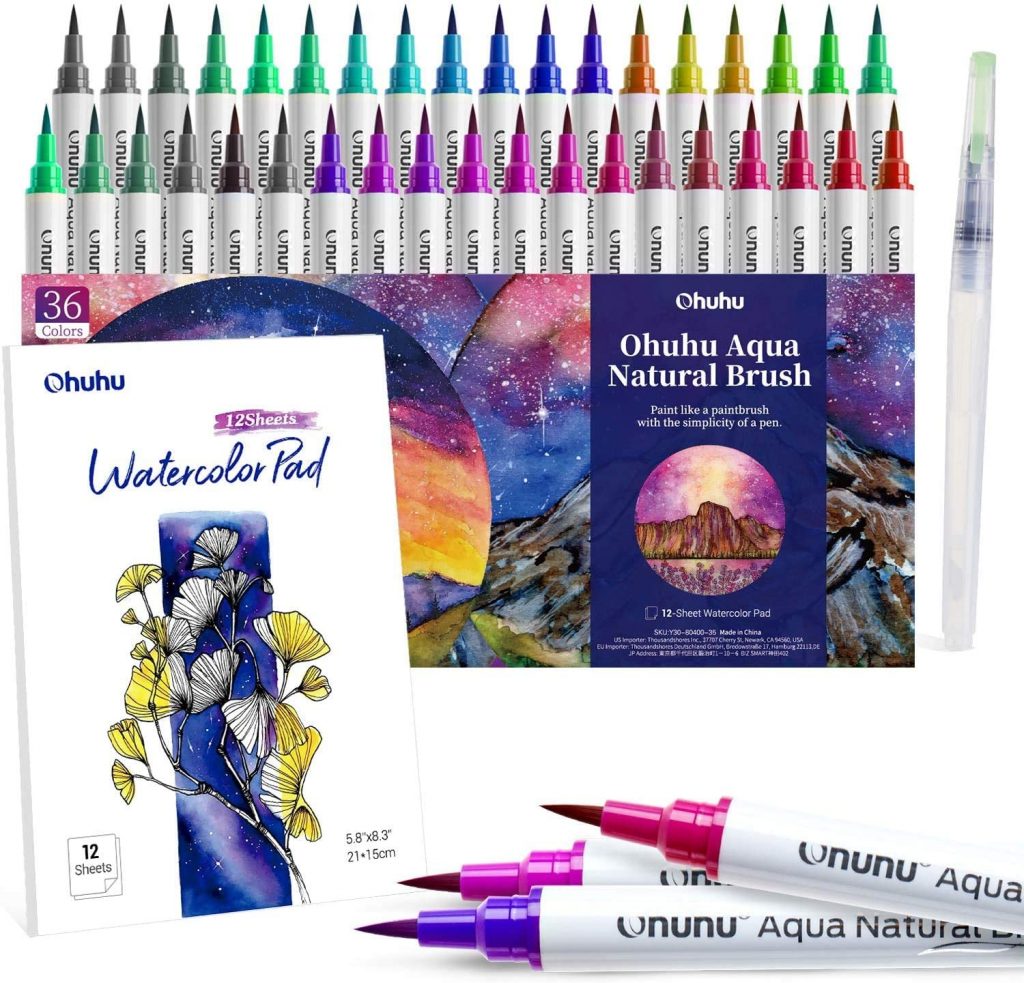 2. Ohuhu Watercolor Brush Pen Set 48 Colors
Pros
Bright, easily blendable inks
It comes with two water brush pens
Affordable set
Cons
Inks are not refillable
Pens are not sold individually
The first version of the watercolor brush pens from Ohuhu are these black barrel types. This 48-piece kit includes two pieces of water brush pens with soft and durable nylon brush bristles that are very useful when making those beautiful gradient designs. You can also get this at a smaller set of 24 colors only plus one water brush pen.
This particular version does not come with watercolor sheets. If you are into adult coloring or have your own journals or preferred paper, this can be an option for you. The ink is highly pigmented and blends well, too. It's mess-free and very portable, which's perfect even for beginners.
The pen organizer for the black version is made of plastic material with individual pen slots. Just a heads up that each marker doesn't have any color name or code number indicator. When you swatch your markers, you may need to have your own code or label name for reference.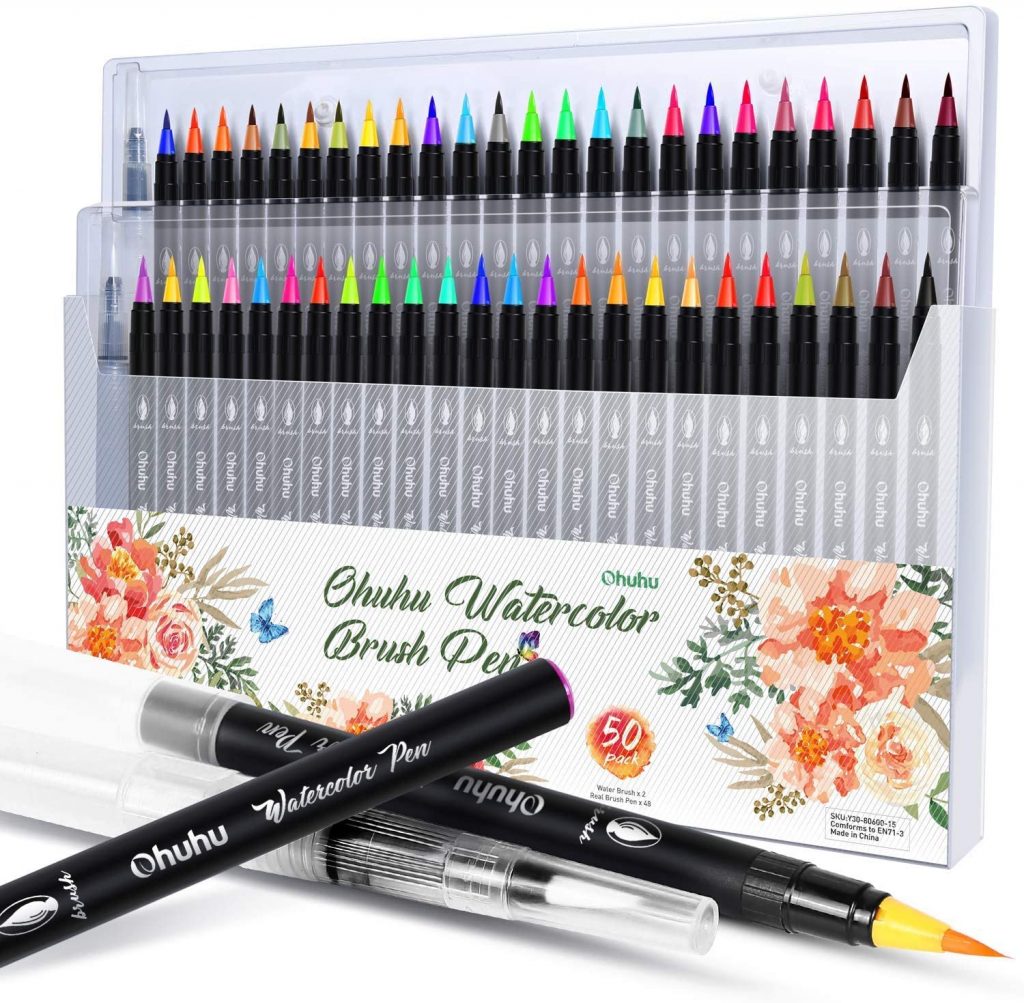 Maui Series
If you are used to alcohol-based markers with dual tips, the Maui series is Ohuhu's water-based ink counterpart. Featuring double-ended markers with a soft brush and fine tips, you will get the feel of utilizing two tips with the same ink. Heads up that markers with chisel tips are not yet available at the moment.
1. Ohuhu Dual Tips Coloring Brush Fineliner Marker Pens 120 Colors
Pros
Multifunctional and versatile pen
Bright, easily blendable inks
Affordable sets
Includes tip replacements
Cons
Inks are not refillable
Pens are not sold individually
Do more with the biggest variety of colors for water-based dual-tip markers from Ohuhu. This 120-color art marker set boasts vibrant and unique colors for that ultimate design experience. Each marker is properly labeled as to which tip is ending as brush or fine to avoid confusion. A number code that represents each color is printed in the barrel's body as well. Use the swatch card that Ohuhu included to test your markers as soon as they arrive, and this will serve as your personal reference for the color chart, too.
With the versatility of having two types of tips in one pen, coloring and adding fine details is made easier. No more worrying about color mismatch because of the shared ink barrel. This pen is ideal for calligraphy, coloring, drawing, and more. They don't bleed thus, making it a good choice for coloring books, journals, and the like. The soft brush pens are easy to control when creating varying widths. The fineliner pens are wonderful for small areas or if you need to make precise lines.
Ohuhu has included replacement tips for this set. A total of 5 brush tips and three fineliner tips are included as you purchase this deluxe kit. This will give you some peace of mind should you observe any of your favorite pens show signs of damage affecting their functionality. In terms of ink refills, this is not yet supported, but Ohuhu may be in the works already.
This coloring pen set is also available in smaller packs. You can get the basic 36-piece or 60-piece kit. The pen container varies depending on the number of markers, but for those sets with at least 100 pieces, it comes in a sturdy black zippered bag with a gartered holder for each marker. Perfect for organizing your brush pens. This can be a great gift suggestion, too!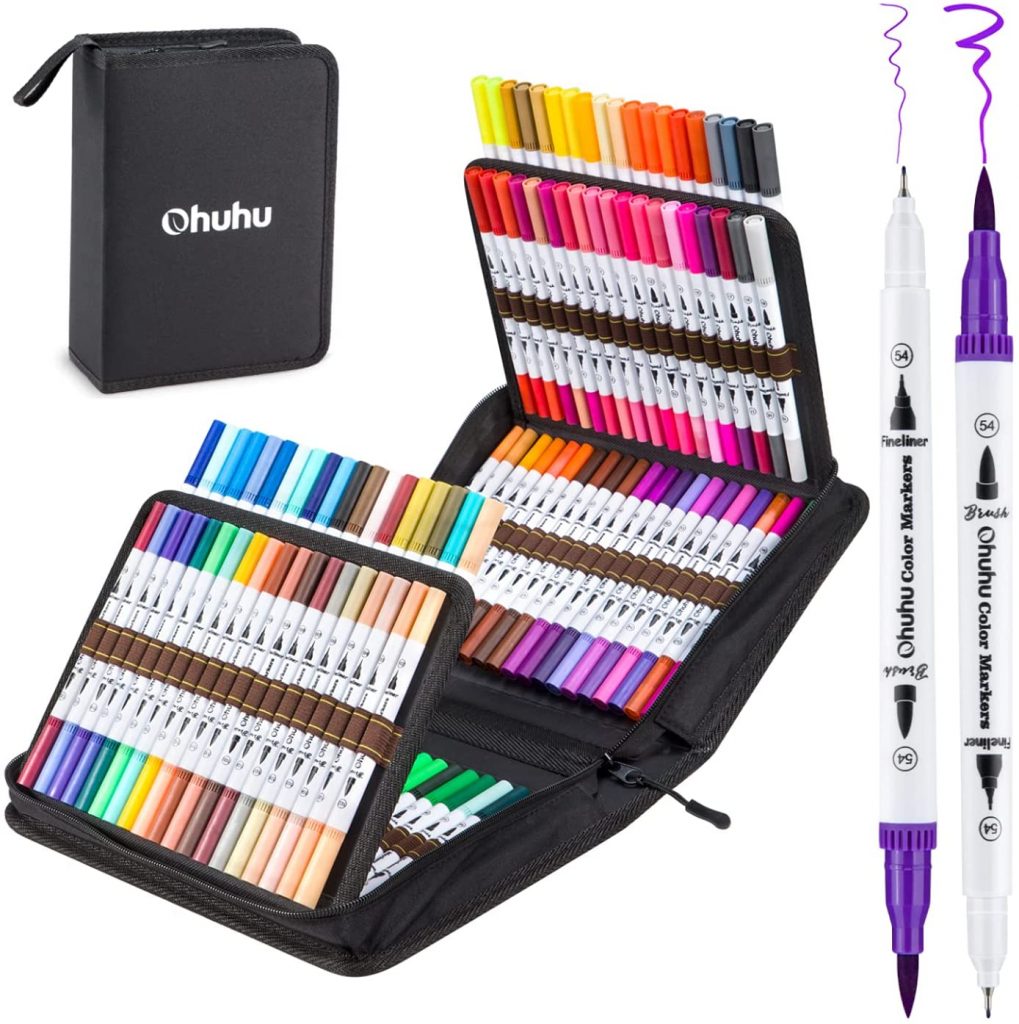 Conclusion
Ohuhu watercolor brush markers are made with premium and safe materials guaranteed to give coloring enthusiasts, art students, professionals, even kids a good coloring set that delivers. To maximize your coloring medium, choose the right paper to go with it, too. It's good to note that Ohuhu has its own paper line, which can complement its watercolor and water-based ink markers.
Even if these markers offered with water-based ink may be limited at the moment, any brush pen set will make a huge difference on an artwork. The vividness of each color can help one create an easy and pretty watercolor effect, eye-catching comic illustration, and a lot more.
Ohuhu motivates artists to create art the way they see it in their imaginations. So, paint up your inspiration! Feel free to practice, explore, and learn along the journey. Cheers!