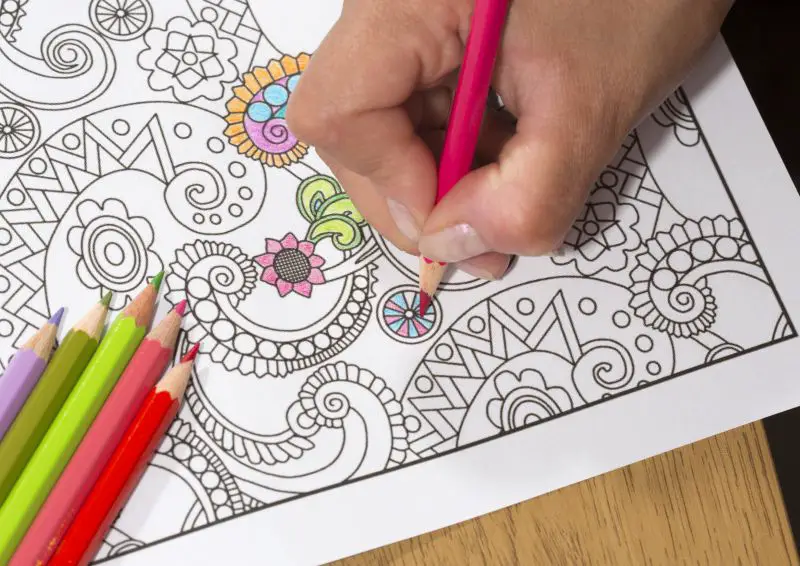 Over the last few years, adults all over the world have picked up coloring books as their chosen hobby. Adult coloring is a very relaxing pastime, with plenty of benefits, that lets you create beautiful works of art even if you're a beginner on a budget.
Colored pencils are favored tools by beginners and professionals alike. They produce gorgeously vibrant colors, their pointed tips are perfect for detailing, and they are very lightweight and easy to handle.
There's a wide world out there when it comes to colored pencils for adult coloring books. There are a lot of variations and manufacturers to choose from, not to mention the different price points and corresponding color quality.
Colored pencils are not the only coloring option. If you'd prefer to experiment with other tools, we can show you the best markers or even some of the best gel pens for coloring that you can use.
Everyone has their own preference and colored pencils can work wonderfully on your projects, so let's take a closer look at them.
How to Choose the Best Colored Pencils for Adult Coloring Books
Professional artists and experienced colorists will tell you that there are a lot of subtle differences across the numerous brands and sets of colored pencils currently available in the market.
But if you're a beginner, it can be a bit difficult to judge one pencil from another. It can be intimidating to try to get a set that will meet your needs, and to decide which one you want to try.
The best colored pencils for adult coloring book beginners will share some basic qualities:
Rich Pigment Quality – Many colored pencil sets are labeled Professional/Artist-grade, vs. Student-grade. Artist-grade art supplies are generally higher quality, and lay down vibrant colors with one stroke. This makes for a wonderfully smooth coloring experience.
Wide Variety of Colors – While many high-quality colored pencils are blendable, it's best for beginners to start out with a versatile color selection. Having a wide range of hues and shades on hand allows for a lot of freedom when it comes to coloring pictures across themes – landscapes, animals, abstract shapes, and even mythical creatures.
Sturdy and Comfortable Barrel Shape – Colored pencils generally come in round or hexagonal shapes. Experienced colorists have their preferences, but both are generally comfortable to grip for extended periods of coloring.
Sturdy Core (Oil-Based vs. Wax-Based) – The best colored pencils glide smoothly on paper due to the quality of the core inside the pencil. There are two main types of colored pencil cores: oil-based or wax-based.
Wax-based colored pencils for adult coloring books are the most common and most affordable type. They're a good choice for beginners, the softer wax cores making it easy to blend and layer colors on top of each other. A significant downside is the wax bloom – a waxy sheen that appears on the surface of the coloring book paper.
Oil-based cores are much harder than wax, so they can be sharpened to a very fine point and take longer to wear down. Oil-based colored pencils lay down beautifully vibrant colors that don't bloom and last very long on the page.
Most of all, the best colored pencils for beginners have great value for price. If you're just starting out in the coloring scene, you may be hesitant to spend significant amounts of money on pencil sets.
Once you've had significant coloring experience, you will become more discerning when it comes to the color quality, ease of use, core type, blendability, and even barrel shape that you prefer using.
Our list of the 10 best colored pencils for adult coloring books details the most important pros and cons of each, what the best brand is for your experience level, and if you will get good value for your money.
10 Best Colored Pencils for Adult Coloring Books
1. Prismacolor Premier Colored Pencils
Pros
Rich, vibrant pigment quality
Glides smoothly on paper
Easy to blend
Wide selection of colors
Prismacolor Premier Colored Pencils have wax-based, soft leads that are excellent for shading and layering colors. The pigment is beautifully saturated and intense, the color laid down smoothly in every stroke. Coloring is consistent and creamy, and is excellent for wide coverage as well as very fine detailing.
The lead is sturdy and thick, and they don't chip even when used by comparatively heavy-handed colorists. There's no need to worry about sharpening – all pencil sets come with a sharpener that works best with Prismacolor Premier's round barrels.
The soft-core variety goes up to 150 colors with no repeats, but even if you purchase a smaller set, you can easily blend two or three colors to create a shade that may not be included. The reds and blues are especially diverse, and you will be able to let your imagination run wild when it comes to the shades and tints you can create.
Prismacolor offers professional-grade art supplies, and their prices reflect that very clearly. The quality is so high that even if it's on the more expensive end of the price scale, we still very eagerly recommend it.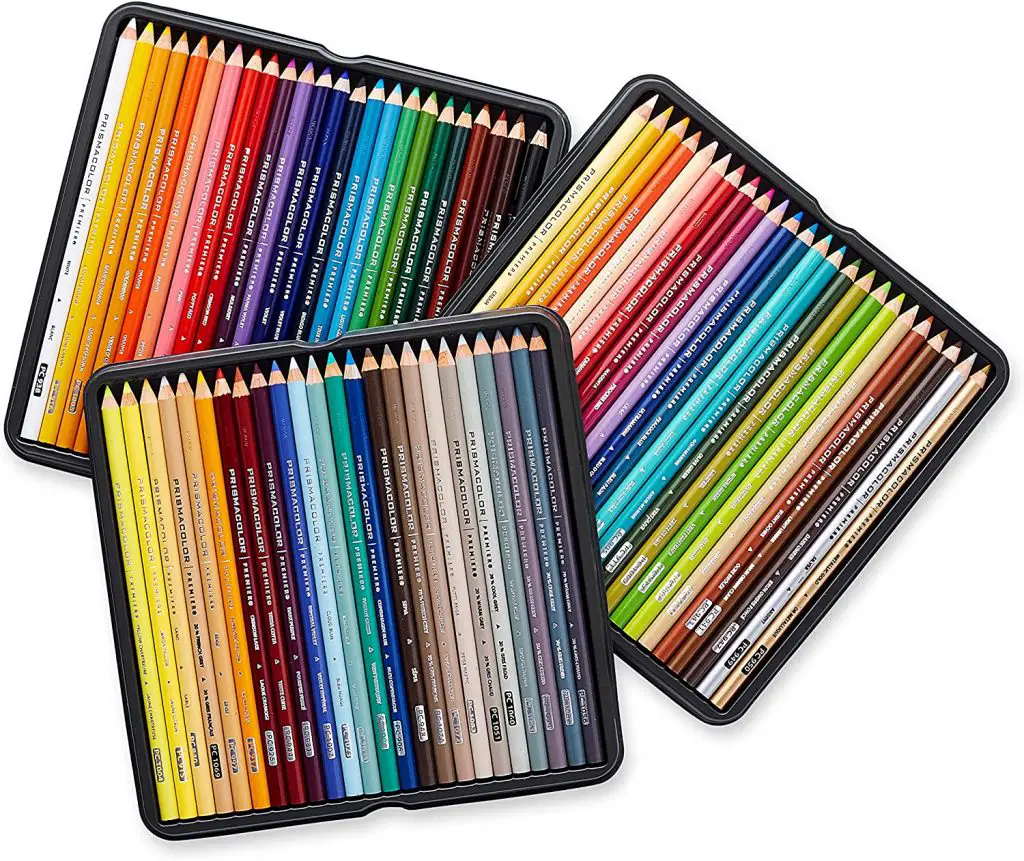 2. Crayola Colored Pencils
Pros
Wide variety of colors
Smooth color application
Very affordable
On the more inexpensive end of the spectrum, Crayola's colored pencil set is absolutely perfect for beginners. Their biggest set goes up to 100 colors and it's still very affordable, great bang for your buck.
Crayola is a well-established brand in the industry, so color quality is assured even with the bargain price. The wax-based lead delivers incredibly vivid colors, and it glides very smoothly on coloring book paper, almost as nicely as coloring pencils that are more expensive. Color variety even in smaller sets is excellent, with no significant gaps in between. The bigger sets (50 and 100) are heavy on blues and greens, which you can use for your nature- or ocean-themed coloring books.
One noteworthy downside is that these pencils don't blend very well, and you can't exactly get any high-level shading effects. However, this will not be a significant deterrent for those who are just starting out with straightforward coloring.
Crayola's colored pencils make for excellent gifts for the beginner colorist in your life. The set of 100 won't set you back very much wallet-wise, and the sheer number of color choices will bring out anyone's creativity and makes adult coloring books extremely fun.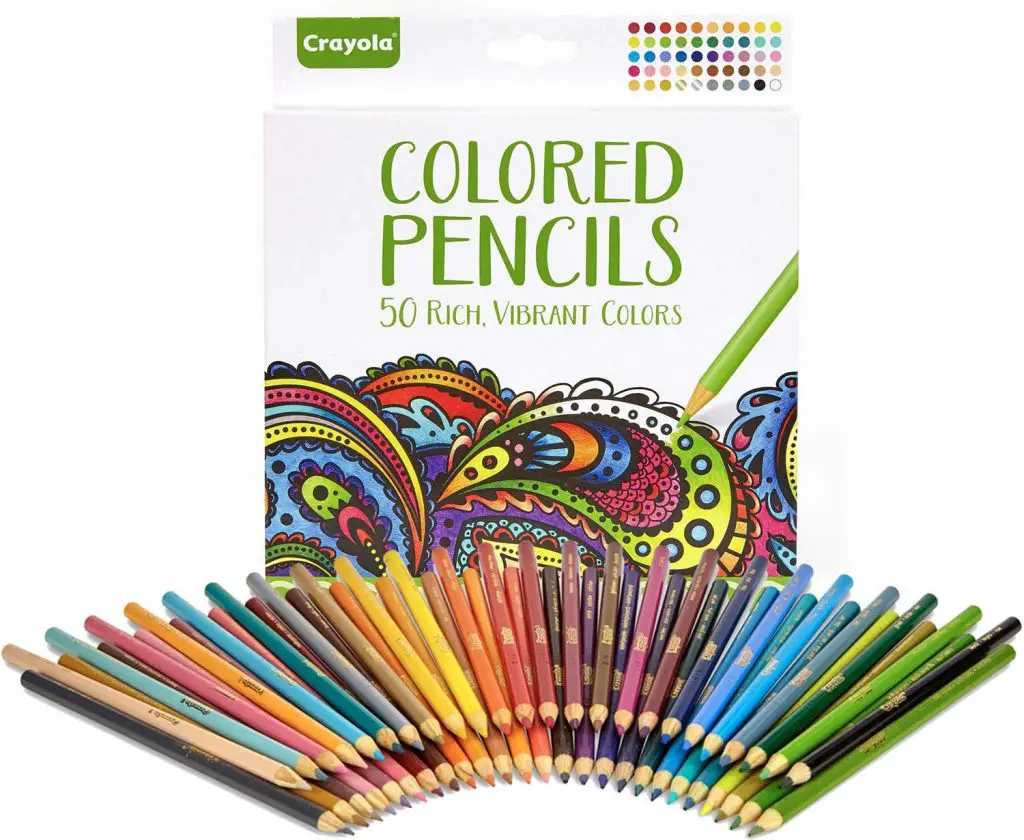 3. Faber-Castell Polychromos Colored Pencils
Pros
Bright, intense colors
No wax bloom
Shatterproof lead
Faber-Castell is a highly regarded brand in the art supply industry, and their oil-based Polychromos colored pencils are some of the best you will find in the market. The color quality is nigh unbeatable, delivering fantastic colors that seem to jump off the page. Each small stroke fills up space so easily that you may have to adjust how hard you press down if you're used to lower-quality pencils.
Oil-based cores are much easier to blend with, and these coloring pencils are very impressive on that front. You can layer colors as much as you want with no worry about bloom. The colors are very lightfast too, so you're assured your artwork will last a long time.
Color application is wonderfully smooth with a strong yet soft lead. Its lead is break resistant and easy to sharpen, so you won't have to worry about it crumbling even with extended use.
The Polychromos colored pencil set is one of the most expensive you will find, and some colorists may not want to shell out so much for a hobby. Many colors are available individually, so you can still get a high-quality experience without having to shell out for a full set.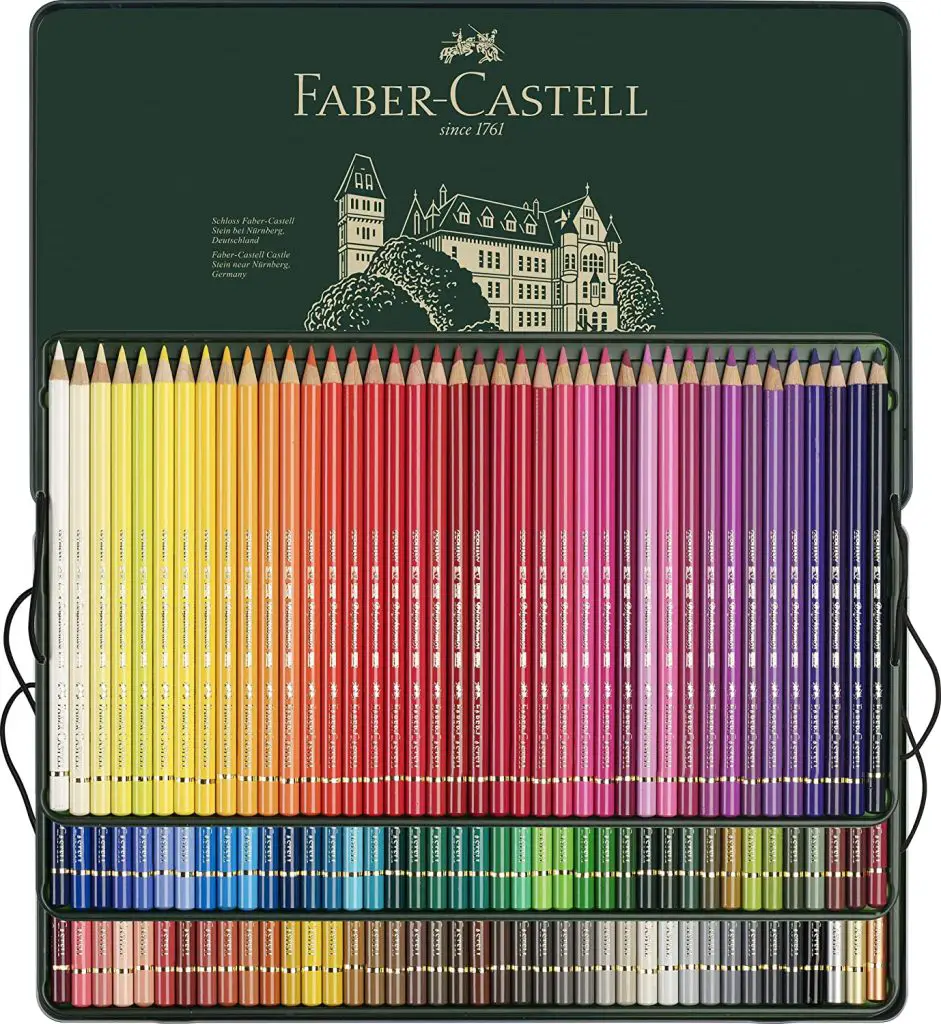 4. Arteza Professional Colored Pencils
Pros
Blends beautifully
Little to no wax bloom
Good value for money
Arteza's 4-mm wax-based lead lay down smooth and beautiful colors on any surface. There is surprisingly little wax bloom that it can almost pass as an oil-based pencil.
The most impressive thing about these pencils is their blendability. Blending is so easy and seemingly unlimited – you can use an eraser or a solvent, and there is no resistance even as you go up to five or more color layers. A whole new world of coloring technique is opened up when you can blend and layer as many colors as you want.
The cores are relatively hard, and they sharpen easily using any type of sharpener, with no worry about crumbling. You can achieve sharp points that are great for detailing. The round barrels are lacquered accurately with their corresponding pigments, making color identification very easy. Lightfast levels are printed right on the barrel, so you can easily decide which colors to use together in one piece.
Arteza's colored pencils are the most blendable at this price point. They offer great quality for money, making it perfect for beginners as well as highly experienced artists.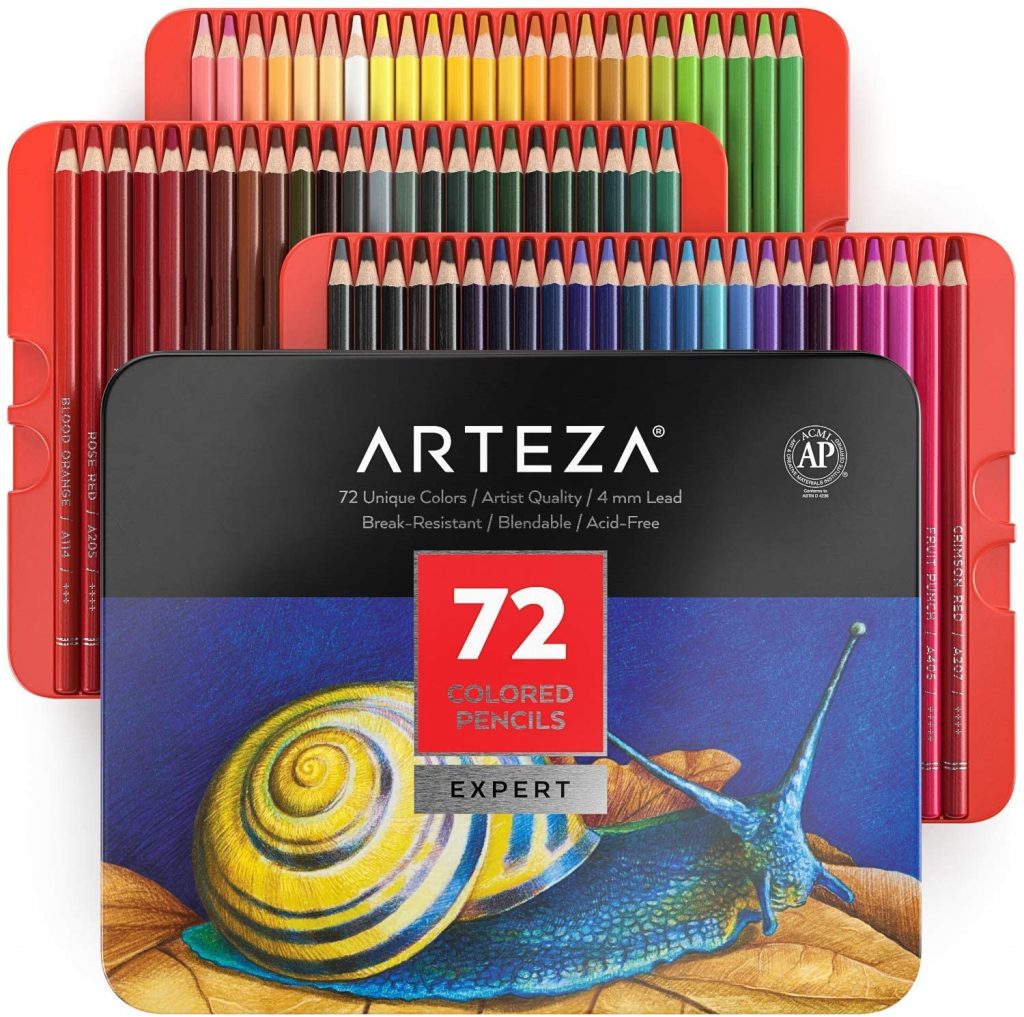 5. Derwent Coloursoft Colored Pencils
Pros
Highly blendable
Soft and smooth application
Break resistant lead
Derwent's 4-mm, wax cores are incredibly soft, delivering vibrant shades through quick application. The pencils glide easily over all kinds of surfaces while coloring. They are perfect especially if you prefer bold colors – you can achieve rich, dynamic hues very quickly with just a few strokes.
The core is formulated especially so you can create almost any color you want through blending. You can stack multiple colors without the color coming off as extremely waxy or shiny on a coloring book.
The soft core is manufactured to be break-resistant. They can be sharpened very easily to a fine point using any type of sharpener you may have – you won't have to worry about the lead crumbling as you keep using it. It's wonderful for coloring in small spaces and detailing.
Derwent's artist-quality colored pencil set is a bit heavy on the pocket, but if you like to experiment with gradients and shading, we cannot recommend them highly enough. These pencils are almost pastel-like, making blending very fun and easy.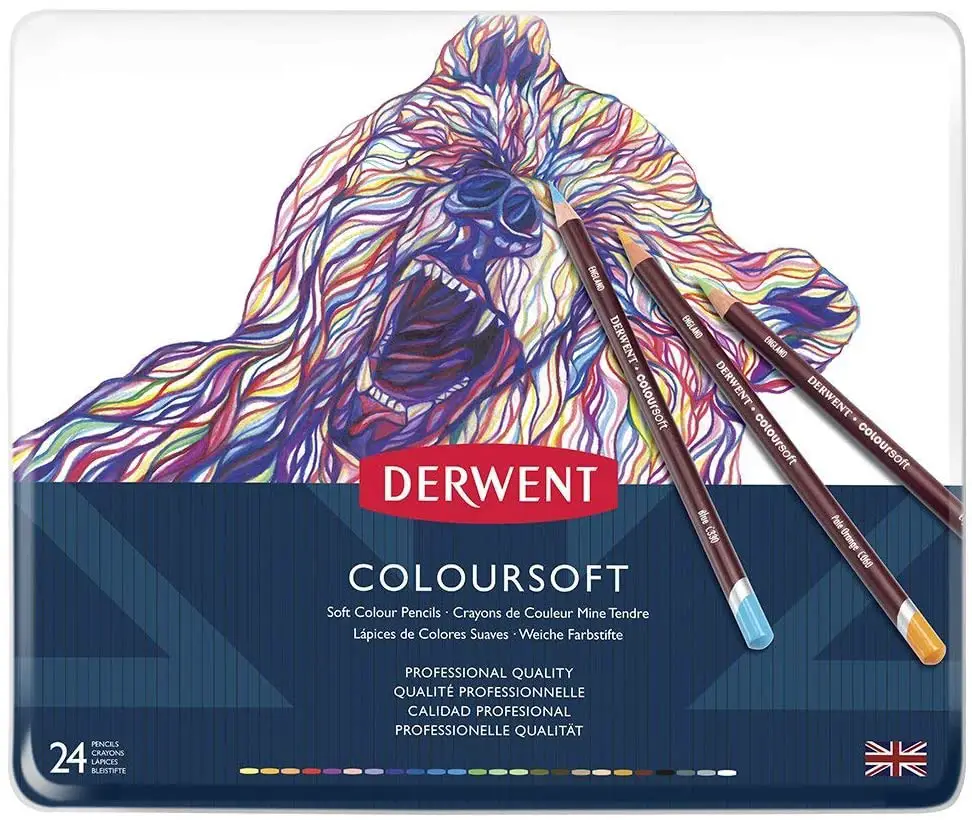 6. Black Widow Colored Pencils
Pros
Vivid color output
Good for blending
Affordable
Black Widow's wax-based cores are encased in hexagonal barrels that feel great in the hand and are a bit easier to grip than the typical round pencils. Coloring is smooth and easy, with color quality that's excellent for the price point. You can get the brightest reds, yellows, and oranges on the page. They're also very easy to blend, and wax bloom doesn't appear until after five or so layers of color.
The 3.5-mm lead sharpens well and can take a good amount of pressure so colorists with particularly heavy hands don't have to worry about breaking or crumbling the core while coloring. Overall build is sturdy and lasts a long time, so they're worth the investment.
Black Widow's colored pencils are available in 3 sets of 24 – Original, Scorpion Edition, and Cobra Edition. The Original set has enough color gaps that you will have to supplement it with at least one other set, which doubles the initial seemingly low cost. Even two sets are much more affordable than premium brands though, and the quality is excellent for that price.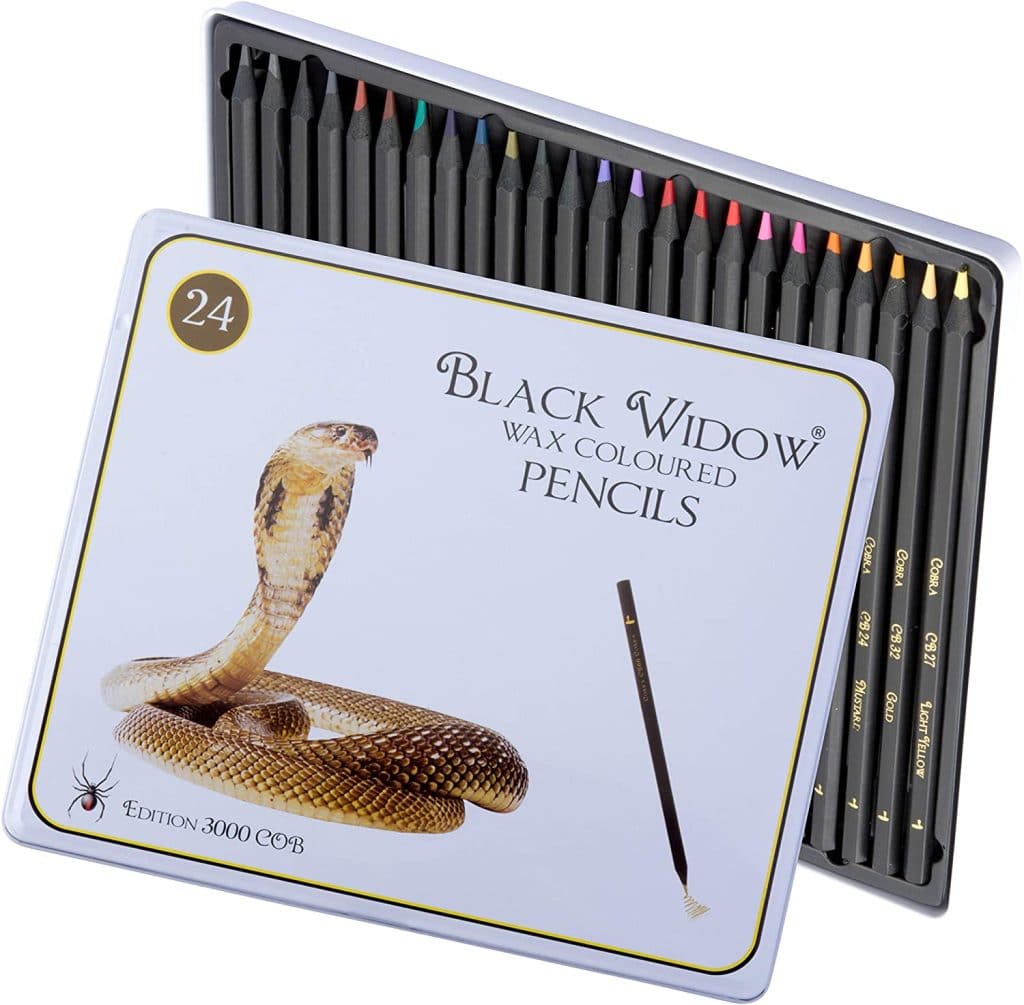 7. Castle Art Colored Pencils
Pros
Heavily pigmented lead
Blend easily
Affordable
Castle Art's wax-based core lays down great color with minimal effort. Even so, the perfectly-centered cores are highly durable and can withstand even the most heavy-handed colorists. Coloring is comfortable and smooth on any type of coloring book.
These colored pencils are very easy to blend, though you have to keep an eye out for wax bloom after you've piled on a few layers. The barrel is made of premium rounded Basswood that's comfortable to hold and easy to sharpen.
The set of 120 comes in a sturdy tin box with a named, numbered, and color-coded guide for all shades and hues. This makes organization a breeze, and you will never lose track of what colors you're using.
Given the wide range of colors and the very affordable price tag, Castle Art offers some of the best colored pencil sets for adult coloring books.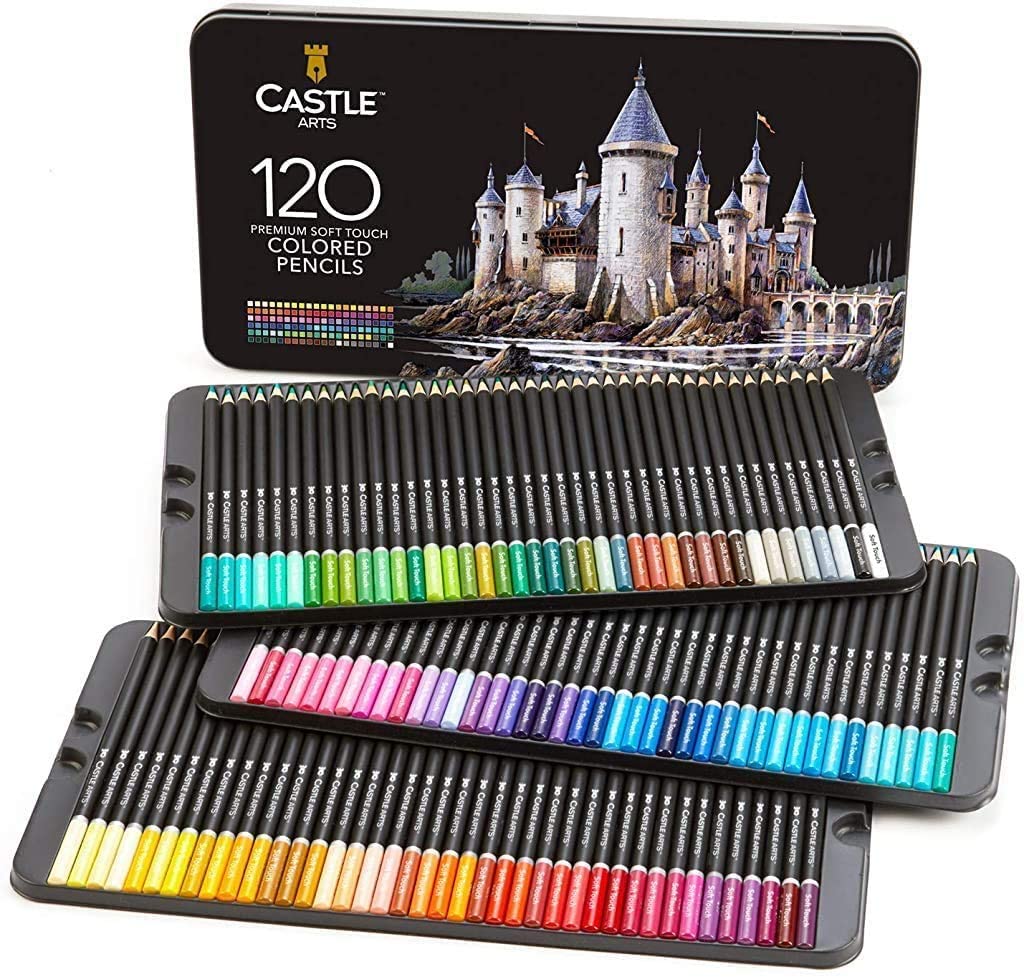 8. Caran d'Ache Luminance Colored Pencils
Pros
Most lightfast pencil in the market
Vibrant shades
Smooth coloring on paper
Caran d'Ache's products are meant for serious art professionals. Through years of testing and research, they have created the most lightfast colored pencils ever designed. Color application is the smoothest you will ever experience, with all shades incredibly vibrant and delicately textured. Color output is incredibly smooth and creamy, gliding through surfaces like nothing else.
Blending is an absolute breeze, and you can use these pencils for any technique, for all levels of gradation, overlaying, and coloring. These pencils are wax-based, but you wouldn't really be able to tell because there is almost no wax bloom no matter how many different colors you layer. You can layer a dozen colors, going from light to dark and back to light with no problem at all.
The core is also very resilient and strong, easily sharpened and can handle high-pressure application. There's no risk at all of crumbling or breakage either on the page or in the sharpener.
Caran d'Ache sets mainly focus on bright hues that jump off the page. If you're in need of more earthy, dull tones, you will need to look for another brand.
Needless to say, these are some of the most expensive pencils on the market. But if you can catch a good sale on Amazon, they are very much worth a try, no matter your skill level.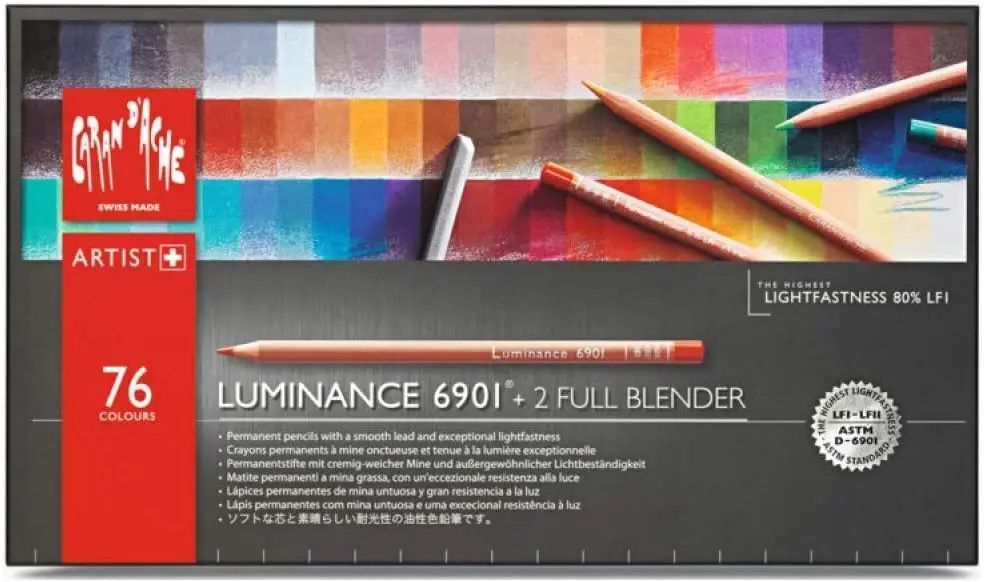 9. Staedtler Ergosoft Colored Pencils
Pros
Blend very well
Durable and ergonomic design
Stand-up container
Staedtler's line of colored pencils is perfect for beginners and casual colorists. Their wax-based cores are enclosed in the signature ergonomic triangular non-slip grip, comfortable to use for hours of fun coloring. The Anti-Break System (ABS) protective coating ensures top-notch durability and years of continuous use.
Pigmentation is bright and vivid, with smooth color output. You can achieve deep colors on a coloring book without having to exert too much pressure. Blending is relatively easy, and you can create a lot of different shades, hues, and various gradients that really stand out.
The Ergosoft line's largest set only includes 24 colors, but Staedtler offers several other colored pencil sets that can supplement it. A great bonus is that the pencils come in a container that converts into a fun, stand-up easel, freeing your table of clutter as you color.
Prices fall around the mid-range tier, but these pencils are meant for long-term use, so they are a very good investment for coloring books.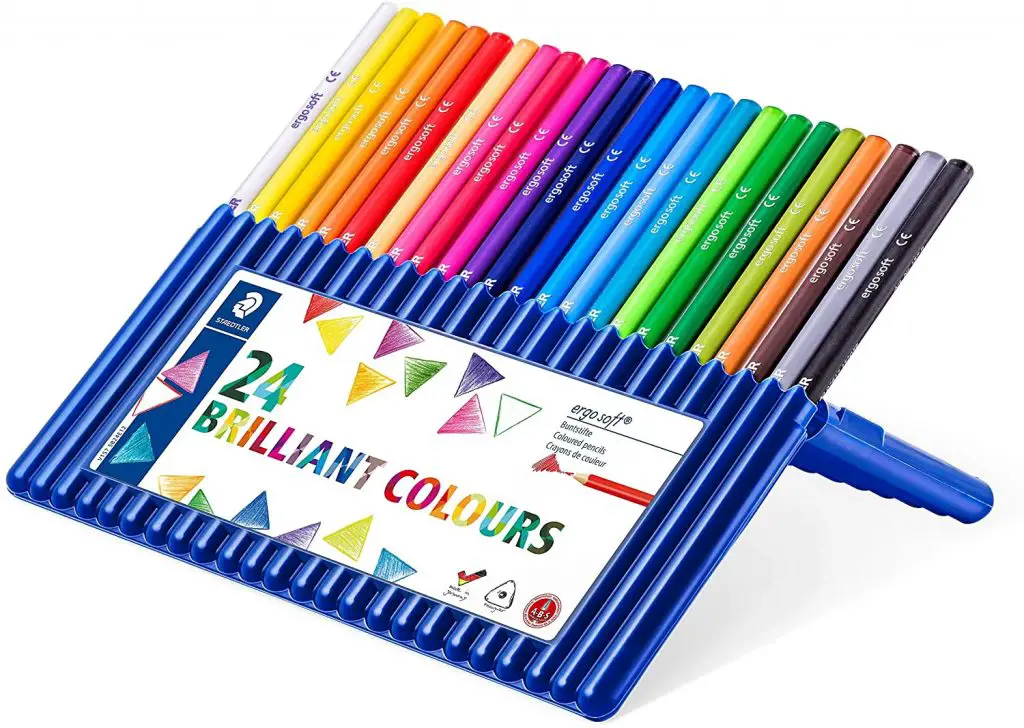 10. Soucolor Soft Core Colored Pencils
Pros
Soft, durable lead
Portable and easy to carry
Brilliant colors
Cons
Some color shades may appear very similar
Soucolor Colored Pencils are a popular choice for colored pencil art. They come in a variety of colors and shades and can easily be sharpened with a standard colored pencil sharpener. It features a soft but durable core that helps any artist produce brilliant and detailed images because it is also wax-based.
With 72 colors available, it is an affordable option for colorists at any skill level. It comes in a sturdy eco-friendly tube case that is perfect to carry anywhere you go. All the pencils also have their corresponding number labels printed on the tip for better recognition. Making a swatch is recommended as well to familiarize yourself with the shades as soon as it is applied on paper.
Soucolor Colored Pencils are available in 72 or 180 colors. They are comfortable to hold and easy to control. It is odorless and safe even for young artists. It's a great companion for anyone who want to explore the world of art.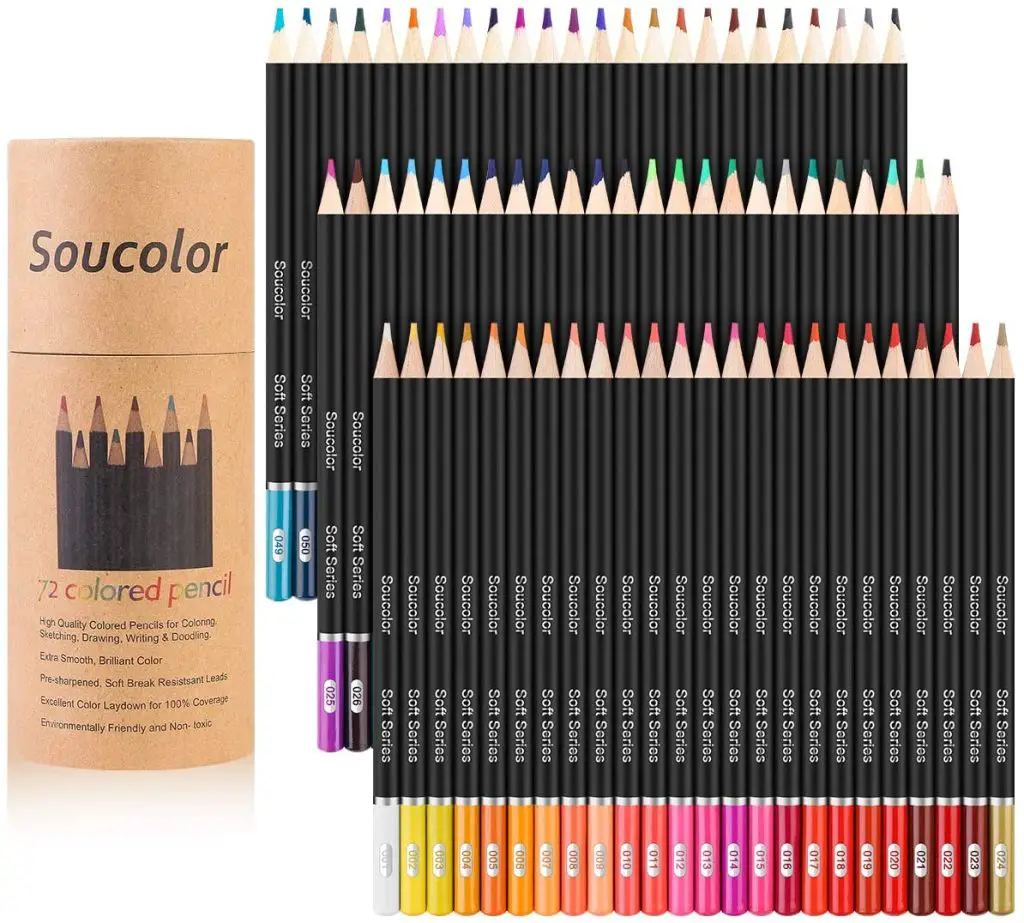 Conclusion
There are many things to consider when choosing coloring pencils for adult coloring books.
If you're a beginner, a sturdy set of wax-based pencils with a wide variety of colors will get you through several hours of relaxing with your coloring books.
If you want to branch out from the standard coloring technique, most pencils in the market are easy to blend – you will easily be able to create many more colors and gradients for even more versatility and uniqueness.
Once you have more experience, you can seek out the more expensive and high-quality coloring pencils to see if they're worth the expense. The most well-known brands are an easy choice if you have the budget, and you may find that using them will help you take your art to the next level.
Frequently Asked Questions
What are the best colored pencils for beginners?
Well-known brands such as Prismacolor and Faber-Castell make foolproof coloring pencils that are meant for artists of any skill level. Unfortunately, they may be beyond a casual hobbyist's budget. Crayola, Staedtler, and Arteza's colored pencils are more affordable but still provide excellent experiences for those who are coloring beginners.
Should I use colored pencils on my coloring books?
Colored pencils are excellent for any adult coloring book, and they are the top choice for hobbyists of any skill level. Colored pencils don't bleed through coloring book paper, they are easy to use, and they allow for flexibility when it comes to coverage. The sharp points can fill in small details while softer cores can be used when coloring in wider areas.
How do you blend colored pencils?
The best way to blend colored pencils is to either use a solvent or a colorless blending pencil. The solvents eliminate visible pencil strokes and make your art look like a painting, and are best used for dark shades. Blending pencils make colored areas look smoother, best for burnishing light hues.
What colored pencil brands will not crumble or break?
Wax-based colored pencils are prone to breakage, no matter what brand you choose or how delicately you use them. If the pencils are dropped or not handled well prior to shipping or delivery, the lead may come loose before you even start coloring. If the pencil lead breaks inside the barrel, you can leave it in a warm place for some time to let the soft wax core fuse back together.
What colored pencils do artists use?
Professional- and artist-grade colored pencils are very high quality and as such, generally very expensive. Well-known top tier brands include Caran d'Ache, Derwent, Faber-Castell, Holbein, Lyra, Prismacolor, and Tombow.