With great markers comes great papers.
Copic is one of the best brands of professional alcohol markers around. Its supreme quality ink with vibrant, rich colors and long-lasting properties is one to beat. These beautiful markers feature refillable ink, and the tips are available in different sizes, which can be replaced if there's a need.
This Japanese brand is well-loved, but each set comes with a hefty tag. It's considered an investment to have Copic markers; that's why artists also observe utmost care to maximize each pen.
As the world is geared to going digital, the classic hand-drawn art never gets out of style. Copic markers are one of the perfect instruments you can use to achieve clean and beautiful art projects. The amazing colors are long-lasting, provided that you use the right paper intended for it.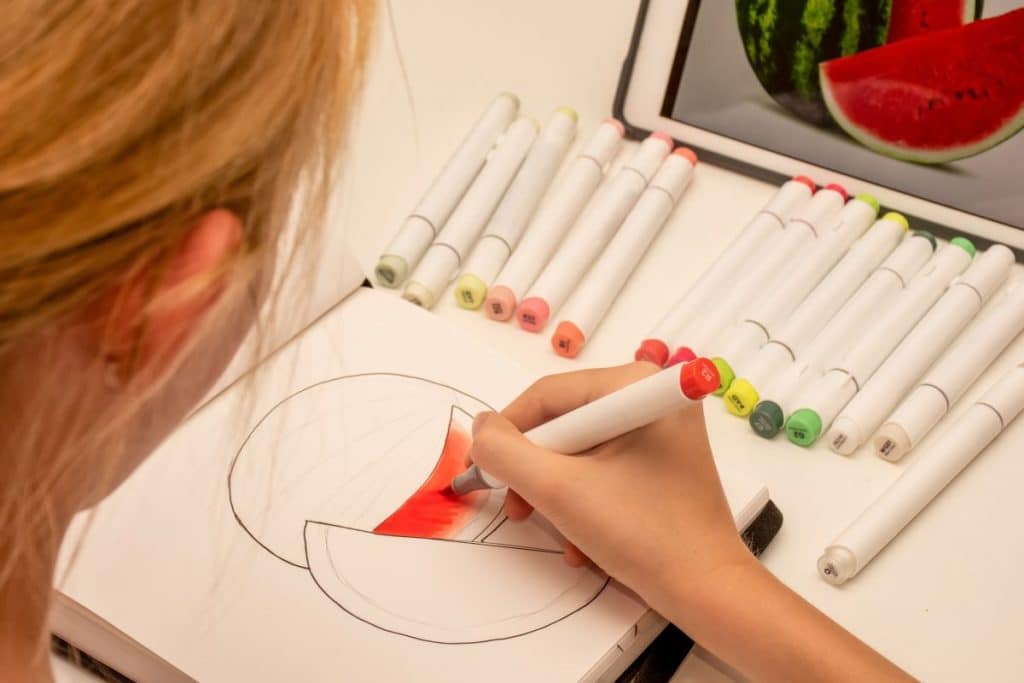 What To Look For In Paper?
It's good to have a basic understanding of how papers impact the performance of your markers. For instance, Copic, like any alcohol marker, has this strong ink formulation that can saturate regular papers so quickly. A textured paper may not be too friendly for their nibs, damaging it sooner and affecting ink flow. Let's look at some factors to consider when looking for the best Copic marker paper.
Texture
A smooth paper is the best for Copic markers. To emphasize: the smoother, the better. Regular printer paper or watercolor paper may not be the right choice because they have a toothy surface. A paper's tooth refers to its surface feel. The more tooth present gives you a rougher texture.
Copic markers have soft nibs, and gliding them on smooth paper allows you to have more control over your strokes. A rough paper may not give you precise lines and strokes due to ink that may unevenly lay down on paper.
Thickness
Copic markers bleed with regular copy paper. It's a given since alcohol-based markers have strong content. While thick paper usually prevents any bleed-through of ink, consider that this also means that they may absorb more ink than thinner paper.
Cardstock paper is a good choice because they are generally smooth. They are great when making cards and can be good for final renditions of artworks. Be sure to test brands, too. Cardstocks may have the same paper weight, but they vary in quality. Some may not be ideal for markers and may cause feathering, uneven blending, or streaky appearance.
Thin papers don't necessarily mean that they are not great for markers. Most marker papers are made of lightweight sheets with a very smooth surface. They don't absorb too much ink and are made to prevent the ink from bleeding through the back or the next page.
Color
White is a common choice, and there are plenty of whites available that can be confusing, too. Natural white, warm white, bright white, and so on. The kind of white you have affects the ink color of your alcohol marker. If you have plans to scan your work, different shades of white may affect how it appears on the computer screen and may also show tone variations if you need to print or reproduce copies.
Most Copic users prefer bright white paper as they look pretty well when scanned to create digital files. This still varies per artist, and it will come down to what paper colors suit your taste best.
Paper Size
Marker papers are offered in different sizes to cater to an individual's needs. There are as small as around 5 inches and as large, reaching around 14 inches. If you are on the go, a smaller marker pad may be ideal because it's handy.
There are glue-bound marker pads, while some are wire-bound to make it easy to lay pages flat on a surface. Some feature perforated sheets, while some are offered in a book style. There are also papers offered in loose sheets.
Top 12 Best Paper for Copic Markers
Copic care includes careful consideration of the type of paper you will use to maximize the results. Choosing the right texture, thickness, color, and size will let you see and appreciate each Copic marker's beautiful colors.
Copic makers also have their own paper line designed to maximize their markers. You may check out the Copic Paper Selections for options, but let's look at other recommended brands for this article. We have varying types of paper listed below that will complement and match your Copics.
It's time to check the top 12 we have for the best paper for Copic markers.
1. X-Press It Blending Card
Pros
Thick and durable paper quality
Inks blend beautifully with the smooth surface
Achieve vibrant colors
Archival-quality
Printer-friendly (laser or inkjet)
Cons
Expensive
Some ink may minimally bleed through
First on our list is the X-Press It Blending Card. This is a favorite choice among Copic users because of its very smooth, thick, and durable paper quality. X-Press It is a US brand for adhesives and premium stationery.
The Blending Card is a type of cardstock paper in bright white color. It is bleed-proof with a thickness of 250 gsm, making it perfect for blending colors beautifully using alcohol markers. It's ideal for Copic as it doesn't produce any feathering when you glide your markers, and this gives you silky smooth application on the surface.
You are guaranteed lasting work because the paper is also acid-free. It is also considered archival-quality, which means that the artwork you do with this cardstock will last for a lifetime.
Getting a pack of 125 sheets is quite pricey compared to other brands, but with the luxury of using Copics, your markers deserve one of the best papers available. Apart from using alcohol markers and other coloring tools, this paper is also printer-friendly. You may also work on mixed media projects
Paper Information: 8.5 x 11 inches | 250 gsm | 125 sheets | acid-free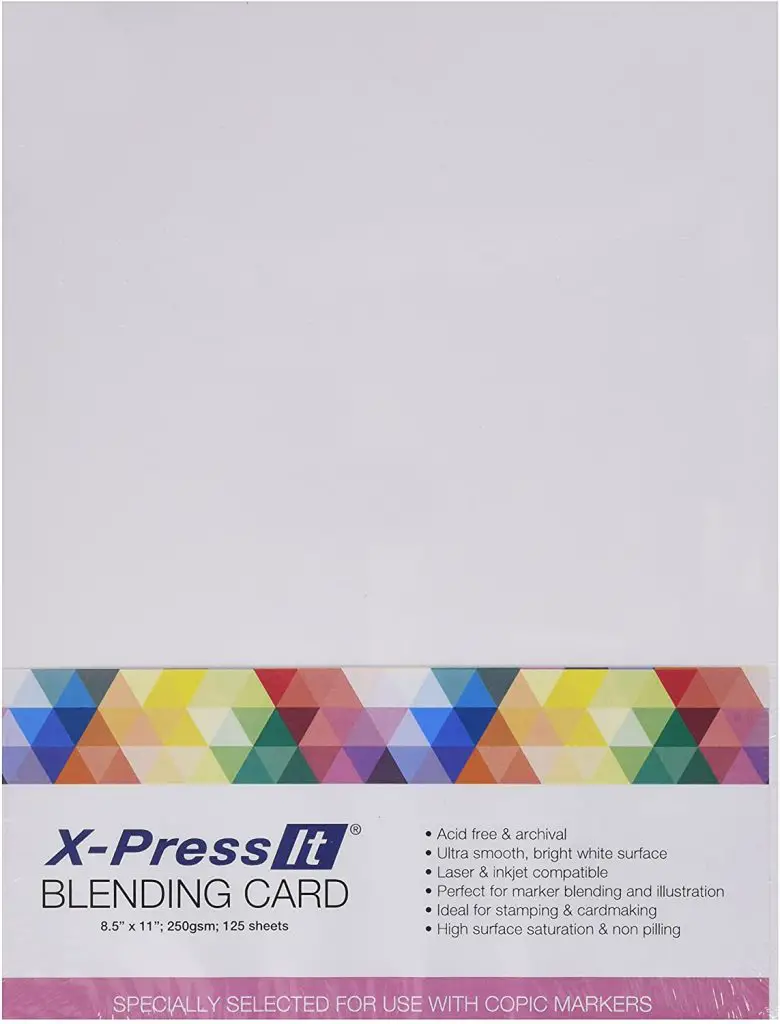 2. Canson XL Series Marker Pad
Pros
Premium quality thin papers for markers
Semi-transparent and very smooth surface
Can easily detach each page
Affordable
Cons
Paper may easily crinkle
Ink may minimally bleed through
Canson is a paper brand based in France. This is the second on our list because their marker pad series has gained popularity among artists using alcohol-based markers. It is one of the best choices when it comes to paper for Copic markers, given the affordability while providing a premium experience with their papers.
With any paper, there are two sides where you should do your layout for drawings and colors. The front page brings the expected colors of your Copics or other alcohol-based ink markers. You can blend nicely and overlay colors. The backside has a special coating that prevents bleed-through of inks. If you mistakenly used the back page, you will notice the difference in output right away.
The Canson XL Series Marker Pad is a bright white paper. This is also available in different sizes. Aside from coloring, this can be a good choice for calligraphy works, sketching, tracing, and drawings. It comes at an affordable price for 100 sheets, making it a good option for beginners as a practice paper.
You may also look at Canson XL Mixed Media Paper if you prefer thicker paper at 160 gsm. This is made for artists who use various coloring tools in their artworks.
Paper Information: 9 x 12 inches | 70 gsm | 100 sheets | acid-free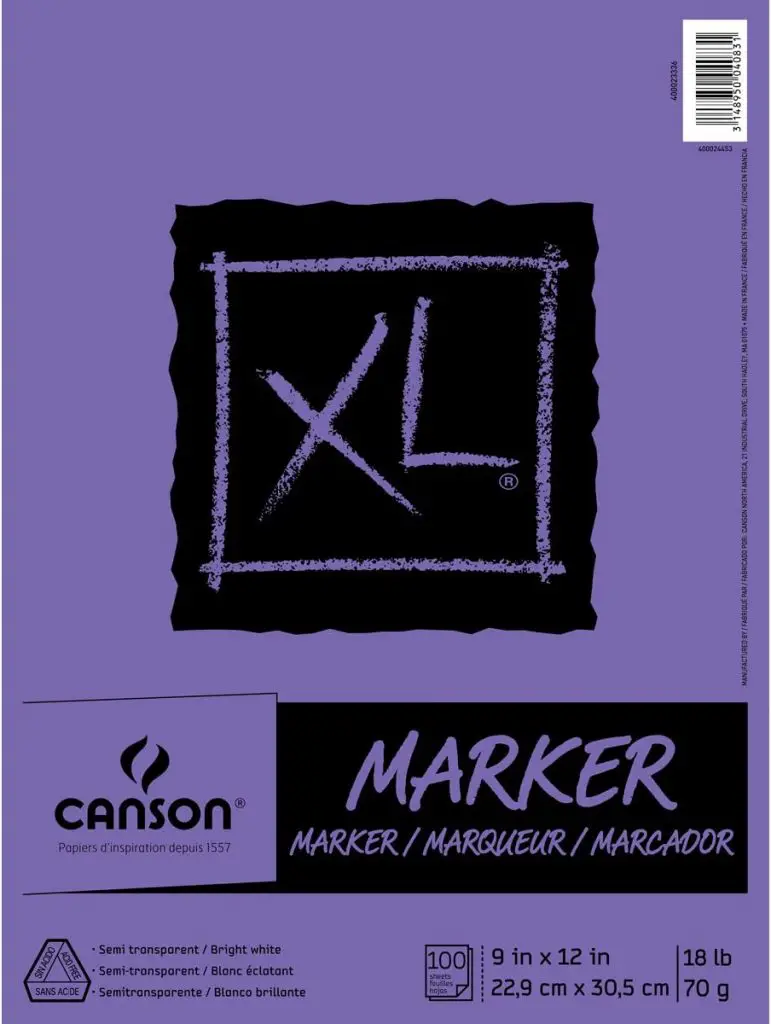 3. Strathmore 300 Series Bristol Smooth Pad
Pros
Premium quality, silky surface
It can also be used with water-based coloring tools
Achieve vibrant colors
Can easily detach each page
Cons
Ink may minimally bleed through
Expensive
The Strathmore Paper Company has been in the industry since 1892. Creating the highest quality art papers for different artists worldwide, it's no wonder that their Bristol series made it one of the top choices for Copic marker users. Bristol papers are known to be thick, smooth, and sturdy types of sheets. They are sometimes referred to as Bristol boards.
There are 2 types of surfaces for a Bristol paper: smooth and vellum finish. Bristol Smooth is the ideal one for pens and markers including those with alcohol-based inks due to its super smooth surface. Applying markers can be effortless while ink colors stay vibrant. If you are into colored pencils, crayons, and the like, choose the vellum type because it has a textured surface that hold colors well coming from such sources.
Bristol Smooth is not bright white but still features a crisp white. It's heavyweight at 250 gsm; thus, it can hold ink well and even watercolor medium. Your project will last long since they are acid-free.
Given the size of 11 x 14 inches, it's perfect if you need to frame your artwork, too. Some artists find this brand a little bit pricey but considering the paper quality; you get the most of what you pay for. Bristol Smooth is also available in other sizes and thicker sheets.
Paper Information: 11 x 14 inches | 270 gsm | 20 sheets | acid-free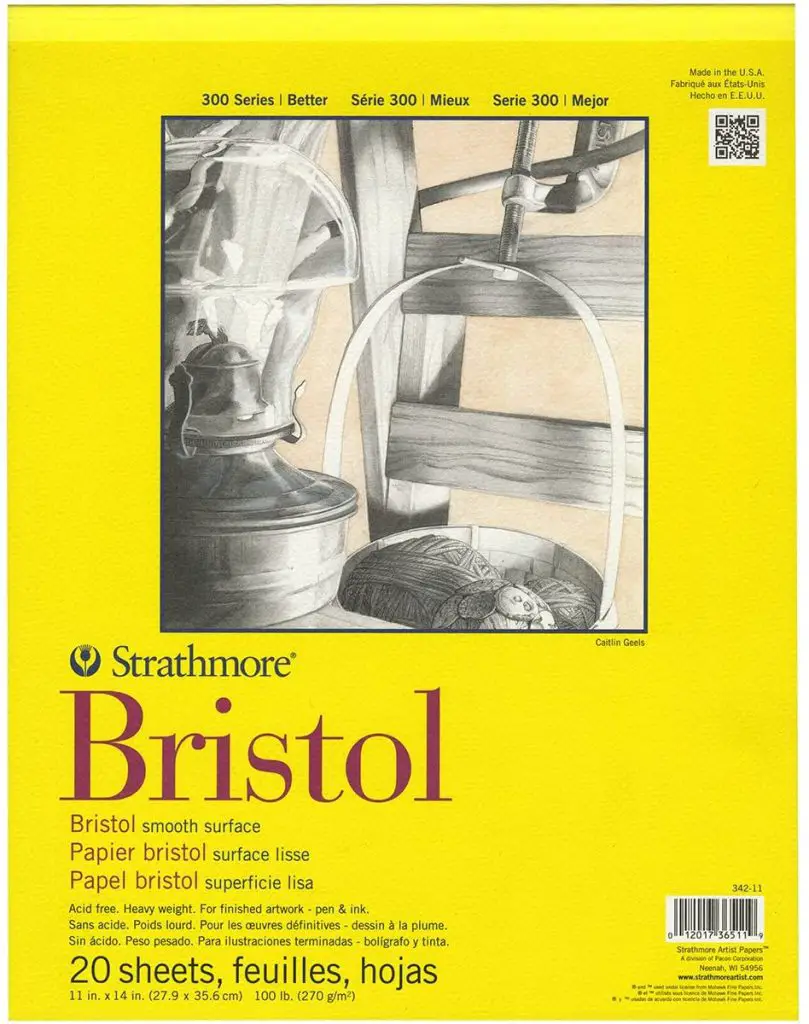 4. Crescent Creative RENDR Hardbound Sketchbook
Pros
Smooth, thick quality sheets
Bleed-proof paper; allows art on both sides of the page
Portable and great for artwork keepsakes
It can be used with other coloring tools
Cons
It may be difficult to lay flat due to its binding type
Cannot detach pages, no perforation
Crescent Creative has a huge line of materials for arts, crafts, and home improvements. When it comes to their paper line, the RENDR series is true to its promise of being bleed-proof because of its no-show thru technology. You can use the front and back pages of each sheet in your sketchbook.
With a hardbound cover, the 48 sheets of the paper inside are combined with Smyth-sewn binding. This is great if you want a permanent keepsake for your artworks since the paper is also acid-free, making it last a lifetime. You may utilize both sides of pages thus, getting a total of 96 pages. For those who wish to detach pages, this may not be an option for you, but you may consider RENDR's wire-bound sketchbooks.
The paper is white but may fall under an off-white shade. It works well with alcohol markers and other dry media such as colored pens and acrylic paints.
For the size of 8.5 x 5.5 inches, some may find this a little small, but that makes it very handy, so you can take it along with you wherever you go. There are bigger sizes available, too. The price is a bit on the high side for this brand, considering the ability to do back-to-back illustrations on your journal.
Paper Information: 8.5 x 5.5 inches | 180 gsm | 48 sheets | acid-free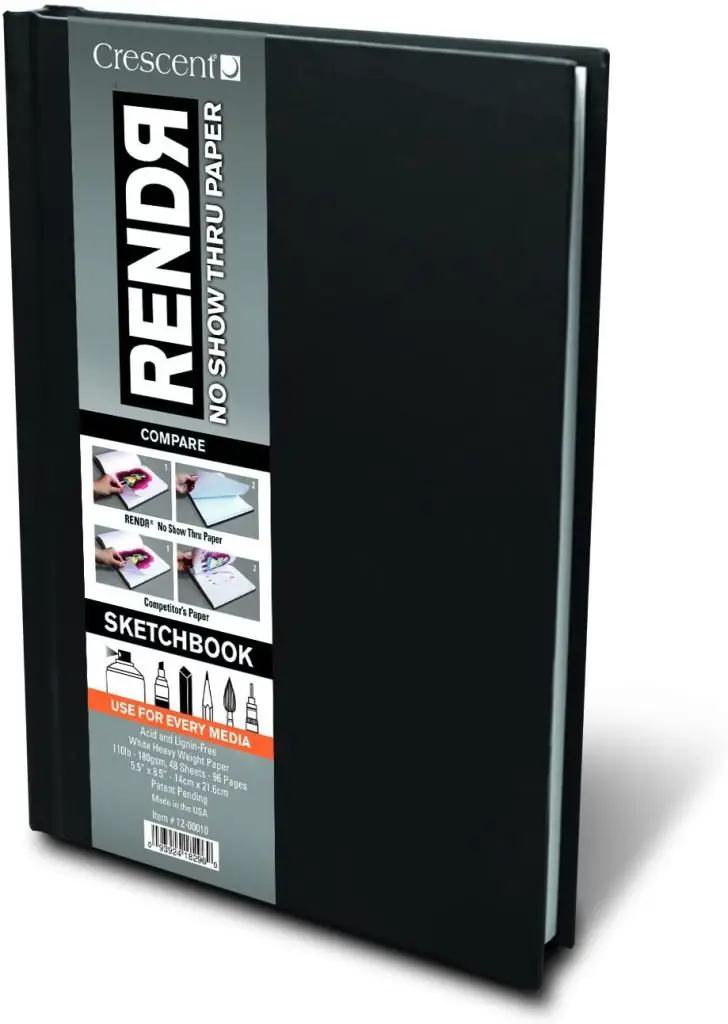 5. Bee Paper Artist Marker Paper
Pros
Ultra-smooth, professional-quality sheets
Available in tape-bound pads and sheet packs
Printer-friendly
Achieve beautiful colors with Copic markers
Cons
Ink may minimally bleed through
The Bee Paper company is a US-based brand dedicated to providing high-quality paper materials for art professionals. They have a wide range of paper choices depending on the coloring tools you use that even beginners or hobbyists will love.
The Artist Marker Paper has been made with the use of Copic markers in mind. Having that consideration means that the paper is ultra-smooth, bleed-proof, especially when layering or blending many shades, and can produce really beautiful colors. They are not as heavy as cardstock which means you can use this with your printer.
Given the 180 gsm thickness, it can hold up several layers of ink. The paper feels elegant to use, durable, and of outstanding quality. It can also be used for sketching, drawing, and calligraphy work. Other alcohol-based markers will work well with this paper.
It has 30 sheets per pack in natural white color. You have the option to select a tape-bound pad in other sizes if you like. When it comes to price points, it is quite affordable compared to other brands.
Paper Information: 11 x 14 inches | 180 gsm | 30 sheets | acid-free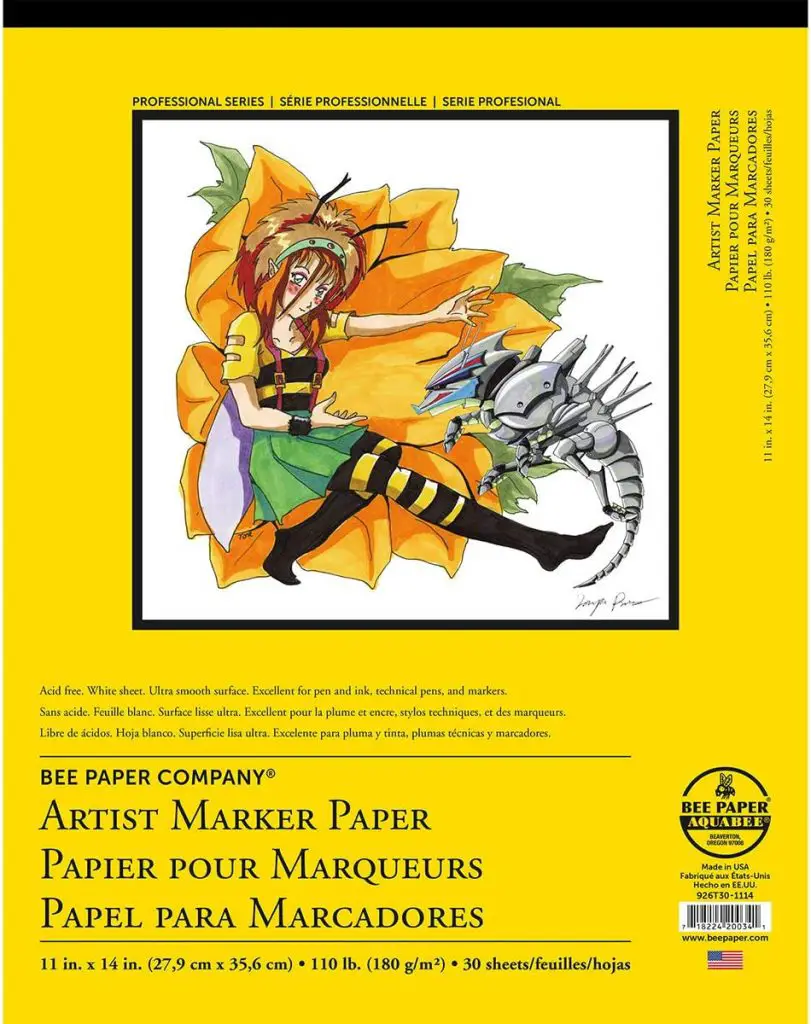 6. Ohuhu Marker Pads Art Sketchbook
Pros
Smooth, professional thick quality sheets
Portable hardcover square book with perforated sheets
It comes with a plastic sheet protector
It can be used with other coloring tools
Cons
Ink may minimally bleed through
Ohuhu is another popular art brand that many art professionals and even beginners love. They provide high-quality markers, pens, and papers that are easy on the pocket, thus, reaching out to more users and letting them enjoy artist-grade materials.
The Ohuhu Marker Pads Art Sketchbook is a square notebook-type sketchpad with a nice hardbound cover. It comes with perforated sheets making it easy to detach your artwork. With a 200 gsm thickness, this pretty thick paper prevents bleeding, smudging, and feathering, thus, letting you make the most out of your alcohol markers. You are guaranteed lasting work since they are acid-free, too.
With 78 sheets included in this sketchbook, you can also maximize its use because it also supports other coloring mediums such as colored pencils and water-based markers. This is also perfect if you're on the go most of the time. The hardcover can protect the sheets inside well.
Ohuhu also offers this marker paper pad in other sizes as well as in spiral-bound sketchbook types. The price point may be slightly higher, but the user experience and the result it provides for you are well worth it.
Paper Information: 8.3 x 8.3 inches | 200 gsm | 78 sheets | acid-free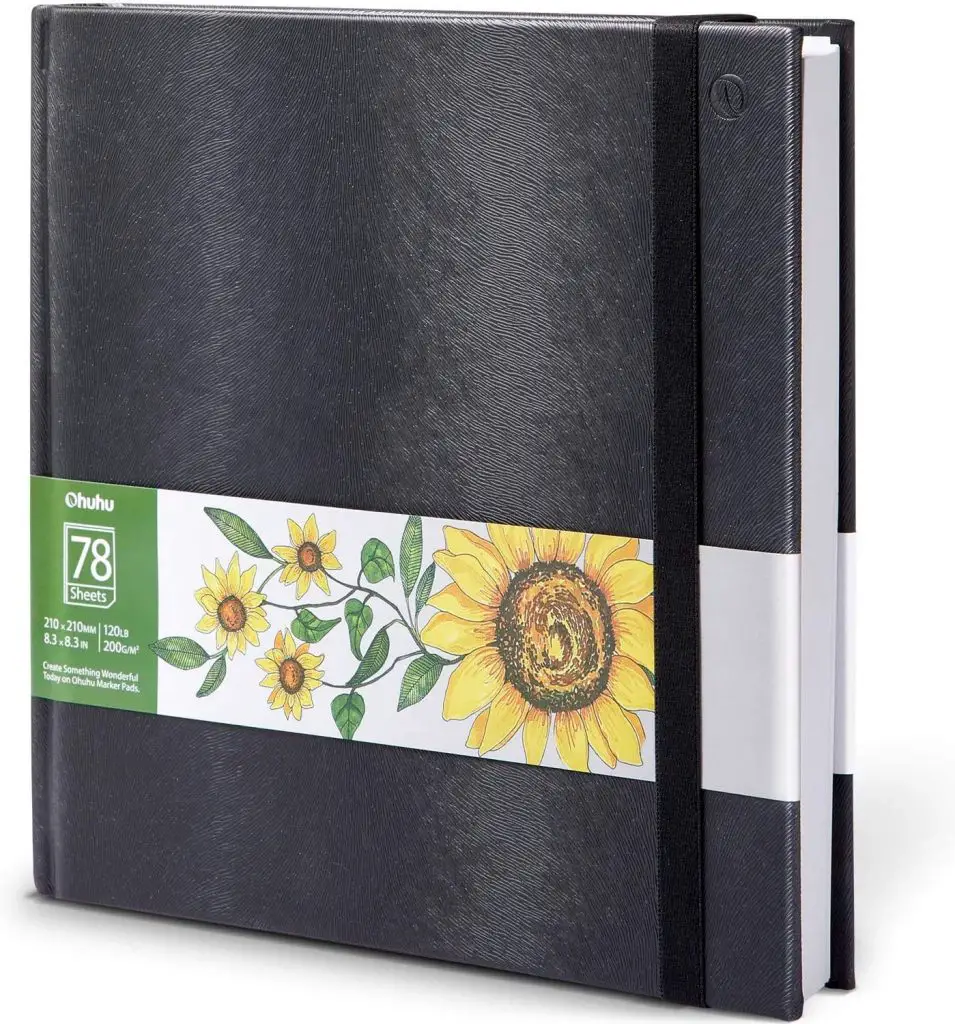 7. Bienfang Graphics 360 Marker Paper Pad
Pros
Very smooth, translucent sheets
It holds color very well
100% rag paper for that extra strength
It can be used with other coloring tools
Cons
Ink bleeds through the next page
May crinkle easily
Bienfang is a paper brand that belongs to the Speedball Art family. Established in the 1920s, Bienfang has committed to providing high-quality papers intended for sketching, mixed media, watercolor, tracing, calligraphy, and so on for artists and professionals worldwide.
The Bienfang Graphics 360 Marker Paper Pad is made of 100% rag paper. Rag paper is known to be extra strong because of the fibers it is made of. Given that this marker pad is only 51 gsm, you are guaranteed that they can hold alcohol ink from your markers, including Copic. It is also suitable for pencils and charcoal use. They tend to bleed through the next pages, so it's suggested to detach the sheet before working on your project. Another option is to always use a blotter page under your paper to protect your next sheets.
This marker paper pad is translucent; thus, making it easy to overlay drawings and practice calligraphy. Be extra careful when using it because the paper may crinkle easily given the thin texture, but it does promise to retain the colors of your markers when applied.
There are different sizes available for this brand, and they are sold in packs of 50 or 100 sheets. They are glue-bound. The price point is quite pricey since these are rag papers, which are made of high-quality materials.
Paper Information: 14 x 17 inches | 51 gsm | 100 sheets | acid-free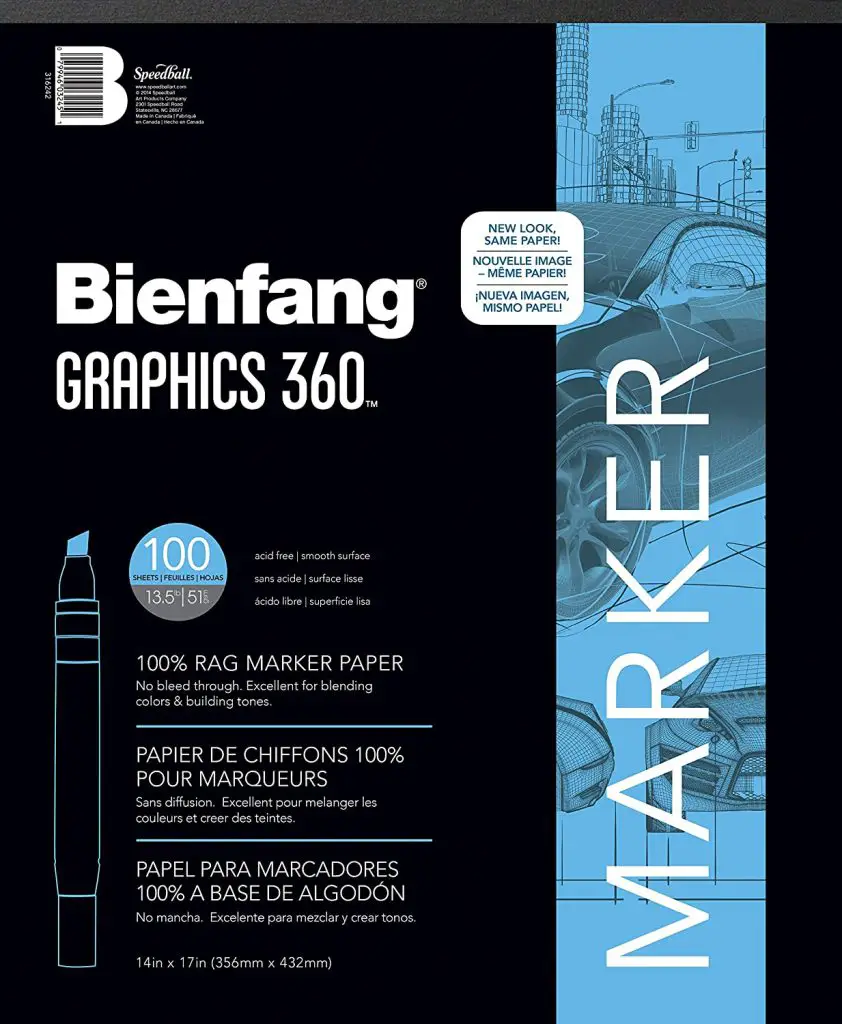 8. Transotype Bleedproof Marker Pad
Pros
Smooth, high-quality sheets
Translucent paper that is great for coloring
Colors show up nice and vibrant
Cons
Ink may bleed through
Expensive
Transotype papers are made in Germany. They have a variety of drawing pads, notebooks, sketchbooks, and special papers.
This particular marker pad has a special coating at the back to prevent ink from bleeding through. It's a sturdy paper at 75 gsm, but there's still a possibility that ink may seep through the pages after applying several strokes with your marker. It's always best to place scrap paper under your work since alcohol markers are known to have strong and saturated ink content that may ruin your surface or the next page.
The Transotype Bleedproof Marker Pad is also available in other sizes in the same 50-sheet pack. It is a soft paper designed to hold markers, watercolors, colored pencils, crayons, and pencils. They don't easily warp and can show really vibrant colors on your markers.
As for the price point, this brand is a bit expensive. It's still worth the try as you can use different mediums when you create your project. With the translucent feature, you may use this for tracing or overlaying drawings. It's also an acid-free paper set.
You may want to check out the Transotype Perfect Coloring Paper at 250 gsm if you prefer thicker paper.
Paper Information: A4 size | 75 gsm | 50 sheets | acid-free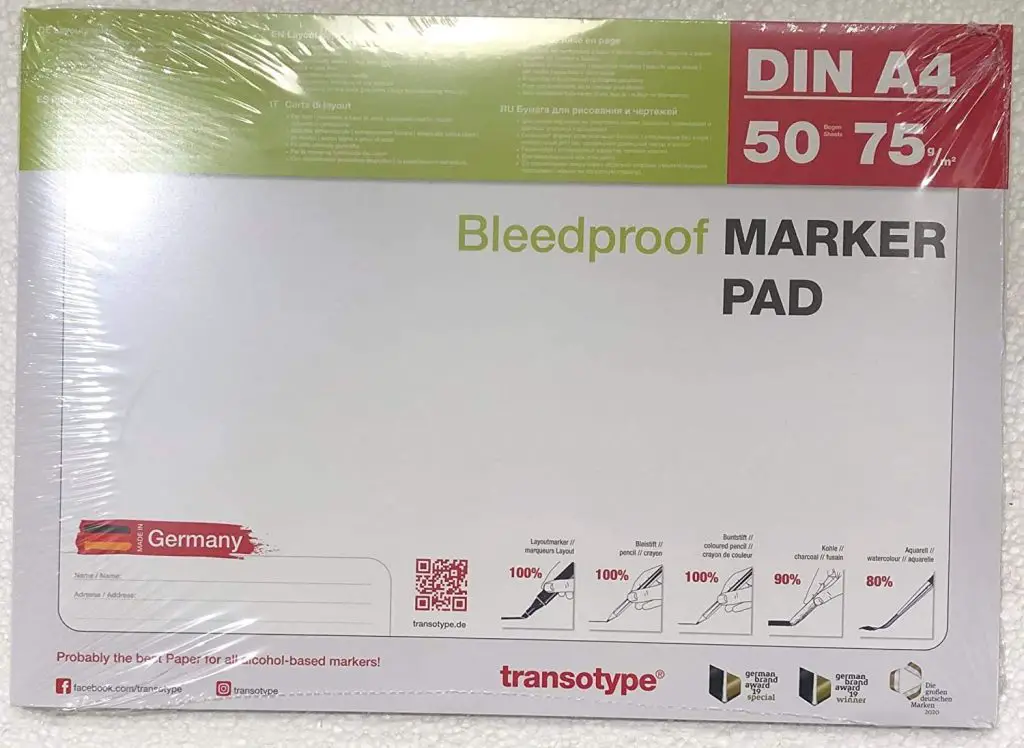 9. Winsor & Newton Superior Bleedproof Marker Paper
Pros
Smooth, professional-quality sheets
Printer-friendly size
Archival quality paper
Affordable
Cons
Ink may minimally bleed through
Next on our list is the paper supply from Winsor & Newton. They are one of the trusted brands in the art world. Founded in London in 1832, they have produced a wide selection of professional quality art materials such as markers, paints, papers, accessories, and a lot more.
With a focus on one main product, the Superior Bleedproof Marker Paper is intended for alcohol-based markers. Copics can blend nicely on these papers. This appears as a regular thin paper at 75 gsm, but it has a bleed-proof coating, acid-free, and archival quality. If you are worried due to the thinness of this paper, place a piece of scrap paper underneath your work for added protection so as not to mess up your next page.
It comes with an affordable price tag with 50 sheets in a regular A4 size (about 8¼ × 11¾ inches). You will enjoy a lot of drawings, sketching, hand letterings, and coloring with alcohol markers. It can be a good buy for students and beginners, too.
Paper Information: A4 size | 75 gsm | 50 sheets | acid-free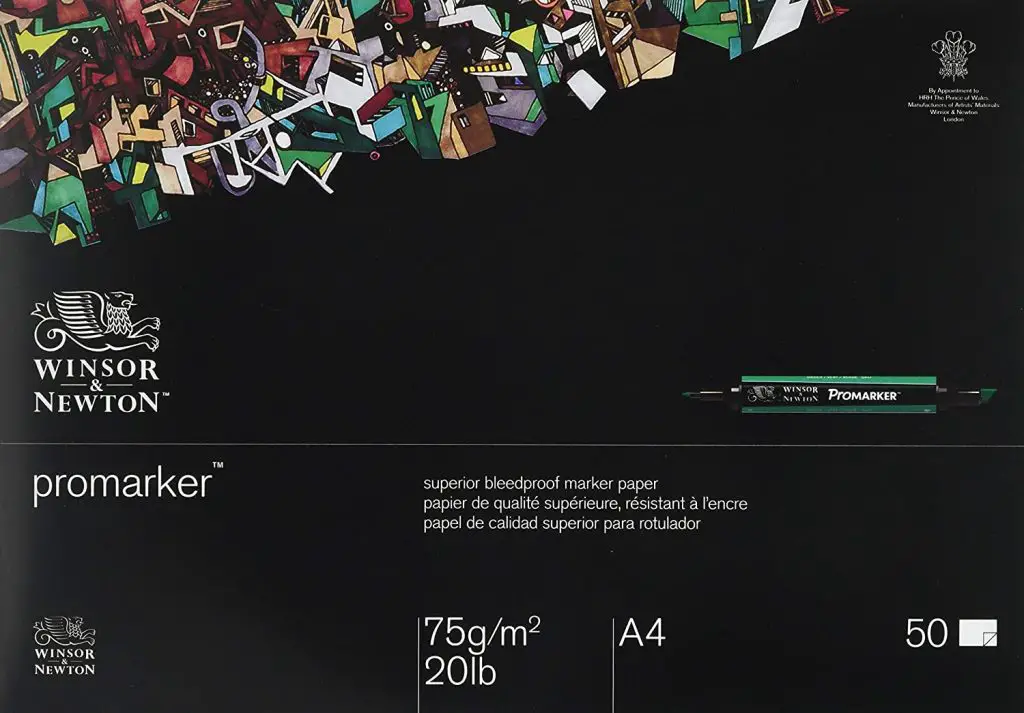 10. Art-n-Fly Marker Paper Pad
Pros
Smooth, professional-quality sheets
It prevents bleeding onto the next pages
Shows vibrant colors on paper
Affordable
Cons
Ink may barely show some feathering
Art-n-Fly is a premium boutique supplier of art supplies committed to making it affordable for any artist level. They have their own line of great quality colored markers, pens and pencils, watercolor, paper line, and accessories.
The Art-n-Fly Marker Paper Pad is a special paper made for alcohol markers, including Copic. They have a special coating at the back to prevent any bleed-through of inks. You will not be able to utilize the back page, but the front side will allow you to blend colors and maximize your coloring skill in your project.
The paper is bright white, which shows your ink's vibrancy upon application. It's very smooth paper, thus, making colors easy to blend. Expect lasting work because each sheet is also acid-free.
With 90 gsm thickness, this is a bit thicker than other marker pads. It is glue-bound on the top, so you can fold it over or detach it with ease. This pad also works well with pencils and pens. This paper is worth trying, especially because it comes at an affordable price tag.
Paper Information: 9 x 12 size | 90 gsm | 60 sheets | acid-free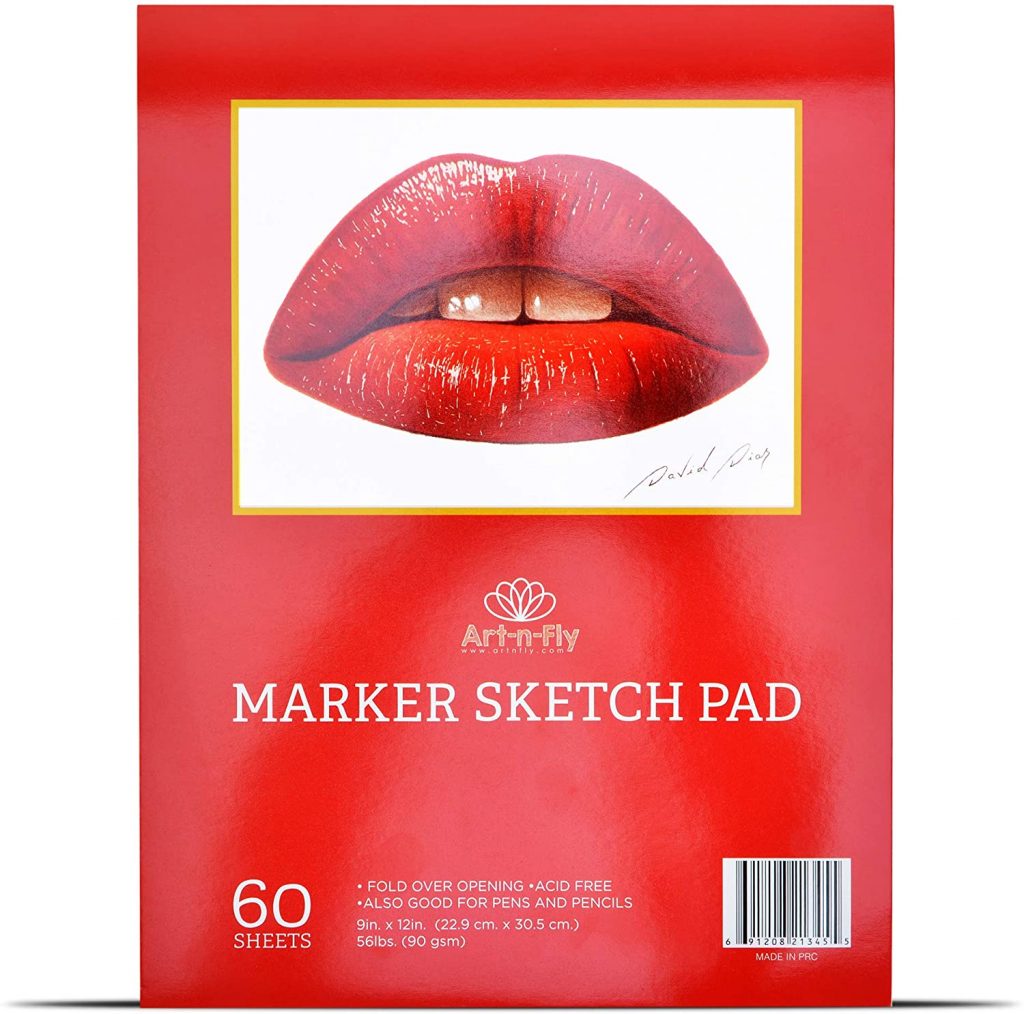 11. Bianyo Bleedproof Marker Paper Pad
Pros
Smooth, professional-quality paper
Lightweight sheets
Shows vibrant colors on paper
Affordable
Cons
Ink may minimally bleed through
May tend to warp papers with too much ink
Bianyo is a fairly new company in the art industry but is slowly establishing a good name for their artist-quality markers, paints, and papers. Many newbies and enthusiasts like their art materials because of their quality, budget-friendly tags, and one-year warranty.
The Bleedproof Marker Paper is Bianyo's high-quality version of papers intended for users of alcohol markers. Its soft, thin sheets are only 70 gsm but can hold richly saturated inks that alcohol markers contain. They are also great for fine liner pens and calligraphy jobs.
Comes in white color but not classified as bright white, this affordable marker pad can be a good choice as you explore and maximize your Copic markers. Considering the paper's weight, it will not absorb much ink, making your markers last longer. The back part is attached to thick chipboard, giving you a stable surface when working.
This marker is available in other sizes. Bianyo also has a mixed media pad that you may also try with other mediums.
Paper Information: A4 size | 70 gsm | 50 sheets | acid-free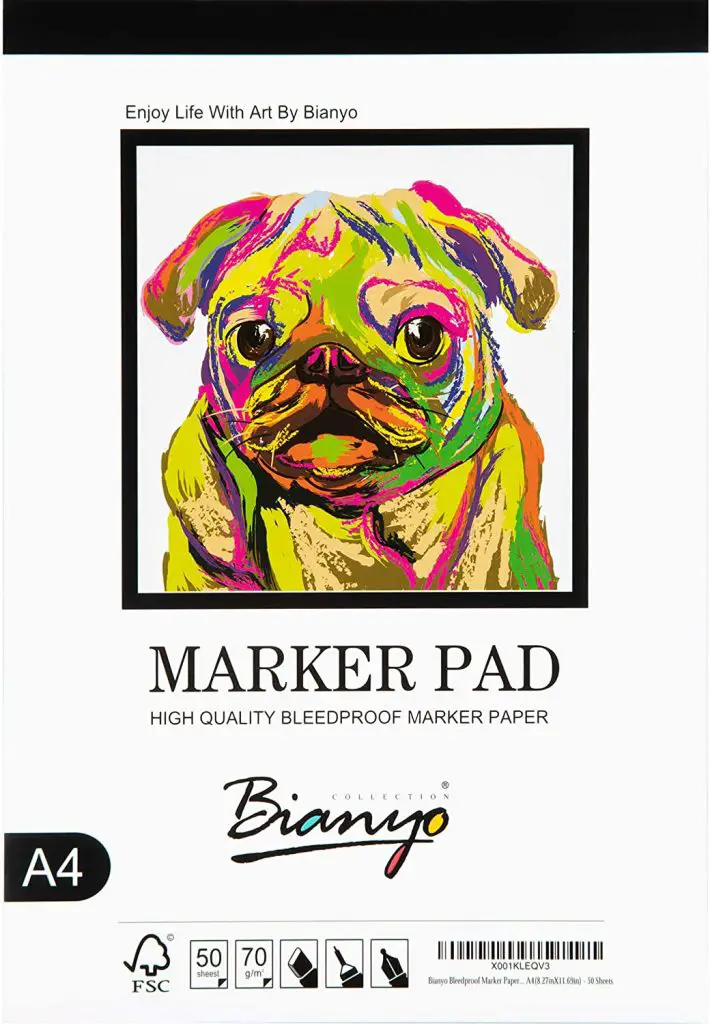 12. Boxun Marker Paper
Pros
Paper has a very smooth surface
Great for beginners and student artists
Affordable
Cons
Ink may minimally bleed through
Boxun is a small art supplier of various pens and markers, and the only paper item they have (as of now) is a marker paper intended for alcohol markers and other mixed dry media.
Only one side can be utilized on each marker paper because the back part is covered with a special treatment designed to prevent inks from bleed through. If you accidentally used the back page, you will notice that your alcohol marker or Copic's output is different on the paper. The front page is smooth, and markers glide with ease. Just take extra caution to use extra paper underneath your work to ensure it catches any ink that may bleed unintentionally.
Featuring a natural white color, this semi-translucent paper can handle sketches up to final drawing forms. Its paper weight is at 90 gsm, which is a bit heavier than the other brands. If you are looking for pads with easy removal of sheets, this set of good papers is for you.
Considering the affordable price, this can be a great marker pad set for beginners or student artists using Copic or other alcohol-based markers. They are thin yet sturdy and good enough to save your precious dye ink.
Paper Information: A4 size | 90 gsm | 50 sheets | acid-free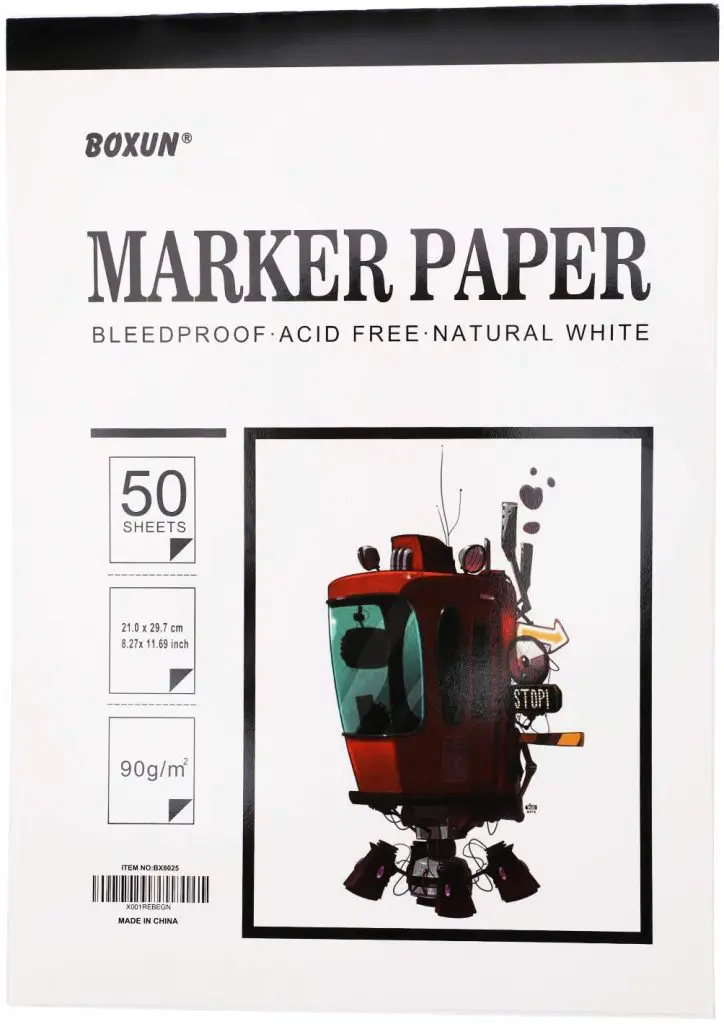 Care for Copic Marker Paper
Each sheet is important on your marker pad. When testing a specific brand for the first time, always stay on the cautious side by using scrap paper underneath your work. This will ensure that your surface or the next page of your sketchbook stays clean.
It's important to consider a good storage organizer for your special paper sets to maintain their cleanliness. Keeping them stored properly prevents any accidental mess with liquid and other matters that may ruin them.
Storing the paper horizontal is the ideal way to do it to avoid any creases on the corners of your sheets. If you have multiple brands, arranging them per name is the suggested way to keep them. It will be quite difficult to sort out papers when they have been mixed.
After all, Copic marker papers are investments as you expand and build your art portfolio.
Conclusion
Which to choose?
Regular sketch paper is not the ideal match for your professional Copics. They will not be able to handle more ink, and you may end up wasting more along the way. A good paper to get is the one engineered for alcohol marker usage.
While all these brands have the same purpose of letting you make the most out of your Copic markers and other alcohol-based pens, it all boils down to what you feel matches your kind of art with budget consideration. These marker papers give their best to deliver so you can enjoy the beauty of art made with Copics.
There is more to each paper than meets the eye. We hope you get to choose the right paper for your needs. Ciao!