There's a reason we don't see the world in black and white.
Let's take that literally because colors are beautiful, therapeutic, and make our souls happy. It adds meaning to things and life around us. It affects our mood, expresses our feelings, and balances our emotions.
We all first encountered coloring books when we were children. It gave us the freedom to choose whatever color we like to use on each drawing. It helped develop our fine motor skills, hand-and-eye coordination, color awareness, discipline, patience, and a lot more.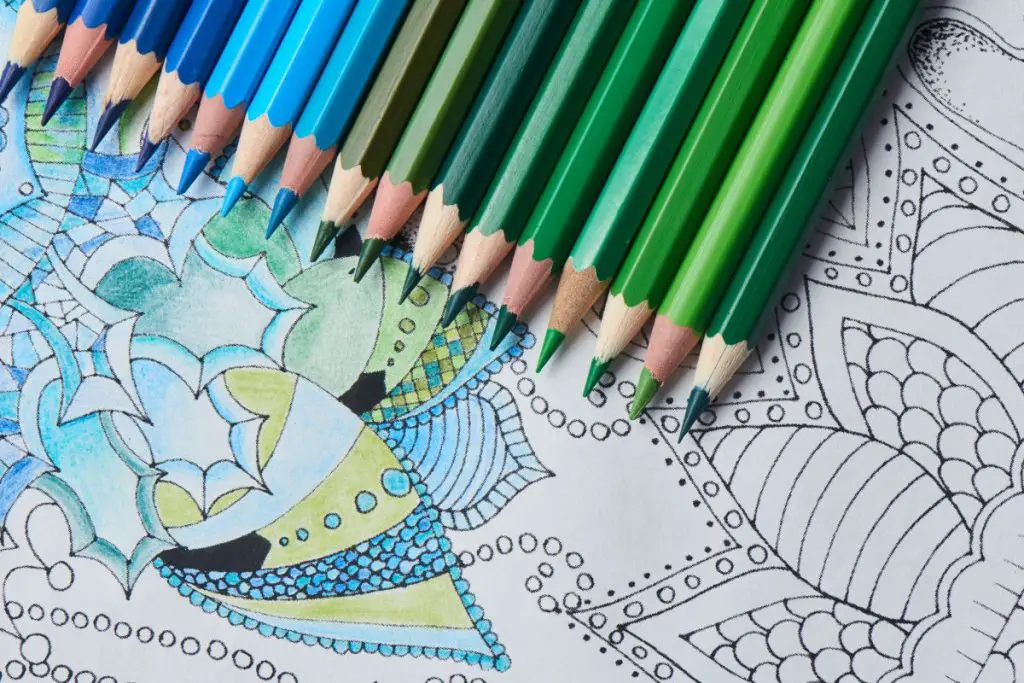 Color By Number For Adults, Beneficial?
The good benefits are not limited to kids alone. As adults, doing coloring artwork has been known to relax the brain, reduce stress and anxiety, improves focus, promotes creativity, and so on. Since adult skills and preferences vary, there are also different kinds of adult coloring books available.
Read more about the benefits of adult coloring.
With regular coloring books, the colorless pictures give us the freewill to choose whatever hue we'd like to use to create a masterpiece. Some adults thrive on this option as experimenting on different shades can be exciting. On the other hand, there are adults who prefer to make coloring easy for them so there's less thinking about mixing and matching tints. This is where "color by numbers" come into place.
Color by number books for adults are made to make easy artistic works without losing the fun. All the regions to be colored out are properly labeled with numbers and we simply need to shade them following the color palette provided by the book. Easy, isn't it?
The joy comes in once we see that our design has been finished. There is this sense of accomplishment right after seeing the last numbered shape has been shaded out. It sends that amazing and relaxing feeling as soon as we complete a page that easily.
Coloring Supply Options
We, personally, love using markers when coloring as they can create extremely vibrant colors. We've tested all the major brands and have information on the best markers for coloring.
If you are less experienced or maybe want to avoid potential issues such as markers bleeding through the pages, you may want to look into the best colored pencils for coloring. Colored pencils will not be as vibrant as markers, however they will still provide a beautiful, softer color that some people prefer.
Finally, if you want to get extremely creative, you can try out some of the best gel pens on the market. Gel pens have less ink but produce vibrant colors as well as giving you access to glitter and other neat effects.
Any of the options above will work, so choose which works best for you and just start coloring!
The Best Coloring Books
We did a search for the best color by number books for adults and here's what we've found:
1. Brain Games – Color by Number: Stress-Free Coloring
Brain Games released three different color by number books for this series – green, pink, and orange. They all offer a variety of 27 images per book that are all spiral-bound.
The pages are made with good quality, thick paper wherein all the images are printed only on one side of the page. You may use coloring pencils, crayons, or markers without worrying that it may bleed through.
Each page has a maximum of 6 colors to use. It may appear limited but this is a good start since having more than 10 colors to use may appear too much to handle. If you are more playful on your color choices, you have the option to upgrade your palette options.
The colors to be used on each drawing has no label or name. You have to match your coloring tool with the swatch color provided for each page. Should you have any issues distinguishing the swatch colors, you may refer to the last pages for the full color illustrations.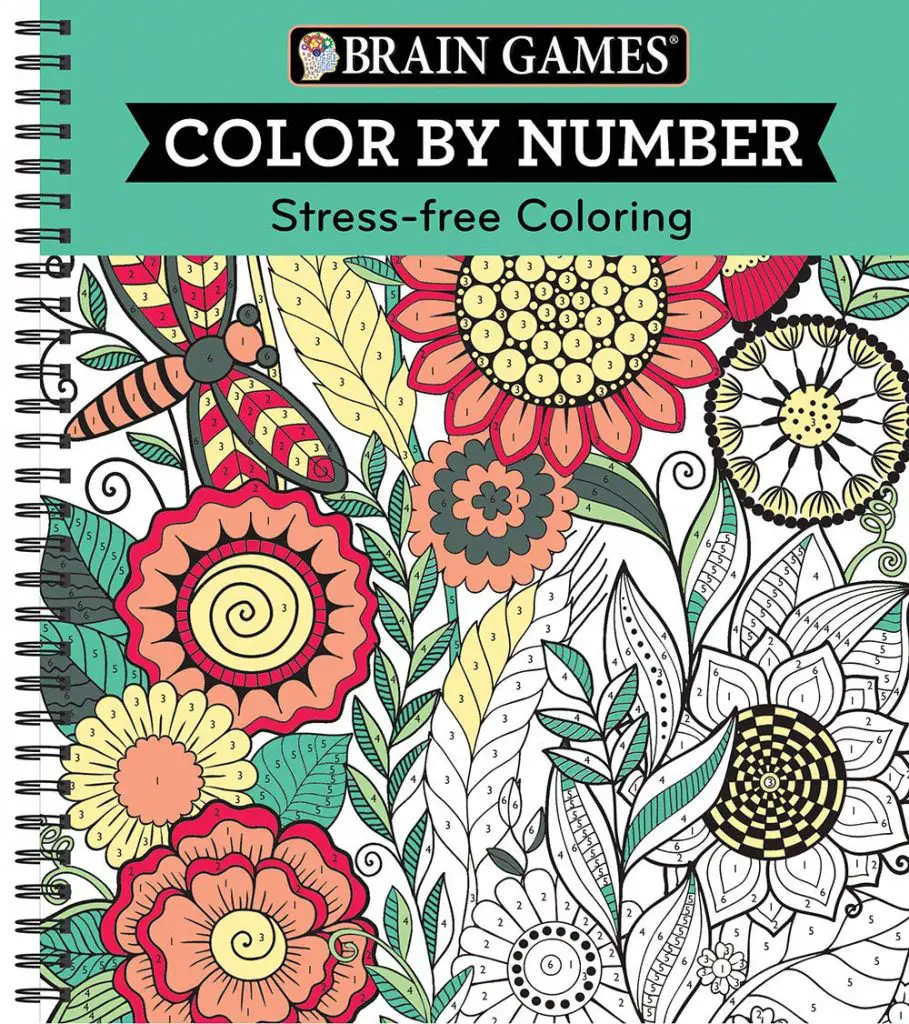 The pages are perforated; making it easy to tear off a favorite page if you want to put it up on display or share with friends or loved ones.
There is also a good variation of image content on each coloring book. There are simple drawings and there are also complex images that may take longer time for completion. Each image also has some color pre-filled in already.
Book Dimension: 8.75 x 0.56 x 10 inches
Total pages: 64
Total images for coloring: 27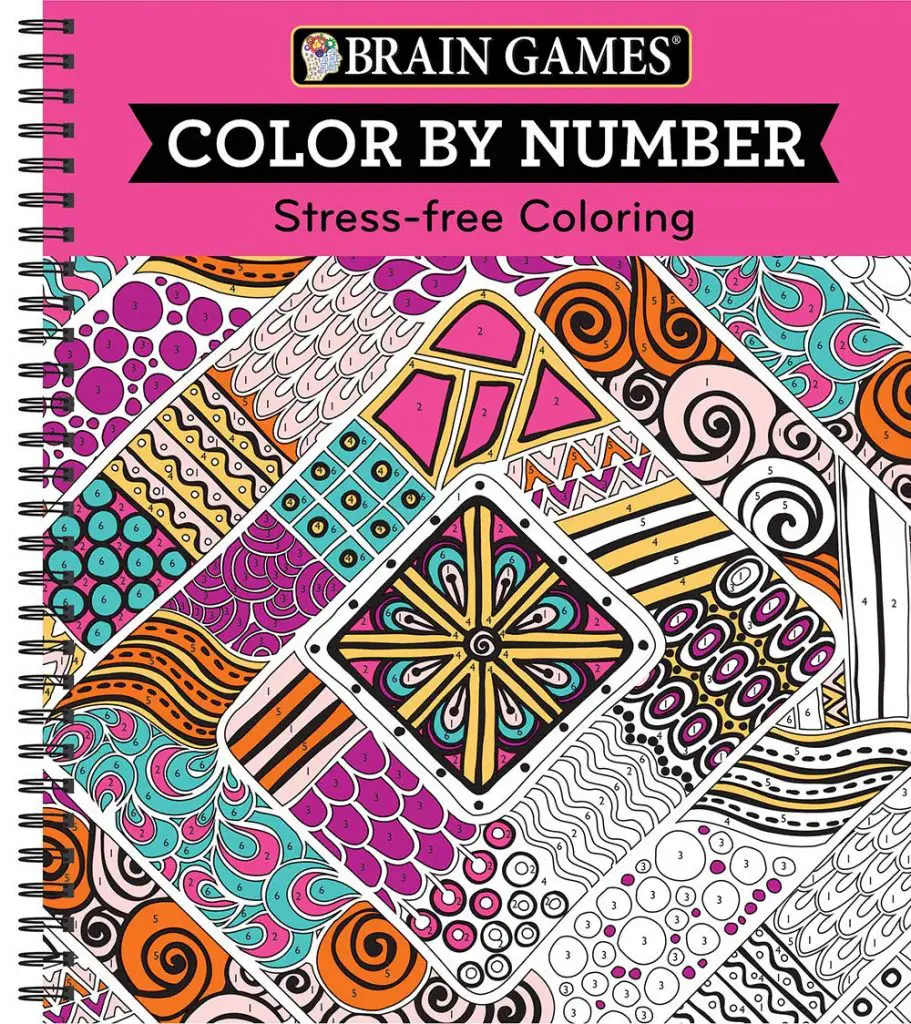 2. Jade Summer – Color by Number: Patterns
The Jade Summer coloring book collection has a number of different color by number books in its group. The most-popular on the series is the "Patterns" book. This is a large-print, paperback coloring book that is ideal for all levels of users. There are 50 different illustrations that are printed in full-page with varying shapes and patterns that are easy to color.
The book offers 30 colors to use. It has its own page of color key and each is labeled accordingly. Since different users have different coloring tool (crayons, pencils, or markers) to use, they also included a blank color swatch that you can use as you make your own palette reference. Since you may need up to around 30 colors, it may be a challenge for some users that have limited coloring pens to complete some of the color requirements.
Each drawing is printed on one side of the page with a black back portion to help absorb any bleed through should you use markers on your pages. It will still be best to add an additional scrap paper underneath when you color your work to ensure it doesn't mess up the next page.
Book Dimension: 8.5 x 0.26 x 11 inches
Total pages: 113
Total images for coloring: 50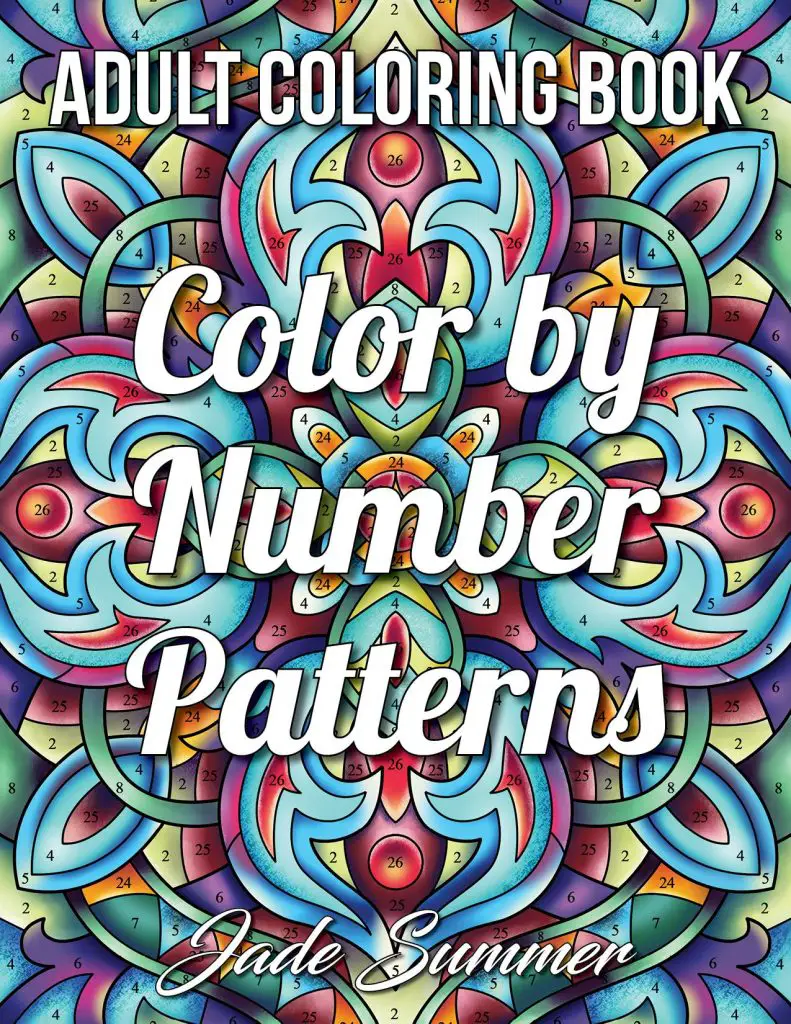 3. Creative Haven – Color by Number: Mandalas and Sea Life
Mandalas
The mandala word literally means circle. These are interconnected patterns that are concentric or circular in nature and often symbolizes unity and harmony. Mandalas often make a great choice for coloring artwork, especially for adults, as they show intricateness and balance on all the elements used.
Creative Haven's Mandalas Color By Number book offers 46 beautiful designs. Each picture is printed on one side of the page. As best practice when using art markers, place an extra sheet underneath the page you are working on to protect your next page from bleeding. In addition, each page is also perforated but be extra careful when you need to remove them from the book as it may accidentally tear up your work.
There are 24 color choices on this adult coloring book that is printed and labeled properly. Set aside 24 colors from your coloring pencils or markers to match the palette to use. If you are extra creative, you may also play around with your own color key.
Since mandalas are known to have small details, sharpen your colored pencils well or if you are into markers, fine tips are very useful to shade these tiny areas. Number labels on these sections may appear really small, too. If you find it hard to identify the digit, a handy magnifying glass can help to avoid confusion with certain numbers.
Book Dimension: 8.2 x 0.4 x 10.8 inches
Total pages: 96
Total images for coloring: 46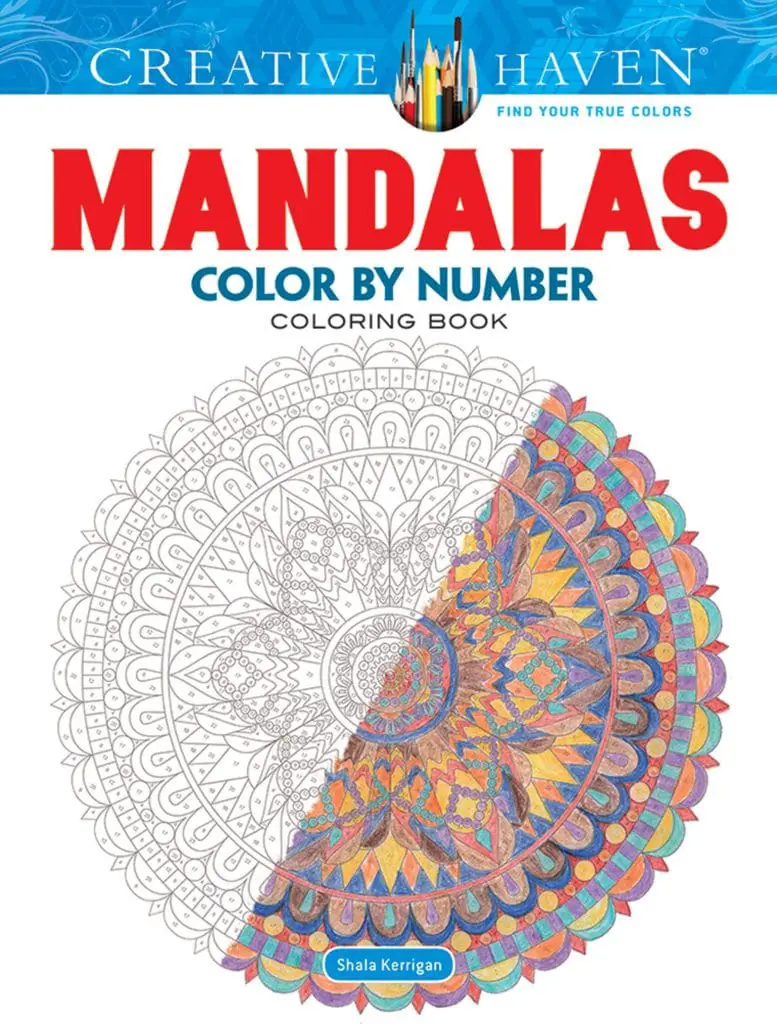 Sea Life
Get to color life under the sea with the Sea Life Color by Number Book. Printed on just one side of premium-quality paper, expect delightful sketches of different fishes, corals, and other marine animals.
There are also 24 colors needed in this book. The color palette is shown on the inside of the front cover together with some thumbnails of the colored illustrations (the rest are at the back cover).
These are full-page drawings thus, expect different combinations of big and small areas to color that even experienced artists may enjoy. Some numbers may appear really small and this may make it extra challenging for older ones. The use of a magnifying glass can be helpful.
The perforated pages are also great if you need to detach your book pages for individual coloring, putting them up for display, or give as a gift.
Book Dimension: 8.2 x 0.3 x 10.9 inches
Total pages: 96
Total images for coloring: 46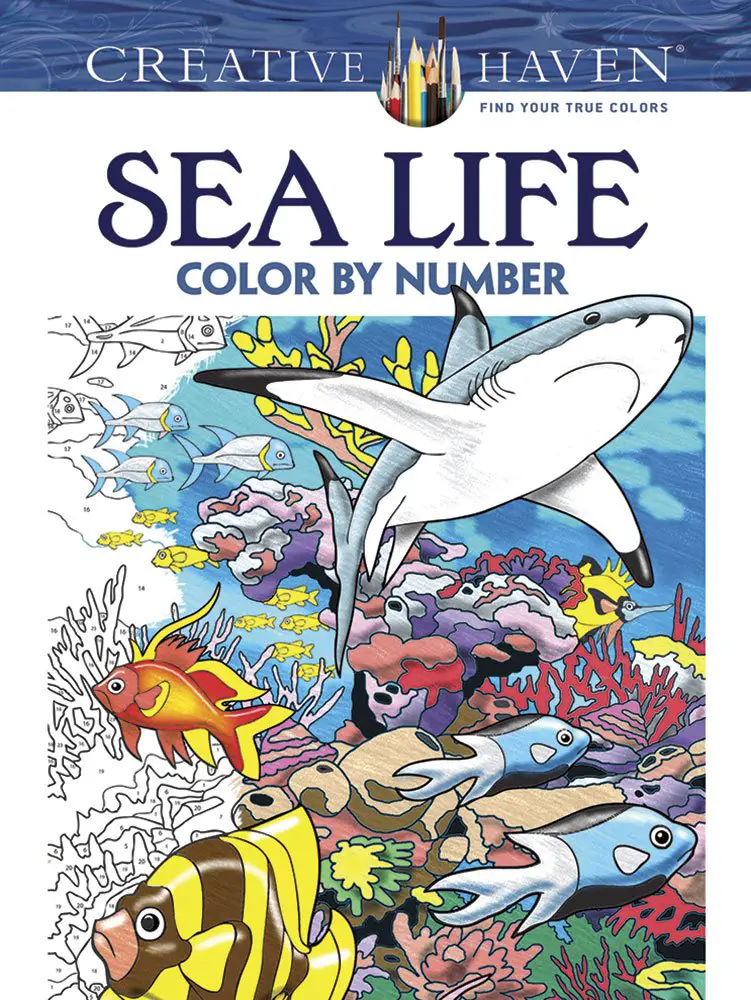 4. Joe Bartos – Mystery Colors: Color By Number & Discover the Magic
This color by number book is not your usual coloring book. Illustrator Joe Bartos added a little challenge on each design he created wherein you can only discover the actual picture while you are on the process or when almost done coloring your work. This Mystery Colors book is true to its name that it has a surprise factor for each page that you are going to work on.
Mystery Colors has a wide variety of pictures to discover – from famous landmarks, animals, landscapes, people, and so on.
The full-page pictures are printed on good quality, thick paper which are all perforated for easy removal. Since they are printed on one side only, the book utilized the other side of the page by printing fun facts on the bottom part that gives you a clue on what to color at on the next page. They are perfect for colored pencils and art markers.
There are 20 colors to be used for the entire book but only 10 colors are needed per image. These are swatched at the bottom of each picture. Just pick the color that matches with your pens as it doesn't have any color name in particular. You may also refer to the back pages for the actual output of colors but that will spoil the mystery of the image.
Book Dimension: 8.5 x 0.5 x 10.88 inches
Total pages: 96
Total images for coloring: 40+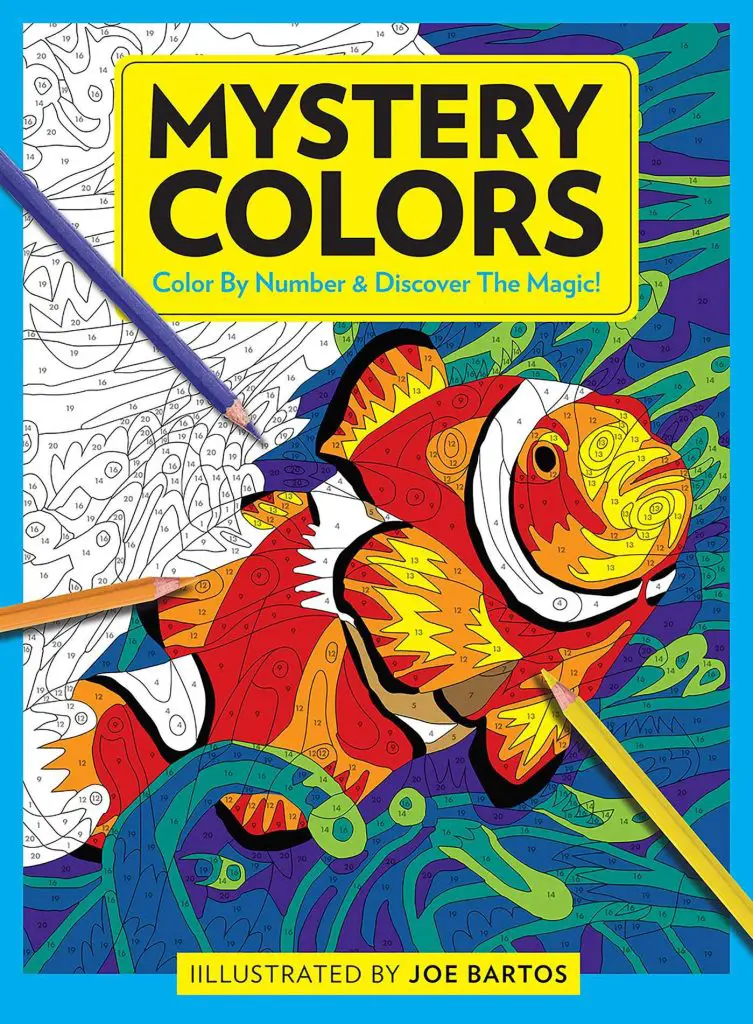 5. Sunlife Drawing – Color By Number: Animal Stencils and Mosaic Style
Animals are very nice subjects to color on. They are part of our world and mostly can relate that their presence may also contribute to relaxation. There are numerous ways to get creative with them when it comes to art.
Animal Stencil
Sunlife Drawing's Animal Stencils coloring book brings a different dimension with their number-guided coloring books. There are 30 beautifully illustrated animals in stencil format. They are printed alternately in black and white background. The black background makes colors pop and look lively.
There are 22 colors needed to finish the entire coloring book. It has a blank color key in the beginning part where you can try your own pens. The color names are properly labeled with a number so you can choose your own shade to use.
All drawings are printed on one side of the page with a consistent black page on the other side to manage any bleeding from colored markers. It's good to note that these black pages behind each drawing have number labels as well to show which colors to use for the next image. This means you don't have to flip all the way to the beginning or end part of the book just to check which color corresponds to what number.
The 30 animals you can see inside this book are the following: bunny, bear, rhinoceros, dove, cat, sea horse, leopard, swan, monkey, snake, dog, snail, lion, parrots, octopus, camel, deer, wolf, mouse, dolphins, horse, owl, elephant, hedgehog, pig, lizards, fish, raccoon, giraffe, and turtle.
Book Dimension: 8.5 x 0.19 x 11 inches
Total pages: 80
Total images for coloring: 22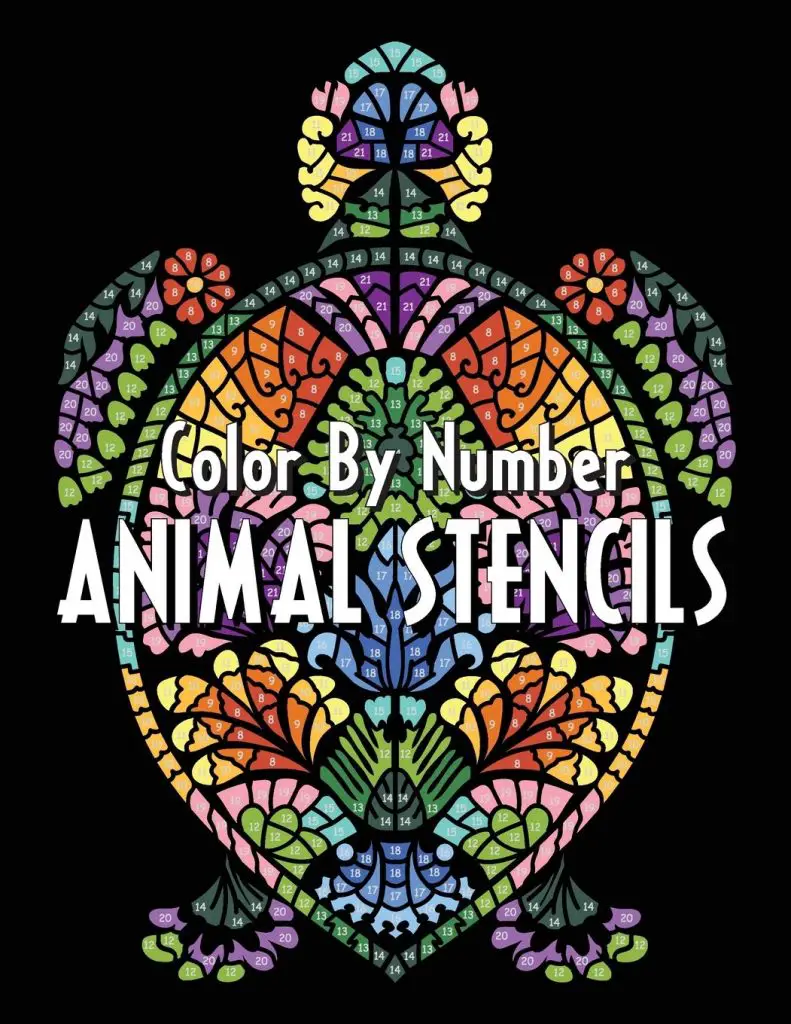 Animal Mosaic
Sunlife Drawing also has a mosaic version of color by number books of animals. Each figure appears tiled like cathedral glass windows with thick spaces in between the sections. They are printed in full, single side, white pages and similar to the stencil version, the back page is also black to help absorb any ink bleeding from markers. As a good practice when using markers, use an extra sheet under your page for added protection.
There are 25 beautiful animal drawings in this book and you will need 22 colors to finish your work. All the 22 colors are labeled opposite the page you are working on for easier reference. The pages are not perforated, by the way.
Here's a tip from a review: Before you shade any section, color the white spaces with metallic markers such as gold or silver. Aside from making your work look awesome in the end, these may help repel any excess ink from your alcohol marker so they don't spread out. Follow the outline of the shape before shading them inside.
Older adults will also enjoy this book as the shapes are just right and the numbers are easy to read.
Book Dimension: 8.5 x 0.15 x 11 inches
Total pages: 64
Total images for coloring: 25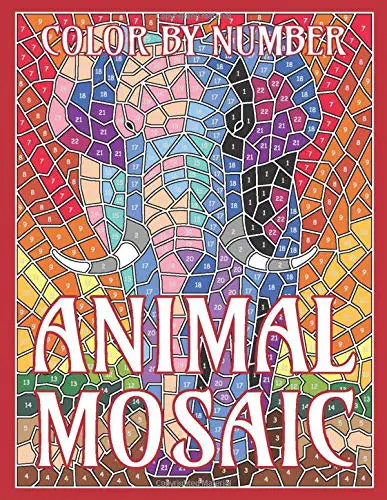 6. Lilt Kids Coloring Book – Large Print Color By Number: Butterflies, Birds, and Flowers
The beauty of flowers, birds, and butterflies not only attract kids but adults alike. There is a positive energy when we work with these beautiful creations as they bring a light and relaxing feeling.
This Large Print Color By Number Adult Coloring Book from Lilt Kids Coloring Book collection are not just for young adults but is also ideal for older ones, too. Due to it's full page feature, the lines are thicker and the numbers are printed clear enough as well. There is also a variation of complexity from simples one to more detailed designs. They also have free color tips included in the book.
There are 20 pretty illustrations on this book that are printed on the single side of the page. Apart from it, this book also includes a number of coloring pages that are not numbered. These are bonus or free images to give you a glimpse of the other coloring books that this brand offers.
This adult coloring book requires 20 shades. Aside from a color key reference, it also includes blank color test pages to try your markers or pens. Paper quality is not very thick so it's ideal to use an extra sheet underneath your work to protect the next page from any ink bleeding from markers and the like.
This book does not feature perforated sheets but you may manually remove your page nicely and carefully using a page perforator or a paper cutter. Just be mindful not to include the next pages if you don't intend to.
Book Dimension: 8.5 x 0.17 x 11 inches
Total pages: 72
Total images for coloring: 20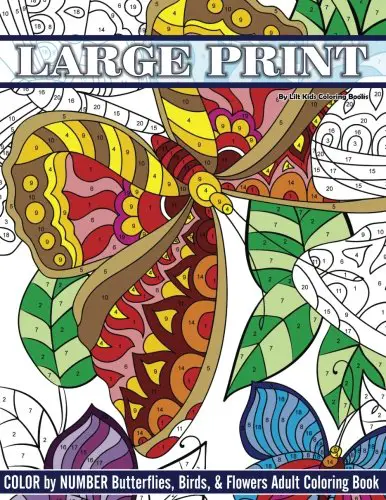 7. Arcturus Collection – Color by Numbers: Calm
This thick Calm book from the Arcturus Color by Numbers Collection is featuring a total of 60 enchanting designs that promotes calmness and tranquility.
All drawings are printed on thick, high-grade sheets. They are mostly full-page types and designs include cute baby animals, famous works of art, peaceful seascapes, mosaics and mandalas, and beautiful stained-glass patterns. They have varying degrees of complexity. Some of these images have small details and numbers may be too small so a handy magnifying glass may help. The book's pages are not perforated.
There are only 24 colors needed for this big book. Each drawing only needs specific numbers and to easily refer to the colors needed, it features a flip-out color key which is part of the book's back cover. If you are using markers, we suggest to use an extra sheet underneath your work for that layer of protection if ink bleeds through. Fine tip ones are also helpful for pages with small spaces to shade.
Book Dimension: 8.9 x 0.5 x 10.9 inches
Total pages: 128
Total images for coloring: 60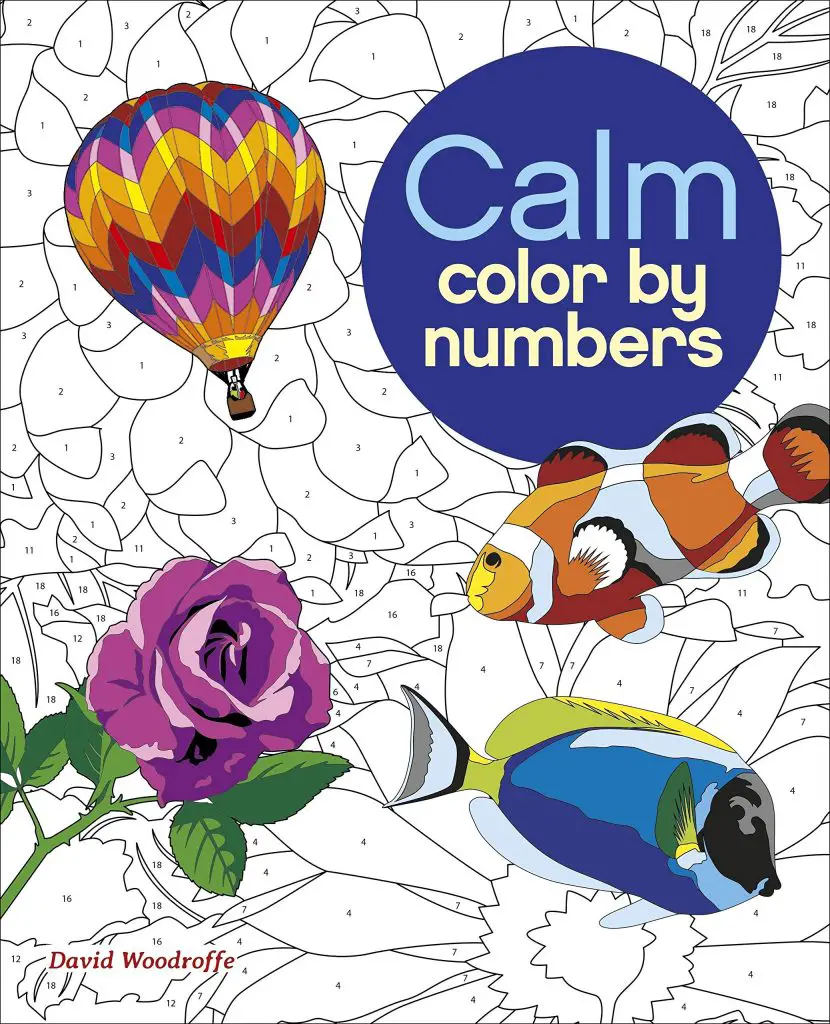 Conclusion
Adult coloring books aim to relieve stress and allows us to pause a bit on routines that demands most of the time in our adult life. We all need a break and coloring is a good hobby to spend free time so we can refocus and relax. If you have kids at home, coloring together (with separate books) can always be a great option to bond.
Shifting to color by numbers allows one to quickly jump into the coloring book game, even if you feel you are not creative enough. The number label gives that confidence to start coloring right away instead of spending time to think of color schemes to use. This is naturally stress-free since all you have to do is pick the right shades from your collection of coloring tools to begin your work. It's always amazing to see what we can accomplish during the process until the end.
These popular color by number books are available on stock and ready for purchase anytime. Just click on the corresponding Amazon button above for easy online shopping. Any coloring book set can also make a great gift to brighten someone's day.
Let us create sophisticated works of art with ease. Color by numbers, relax, and have fun!