Ohuhu is a brand to love. It's founded by a team of artists to cater to all types of artists.
Inspired by the beautiful Hawaiian Island of Oahu, the idea of having anyone paint what they see and envision comes to life by introducing different coloring tools to use. A good range of colors to choose from allows flexibility to mix and match shades to help achieve the tone needed to produce inspiration.
The most popular product in their art supply line is their well-loved art markers. These are highly pigmented ink markers that many artists from beginner level to pro recommend. With a price tag that is pretty friendly for starters, it's a worthy investment to try. We have an amazing list of some of the best Ohuhu markers on the market.
Perhaps, you already have a set of Ohuhu markers or still thinking of having one. Having an overview of how to use Ohuhu markers is a good start on your coloring journey. So, how do we use them?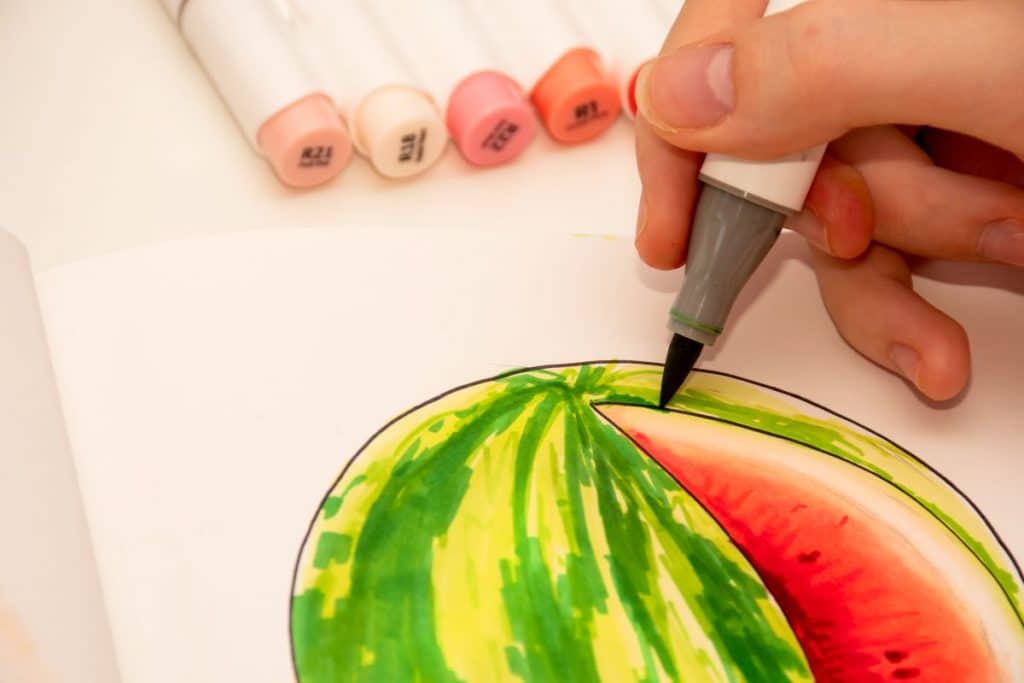 1. Know The Nibs
Art markers are available in different types of tips (also known as nibs). These nibs are usually made of compressed synthetic fibers bonded together that give that "felt" texture. It comes in different shapes and sizes to serve what an artist need. The most common types are the brush tip, chisel tip, or fine tip.
Brush Tip – this is the favorite among professionals because of its soft, flexible tip. It allows making varying widths with just one stroke depending on how you angle your pen. Making thick to thin lines is easy. Artists who are into brush lettering uses this kind of nib. In terms of coloring, it's easy to cover small areas and wide areas with this kind of tip.
Chisel Tip – also known as the broad tip, this type is like how a highlighter tip looks like. They are firm as compared to brush tips. It can lay color in large spaces quickly because of its broad and flat design tip. Small spaces may be a challenge, but using the pointed tip side will do.
Fine Tip – for coloring tiny spaces or creating precise lines, the fine tip is your tool. It will be challenging to use this when coloring large areas, but this is ideal to complete fine details and other designs requiring thin strokes. Under this category are fineliner pens, which are used by professionals in architecture, engineering, and other design work.
Bullet Tip – this is easy to recognize because kiddie markers usually have this kind of nib. They are hard, slightly rounded tips that are good for basic coloring and writing. In shading, some small spots may not be easy to fill in given the tip size, but for general use, there are bullet tips that are great for fine details, too. Note: Some markers label "bullet" tips as "fine" tips.
Choose which type of tips will work for your art. While there are no individual pens for sale, smaller packs are available with 24 pieces, a good starter set with basic colors.
Ohuhu alcohol markers have double-ended tips. This means that one marker already has two kinds of nibs. It may be a combination of a fine and brush tip, a fine and chisel tip, or a brush and chisel tip. The good thing about sharing the same ink barrel is that you can easily switch tips and won't have to worry about matching ink colors.
Ohuhu water-based markers, on the other hand, feature single and dual tips. Some sets come with a water brush pen to help create beautiful watercolor effects. The dual tip available is for brush and fineliner combination, while single pens have brush tips by default. There is no chisel tip for this type.
It's a good plus that Ohuhu markers have reversible nibs. When a tip frays out, just gently pull out the nib with a tweezer and reinsert the other end neatly. Now it feels like you have a brand new pen!
2. Understand Ink Differences
Art markers are a great choice for adult coloring books, journals, calligraphy, craft, and various art projects. There are many professionals into art markers, given that it's relatively easy to use (no need to mix paints and colors manually), and there's a lot of color choices.
There are two basic types of ink for art markers:
Alcohol-Based Markers – this type of marker has an alcohol solution in its ink content that produces rich, vibrant, and saturated colors. You can overlay colors and make nice ombre effects. Alcohol markers are known to be permanent when applied. They tend to dry fast, making them less prone to smudges. When you choose this type of marker, be mindful of your surface or the next pages of your coloring book because they tend to bleed on paper. Use a blotter page or an extra thick cardstock underneath your work to help absorb any ink that may seep through.
Water-Based Markers – this type has water as its primary solution for its ink. It's a good choice for journaling or coloring books, too, because they don't bleed through paper. They may appear streaky sometimes, but with these markers available in bright and beautiful colors, they can also help you produce nice watercolor effects on your artwork. Children's art markers are known to be this type because they are washable, making it easy to clean up any mess. They are also odorless, which makes them safe for all levels of users.
Ohuhu markers are available for both types: alcohol or water-based. They are made with high-quality ink that helps an artist achieve desired results.
For alcohol markers, Ohuhu boasts up to 216 brilliant colors. The color chart is not limited to rainbows but also skin tones and pastels. There are sets available for artists into comic or manga illustrations and even for those who love people as subjects.
The water-based markers have up to 120 beautiful colors available. Certain sets even come with watercolor pad paper to let you practice and make unique art. These specially designed papers can hold water and retain the ink color until it dries up.
3. Practice Coloring Techniques
Now that you have chosen the type of tip you want to have and the kind of ink you'd like to use, the next step is knowing how to use your Ohuhu markers in your adult coloring book. It can be overwhelming to see how different artists color their pieces but for a start, let's acknowledge that it takes a lot of practice as you master a skill.
Swatch Your Markers – this is the first step you must do as soon as you receive your markers. It's a good practice to start, so you get to familiarize yourself with the actual colors of your pens. Honestly speaking, it's quite hard to match cap colors with the exact ink color, and there will always be a difference when applied on paper.
Layer Properly – layering is the process of putting a layer of color on top of another layer when the ink has dried up. With the repetition of this step, you will turn light shades into dark shades by just using one pen. It adds depth and a nice tone to your drawing. Make sure to let your layer dry first before adding another. A golden rule is always to start with the light shade before the dark tones.
Blend With Care – blending is the action of mixing two or more colors together—this kind of practice levels up the beauty of your work. With the seamless transition of colors, they become lively and achieves a professional look. When blending, choose at least two colors that have a closer shade. You can practice your flicks and feathering strokes as you blend colors. There is also a tool that you can use to blend alcohol markers to have a smoother effect, and this is called a colorless blender.
Use Mix Media – maximizing the use of different tools can make a difference in your art. It's fun to see how varying art supplies can work together. For example, after all, the blending and layering with your alcohol markers, use a good colored pencil to enhance details. Black fineliner pens can be a good one to make your base sketches. Many inks can be waterproof and may handle water-based markers as well. To add some shimmering touches to your work, you can use glitter gel pens. Just enjoy the process of discovering what works with your style.
Ohuhu has the user's experience in mind when offering different art marker sets, so you can do the basic techniques above.
Ohuhu sets already include a blank swatch board that you can use and properly label. This will also serve as your personal reference as you can quickly distinguish colors when you need to select the right pen you need. A helpful tip is to organize your markers by color family.
All Ohuhu alcohol marker sets come with a colorless blender. For water-based markers, Ohuhu watercolor marker sets include a water brush pen already for your blending needs.
4. Consider Paper Choices
There are plenty of papers out there for specific purposes. For a trained eye, texture, thickness, color, and size all matter. For beginners, this might get overwhelming because choosing which one is the best can be hard. Bottom line, choose acid-free papers to make your artwork last longer.
When it comes to adult coloring books, paper choices for these types are carefully considered for common materials like colored pencils, art markers, and gel pens. Many adult coloring books feature one-side printing of illustrations which is a thoughtful consideration for users of art markers.
Texture – The feel of the paper is important to consider when working with your coloring medium. Papers made for art markers are smooth, while papers for colored pencils may feel a little bit toothy (or rough). Rough papers are not ideal for alcohol markers because the texture can make a blotchy appearance on the paper and may also damage the nibs in the long run. If you use water-based markers, watercolor paper is ideal because they are rough and can absorb more ink and water.
Thickness – the weight of the paper is relevant, especially when using art markers. Alcohol markers are known to have strong, saturated inks because of their ink formulation. That said, it's important to choose the right paper that will absorb ink and will not bleed through. Art marker papers don't always equate to thick paper quality like card stocks because there are papers that are made lightweight, too. If you use watercolor markers, regular copy paper is not ideal because getting it wet will warp the paper. Here's where watercolor sheets are used. They can hold ink well and absorb water without damaging your paper.
Color – while white is the common choice for coloring, there are different types of white paper around, such as bright white, warm white, natural white, and more. The type of white can affect the actual color output of your markers. It may also show some slight difference if you need to scan your work and see them on a screen or monitor. Bright white is the common choice by most artists as they complement alcohol markers well and are good when scanned. This still boils down to preference when you have tried different kinds of paper.
Paper Size – you can choose the right paper for you depending on your purpose. Some sizes are printer-friendly; some are intended for larger drawings; others are pocket-size types and ideal for taking along for travels. Paper can also be in book format bound in glue or spring. They can be a flat lay type or perforated for easy detaching. Other papers are offered in loose sheets.
For a start, Ohuhu has its own paper line that you can check out. With different sizes available, it caters to art markers as well as watercolor pens. Ohuhu doesn't have loose sheets available yet, but all of their marker pads and sketchbooks are perforated should you need separate papers.
You can also check their mixed media pad, which is a good choice if you are a user of various coloring tools – markers, pencils, gel pens, etc. Explore different options to understand what works for you to be able to maximize your supplies and skills.
5. Care For Markers
Art markers can be considered investments, so it's important to take good care of them if you want your investment to last as long as possible. There are some simple guidelines to follow that will help make sure each marker lasts a little longer before buying new ones:
Organization – choose a good spot for your markers away from direct sunlight and heat. Secure them by using sturdy pen containers or organizers to protect them from falling on the floor. It's good to organize them per color family with the number-coded cap exposed on the side visible to you for easy reference. Keep your swatch cards close.
Storage Tip – there's a suggested way to store art markers, and that is by doing it horizontally. Those dual-tipped art markers are best stored sideways to balance the ink inside the barrel. Placing them in a vertical position for a long time will let the ink sit on the bottom part of the pen, leaving the top tip dry, even if tightly closed.
Use Your Markers Properly – markers should be used as recommended. Let's take alcohol markers as an example. They have nibs that are not intended for rough surfaces; thus, using them on wood, fabric, and other very textured exteriors will damage the nibs quickly. Yes, they can work but doing so may lessen its lifespan. There are markers out there intended for such types of surfaces, which will give you better results.
Revive Dried Nibs – always ensure that you secure your marker's caps tightly right after each use. Do not leave your markers uncapped for a long time because alcohol will evaporate and will cause the tip to dry. It's common to encounter dried-out tips, and before giving up on that pen, there are some steps that you can try to make it work again.

Soak the tips – using a small container, dip the marker's nibs into alcohol until you see ink coming out. Close your markers and wait for around 15 minutes or so before using your markers again. Warm water can be a substitute for alcohol.
Vinegar drops – this home remedy may work for your markers. Uncap your markers and with the exposed tip, lay it tip-down on a plate or bowl. Put around two drops of vinegar on the nib and leave it for a few minutes to absorb. Do not soak the nibs in vinegar, as this may ruin it. Try your alcohol markers after some time to check if ink flow is good.
Use alcohol – add a few drops of at least 90% alcohol in your marker's ink barrel and rest it overnight in a horizontal position. See the complete steps on this YouTube video.
Ohuhu's alcohol-based markers come in a nice black carrying bag. They don't have individual pen slots, so it can be challenging to rearrange the markers again when they topple around as soon as you pull out a few pieces. Nevertheless, they make the pens handy for artists by including a simple yet functional bag. If you don't have a separate pen organizer yet, this will do, and you can also keep this bag in a horizontal position.
At the moment, Ohuhu has a couple of colors offered for individual sale though these are the most commonly used ones. If your favorite pen runs out of ink or gets its nibs damaged, but the color code is not part of their open stock, you may check the smaller sets available. This means that you may have extra or duplicate colors on your kit that can be useful in the future.
Ohuhu's water-based markers have their own style of organizer. Individual pens are not available for this type, though.
6. Join Ohuhu's Online Community
Where else can an Ohuhu user get personalized support? Of course, through fellow Ohuhu artists, too! Ohuhu has formed an online community for its users that supports newbies and professionals as they begin their coloring journey. It's an avenue for everyone to ask questions, get answers, and share tips and tricks. It is a safe haven to express artistic thoughts and artworks. This kind of support group unites many of its members towards the goal of painting up inspirations.
Aside from member support, the community also helps Ohuhu identify what issues to address with their products in order to improve and continue doing well. From markers, paper, pens, paint sets, and accessories, Ohuhu stays committed to improvement and provides satisfaction in their art supplies.
Conclusion
Ohuhu art markers are a good choice, especially if you're just starting. It gives the heart of a budding artist the feels of having a professional marker set at a fraction of a price. Ohuhu's goal to provide affordable, high-quality products enables more artists, even students, to thrive on arts.
Take that first step in learning something new. Explore what kind of art you can do aside from using colored pencils and crayons. Practice shading, blending and layering with your alcohol markers. After all, there's no right or wrong as you discover what goes well or not.
It all starts in knowing and understanding how your markers work to level up your skill and appreciate your artwork more. Enjoy the process and have fun. Cheers!