Art markers are simply lit! Aside from colored pencils, they are one of the favorite coloring tools by adults. They work well on adult coloring books, crafts, calligraphy, illustrations, and more. If you want bold, rich, and vibrant colors, markers are the key.
There are many markers available out there, but there are two brands that we'll highlight in this article: Copic and Ohuhu.
The Copic brand is the ultimate must-have of professional artists and serious coloring enthusiasts, particularly those into alcohol-based markers. There are many good points about how this Japanese-made Copic raised the bar high to be considered the best markers out there, but it's fair to mention that there are many good brands out there that also meet certain artist standards in their own unique ways.
Let's check out Ohuhu, which has gained popularity in recent years. It's fairly new in the field of art supplies as compared to Copic that was established in the late 1980s. Ohuhu is making a mark with their best-selling alcohol markers because of their quality and affordability that clicks well not only for beginners but even for professionals alike.
So, how do they compare? Let's discuss Copic vs. Ohuhu here.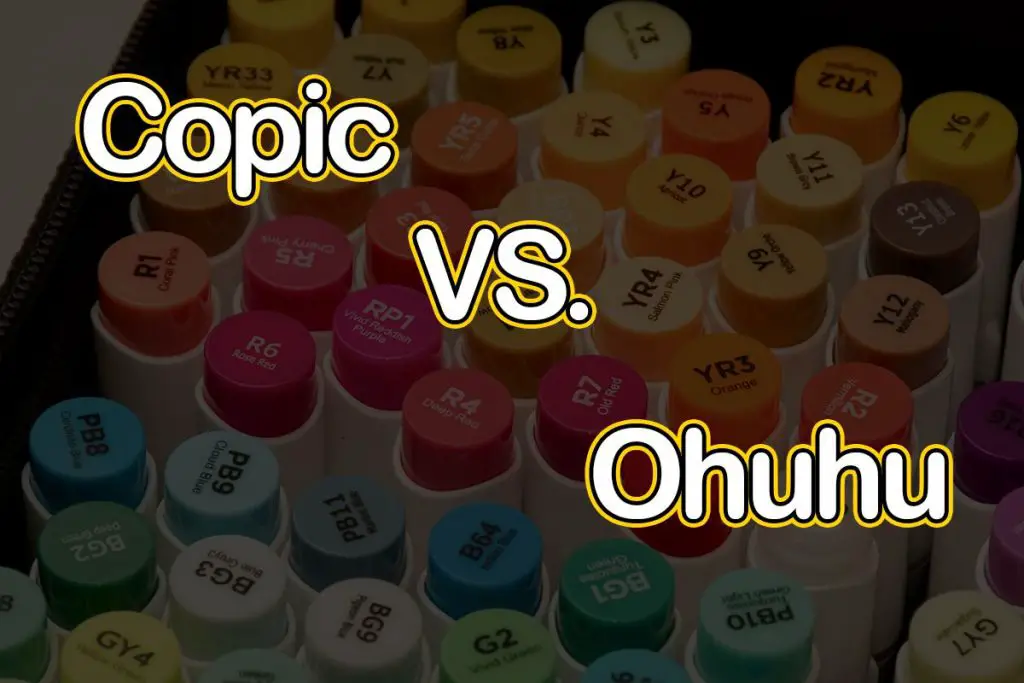 Review Factors
We will tackle the two best markers in five major categories to understand better how they fair, as the comparison may not exactly be apples-to-apples. Just a bit of background for both; let's start with Copic.
There are three types of Copic markers:
Classic – this is the original Copic markers released. It features a square barrel shape which is the largest for Copic. It has a chisel and bullet nib combination, but nine other tip sizes can be used for this marker. This is available in 214 colors.
Sketch – this is the most popular choice amongst artists. It has a brush and chisel tip combination. With an oval-shaped ink barrel, this makes it slightly smaller than the Classic version, but you can get the widest range of color selection at 358 colors. A separate bullet tip can be used for this type.
Ciao – this is intended for beginners with a chisel and brush tip combination. There are 180 colors for this type with a circular or round barrel. In terms of the pen body's diameter, this one is the smallest of all.
For Ohuhu, there are two categories for their alcohol-based markers:
Honolulu – this type of marker includes a brush tip. It can be with a brush and fine tip combination or a brush and chisel tip one. It has a round, smooth barrel body, but it won't roll off your table since it has a small notch on its caps to prevent it. There are up to 216 color choices, including skin and pastel tones.
Oahu – this type of marker is made for chisel and fine tips only. There are 200 colors available. They have a separate set specifically for manga illustrators, and it comes with a triangular barrel.
This article will focus on Copic Sketch Markers as we compare it with Ohuhu Markers under the Honolulu series.
1. Ink Type
There are two types of markers depending on the ink they contain:
Alcohol-based markers are the preferred type of coloring tool for most enthusiasts. The alcohol solution in its ink makes the color more vibrant, vivid, and blendable. They don't appear streaky when applied on paper, and it's making it really neat as you shade even bigger areas. Alcohol markers tend to dry fast; thus, making it smudge-free. The colors are permanent and last longer. Given the ink formulation, they may have a strong scent, and they can bleed through regular paper.
Water-based markers are using water as their primary solution for the ink. They produce bright, beautiful colors that don't usually bleed through paper. Since it is water-based, drying up ink may not be instant. They can be streaky when you overlay colors but using proper techniques with water; you can also create pretty effects with it. These markers are usually odorless, thus, making it safe for kids, too.
Copic offers alcohol-based markers only, while Ohuhu offers both alcohol-based and water-based markers. They are made with high-quality ink that is guaranteed to give each user the best results for their art and coloring needs.
2. Ink Quality
The quality of your coloring output depends on the quality of ink in your alcohol-based markers. Expensive markers are expected to produce great results, but not everyone can afford these at the onset. It's alright to explore options that won't hurt your budget yet will still be able to produce amazing art outcomes.
Copic Sketch applies Japanese technology in each of its own markers to ensure consistency in ink quality as well as the tips. This supreme quality ink content is where Copic gets most nods from the art world. They are smooth as they glide through paper, and they blend equally beautifully, too. They don't easily warp sheets even after several layers of ink have been applied.
Ohuhu Markers contain highly pigmented ink and appear to be more saturated than Copic. Some shades may appear darker than their (closest) Copic counterpart, which can neither be good nor bad, as this depends on personal preference. They have rich colors and can also blend well, given that they are classified as budget-friendly alcohol markers.
It's important to note that colors for each brand do not exactly match. It may take a little experimenting to find the closest type of shade that you are looking for. Anyway, any of these alcohol-based markers are great for blending, drawing, or coloring and are made to help an artist achieve beautiful art.
3. Color Range
Copic Sketch gives the artist an extensive color chart reaching up to 358 colors – so far, the biggest color selection for alcohol-based markers. It has a good balance of dark colors, light colors, and more. This may appear overwhelming, especially for beginners, and you may wonder if you actually need all those colors. For experienced ones and the pros, each shade definitely has a purpose. If you wish to try out Copic for the first time, a 12-piece set is available that includes basic colors.
Ohuhu Markers are also available in a wide range of colors at 216 shades. It already includes pastel hues and skin tones which are great if you have people as subjects. The smallest set that you can initially get is 24 colored markers plus one colorless blender making it 25 pieces in the set. This colorless blender tool is helpful as it may help you smoothen your color transitions when overlaying them. Copic also has a blender tool sold separately.
Copic and Ohuhu both have color- and number-coded caps for easier recognition. It's quite hard to actually match the real ink color to the cap. So, it's a good practice always to create a swatch of your entire set of markers (applicable for any brand) the moment you receive them. Ohuhu sets already include a blank swatch card for their markers, while for Copic, you may need to purchase a set of Copic swatch cards separately or make your own color reference chart.
4. Dual Tips
Alcohol markers are known to have double-ended tips to allow versatility for any artist. Having two types of tips (or nibs) enables the user to maximize the purpose of each marker pen. With the use of only one ink barrel, there's ink consistency on both ends, and there's no need to worry about looking for the exact ink match of your markers in case you need to use a different tip.
Copic Sketch comes with a chisel and brush nib. The "super brush nib" (as termed by Copic) is soft, durable, and flexible, allowing you to make paint-like strokes. The chisel nib is medium size and is able to easily lay down colors quickly. A bullet tip can be bought separately, which you can also use to replace a tip on your Copic Sketch marker.
The nibs from Copic are known to withstand heavy use and won't easily fray. In case your nibs are showing signs of wear and tear, replacement tips are available for purchase. This means you don't need to purchase a new pen just to replace one.
Ohuhu Markers are available in the brush, chisel, and fine tips. The brush tips are firm yet flexible, too, allowing you to make varying widths with one stroke. The broad chisel tip is perfect for thick lines, and you can use the tip for thinner lines. They can lay color nicely on paper, too.
Replacement tips for individual purchases are not yet available for Ohuhu markers, but they armed each pen with reversible nibs. In case the tip of your favorite pen is already damaged, gently pull this out with a tweezer, reverse to use the other tip, and reinsert it back. A new tip is ready to use that quick.
5. Value for Money
The price can be a deciding factor before splurging on any alcohol marker set. It is general knowledge that popular brands come with an expensive tag, but it doesn't mean that those in the lower range cannot meet standards.
Copic Sketch Markers are known to be really pricey (perhaps, the most expensive of all alcohol markers), and getting these markers are considered an investment.
Aside from the high-quality ink, they also have replaceable nibs, and they offer refillable ink. Ink refill bottles can fill a marker more than ten times. It's a plus point for Copic since you don't need to buy a pen or an entire set anymore just to replace a particular marker. Replacement tips are purchased separately. In the long run, you will be able to save quite a lot with these features.
Ohuhu Markers are one of the affordable brands out there that have been considered a good alternative from Copics even by professional coloring artists. It's also a good starter pack when you are just beginning to explore the potentials of alcohol markers as it provides amazing results that it is not hurtful on the pocket.
Considering their price point and good ink, each Ohuhu marker features reversible nibs. The dual tip pens have their own spare nibs in them. This is very useful because there's a standby tip anytime you need it. Just pull the tip out with a tweezer and reverse it to reinsert back for a new one. In case your most used pen runs out of ink, or both nibs are damaged, that's the time to get a new pen. Ohuhu markers do not offer refillable inks yet, and individual markers for sale are limited.
FAQs
What is better than Copic markers?
Copic markers are considered top of the line but to each his own. If you are particular with budget, Ohuhu is a good alternative given its professional-quality ink. If you are exploring alcohol markers and would like to try adult coloring, there are a lot of markers that will perfectly work with this, and we have listed some of the best markers for adult coloring books earlier this year.
Are Ohuhu markers good quality?
Ohuhu markers have a wide range of colors, highly pigmented inks, blendable quality, and durable dual tips. These are great markers wherein ink quality is comparable with high-end brands. It's worth noting that their after-sales support is commendable, and their online community is a wonderful support group.
What is a cheaper alternative to Copic markers?
There are more brands out there that can be a good alternative to Copic markers. Considering ink quality and price point, you may find one that could meet your expectations. Ohuhu is a popular alternative because the price is considerate given the high-quality markers they have with reversible nibs.
Are Copic markers really the best?
Good reviews and word of mouth are one of the best ways to trust a brand and attract more people to use a product. Copic has gained a solid fanbase in the field of alcohol markers because of many satisfied illustrators, professionals, and art lovers. They are one of the names that can be trusted to produce the best markers one can have.
Conclusion
In summary, each of these markers has its own shining factors. It's all about finding what will work for your kind of art. If you are into adult coloring books, Ohuhu or Copics are great choices.
Most professionals may prefer Copic, but they are also open to try and use cheaper but good alternatives. For those who want to enjoy alcohol markers without spending too much, Ohuhu is there to give you the results of having professional quality markers without breaking the bank.
Copic Sketch Markers: 36-Piece Basic Set
Pros
Gorgeous, vivid colors
Ideal for blending and shading
Dual tips for maximum versatility
Professional-grade markers used by artists worldwide
Caps are color-coded with names and numbers
Refillable ink
Replaceable tips
Cons
Expensive
Bleeds through thin paper and card stock
Copic Sketch is the best-selling amongst the Copic markers series. Having the chisel and brush tip combination delight many artists for their versatility. Apart from the high-quality ink it contains, the markers themselves are durable and may last for years provided that proper care is observed. These markers are safe, non-toxic, and acid-free.
The 36-piece basic set is already a good starting point to own a set of Copic Sketch Markers. They already contain a variety of colors from different families. As you go along using your Copic markers in your art projects, you'll discover which colors you need most and decide if you need to expand your set. Remember that Copic is also available in the open stock (individual markers for sale), and each marker has a corresponding ink refill bottle that can be purchased when needed. You can also replace the nibs when the time comes.
You may also check our recommended paper products that best compliment your pretty Copic markers.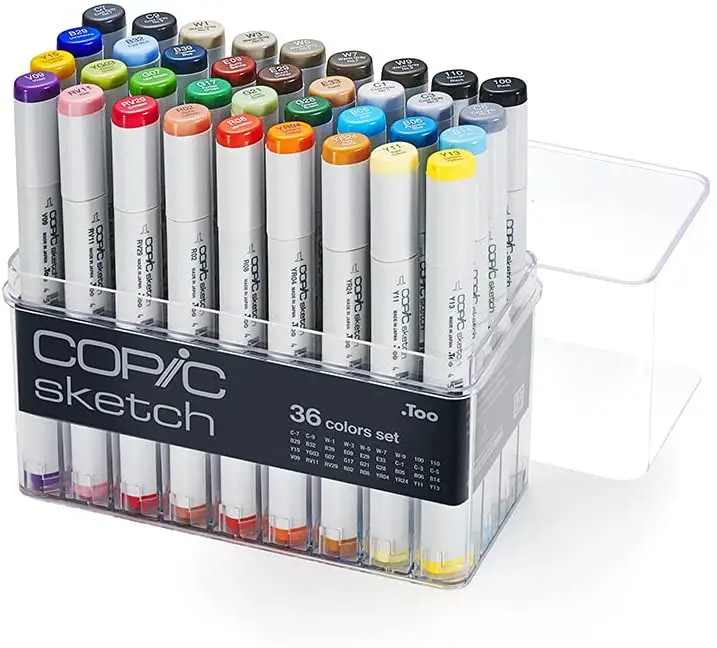 Ohuhu Markers Set: 72 Colors + 1 Colorless Blender
Pros
Highly pigmented and vibrant markers
It blends well and comes with one colorless blender
Dual tips and has reversible nibs
Caps are color-coded with names and numbers
Affordable
It comes in a nice carrying bag with a swatch card included
Cons
Inks are not refillable
Not all colors can be purchased individually
Ohuhu offers dual-tip markers that are made with high-quality alcohol-based ink to achieve that professional look on your art or coloring work. Featuring a brush and chisel nib combination, it's very useful in different strokes, coloring big and small areas, and more. While Ohuhu markers do not have refillable ink barrels, they do come with reversible nibs. This is like giving you four tips in one marker pen. Given at an affordable price, this makes it an attractive option, especially for beginners.
Enjoy 72 unique colors with this set with one colorless alcohol blender. A blender helps you lighten strokes, add some texture, or make seamless edges on your colors. A blank swatch card is included so you can easily make a color reference chart for your markers. Each set also comes in a nice carrying bag that is perfect if you are on the go.
Read more about Ohuhu markers and their water-based markers in our separate blog.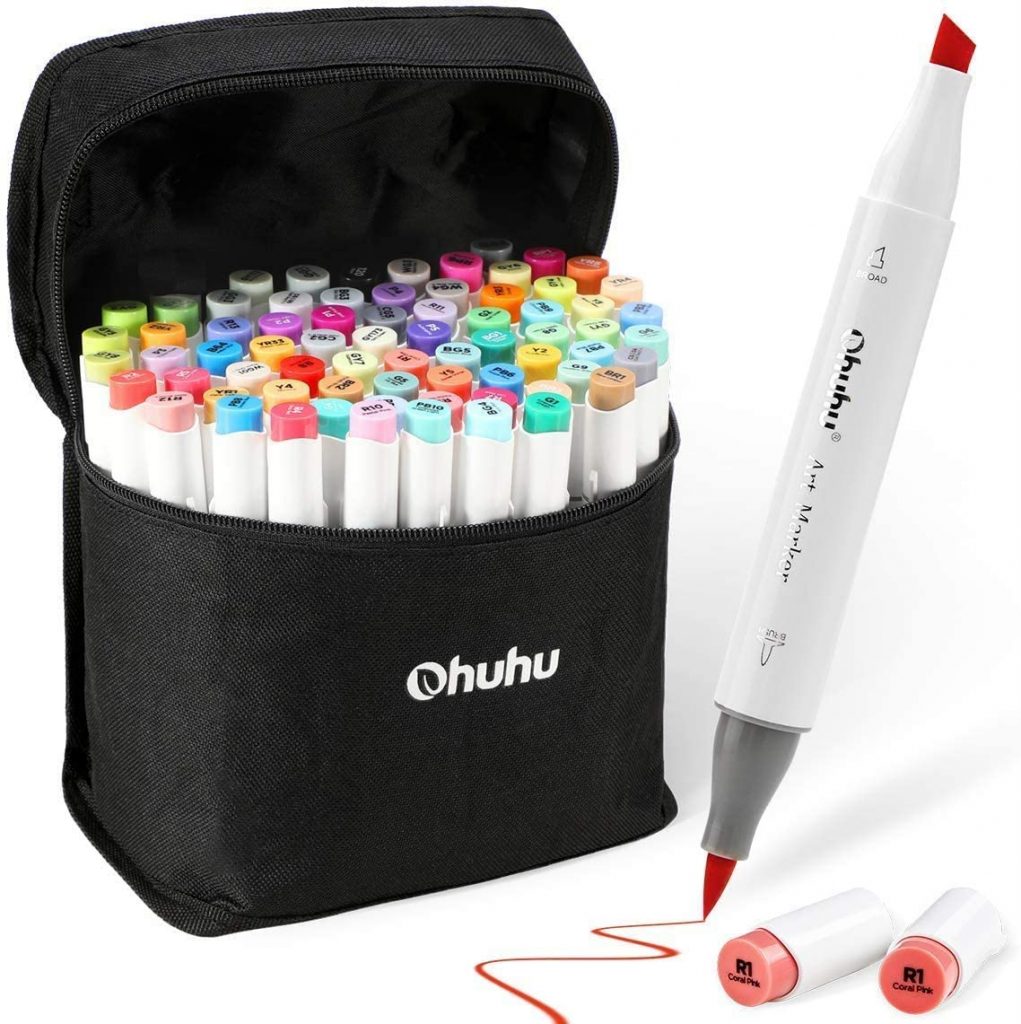 ---
That's it! It's all up to you to choose what will make you happy and satisfied. Are you #TeamCopic or #TeamOhuhu? Let us know in the comment section below. Cheers!