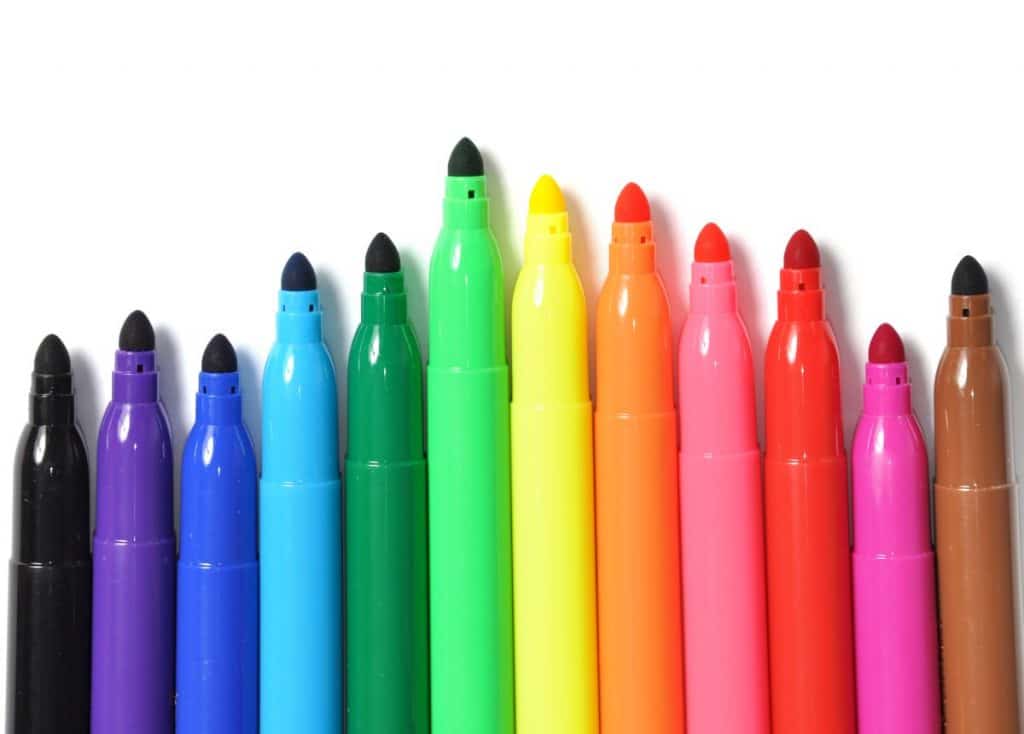 When it comes to buying markers for some coloring, the options can be somewhat overwhelming. There are many brands and many kinds/styles within each brand. If adult coloring books are your thing, you may want to look at our reviews of the best markers for adult coloring books.
Arteza markers are a great choice for both the beginner and the more advanced coloring artists. There is an option to fit all styles and budgets. Let's go over some of the sets and what we've found to be the best arteza markers for the year, so far.
1. Arteza Acrylic Markers
Arteza acrylic markers are versatile markers because they can be used on a variety of surfaces. These paint pens are made for wood, paper, metal, and glass.
Pros
A tray on the bottom of the package so you can carry these around
The markers stand upright so that paint will not leak out
Paint flows effortlessly
The see-through barrel allows you to see how much paint is left
Cons
The set lacks skin tones and grey shades
There are no brush nibs available
Longevity
With paint markers, you can use them until the paint is gone. Typically, your coloring tip will wear out long before a marker runs out. However, these markers come with 20 replacement nibs with a fine point and a chisel point. When the nib you have wears out, it is easy to replace. Your project will also remain bold and vibrant for years. The markers are UV-resistant and acid-free. That makes them great for coloring any project, including scrapbooks that require acid-free materials.
Ink Consistency and Quality
Because this is paint, as opposed to ink, you will get a nice, even color distribution with little to no gradation.
Colors
These paint pens come in a package of 40. The package includes 37 classic colors and 3 metallic to add a little shimmer to your project. You can also blend the colors fairly easily. They are hard to blend using just the markers as they dry quite quickly, resulting in streaking. However, if you use a brush with a little bit of water, the blend is seamless.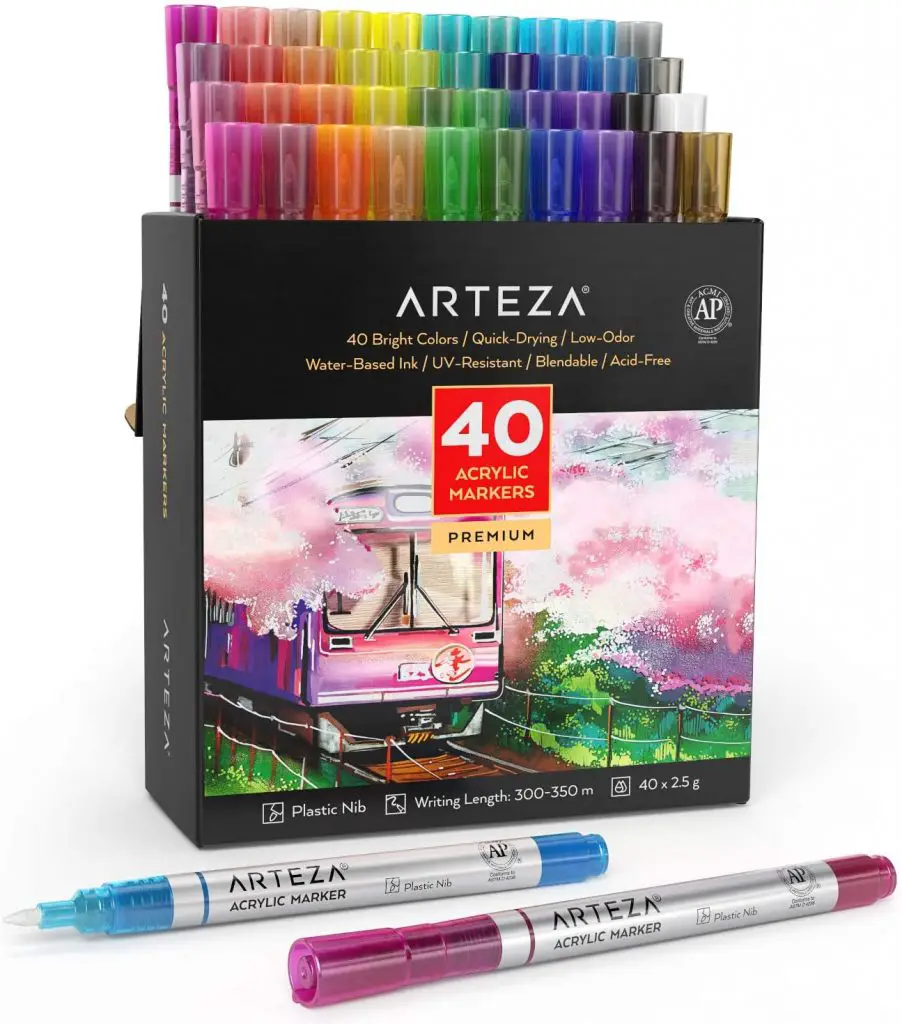 Beginner or Expert
This set is great for the beginner or expert artist. They are easy to use, and even if you ruin a tip, there are replacements for them. Beginners can use these markers with no trouble at all, but they also fit the bill for more advanced artists who have practiced blending and other techniques. They also provide an opportunity to work on precision and line work with the fine detail nib. This set also provides a large selection of colors for a good price.
Price
The price varies slightly depending on the kind of tip you want on your paint pen or marker. The width of the nib will produce lines of .8-1.2 mm.
There is also a set that comes with two different tips. You can get a set of 40 acrylic paint markers that has two tips per marker – a fine tip and a chisel tip. With this set, your lines can be anywhere from 1-4 mm.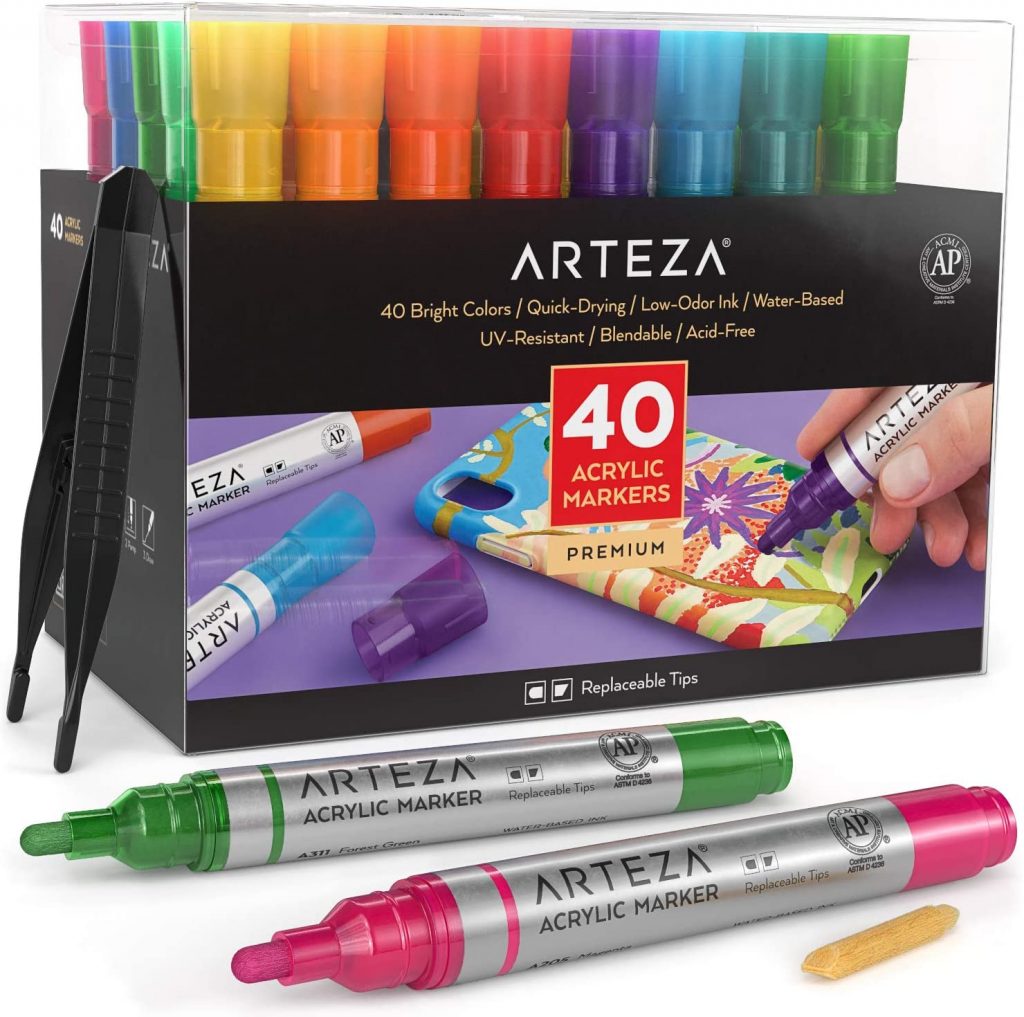 2. Arteza Real Brush Pens
The Arteza Real Brush Pens can be purchased in sets with 12, 24, 48, or 96 markers.
Pros
Can buy single markers to replace expended ones from a set
Affordable
Great color range
Cons
Caps pop off
Not suitable for fine, detailed work
Longevity
Each brush pen holds 1.7g of ink. If they are used minimally, they can last for up to two years. The ink in the pens is water-based, so they are not lightfast. It is best to use them on projects that will not be in direct sunlight.
Ink Consistency and Quality
Arteza real brush pens are ink-based markers that have bristle tips.  The consistency and quality of the ink are good, but the ink will behave differently depending on how you use them.  These will work like a marker or a pen on regular paper or they will behave like a brush on watercolor paper.  Using watercolor paper allows the markers to be used as watercolors without the mess of paints or water cups. 
Colors
The basic set of 12 markers has some great colors.  Primary colors and secondary colors as well as some shades of each are included along with your basic brown and black and grey. The 24 pack has all the colors in the smaller package along with some extra shades and tints of the colors. The two larger packs have even more variety including skin tones. 
Beginner or Expert
Beginners may want to start with a smaller pack to practice using brush pens before investing in a full-color palette.  They can be easy to use once you practice with them, but they do take a little getting used to if you have not used brush pens.  You will want to practice strokes with varying pressure to experiment with the line width.  It is also a good idea to create a swatch and practice blending.  These watercolor pens can be used dry or with water.  Experimenting with some basic colors will help you to see if they are right for your projects. Though they can be used on paper, you will want a fairly heavy paper (140 lb or heavier) as the ink can bleed through.
Price
Because these are available in so many sizes, you can find a set to suit your budget. They are available in packages of 12, 24, 48, and 96. That makes it possible to choose a package that will fit your needs in terms of color selection and the amount of money you are able to spend.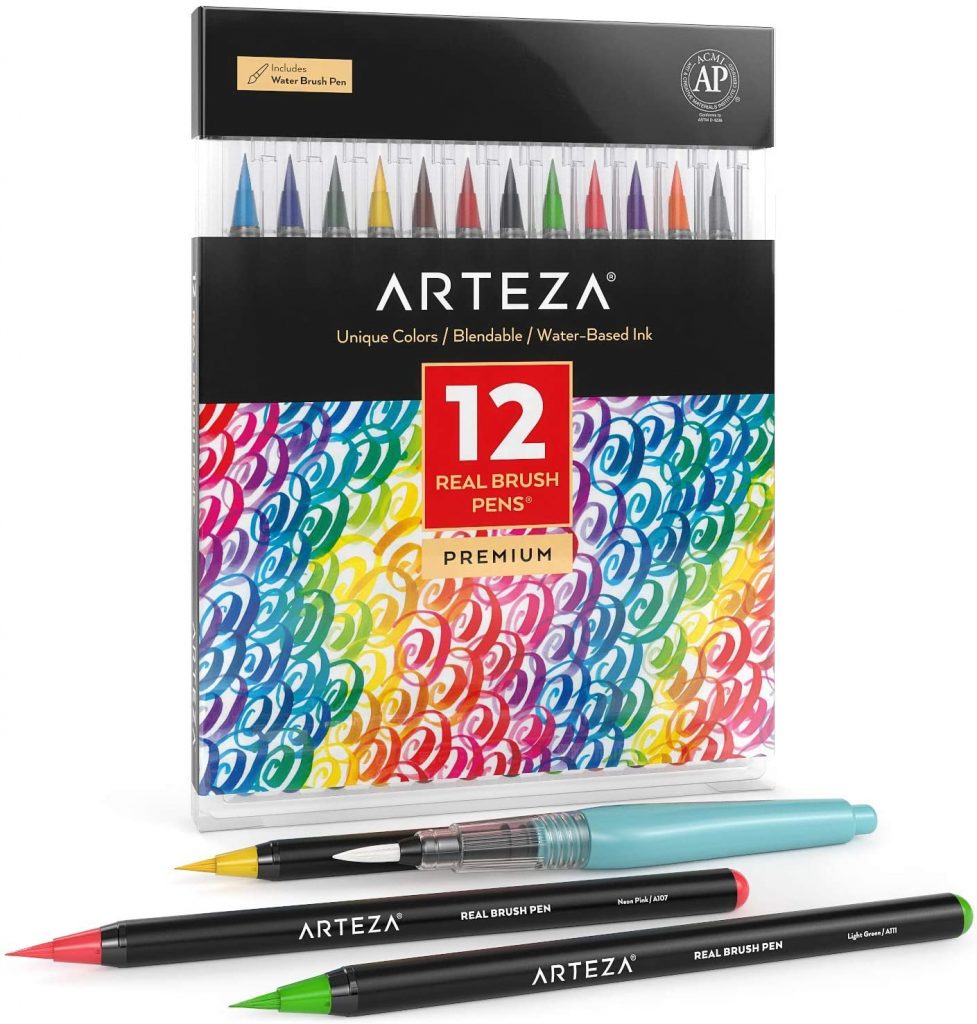 3. Arteza Sketch TwiMarkers
The Sketch TwiMarkers are multi-purpose markers that are dual-tipped.  One end has a .4mm fine tip while the other end has a broader brush tip.
Pros
Has a fine tip and a brush tip
Array of colors is vast
Acid-free and fade resistant
Cons
Not available to purchase open-stock
Brush tips fray easily
The packaging is flimsy which makes storage more difficult
Longevity
These markers will last a long time if you are using them for lettering and journaling. Coloring will take a little more ink and use it up faster. Your projects will stay bright and safe for a long time as the ink is acid-free.
Ink Consistency and Quality
Recent reviews have shown that many users are happy with the ink in these markers. The broad tip is great for wide surfaces and the small tip is great for lettering and fine detail.  It is also acid-free which means that you can use it in scrapbooks and other memorabilia. The ink goes on smoothly with the nylon tips on the markers.
Colors
The vast array of colors is one of the best things about these markers. In the set of 100, you will find an array of colors with varying degrees of opaqueness. This makes them great for lettering, highlighting, and coloring. The small end is best for use on paper though the wider end can also be used on heavier papers.
Beginner or Expert
The versatility of these markers makes them great for artists of any age and skill level. They were designed for use by beginners and experts. They can be used as-is for beginners.  More experienced artists may want to try blending more by diluting them with water.
Price
The TwiMarkers can be purchased in a package of 48 or a package of 100 markers.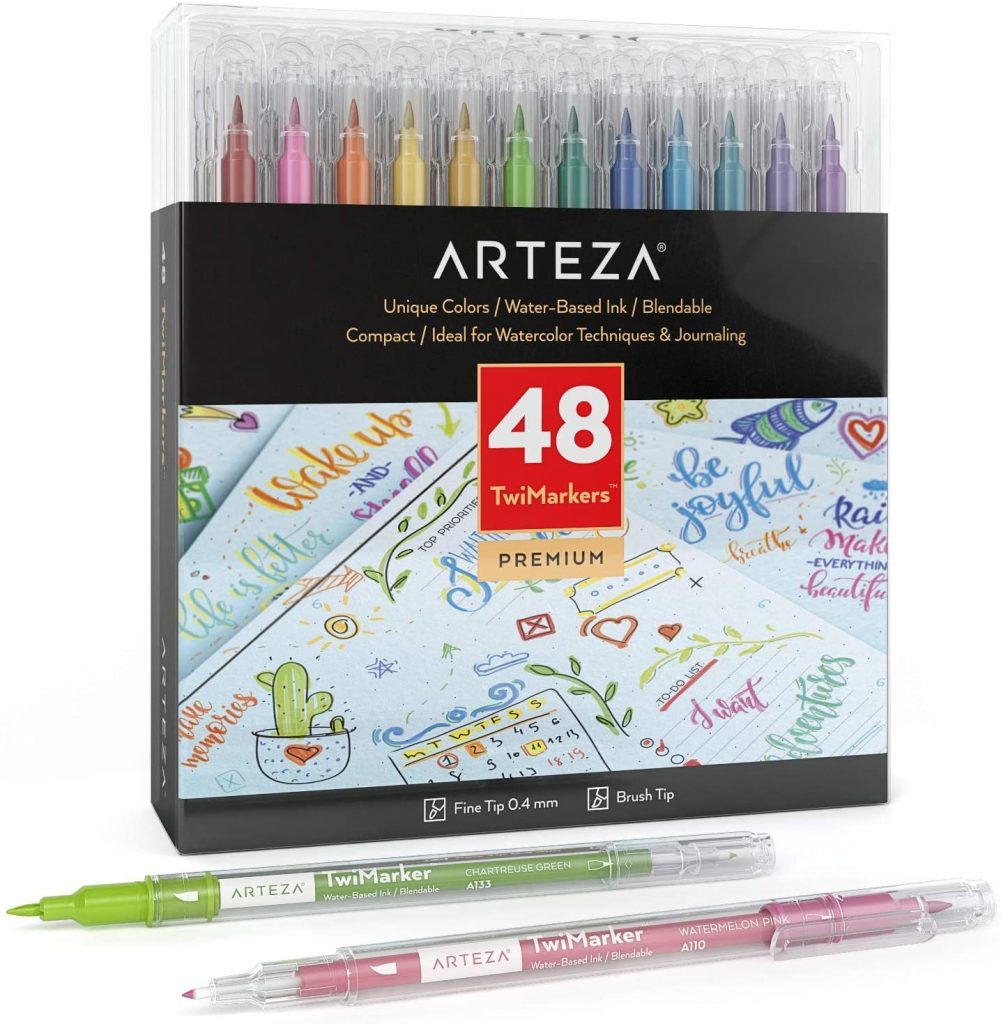 4. Arteza Inkonic Fineliner Pens
The Inkonic Fineliner pens are available in packages of 24, 48, 72, and 120 markers.  They are smudge-free, acid-free pens with a comfortable grip.
Pros
Affordable
Comfort-grip
Smudge-free
Acid-free
Cons
Bleed through paper
They do not come with a color chart
Colors do not match the cap
Longevity
The inkonic fineliner pens were made to last. The ink in these pens is acid-free which makes them great for any project. 
Ink Consistency and Quality
The vibrant, quick-drying colors will not bleed or smudge. You can create detailed lines without getting ink all over your project or your hands.
Colors
These are a great option for someone who needs a small or specific color palette or for someone looking to extend their color selection with a larger set.  With the 120-pen set, you will have every color under the sun with which to create.
Beginner or Expert
The Inkonic Fineliner Pens have been designed to be used by beginners and experts alike. Beginners will be impressed with the smooth flow of ink and expert artists will be excited about the vast color palette available. The pens have a comfort easy-grip design that makes them great for work that may take some time. The triangular barrel is shaped so that you will have a comfortable grip and your pens will not roll away when you set them down.
Price
These fineliner pens can be bought in multiple numbers making them affordable for any artist. You can get as few as 24 in a set or as many as 120.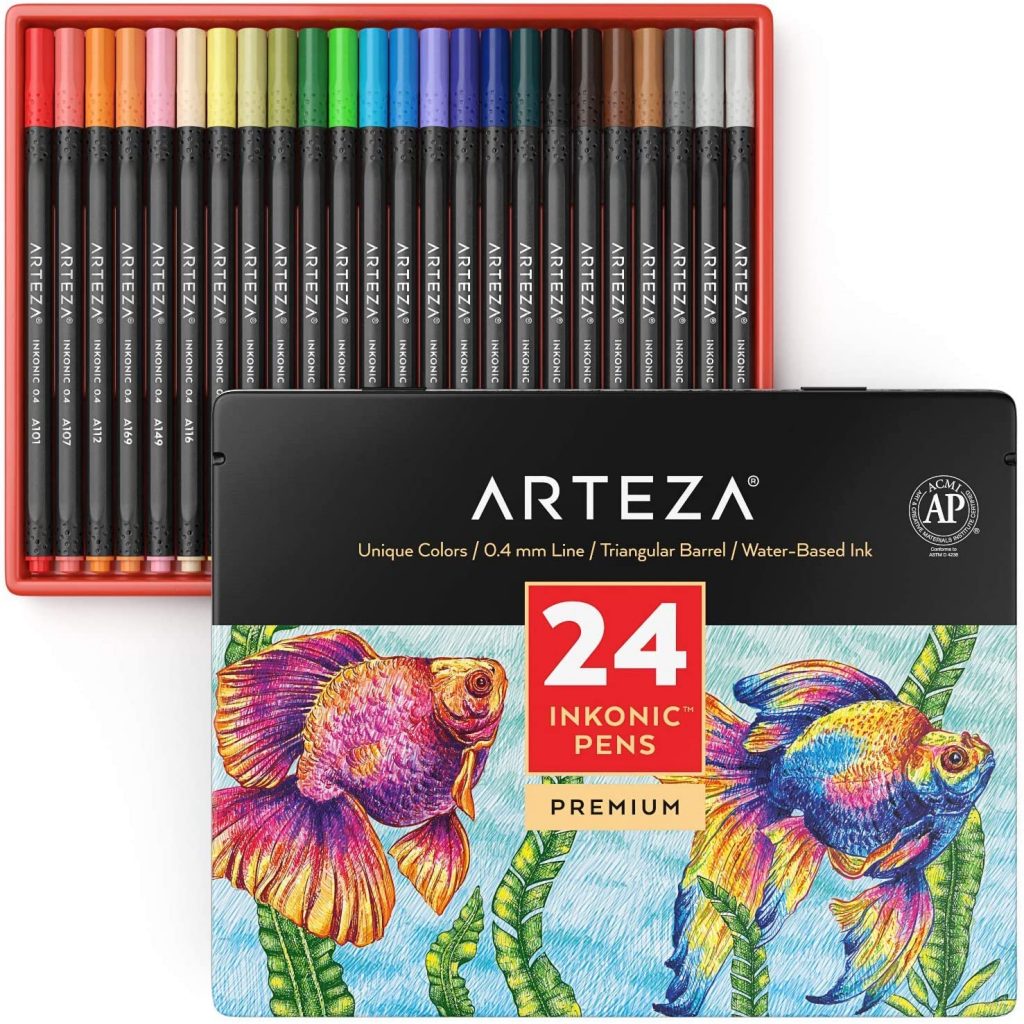 5. Arteza Oil Paint Markers
Oil Paint Markers can be used on a variety of surfaces including paper. Because these are paints, you will want to use them on thick paper and make sure to put something behind your work in case it bleeds through.
Pros
Permanent on the surface
Non-toxic
Painting without the mess
Longevity
With oil paint markers, you will have projects that last a long time. The paint dries with a glossy finish and a professional look.
Ink Consistency and Quality
Paint markers are a more difficult medium to work with in terms of getting the consistency you want, and it takes practice. They are high-quality markers but take some getting used to in terms of using them.
Colors
The color selection available in this medium is not as varied.  You will get 18 vibrant colors as well as white and black.
Beginner or Expert
Oil-based paint pens are better for artists who have some experience with different techniques. There is a lot you can do with them when you play around with wet-on-wet painting.  These are better for projects that are not contained in a coloring book because it will be applied quite thick compared to an ink marker. The round bullet nib glides over surfaces easily and is easy to control.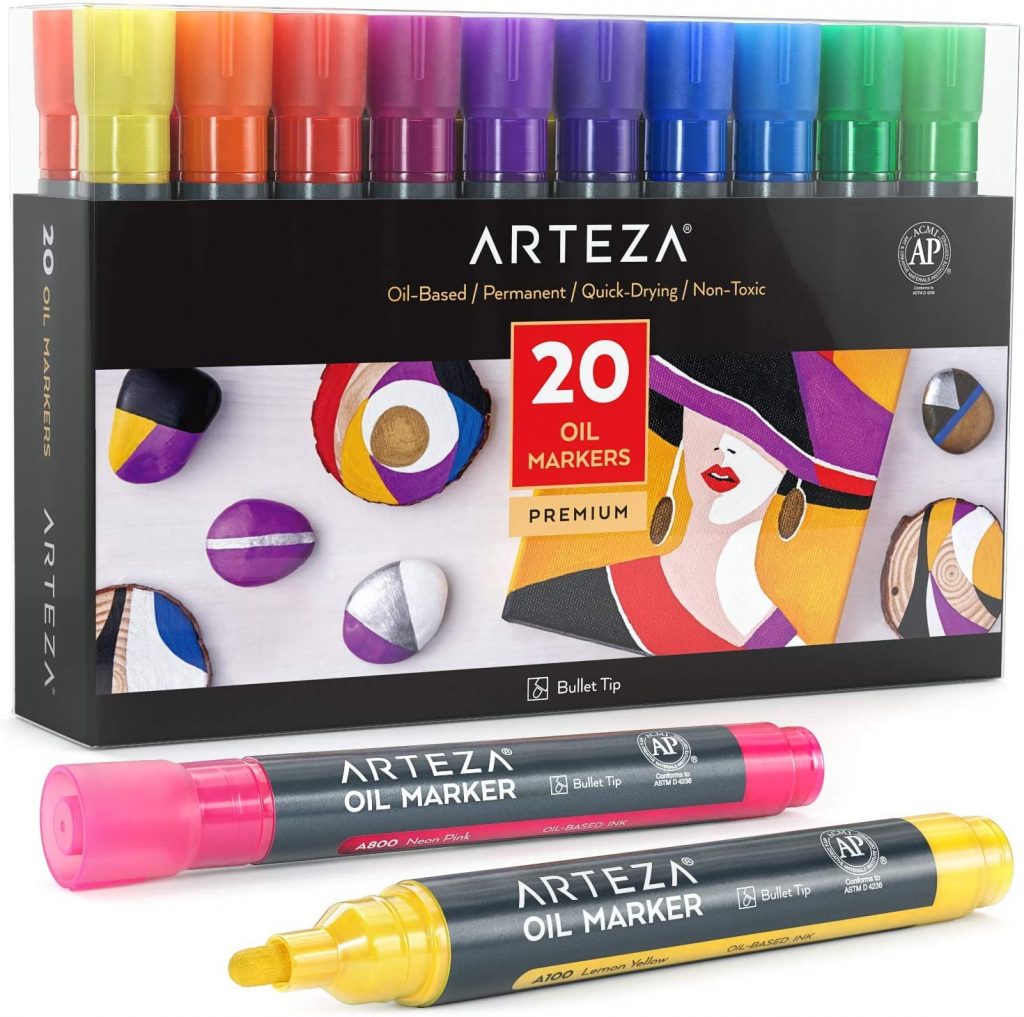 6. Arteza EverBlend Art Markers
Arteza EverBlend Markers are an alcohol-based marker and there is a lot that you can do with them.
Pros
Good selection of bright and pastel colors
Smooth ink
Carrying case makes them portable and easy to organize
Colors blend well
Replacement nibs are available
Cons
Numbering system does not make sense
Replacements are only available in four-packs
Longevity
Alcohol-based markers are a permanent marker and will last a long time on your work without fading. Alcohol ink is also ideal when you want to do some blending and layering on your work.  They will not leave streaks as water-based markers do.
Ink Consistency and Quality
These markers have ink that applies smoothly. The markers have good quality ink that is easy to layer and blend. Arteza does not currently have a light-fastness rating on the markers which is an issue of contention in many of the reviews.
Colors
These alcohol markers come in a vast array of colors with both a fine tip and a chisel tip. The markers are dual-ended so each marker has two tips. You can get 12 packs with classic colors or pastel colors. The larger sets start adding tropical colors and many hues and tints of each color.
A nice thing about these markers is that even though they are not refillable, you can replace single colors. Single colors are available in a 4-pack so if you run out, you can replace a color without having to but the entire collection.
You can also buy replacement chisel tips and replacement fine tips. The markers some with a set of tweezers making the nibs really easy to replace.
Beginner or Expert
Because the cost of the large set is considerably higher than the smaller ones (though still a great price compared to some brands), beginners may want to start with a smaller set.
That being said, these markers are easy to learn to use with a little practice. And if you are a beginner who wants a full-color palette, these are much less expensive than other brands.
Experts will also love the color variety at an affordable price if they are looking to enhance their marker collection.
Price
Arteza offers an art marker that is affordable and does a great job. 
The markers are available directly from their website. They come in packages as small as twelve and as large as 144.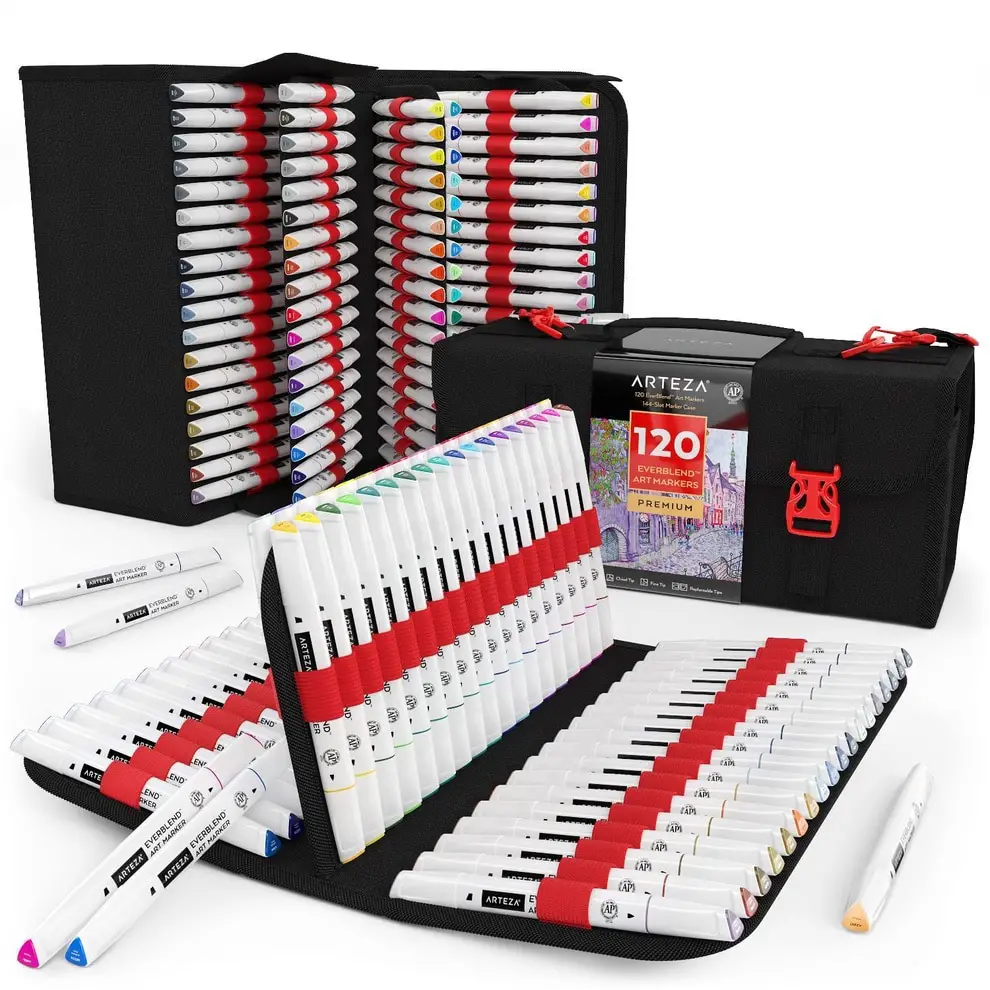 Best Arteza Markers in a Nutshell
There are many types of markers available from this brand and they are affordable compared to some professional artist brands. Whether you are a budding artist or someone with years of experience, there are good reasons to take a look at what Arteza has to offer. Many reviews give Arteza items 5-stars.
If you are coloring and you want your page to really pop, there are markers for you.
If you like to do hand lettering on your work, there are also some good items for that.
If you are interested in seeing a video review of the markers, you can see one on Youtube.
Customers who have purchased this brand tend to find pros and cons, but they state that the customer service offered by the company is very good. They are eager to ensure that the customer is 100% satisfied with their product.
FAQ
What is the best paper to use for Arteza Brush Pens?
You will want to use high-quality watercolor paper when you are using brush pens. A thin paper will absorb too much ink and you will not be able to blend the colors. A heavier paper will maintain its shape. Also, if you use paper that is acid-free, your work will last a long time without fading.
Which Arteza marker is best for use in coloring books?
Arteza brush pens are great for coloring books that have thicker pages in them. If you are coloring on a thinner paper, back it with sturdy paper behind it so that it does not bleed onto the other pages.
Can you use Arteza markers for different coloring techniques?
With the product choice available from Arteza, there are coloring tools for all techniques. If you are not sure where to start, you can watch some of the YouTube Video Tutorials to help you decide which product you like best for your needs.
Are Arteza markers refillable?
Arteza markers cannot be refilled. However, if you run out of a specific color from a set, you can buy refills in 4-packs to replace the single color. Unfortunately, they are not available to purchase one at a time at this point.
Can the tips be replaced?
The tips are Arteza markers are replaceable and it is easy to do so. The marker sets come with a set of tweezers to make replacing the chisel tips and the nibs easy for anyone to do.
Are Arteza markers a good value?
Arteza markers provide good value for the money you spend. As far as artist markers go, they are priced reasonably and overall, have a good rating. They are much less expensive than Copic markers and they have a large selection of marker types and colors. They are also good for beginners and experts as there is a wide variety available for people who color at any level.