What is a kawaii plushie?
A kawaii plushie is a soft toy with large eyes and colorful fur, feathers, or skin. They are made to have that cute aspect on them since kawaii means "cute" in Japanese. Kawaii plushies often have cartoonish designs, bright colors, and childlike faces with big eyes and small noses and mouths.
Kawaii plushies can also come in the shape of an animal or character from popular culture. They are designed to look as though they're alive, rather than just being a stuffed dolls without personality. Kawaii plushies can range from being lifelike to almost cartoonish in appearance.
Kawaii plushie animals can also serve as toys for children and babies. They can also be used as a decoration piece at home or considered must-haves if you have a kawaii bedroom. Check out our kawaii room décor guide for more ideas to decorate your room.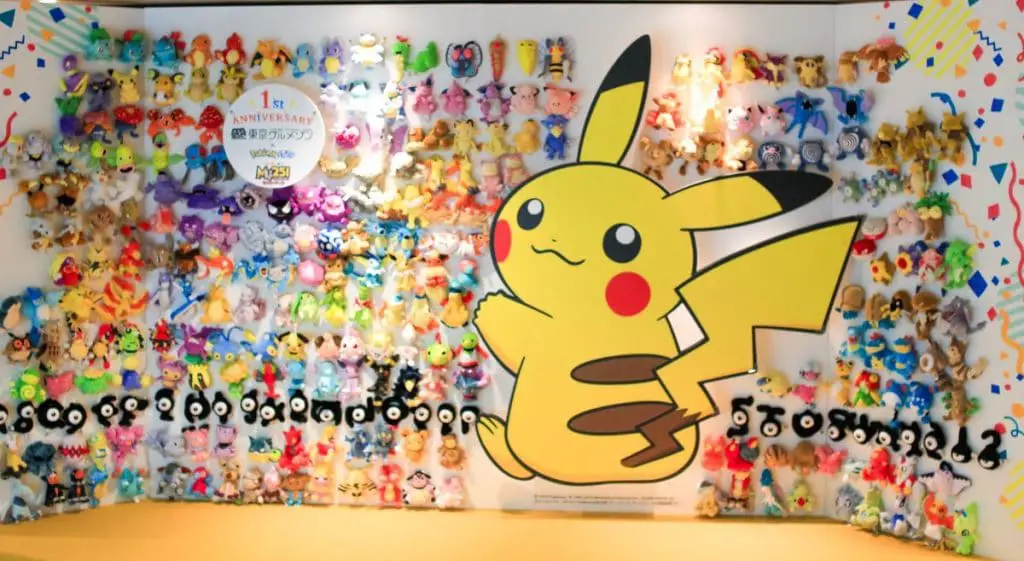 Why Do We Need A Kawaii Plushie?
Kawaii plushies serve many purposes, from being a fun toy to looking as though they're alive. Kawaii plushies are usually shaped like animals or cartoon characters. They are designed to make you feel young and happy inside while also making your room look superb. They can be used as decorations, toys, or even pillows.
Did you know that kawaii plushies help you learn better? Well, it does! Studies have shown that if students had a stuffed animal of whatever subject they were studying at the time, or even just one of the main characters in the subject, they performed better than if they did not have it. So it is suggested to bring your kawaii plushie everywhere with you every day!
Don't forget about those long car rides. A nice and steady kawaii plushie will help keep your attention and win over hours of complaining drivers. They are good for bringing on trips because they make excellent pillows. It's a great option for a comfy travel buddy.
Lastly, there's nothing like snuggling up to something soft while watching TV or reading a book at bedtime.
What Material Is Used To Make Plushies?
Kawaii plushies are usually made of plush fabric and are stuffed with cotton, or a cotton-like material., making them soft and huggable. They can be modeled after animals or other objects.
Soft plushies are usually quite simple to make without sharp angles that might be uncomfortable to touch or sit on. That's why most plushies are very rounded and smooth.
Plushie toys can also come in the shape of foodstuffs, such as cupcakes and ice cream cones, which appeal to children. Kawaii plushie foods might come in sets depicting a meal being prepared or in sets depicting popular snacks such as ice cream, bread, bubble tea, and more.
Can Plushies Make A Kawaii Bedroom?
Of course! Kawaii plushies are perfect for bedrooms because they provide an adorable accent to the room. Kawaii plushies have colorful patterns, cute faces, and sweet details that immediately cheer up anyone who needs a pick-me-up. Kawaii plushies come in many different styles, so you can get your favorite design or choose something unique that perfectly matches your bedroom items and décor!
To add more kawaii vibe other than plushies, check out our recommended kawaii decors for your room, which is adorable to have and love!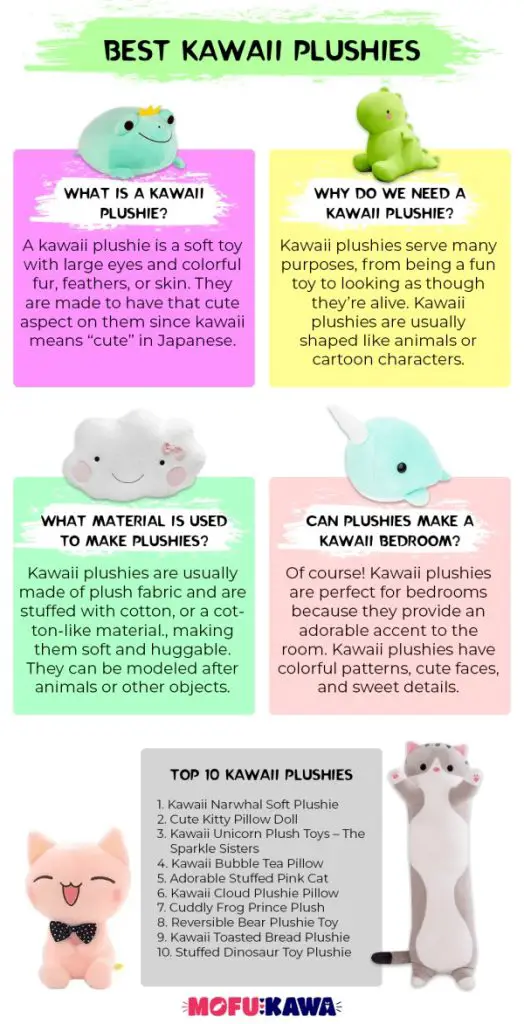 Top 10 Kawaii Plushies
Collecting kawaii plushies can become addicting, so many people collect them simply because they look cute. Kawaii plushies are also popular as gifts because of their friendliness and cuteness. It can easily achieve a smile on someone's face.
Kawaii plushies are often small enough to be taken with you wherever you go. They don't take up too much space compared to larger stuffed dolls like giant teddy bears. Kawaii plushies can help people feel less alone because of how huggable and lifelike they might appear.
Take a look at these top ten plushies we found that is so cuddly and ultimately kawaii:
1. Kawaii Narwhal Soft Plushie
There are several reasons why narwhals are such cute plushies. They come in different colors, they have a horn, and they're super huggable!
Look at that face! Kawaii plushies generally have large eyes, and even if this narwhal doesn't have a mouth to show a cute smile, this plushie is expressively done to make it super adorable. It's made with high-quality materials and stitching to ensure durability and comfort. It's very soft and safe, even for babies.
Kawaii plushies tend to be small enough for children or adults to carry around easily. This gives their owners to use them as sources of fun and joy. This unique narwhal plushie can be a great choice for gifting, too!
Plushie size: 4.5 x 4.5 x 6.5 inches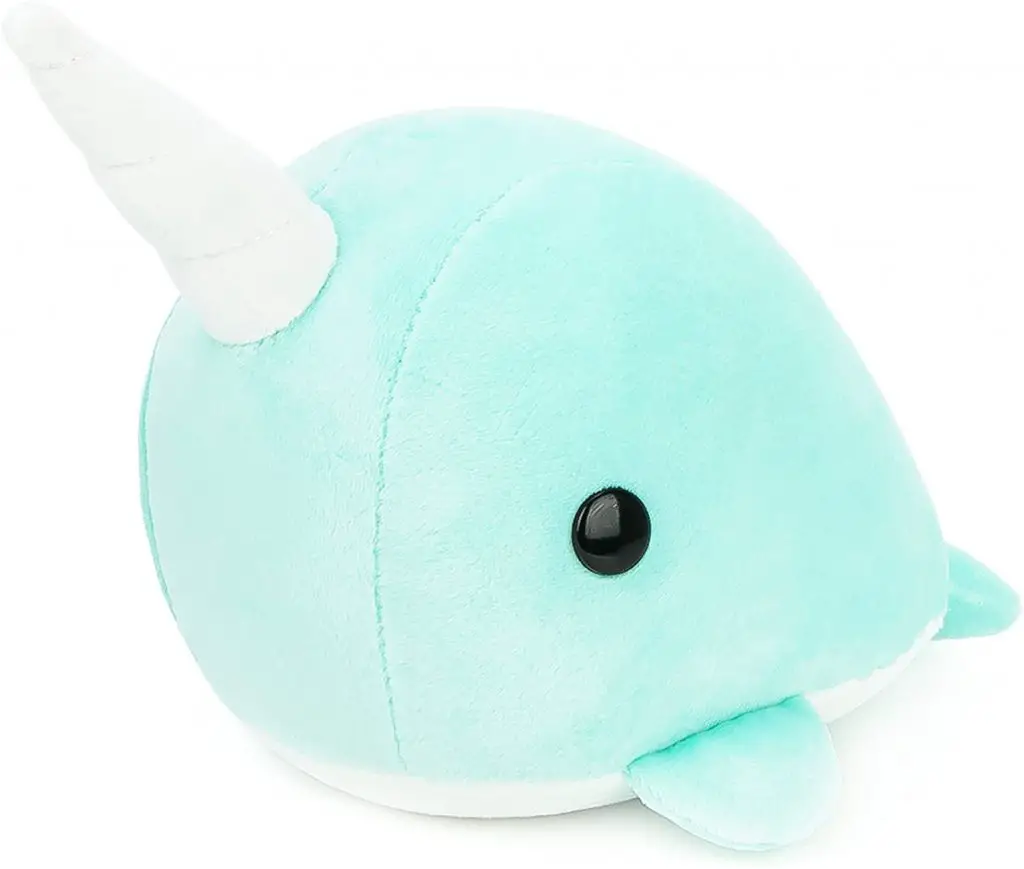 2. Cute Kitty Pillow Doll
Kawaii plushies come in many shapes and forms, but most popularly, they resemble cats! They are a cute and cozy addition to a room. Some look exactly like real cats, right down to their pointy ears and long tails, while the rest of them look like adorable kitty plush toys with big round eyes and an even bigger smile.
Now, this cute kitty plushie is in pillow style. Long, squishy, and totally kawaii! It's available in different sizes, depending on your hugging needs. It is made from high-quality soft fabric that is super smooth and comfortable. Perfect gift for family and friends and even for cat-lovers!
Kawaii cat plushies also come in all different colors – this is available in gray and brown – so you can find one to match your room décor you might have in your house! These plush cat dolls are ideal for adding a touch of cuteness to your kawaii bedroom.
Plushie size: available in 50 cm, 70 cm, and 90 cm height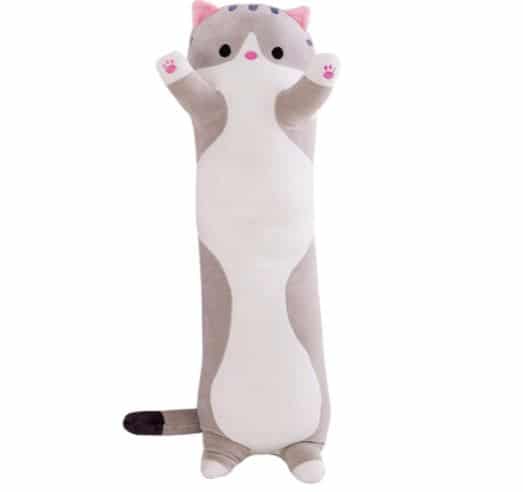 3. Kawaii Unicorn Plush Toys – The Sparkle Sisters
Unicorns are seen as majestic, beautiful creatures. They are loved by children and adults alike. Unicorns are associated with giving good luck, happiness, a joy to whoever comes across them or who owns one/ several of them.
A plushie unicorn embodies these perfectly. A plushie is a toy that is soft and huggable. They can be pink or blue with an adorable shape of the horn on their head. The face, legs, and body are made of nice, high-quality fabric stuffed with cotton. The clothes are prettily made to match them both.
The Sparkle Sisters look really kawaii, given the careful attention to details added to them. From their individual sizes to adorable kawaii faces and cute clothes, you will be able to see and feel how they were crafted with love. Easily identify Sunshine and Rainbow and have fun cuddling them!
Plushie size: available in 25 cm and 35 cm height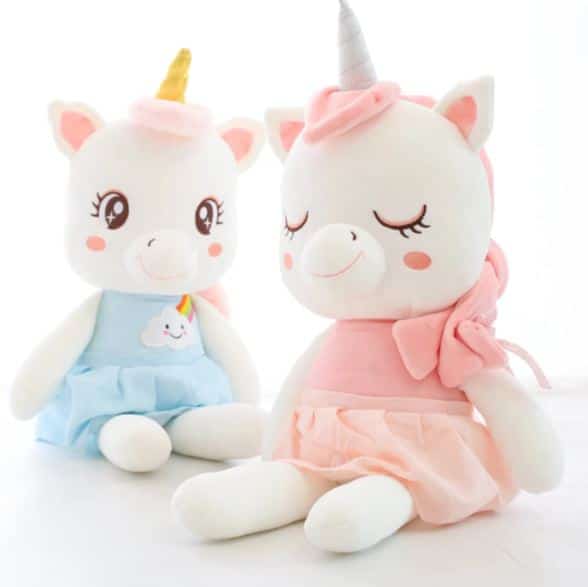 4. Kawaii Bubble Tea Pillow
If you're tired, stressed, or just want to treat yourself, take a look at this kawaii bubble tea pillow. This kawaii plushie is adorable. Just look at those eyes and kawaii smile! Enjoy its softness while you are reminded of your favorite drink.
Bubble tea plushies are cute because they combine two things Japanese people love: kawaii and bubble tea. Kawaii means "cute" in Japanese, and bubble tea is also very popular in Japan. Now that these favorites are loved worldwide, many can relate to why they are too cute to resist!
You can sleep with these kawaii milk tea plushies and use them as pillows or huggy pillows while watching TV. If you need a hug, kawaii plushies are perfect for cuddling. This will also make a wonderfully unique gift to bubble tea lovers!
Plushie size: available in 9.5 inches and 13.5 inches height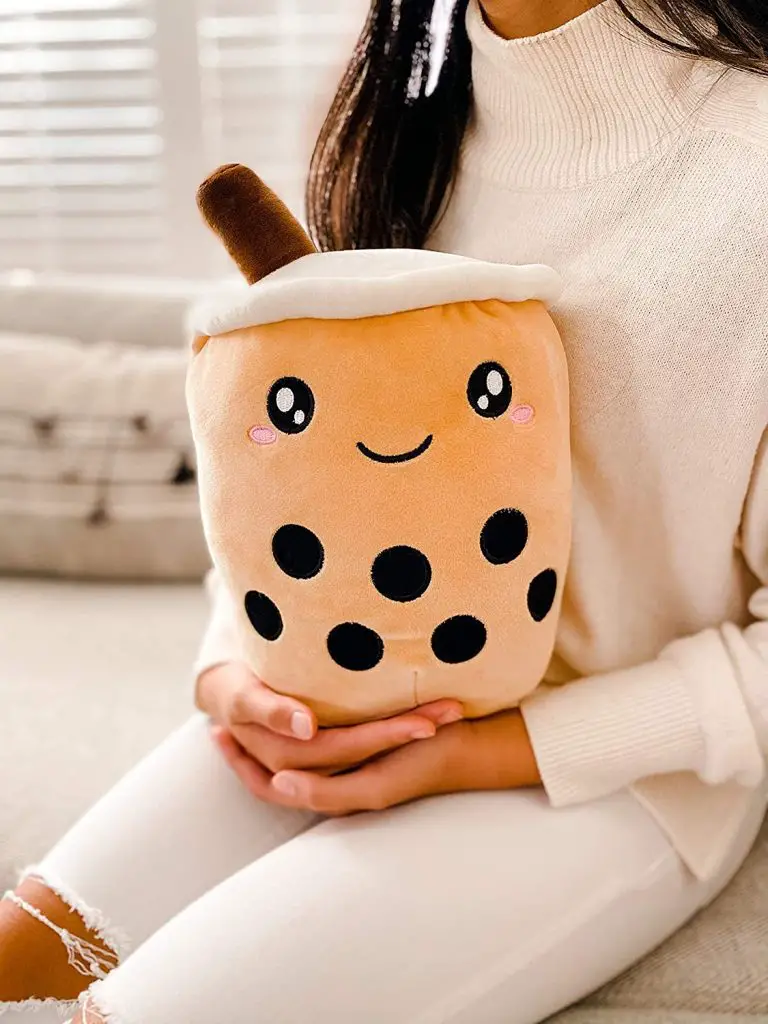 5. Adorable Stuffed Pink Cat
Kawaii kitty plushies are so cute! When you see one, you would love to take it home with you because it's just so fluffy and huggable! Kawaii cat plushies are usually small with big round eyes, pink paws, and a tail, but this adorable kitty has eyes that smile to cheer you up instantly!
Cat plushies are charming because they are very kawaii. These plushies are stuffed with big heads and little bodies with short arms and legs. You can appreciate this entire cat's face, ears, tails, pink cheeks, a neck adorned with a really nice bowtie.
This soft toy is ideal for kids three years old and above. It can be washed by hand or machine. This adorable kitty plushie can be a great gift choice, too, because aside from being cute and cuddly, they will make the receiver feel happy.
Plushie size: 11.2 x 7.5 x 2.6 inches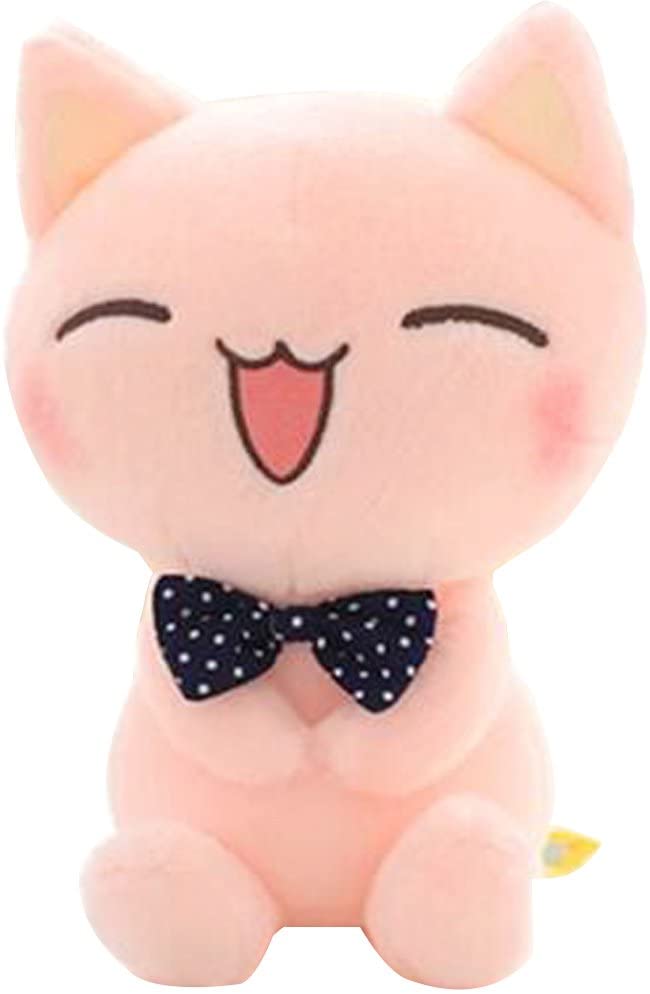 6. Kawaii Cloud Plushie Pillow
Kawaii plushies can be placed anywhere in your bedroom. You could place them on the bed for a good night's sleep and cuddle them while watching TV if that suits your fancy. Kawaii plushies are designed to bring out the child in you, to make you happy and comfortable about life in your room.
This adorable plushie looks like a cross between a puffy white pillow and a marshmallow but instead of being delicious; it is soft and cuddly. Meet the newest member of your plush collection – the kawaii cloud plushie pillow! This definitely adds more kawaii to your kawaii collection.
It has cutie eyes, a sweet smile, and rosy cheeks that will melt your heart away. Who said that clouds couldn't be cute? It is great for photoshoots since it was made to look really fluffy. The size isn't the only thing that makes this cloud so special – it is made with high-quality material, it's washable, and ideal for kids aged one and above.
Plushie size: 20 x 6 x 13 inches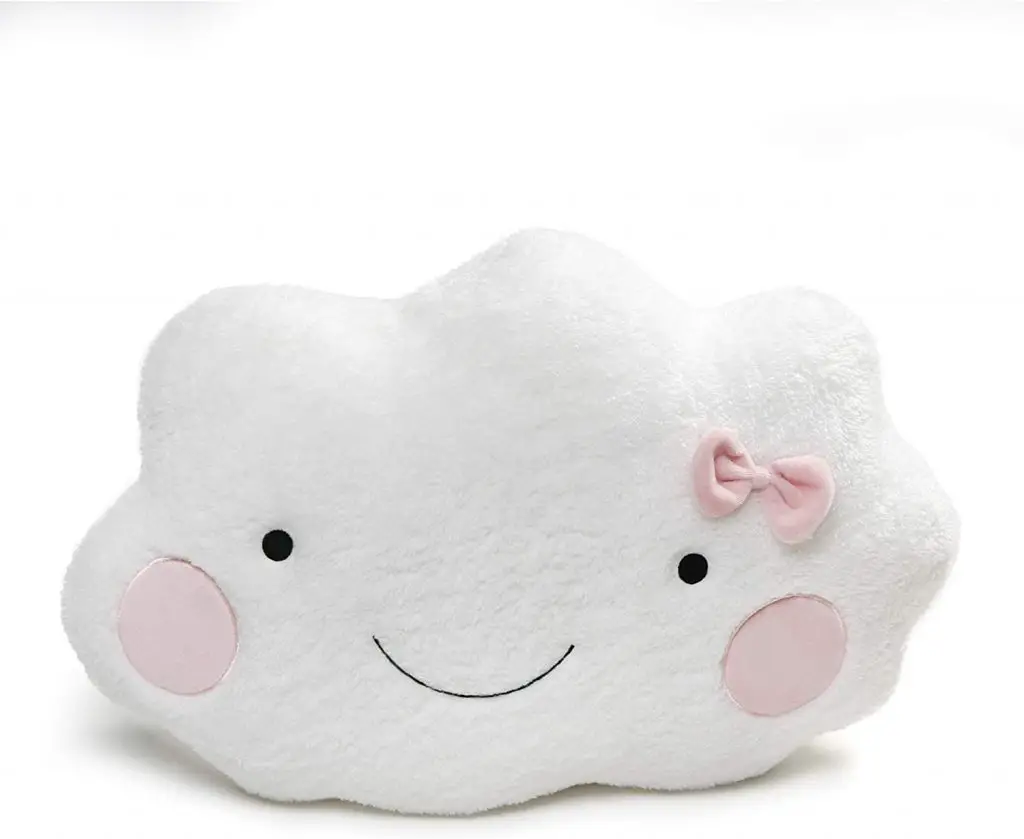 7. Cuddly Frog Prince Plush
Sitting at home alone with a plushie to cuddle is great. Cuddling up on the couch with a stuffed kawaii frog makes watching movies all the more enjoyable. Having one as your pillow as you sleep also helps ease away any lingering feelings of loneliness. However, succumbing to drowsiness may be hard because you'll want to play with those big frog eyes forever!
This frog prince plushie toy reminds you of fairy tales with kawaii touch! It's cute, soft, with its big eyes and a wide smile. Adding that little crown makes it ultra-cute. So even if frogs aren't your favorite animal, bringing them into your life can only bring good things, especially bigger ones that fit perfectly in the crook of your arm.
This soft plushie is great for kids age three and above. It's crafted with love and uses hypoallergenic and high-quality materials for everyone's enjoyment. It's available in 5 different shades of green and pink. Check it out!
Plushie size: 14 x 9.8 x 8.6 inches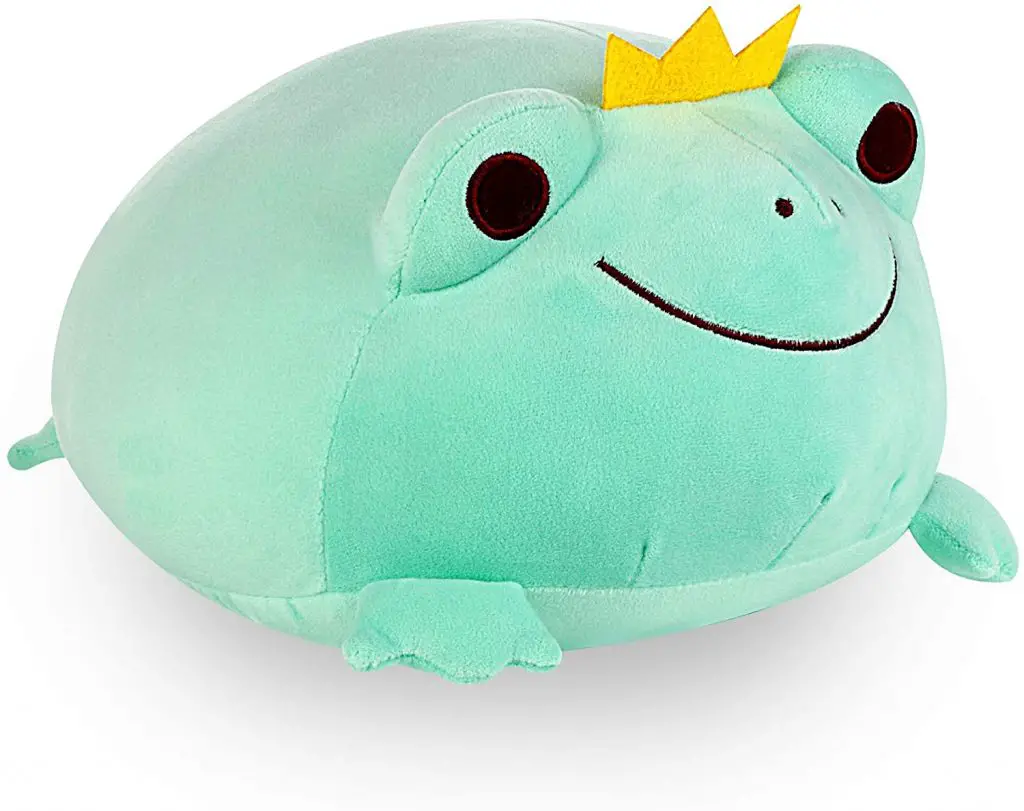 8. Reversible Bear Plushie Toy
A kawaii bear plushie is very popular among kawaii lovers. Kawaii bears come in many colors and styles, which means you can find one to match any room in your home. They are also great for older kids because they can snuggle up to their new best friend while studying!
This unique bear plushie toy comes with a unique style – it's reversible! Get two colors of bears and two kawaii faces. It can be a great example when teaching basic moods or emotions to small kids. The white side shows a happy bear smiling cutely with rosy cheeks, while the other side is a brown bear with those expressive kawaii sad faces with tears.
Enjoy swapping colors or playfully reversing this soft plush toy! It encourages creativity through pretend plays. It's perfect for young kids and can also be a unique gift for special occasions. This bear plush is washable and very comfortable to touch and squeeze.
Plushie size: 6 x 6 x 6 inches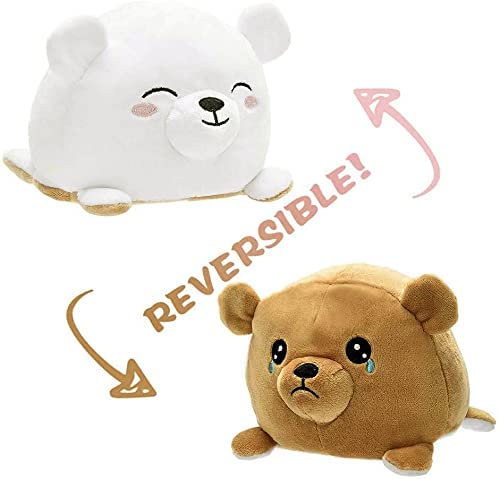 9. Kawaii Toasted Bread Plushie
We all love to eat food, but sometimes it's just too good to resist! This type of toy is typically used for decoration purposes – put it on your bed, hang it on your wall or use it as a display piece when you're having guests over.
This toasted bread plushie is a soft and cuddly toy that looks like a slice from a loaf of bread. It's intended for kids and adults to play with. These toys are available in two kawaii emotions: your choice between a happy golden toast or sad burnt toast; or get them both for a nice, perfect pair. The colors compliment each other if you let them sit side-by-side. They have little arms and legs that surely add to the kawaiiness factor.
The reason parents often get their kids these stuffed bread plushies is because children love to play or even pretending to eat these. You can use these toys for just about any child's fantasy or story involving food. They are very soft and comfortable to touch!
Plushie size: 7.09 x 2.36 x 7.09 inches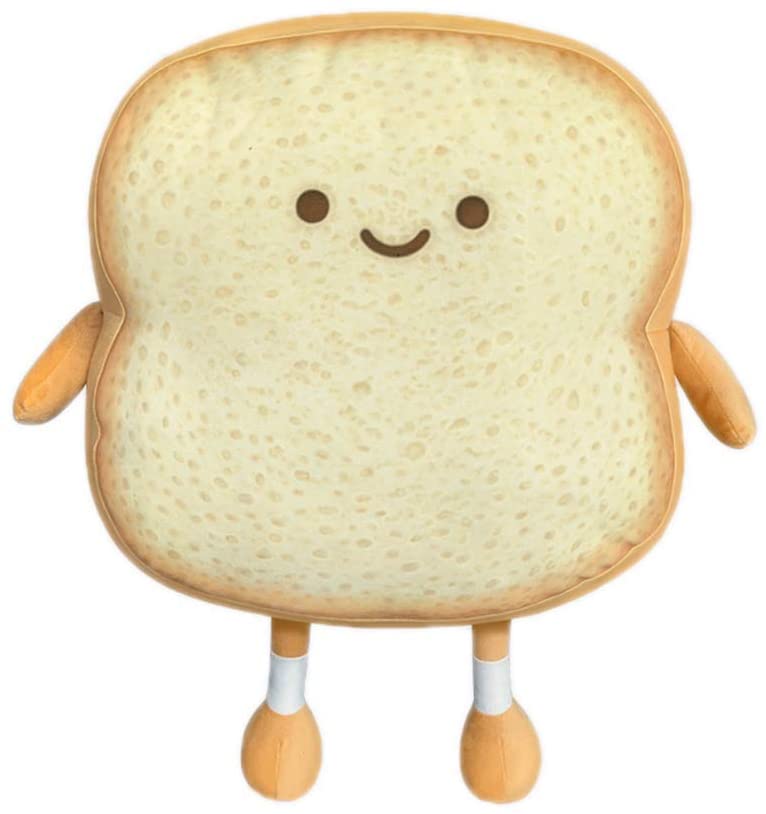 10. Stuffed Dinosaur Toy Plushie
Dinosaur plushies are cute and lovable plush toys that come in a variety of shapes and sizes. They're usually made to look like ferocious prehistoric animals, such as Tyrannosaurus Rex and Triceratops, but they're really just small stuffed animals with a cute kawaii face and smooth fur.
This stuffed dinosaur toy plushie is a favorite for the younger ones and adults as well. They are soft, cuddly, and just warms the heart. It is made of high-quality and environmentally friendly materials that are safe for kids. Give it a name and rawr with it!
For kids, you can choose to play with your kawaii dinosaur plushie by giving it a voice and making it walk around your house. It's available in four colors: green, blue, yellow, and pink.
Plushie size: 11.8 x 7.9 inches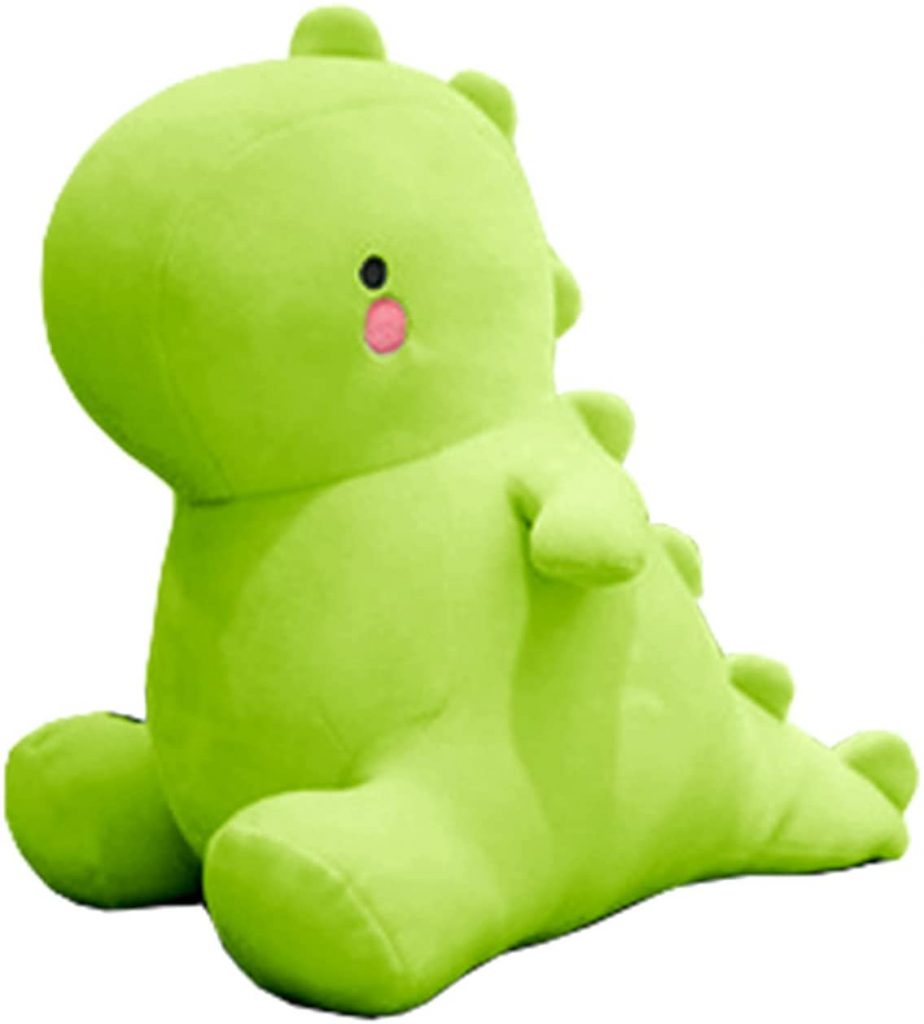 Conclusion
Kawaii plushies are cute because they have a certain charm to them; they always give you a sort of nostalgic feeling. They also generally look childlike and innocent. Kawaii-style plushies usually have big eyes, pudgy cheeks, and an overall simple design that just makes it seem as though they're begging to be hugged or cuddled with.
You can buy a kawaii plushie as a gift for your significant other, you could give one to your best friend as a birthday present or just because you felt like it, but most importantly, kawaii plush toys will look great on your shelf and will surely add a smile on your face anytime!